The unfolding banking crisis in the United States is deepening. Moreover, recent research suggests that American banks could be in much more trouble.
On May 2, the UK's Telegraph reported that nearly half of America's 4,800 banks are "burning through their capital buffers."
Furthermore, stocks in American banks are plummeting this week. The declines come in the wake of the seizure of the First Republic Bank by federal regulators on May 1. America's largest bank, JP Morgan Chase, will take on the bank's deposits and most of its assets.
Crashes in U.S. commercial real estate and the bond market have "collided with $9 trillion uninsured deposits in the American banking system," the report noted.
U.S. Banking Crisis Deepening
Stanford University banking expert, Professor Amit Seru, told the Telegraph that thousands of banks are underwater before adding:
"Let's not pretend that this is just about Silicon Valley Bank and First Republic. A lot of the US banking system is potentially insolvent."
A report published in April by Professor Seru estimated that more than 2,315 banks are currently sitting on assets worth less than their liabilities.
"The U.S. banking system's market value of assets is $2.2 trillion lower than suggested by their book value of assets accounting for loan portfolios held to maturity."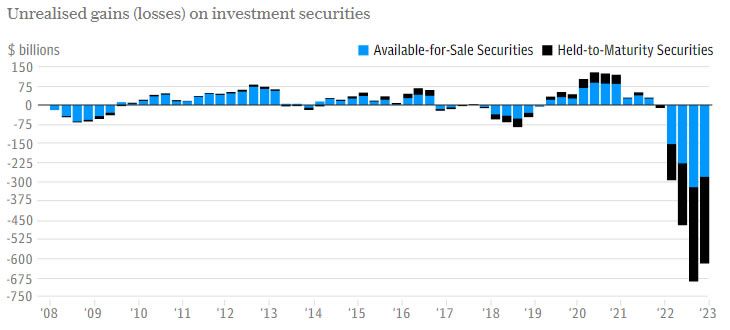 Some of these lenders include America's largest banks, and one was described as a "globally systemic entity with assets of over $1 trillion."
Furthermore, the Federal Reserve's monetary tightening has yet to fully impact the economy. A huge wall of debt has accumulated, and some estimates put the total figure of U.S. debt at an eye-watering $31.7 trillion.
Bitcoin was spawned out of the last United States banking meltdown, which caused the 2008 global financial crisis. It is ironic that it could be the financial parachute in the next imminent banking disaster.
Crypto Markets Steady
As bank stocks take a beating this week, crypto markets have rebounded slightly. There has been a 1.3% gain in total market capitalization over the past 24 hours, reaching $1.22 trillion.
BTC and ETH are both up almost 2% on the day but have remained in a downtrend since the middle of April.
Trust in banks is slowly being eroded again, but lessons have not been learned since it is not the first time banks have caused a financial crisis. Maybe this time, Bitcoin really will solve this. However, maybe American finance regulators already know this, which is why they're hell-bent on choking the crypto industry.
Disclaimer
In adherence to the Trust Project guidelines, BeInCrypto is committed to unbiased, transparent reporting. This news article aims to provide accurate, timely information. However, readers are advised to verify facts independently and consult with a professional before making any decisions based on this content.