A new patent by Bank of America appears to show Ripple's distributed ledger system being used on the bank's existing settlement layer. Despite holding other blockchain-based patents, this would be the first time Bank of America has worked with another cryptocurrency project for adoption purposes.
It has been recently discovered that Bank of America may be cooking up a new real-time settlement system which will tap into Ripple's distributed ledger. The patent, titled 'Real-time net settlement by distributed ledger system'
is currently publicly viewable
and pending approval. The patent was requested by the Bank of America Corp.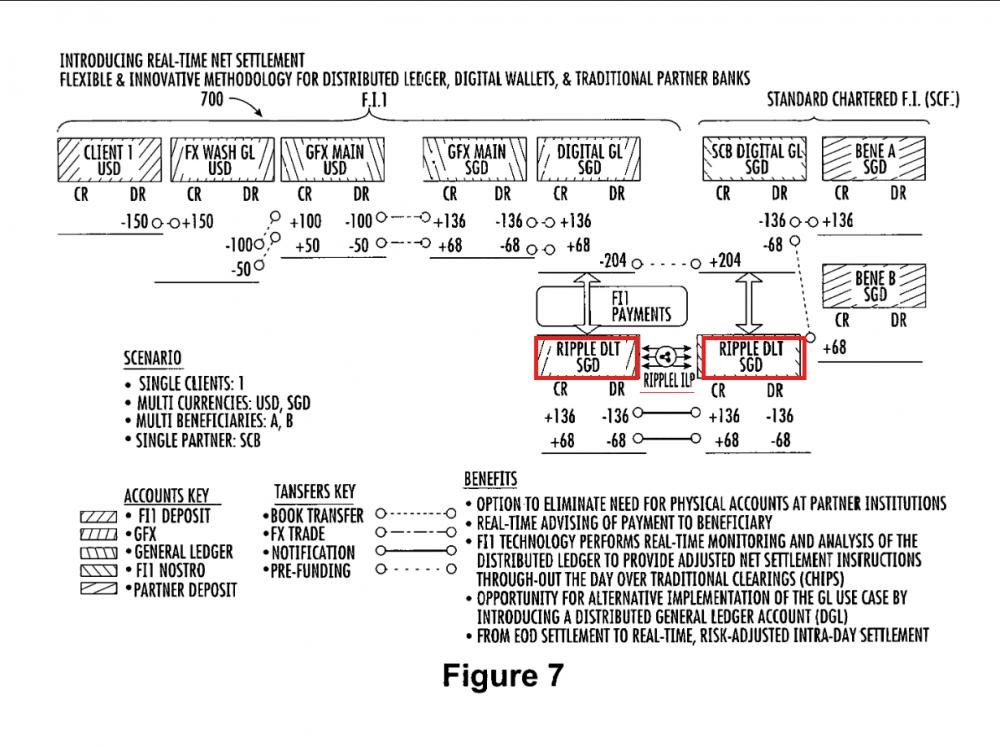 A New Proposed Settlement Layer
It's still not clear about how the patent will be implemented specifically, but there's a strong case to be made that it will rely on Ripple. The use of Ripple's technology will allow the bank to (
as outlined by @Dillon
):
Conduct real-time settlements
FX trading
Eliminates the need for accounts in partner institutions for settlements
Pre-funding options.
The process outlined in the chart seems to demonstrate cross-border payment processing between different currencies. The currencies would be exchanged partly with the help of Ripple's protocol, with Bank of America acting as a validator node.

What It All Means
Bank of America has been working with blockchain technology for some time. In fact, the bank has some
82 blockchain-related patents
, more than any other U.S. financial firm. Yet, there has been no pilot test of blockchain technology within Bank of America's actual services. This may soon change with Ripple, if the aforementioned patent is accurate and goes into effect. A Ripple pilot on Bank of America would be the biggest endorsement yet of the crypto-project's underlying technology. Whereas previous blockchain patents by Bank of America focused on cash handling, this newly-announced one specifically outlines a new settlement layer. This new layer would be responsible for streamlining foreign currency trading which is what Ripple does best. A potential Bank of America pilot program with Ripple would undoubtably bring in new financial players into the mix, and would establish Ripple as the cryptocurrency project with the most use-case in the entire industry. Ripple has been actively trying to court major banks to adopt its technology. Just last month, it was announced that Latin American banks Banesco Panamá and Scotiabank Chile are testing out Ripple's xCurrent to move capital more easily. If Bank of America formally confirms working with Ripple, it would be the crypto-project's most important partnership to date and would open the floodgates to other financial institutions migrating to Ripple's protocol. Details are still emerging, but we will have to wait on the official word from either Ripple or Bank of America for confirmation on this elusive patent.
Do you believe the patent clearly shows Ripple's protocol being used for Bank of America's proposed settlement layer? Let us know your thoughts in the comments below.