Wyoming's profile as a crypto-friendly state is on the rise. Avanti has received unanimous approval for a bank charter by the Wyoming State Banking Board in an 8-0 vote.
Avanti joins
Kraken Financial in Cheyenne, Wyo.,
the latter of which scored its bank charter in September. It means that Avanti can operate as a national bank in its approved businesses. Jesse Powell, co-founder and CEO of cryptocurrency exchange Kraken, was among the first to congratulate Caitlin Long, who is the founder of Avanti Bank & Trust.  Long, who served as a government appointee to the Wyoming Blockchain Task Force until 2019, has been a key proponent of the cryptocurrency industry, having had a hand in the launch of Wyoming's Special Purpose Depository Institution (SPDI) law.
Congrats @CaitlinLong_ !! 🦬🤠🐴💸🔐 https://t.co/4cKUU63nbU

— Jesse Powell (@jespow) October 28, 2020
Stablecoin Disruptor
Long said in a statement,
"Avanti's mission is to provide a compliant bridge between the traditional and digital asset financial systems, with the strictest level of institutional custody standards. We will provide products and services that do not exist in the market today."
In addition to custodial and prime services, Avanti has a new tokenized U.S. dollar up its sleeve dubbed Avit, which it explains rhymes with "have it" and which it labels a "
stablecoin
disruptor." Avanti believes it will solve pain points for traders, investors and corporate treasures whose transactions are mired in legacy systems. U.S. companies like MicroStrategy and Square have been
adding bitcoin
to their treasuries of late. The trend is also taking shape in the U.K. The company says that Avit can go where no stablecoin has gone before in terms of "legal, accounting and tax issues." Avanti plans to issue Avit on
Bitcoin
sidechain Liquid with support from its tech partner Blockstream as well as on
Ethereum
. The company is also exploring the addition of other blockchain networks.
So this is pretty much what's happening right now…holy cow…thanks for all the incoming, everyone!! @AvantiBT is officially a bank!!!🤠🚀 #bitcoin pic.twitter.com/AVV0scAIGS

— Caitlin Long 🔑 (@CaitlinLong_) October 28, 2020
Stablecoin Strut
Avanti will have competition. Stablecoins have been a tear in 2020.
Messari pointed out
that stablecoins experienced historic growth in the third quarter of this year. The monetary base of stablecoins ballooned by more than $8 billion, surpassing the performance of the previous four quarters combined.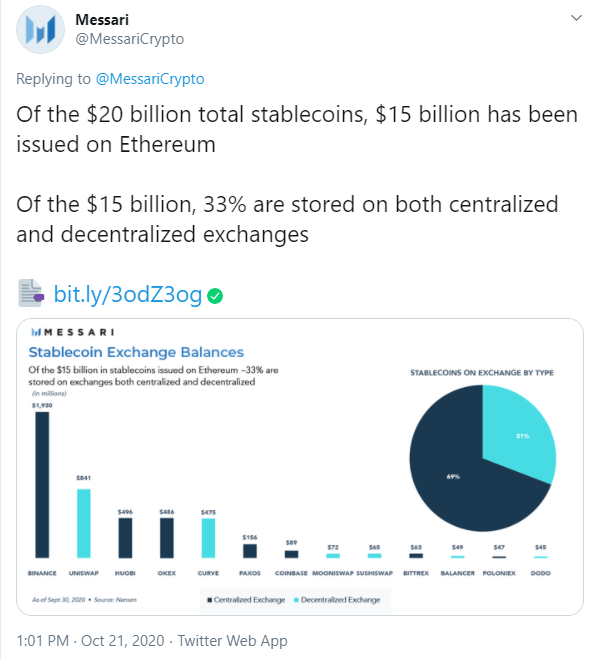 Messari also notes that the aggregate stablecoin market cap has exceeded $20 billion, $15 billion of which was issued on the Ethereum network. No matter how you slice it, stablecoins have been a beneficiary of the
DeFi
movement, especially
Dai
, demand for which has been fueled by yield-farming activities. For its part, Avanti couldn't have picked a better time to win the bank charter with the tailwind of a bull market for bitcoin.
Disclaimer
BeInCrypto has reached out to company or individual involved in the story to get an official statement about the recent developments, but it has yet to hear back.