Amazon Web Services (AWS), the world's leading cloud computing service provider, has teamed up with Ava Labs, a blockchain technology company, to help scale the adoption of blockchain across various industries.
The partnership aims to make it easier for individuals and organizations to launch and manage nodes on Avalanche, Ava Labs' layer-1 blockchain, and to provide more strength and flexibility for developers using the network.
Amazon Web Services Teams Up With Avalanche
AWS will support Avalanche's infrastructure and decentralized application (dApp) ecosystem through its marketplace, along with one-click node deployments. This collaboration will also include Ava Labs joining the AWS Activate program, which supports startups and early-stage entrepreneurs with getting started on the AWS platform.
The move is a significant step forward for blockchain technology, as it makes it more accessible and easier to use for individuals and organizations. Avalanche has already been utilized by a number of blockchains to power their networks, and with the support of AWS, this number is expected to increase.
"We have over 500 applications on the chain and we would love to give them a better experience and now we have a real partnership that we can direct to the Activate program," said John Wu, President of Ava Labs.
This partnership also marks a new era for blockchain technology as a whole, as it's the first foundational partnership for AWS with a blockchain company. Ava Labs also plans to add its Subnet deployment as a managed service to the AWS marketplace, allowing both individuals and institutions to launch their own custom Subnets easily. Subnets are a crucial part of Avalanche's scaling solution and they divert traffic away from the main blockchain, which allows projects to stake AVAX, its native token, while creating their own layer-1 or layer-2 blockchains.
In a statement, Howard Wright, VP and Global Head of Startups at AWS, said:
"When you multiply Activate times Avalanche times Subnet, you have something that's a seminal moment. I think blockchain [technology] will become a commonplace and used in our marketplace by developers."
This partnership is a clear indication that the adoption of blockchain technology is set to accelerate and become more mainstream in the near future. With the backing of a major player like AWS, Ava Labs is poised to make a significant impact in the world of blockchain, and it's an exciting time for the technology as a whole.
AVAX, the native token of the Avalanche ecosystem, recorded a 30% price increase within hours after the announcement was made.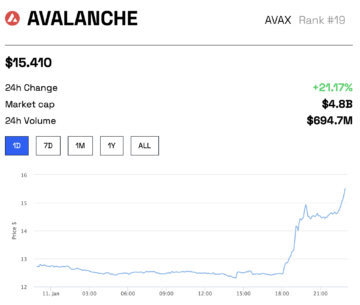 Disclaimer
BeInCrypto has reached out to company or individual involved in the story to get an official statement about the recent developments, but it has yet to hear back.