The sheer inconveniences of having to execute your trades via multiple exchanges using different apps and terminals can not be overstated. It's one of the major pain points all serious crypto traders eventually have to face at some point.
Add to that the hassles of having to invest time and money in multiple trading tools, and you start wishing for an all-in-one crypto trading platform with added features to help you build and manage your portfolio more efficiently.
This is precisely where the folks over at Atani say they can be of great help. For those out of the loop, Atani is a free desktop app that brings along a range of features aimed at making crypto trading and asset management more efficient.
In this review today, we're going to have a closer look at what Atani is, its growing reputation as a promising fintech startup, and, most importantly, the company's claim of being the ideal one-stop solution for all your crypto trading, tax filing, and asset management requirements.
What is Atani?
Atani, formerly known Etoshi, was born between London, Madrid and Barcelona and it was first launched in 2019 as a standalone desktop app available on Windows, Mac, and Linux. It is basically a cryptocurrency trading terminal with a rich set of features designed to help users invest, manage portfolios, and manage tax accounting and reporting using a single, unified platform.
Atani offers a relatively simple interface that you can use to execute trades on all your exchanges. You can also use the terminal to receive real-time data on tax liability and manage your crypto stashes at a portfolio level. More on these features in the next segment.
But first, it is worthwhile to note that Atani has established itself as one of the most promising blockchain startups to have come out of Europe. Only into its third year, and the company has already a few feats to show off: for example, earning itself a spot in TechCrunch's Top Picks for Disrupt Berlin 2019, or making it to the final rounds at the Mobile World Congress 2020 (4YFN) along with 11 other top global startups.
These early successes have helped the company emerge as a promising investment option in VC circles. Atani's seed round, for example, was participated by reputed European VC platforms such as JME Ventures, Lanai Partners, and Encomenda VC.
Crypto Trading With Atani: The Features You Get
As already mentioned, Atani seems to have done a pretty neat job making the app feature-rich. From enabling you to trade on multiple exchanges to fetching real-time market analysis and portfolio reporting, it has integrated a whole pack of tools. Let's go through them one by one:
9,000 Crypto Pairs Across 20+ Leading Exchanges
Currently, Atani supports spot trading for more than 1,500 cryptocurrencies and 9,000 trading pairs across more than 20 exchanges. Some of the most popular exchanges currently integrated into the app include Coinbase, Binance, Kraken, Gemini, Huobi, KuCoin, OKEx, Bitfinex, Bitsamp, and bitFlyer, just to name a few.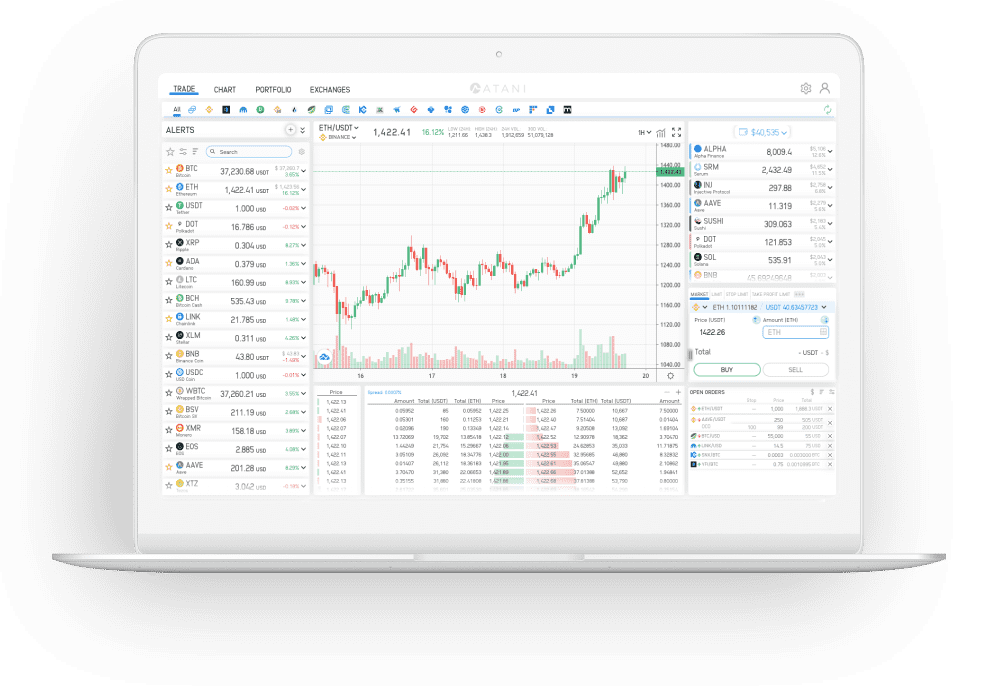 This means if you're currently using any combination of these exchanges, you can trade on all of them using Atani's unified interface. All standard trading features such as market orders, limit orders, Stop Loss or Take Profit orders, and One-Cancels-the-Other (OCO) orders are included.
Another big perk would be that the app itself is directly linked to the APIs of all supported exchanges. This means, even if the app or website of your exchange is facing an outage due to high demand, you will still be able to continue trading unaffected.
Real-Time Portfolio Alerts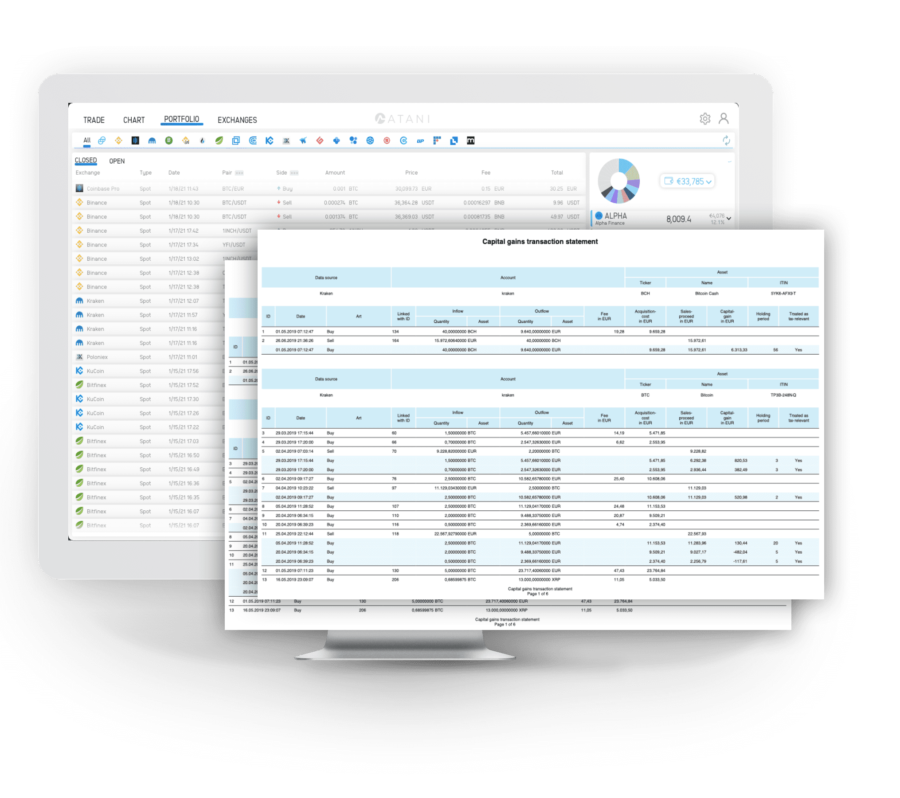 You can use the app to set price alerts for all the 9,000+ supported pairs across all exchanges. The value of your portfolio will be available in more than 40 currencies. You can have instant price alerts via up to 1,000 emails, 200 SMS, and 30 phone calls per month.
Charts and Analytics
Atani has integrated some of the most useful TradingView tools into the app. You can easily personalize chart types, technical indicators, and other metrics for a deep insight into your portfolio and the broader market.At this point, the app supports seven chart types, more than 80 technical indicators, and over 50 charting tools.
Audited Tax Reports
One of Atani's most charming offensive against competitors is the audited tax reports feature. The app can automatically generate downloadable tax reports. The company also claims to have all tax reports "audited by one of the Big Four accounting firms."
As of today, the app offers tax reports compatible with the tax regimes in 30 countries across Asia, Europe, and the Americas.
(Austria, Belgium, Brazil, Canada, Chile, Cyprus, Czech Republic, Denmark, Estonia, Finland, Germany, Hungary, Indonesia, Israel, Italy, Latvia, Lithuania, Luxembourg, Mexico, Netherlands, Norway, Philippines, Russia, Slovakia, Spain, Sweden, Switzerland, Taiwan, Thailand, and the USA)
The company says it plans on extending this service to more countries in 2021.
Privacy and Security
Atani's approach to security begins with the premise that you, and only you, will have full control over your API keys. The company claims that being a desktop app (as opposed to cloud-based services), its servers do not require any access to users' APIs or funds.
Being non-custodial also means that even if Atani is breached, the attackers won't be able to get hold of your funds. Apart from that, the company claims to have deployed military-grade AES-256 encryption to protect the APIs stored locally on your PC.
As for privacy, you do not need to fill KYC or any other document that could potentially divulge your identity.
Atani: Pros and Cons
Pros:
Unified trading terminal supporting 20+ exchanges, 1,500 cryptocurrencies, and 9,000+ trading pairs.

Easy to download and sign up. The app is available for free.
Audited tax reports for users in select few countries. 
Real-time market reports and portfolio tracking.

Free charts, charting tools, and analytics.

You have full control over your APIs.

The non-custodial framework means Atani has no access to your funds.

Cons:
Some new users may find the user interface a little challenging at first. (Although, there are plenty of instructional videos on the Atani website to help new users catch up quickly.)

No support so far for futures and margin trading.

No tax reports for users outside the 30 currently supported countries.
Final Verdict
Overall, there are four primary parameters for you to evaluate whether or not Atani makes the right choice for you: Features, Security, Ease-of-use, and Cost.
In terms of features, you will probably have no qualm against the app given that it comes fully loaded. The same goes for the privacy and security aspects, just as we have already discussed above.
Ease-of-use is one factor that some novice users might have some issues with initially. But then, the trade-off is probably worth it if you are going through the hassles of using multiple exchanges while simultaneously sweating over other aspects such as market analysis, tax filing, and such. Besides, Atani offers an education section on its website to help out new users.
As for cost, Atani is currently free-to-use for all new users, although the company plans on introducing premium services in the foreseeable future. You are also likely to get special discounts on trading-fees on a select few exchanges if you sign up with them using Atani.
Disclaimer
All the information contained on our website is published in good faith and for general information purposes only. Any action the reader takes upon the information found on our website is strictly at their own risk.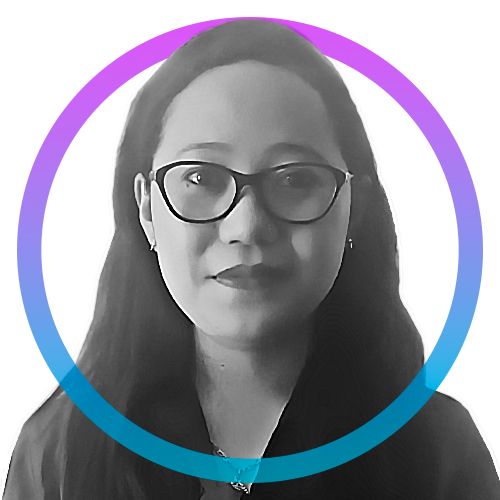 Shilpa is a freelance tech writer and journalist who is deeply passionate about artificial intelligence and pro-freedom technologies such as distributed ledgers and...
Shilpa is a freelance tech writer and journalist who is deeply passionate about artificial intelligence and pro-freedom technologies such as distributed ledgers and...
READ FULL BIO
Sponsored Sponsored