JPMorgan Chase said in this week's research note that the crypto slide under fair value provides an opportunity for "significant upside" for investors.
On Friday, Bitcoin remained under the crucial level of $30,000 and was hovering close to $28,800. In addition, the king coin was down almost 5% in the past week as per market data.
BTC fair price at $38,000
According to the banking giant JPM, $38,000 is the fair price of BTC. Therefore, this signifies that the largest coin by market cap has an upside potential of at least 36% from the current price levels, as per the bank's note.
Meanwhile, CoinGecko also underlined that the cumulative crypto capitalization globally fell to $1.2 trillion at press time. This was on the back of 137,446 traders reportedly liquidating their holdings, with total liquidations coming in at $517.24 million on Friday.
The note said, "The past month's crypto market correction looks more like capitulation relative to last January/February, and going forward we see upside for bitcoin and crypto markets more generally,"
The bank's analysts also noted that crypto is now the preferred "alternative asset" when they stated, "We thus replace real estate with digital assets as our preferred alternative asset class along with hedge funds,"
That said, some crypto industry players believe that the bear market is meant to test the fittest projects. Bertrand Perez, CEO of the Web3 Foundation, told CNBC at the World Economic Forum in Davos, Switzerland, "We're in a bear market. And I think that's good. It's good, because it's going to clear the people who were there for the bad reasons,"
"It's good also, because all those projects are gone. So the legit ones will be able to focus only on developing on building and forget about the valuation of the token because everyone is down," Perez added while emphasizing on 'building' over 'valuation'.
BTC gains dominance amid a weak market
Even as Bitcoin remains almost 60% down against its last year's all-time high of $69,000, the Bitcoin Market Dominance (BTC.D) index is surging.
According to TradingView charts, BTC dominance remains over 46%.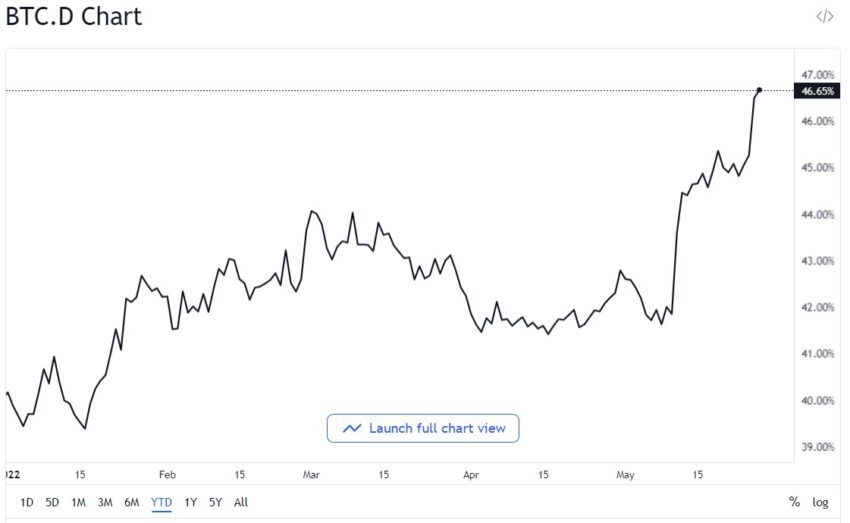 Notably, the index has surged over 5% since May 10, as the altcoin universe is also negatively impacted since the Terra market collapse. Meanwhile, Ethereum, which is the second-largest crypto by market cap, is experiencing a slight delay before the much-anticipated The Merge, leading to investors turning towards Bitcoin.
What do you think about this subject? Write to us and tell us!.
Disclaimer
All the information contained on our website is published in good faith and for general information purposes only. Any action the reader takes upon the information found on our website is strictly at their own risk.