Over the past few months, Nvidia has commanded the headlines, reinforcing its status as a dominant force in the tech sector.
This dominance is largely attributed to its significant strides in artificial intelligence (AI), which have caused the company's valuation to soar unprecedentedly.
High Demand for AI-Processing Chips
Nvidia's stock trajectory exemplifies its success story. Notably, shares of the chipmaker climbed an impressive 8.5% on a single Monday, marking its most substantial one-day percentage hike since May 25.
This is a snapshot of the stock's remarkable performance, with a year-to-date appreciation of 238% fueled predominantly by AI optimism.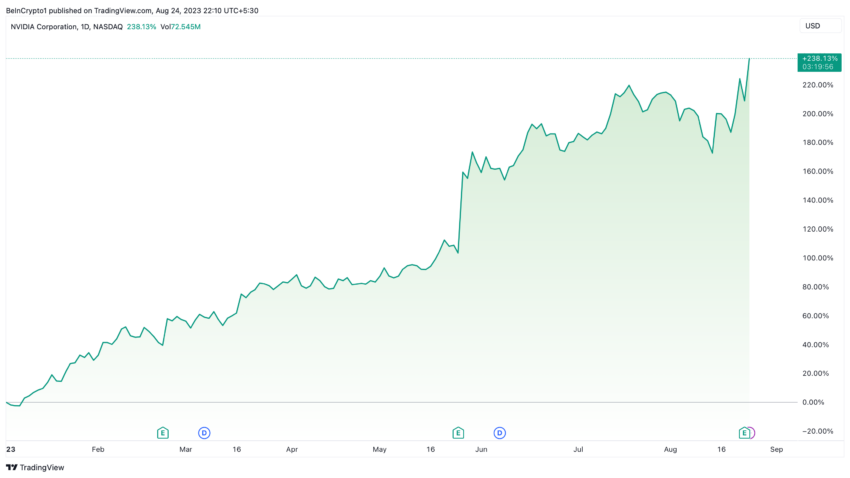 Equally telling is the rapid upward revision of the average price target for Nvidia. It rose from $505 to above $520 within a week, signaling a growing confidence in the chipmaker's prospects.
The renewed faith is grounded in Nvidia's earnings results, influenced heavily by its engagement with AI technologies.
Read more: These Three Billionaires Are Bullish on Artificial Intelligence, Bearish on Crypto
Leading financial institutions, including HSBC, KeyBanc Capital Markets, and BMO Capital Markets, have already upped their price targets. The underpinning sentiment is that Nvidia will record substantial demand for its AI-processing chips. And with revenue projected to spike by 65% from the year prior, this sentiment seems well-founded.
A primary driving factor for Nvidia's meteoric rise has been its timely pivot to AI. Earlier this year, the launch of generative AI services, such as ChatGPT, sparked a frenzy in the tech sector, catapulting Nvidia to the forefront as a prime beneficiary of AI expenditure.
90% of Analysts Are Bullish on Nvidia
Nvidia's projections from the previous quarter far exceeded market expectations, attesting to its growing stature in the AI sector. The general consensus among analysts paints a rosy picture for Nvidia.
Indeed, nearly 90% of experts surveyed by Bloomberg endorsed a buy recommendation for the stock.
This widespread optimism is not unfounded. Hence, Nvidia's Q2 revenue disclosure showcases a staggering 101% year-on-year increase, totaling $13.51 billion and easily outperforming the anticipated $11.04 billion.
Furthermore, the firm's adjusted earnings per share surged 429%, bearing testimony to Nvidia's strategic AI shift.
Read more: How Will Artificial Intelligence (AI) Transform Crypto?
Breaking down these figures reveals Nvidia's formula for success. For instance, data center revenue touched $10.3 billion, while gaming revenues reached $2.5 billion, which outstripped analysts' forecasts.
"Data Center compute revenue nearly tripled year-on-year, driven primarily by accelerating demand from cloud service providers and large consumer Internet companies for our HGX platform, the engine of generative AI and large language models," Colette Kress, Nvidia's CFO, said.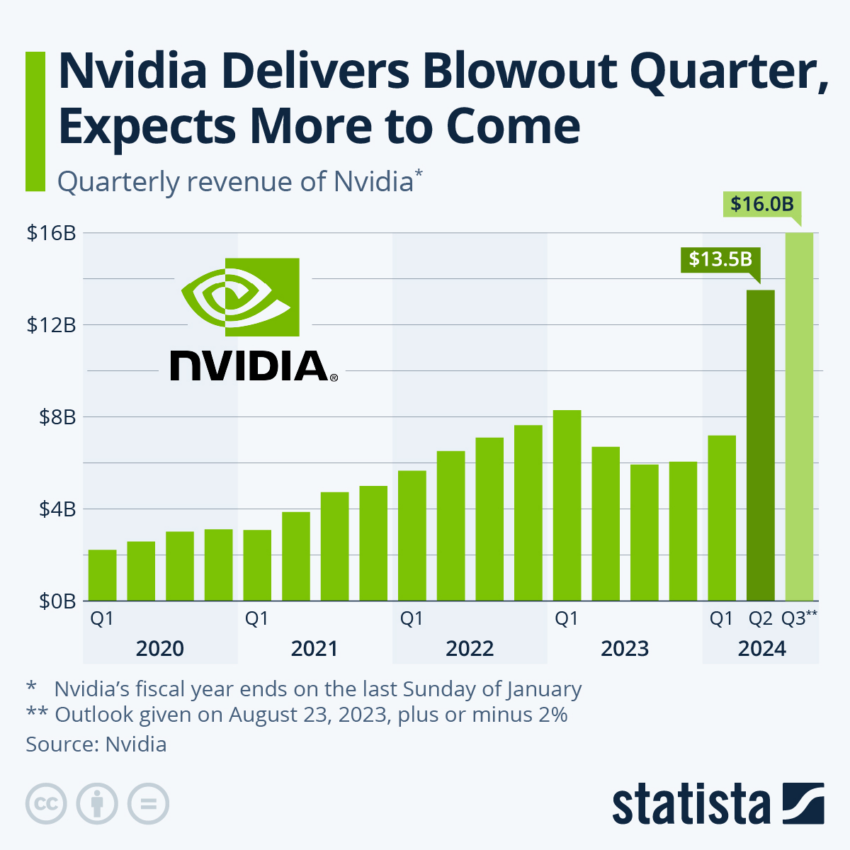 Jensen Huang, Nvidia's CEO, also encapsulated the company's journey, emphasizing the revolutionary role of AI. "A new computing era has begun," Huang remarked, highlighting the global shift towards specialized computing and generative AI.
With major cloud service vendors announcing expansive Nvidia H100 AI architectures in the quarter, Nvidia's momentum in the AI sector seems unstoppable. Partnerships with leading IT and software providers further underscore this drive, aiming to bring Nvidia's AI prowess to industries across the board.
Read more: 9 Best AI Crypto Trading Bots To Maximize Your Profits
From a stock perspective, the price of NVDA surged to an all-time high of $502.66 after-hours trading. Meanwhile, Nvidia revealed an ambitious $25 billion share buyback plan, reaffirming its bullish market outlook.
Do Not Follow the Herd
While the temptation might be to jump on the Nvidia bandwagon, it is essential to understand the broader context of investment and the dangers of "herd mentality."
History is replete with examples of investment bubbles, from the tulip mania of the 17th century to the dot-com bubble and the ICO bubble of 2017. These bubbles often emerge from unchecked optimism, where asset prices inflate beyond their intrinsic value, driven by collective market behavior.
Indeed, when the bubble reaches an unsustainable level, its collapse is almost inevitable. For instance, the dot-com frenzy of the 1990s serves as a sobering reminder.
Back then, investors clamored for a piece of any business with a ".com" in its name, often ignoring traditional investment fundamentals. And when the bubble burst, many suffered steep losses.
Read more: What Is the Crypto Fear and Greed Index?
Investment is as much about psychology as it is about economics. Herd instinct or herding describes a scenario where individuals follow the majority, often bypassing personal analysis.
Although 90% of experts surveyed by Bloomberg recommend buying NVDA, the pitfalls of herding might lead investors to overlook critical details, overvalue certain assets, or misjudge market trends.
BeInCrypto's Global Head of News, Ali Martinez, maintains that the Nvidia stock could continue to rally. However, he affirms it is not the right time to go long. Instead, Martinez suggested that investors should be "looking to book some profits" or even enter a short position.
"The Tom DeMark Sequential Indicator is currently on a green 8 candlestick on the monthly chart, which suggests that a sell signal will be presented next month, in September. This bearish formation anticipates a one to four monthly candlesticks correction before the continuation of the uptrend," Martinez said.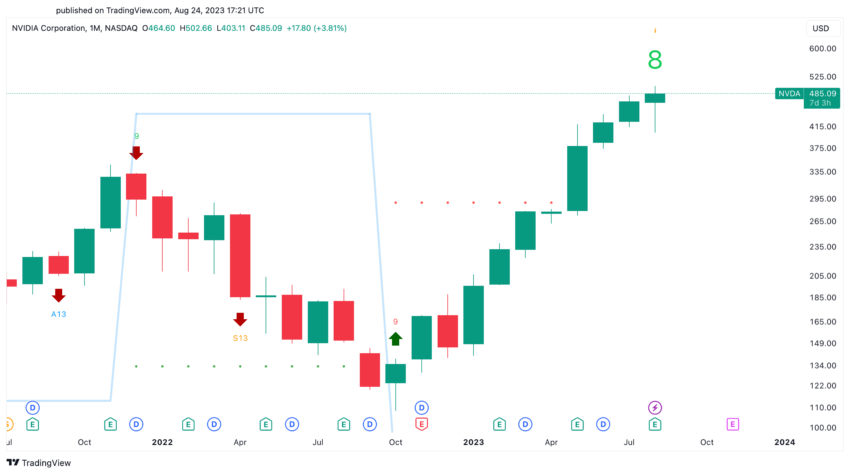 Likewise, popular analyst under the pseudonym Income Sharks affirmed the current price levels are "not a bad place to take profits." The trading veteran added that "earnings is priced in" and market sell-off could soon follow.
While Nvidia's strides in the AI sector are commendable and its future looks promising, it is essential for investors to approach it with a discerning eye. Following the herd might sometimes lead to greener pastures, but history has shown that it can also lead off a cliff.
Disclaimer
Following the Trust Project guidelines, this feature article presents opinions and perspectives from industry experts or individuals. BeInCrypto is dedicated to transparent reporting, but the views expressed in this article do not necessarily reflect those of BeInCrypto or its staff. Readers should verify information independently and consult with a professional before making decisions based on this content.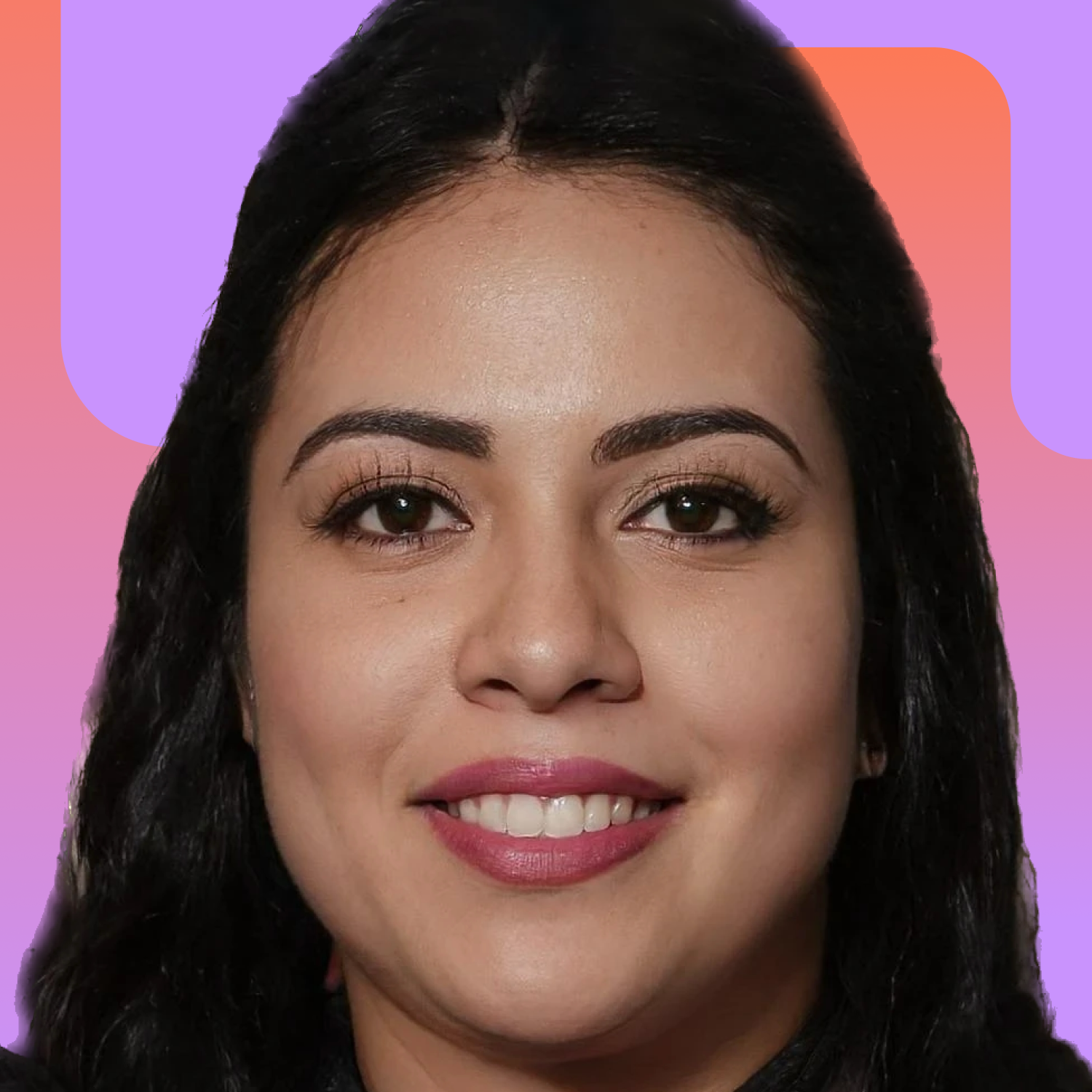 Bary Rahman, a talented journalist, graduated from New York University with a degree in Journalism. Skilled in SEO, she has worked with CNN, showcasing her investigative skills...
Bary Rahman, a talented journalist, graduated from New York University with a degree in Journalism. Skilled in SEO, she has worked with CNN, showcasing her investigative skills...
READ FULL BIO
Sponsored Sponsored