Altcoins have been in a bear market for almost two years. While Bitcoin has enjoyed a resurgence as of late, other coins have lagged behind. This has caused many to wonder when will the next alt-season begin.
On September 4, 2019, @filbfilb made a tweet about a possible upward move for altcoins.
The full tweet is given below:
In USD terms, alts look like they stand a reasonable chance of bounce.$BTC dominance still remains strong and doesnt look like slowing down though.. Overall bullish. pic.twitter.com/GUJQeENJqB

— fil₿fil₿ (@filbfilb) September 4, 2019
In the first image provided, we can initially see a descending wedge that has been in place since July 2019.
The descending wedge is considered a bullish pattern, making price breakouts more likely.
Additionally, the price has decreased all the way to a significant support area.
Finally, there is a growing bullish divergence and weak selling pressure in the MACD and OBV, respectively.
It is important to note that this is the market capitalization of all coins excluding Bitcoin.
An increase in the price of BTC will not increase the market capitalization presented in the image above.
Therefore, this does not help us in determining whether BTC will increase at a faster or slower rate than alternate coins.
With that in mind, an analysis of technical indicators presented by @filbfilb suggests that the USD value of altcoins will soon begin to increase.
The second image shows the dominance of BTC presented in percentage terms: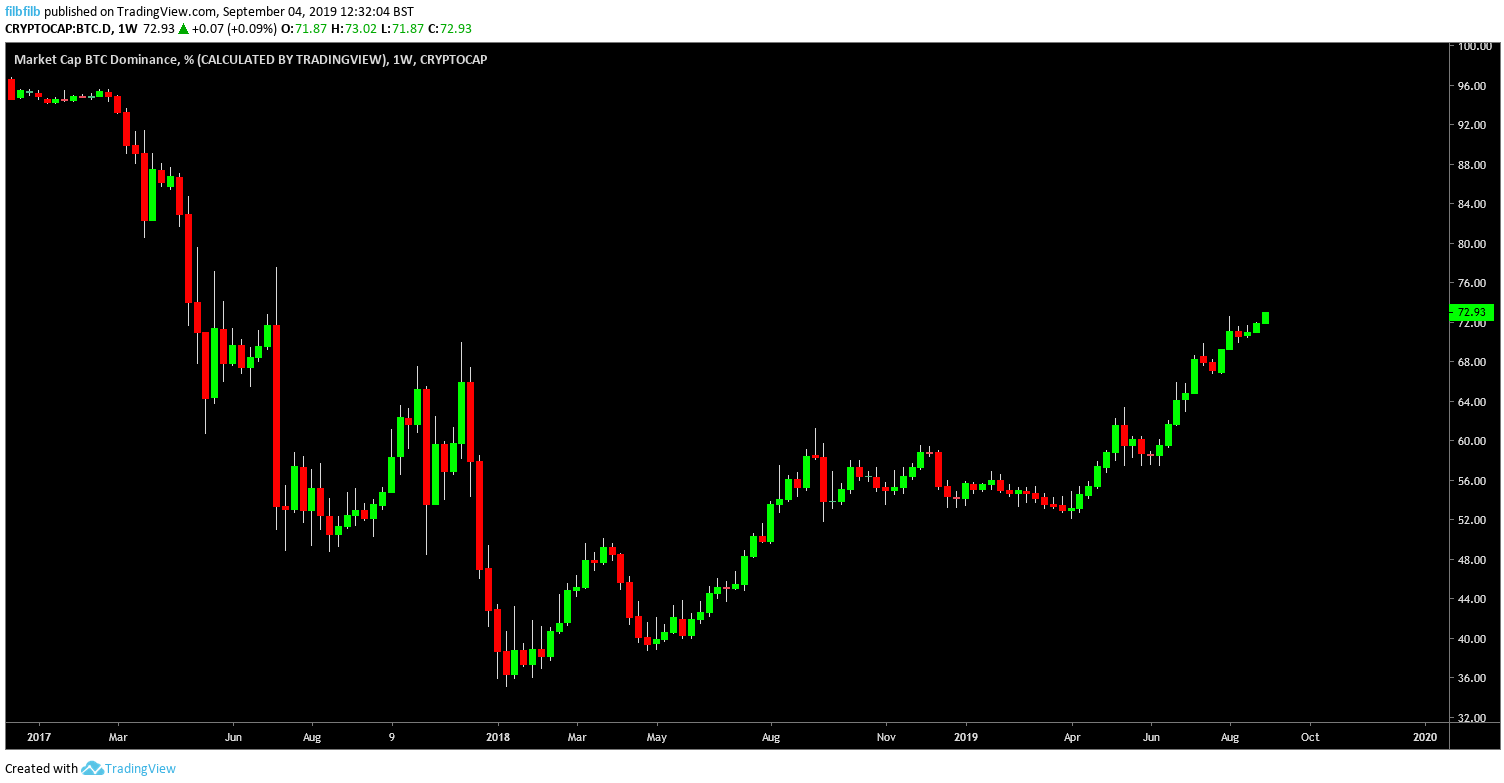 The lowest value in percentage terms was 35%, reached in January 2018.
Interestingly, this was at a time when the BTC price was at its all-time high.
Afterward, the price of BTC has gone down, while its dominance rate has gone up.
This means that while the USD value of both BTC and other coins has decreased, that of BTC has done so in a much slower rate.
Summary
The market capitalization of alternate coins has been rapidly decreasing since July 2019.
According to @filbfilb, an upward move is likely to soon begin. We agree with this assessment.
However, this only means that alternate coins are likely to increase their value in USD, and says nothing about their relationship to BTC.
Do you think altcoins will begin to see a market cap increase? Let us know in the comments below. While you're at it, check out our guide on the best cryptocurrency exchanges for trading Bitcoins.
---
Disclaimer: This article is not trading advice and should not be construed as such. It is for educational purposes only and represents the typical trades the author would make himself. Always consult a trained financial professional before investing in cryptocurrencies, as the market is particularly volatile.
Images are courtesy of Shutterstock, TradingView, Twitter.
---
Do you want to BeInCrypto? Join our Telegram Trading Community for exclusive trading signals, educational content, discussions and project reviews! Images courtesy of Shutterstock, Trading View and Twitter.