Few things are more annoying in games than staid, repetitive NPC dialogue. The replayability of longstanding releases like Skyrim has made them a gaming staple for multiple generations. But no matter how often you choose a different playstyle, the dialogue will, unfortunately, always remain the same. AI chatbots like ChatGPT show the potential for a different path.
The ChatGPT software is the most popular iteration of AI-based technology, a phenomenon that exploded in 2022. The program, developed by OpenAI, is able to understand human language, enabling it to respond to a wide variety of requests and questions. Open AI is backed by Microsoft and was founded by Elon Musk, and Sam Altman, its current CEO.
The AI chatbot model is such a threat to existing search engines that Google has declared a "code red." According to the New York Times, CEO Sundar Pichai has raced to "define Google's AI strategy" and has "upended the work of numerous groups inside the company to respond to the threat that ChatGPT poses."
No More Lonely Metaverse?
Reports from earlier this year suggest that AI chatbots could be more than welcome in the Metaverse. Offering users a world that feels more inhabited and organic than existing platforms.
According to numbers from DappRadar, metaverse platforms Decentraland and The Sandbox both had less than 1,000 "daily active" users. However, these numbers only reflect the number of unique wallet addresses interacting with the platform's smart contract. Not unique visitor numbers – which are higher – but still below 10,000. 
Could AI Chatbots Help Fill in the Gaps?
Based on the author's experience, AI chatbots are not inconspicuous enough to blend into the background of a populated metaverse. At this point in time, you will certainly know they're there and who/what they are. After all, current chatbots are regimented enough not to troll or flame, and will probably be polite, congenial digital citizens. Something actual human beings often aren't. It's not exactly a bad thing, but it could make for a less spicy metaverse experience.
But in the future, it is inconceivable that a technology that can replicate a near-unlimited amount of human-like conversations won't populate our virtual worlds. It is simply too cheap and too easy.
Hows Do AI Chatbots Like ChatGPT Work?
Modern chatbots are built on a natural language understanding technology that uses deep neural network models to understand human language. With the power of machine learning, they can understand a wide range of human languages and respond to a variety of user requests.
This technology can be applied to various areas, including information recall, customer service, and copywriting. The flexible technology allows you to adjust the bot's language and responses based on the user's input. In the case of ChatGPT, the technology is also scalable and can be used to create multiple chatbots at once.
AI chatbots generally consist of three essential components.
A natural language understanding model that comprehends human language using machine learning, using trillions of examples across the web; a natural language generation model that generates natural language and creates personalized responses; and a dialog policy network used to generate responses based on inputs from the user.
These three elements, layered on top of each other, are the basic elements of any AI chatbot. Together they help create a realistic, near-human simulation.
Automated Customer Service In The Metaverse
As the use of metaverse platforms has grown, businesses have moved in to service customer needs and increase brand visibility. Some of the planet's biggest brands have already set up shop in yet another attempt to convince users to part with their cash. Calvin Klein, Burberry, Nike, Louis Vuitton, and even KFC have all set up digital stores in Decentraland over the past two years.
AI-based chatbots offer these corporate giants the ability to staff these stores without adding to their salary bill. Customer service chatbots have been relatively commonplace since the mid-2000s. SmarterChild had teens and tweens talking to a computer on MSN Messenger as early as 2001.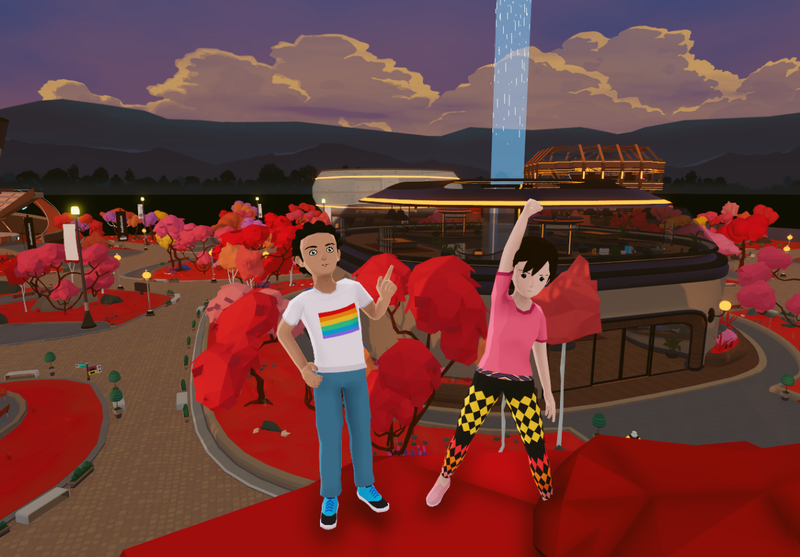 But this new generation of AI offers a level of sophistication the Noughties could only dream of. This human-like customer service can offer to onboard to elements of the Metaverse which often confuse and confound non-crypto natives. Not everyone has a Web3 aficionado friend to ask about DeFi protocols. 
Scrolling through forums and online guides can smooth the learning curve. But advanced AI chatbots could remove complex terminology altogether, opening up decentralized banking services and NFTs to many more.
It's Not All Good
There are downsides, however. The proliferation of cheap, near-unlimited chatbots as walking, talking avatars could make the Metaverse appear unauthentic. Anyone who has had significant interaction with a modern chatbot will know there is something a little off about them. Their answers, whilst impressive, can be formulaic.
According to a report by Barracuda, bots already make up 64% of internet traffic. While most bots are materially different from AI-powered avatars, it is not unfeasible we could see a similar domination in the Metaverse.
They are also wrong a lot of the time. Ask any leading AI chatbot enough questions and you're bound to find an inaccurate response. What's more, they often communicate their inaccuracies with exigent certainty. When Zuckerberg's Meta released Galactica, an AI language model trained on academic papers, it survived only three days online and was quickly folded due to wrong and biased results.
There is also a risk that AI chatbots like ChatGPT add yet another layer of intrusion to surveillance capitalism. If, in the near future, we spend a significant amount of time on metaverse platforms, a world populated by AI chatbots will just be the latest addition to the Big Data economic model.
The use of faux-human avatars will require a degree of restraint on the part of platforms and users. Otherwise, regulation will inevitably follow. Whilst the benefits certainly outweigh the pros, there may come a time when the balance is lost. After all, in a potential dystopian future, how will you know who is human and who isn't? The only reason you know a human wrote this article is that (I hope) it doesn't read like a robot tapping away at a keyboard. In the future, that distinction simply won't exist.
Disclaimer
BeInCrypto has reached out to company or individual involved in the story to get an official statement about the recent developments, but it has yet to hear back.