At
BeInCrypto
, we offer regular price analyses of
XRP
and other cryptocurrencies. Today, we are beginning a new series of monthly price analyses for several cryptocurrencies including XRP.
---
On March 1, 2019, XRP (XRP) opened at just over $0.32. At the end of the month, the price closed at approximately $0.314.
This marked a monthly loss of roughly 1.85%. Comparatively the price of Bitcoin (BTC) increased by around 8% from March's open to close.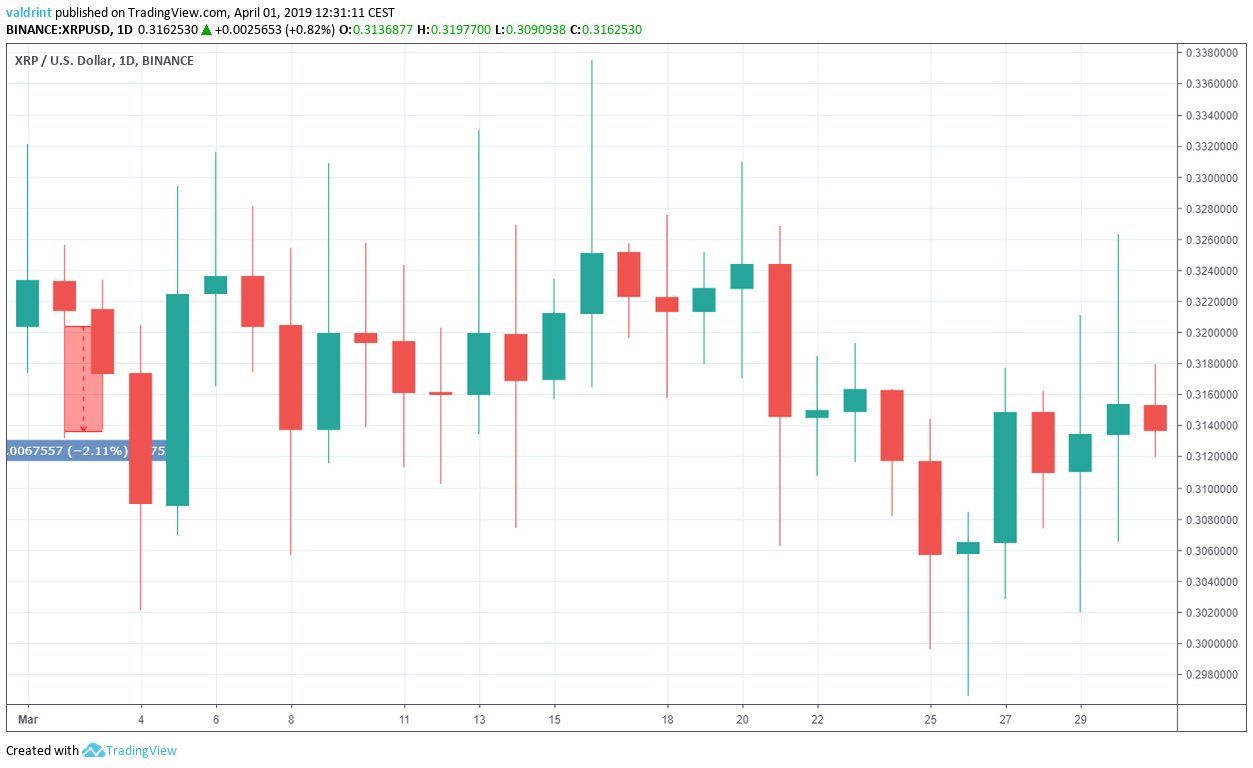 While XRP struggled to exist the lower $0.30s, it was unable to do so in March.
Below, we are going to take a look at the trading structure and summarize in chronological order the most important moves that materialized in the month of March.
XRP (XRP): Trends and Highlights For March 2019
The price of XRP/USD has decreased slightly in the month of March.
XRP is trading inside a horizontal channel.
XRP traded inside an ascending triangle from Mar 4 to Mar 22.
On Mar 22, XRP broke down from the triangle.
XRP broke out from a descending wedge on Mar 27
Horizontal Channel
The price of XRP on Binance is analyzed at one-day intervals from Mar 1 to Mar 31 to determine its current trading pattern.
On Mar 4, the price made a low of $0.302. A gradual uptrend followed. Price again dropped and reached the same level on Mar 25 and Mar 27. Tracing these lows gives us a horizontal support line.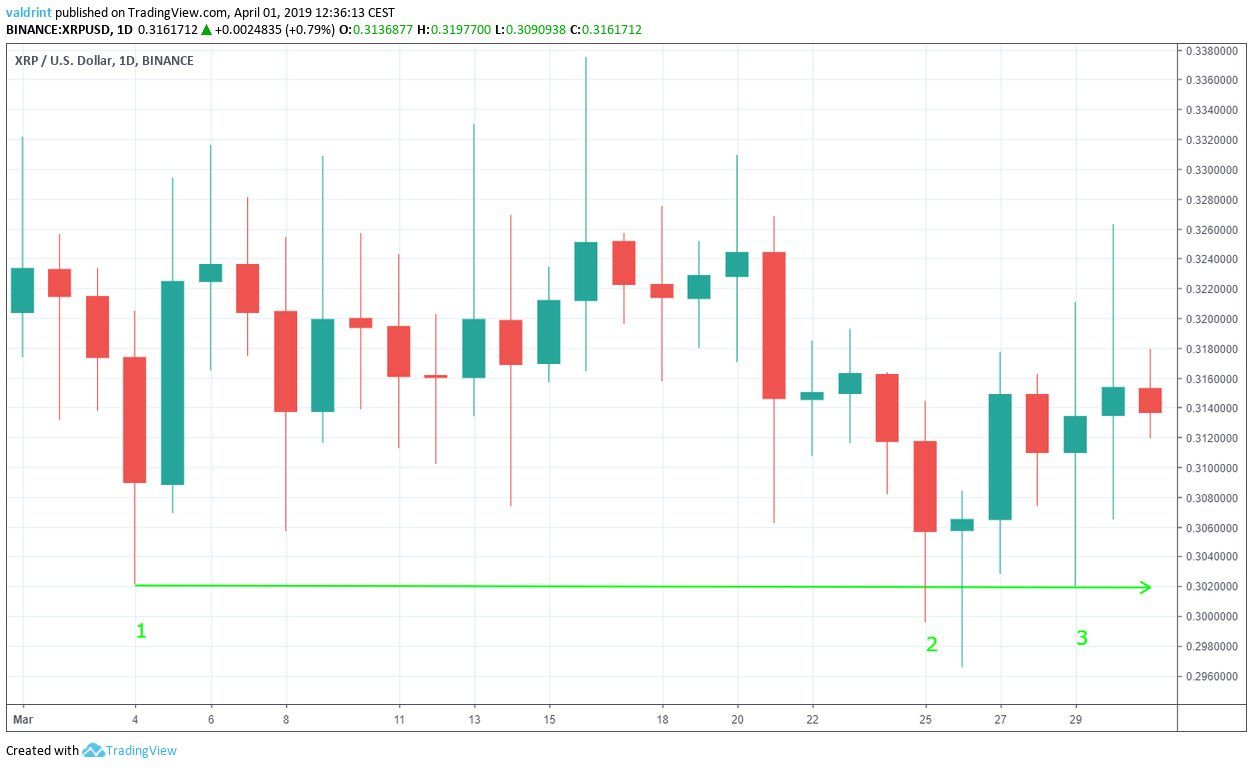 On Mar 1, the price made a high of $0.332. A sharp decrease ensued, followed by a gradual increase. Several market cycles have been completed since and the $0.33 level has been reached six times.
Tracing these highs gives us a horizontal resistance line.
The resistance and support lines combine to create a horizontal channel: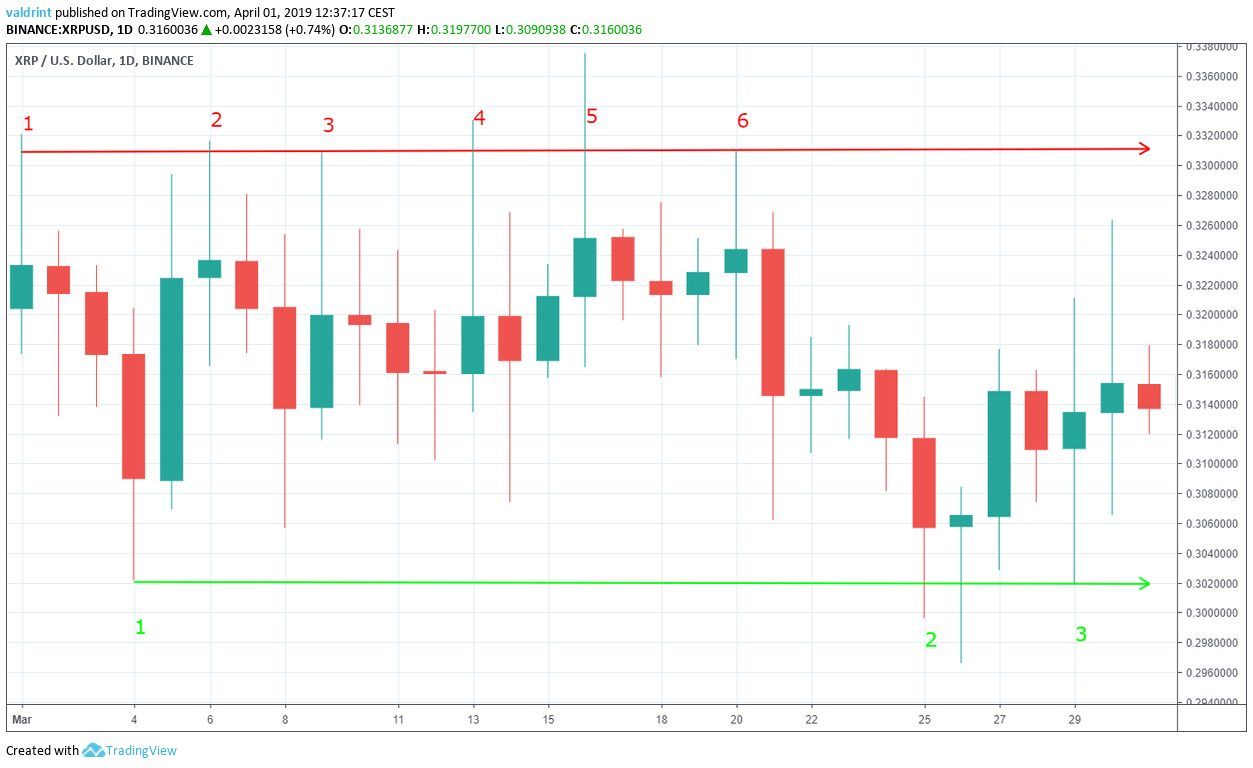 XRP consistently traded within this channel during March. Only wick highs and lows moved above or below the channel.
Important Movements
The price of XRP is going to be analyzed in three time periods which trace important movements for XRP during the month of March.
These are:
Mar 7 – Mar 9: A sharp drop from $0.32 to $0.3
Mar 15 – Mar 17: A successful upward movement above $0.33
Mar 25 – Mar 27: A drop below $0.3 and the ensuing recovery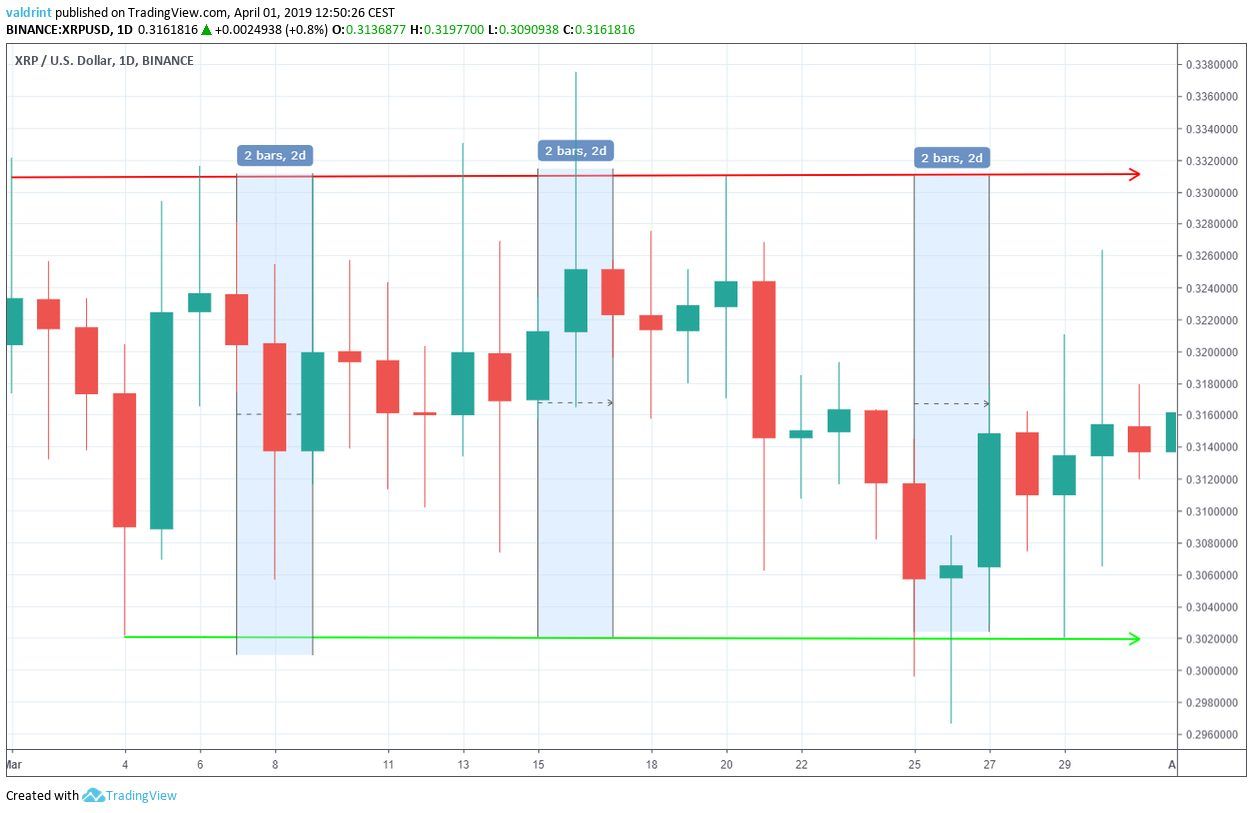 Mar 7-9: XRP/USD Meets Resistance and Drops to $0.30.
On Mar 6, the price made a high of $0.328. A gradual decrease ensued and the price made a low of $0.307 on Mar 8.
Above we traced a horizontal channel for Mar. However, XRP has been trading in a longer-term symmetrical triangle in place since February.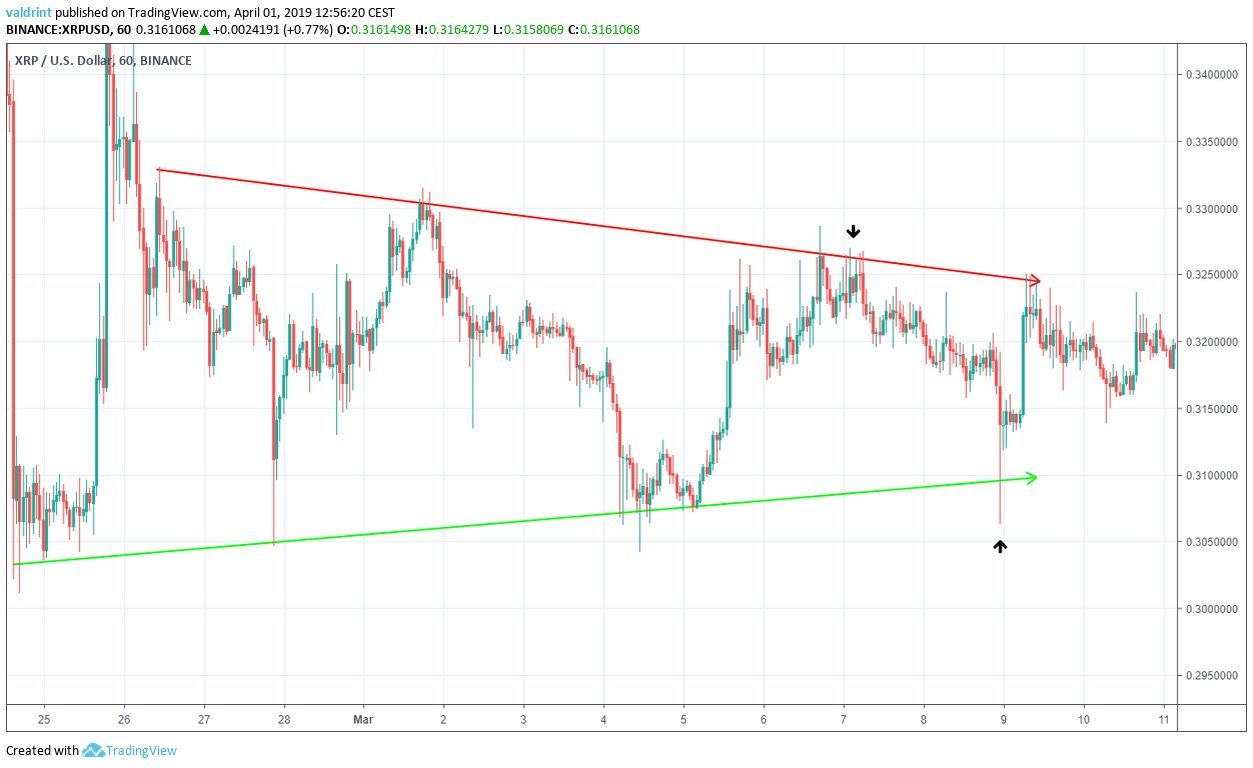 The price losses on Marconstitutedted a drop from the resistance line of this triangle to the support. We successfully predicted this movement in our Mar 6 analysis of XRP.
Mar 15-17: XRP/USD Moves Above $0.33
On Mar 5, XRP began trading in an ascending triangle. After the Mar 8 low, the price began a gradual increase toward the resistance.
Price began dropping the following day. It was not until Mar 13 that a rapid price spike brought XRP back toward the resistance.
Prices dropped again. On Mar 14, XRP reached similar lows to those experienced on Mar 8.
These lows were much short-lived. Between Mar 15 and 16, price returned to the resistance line.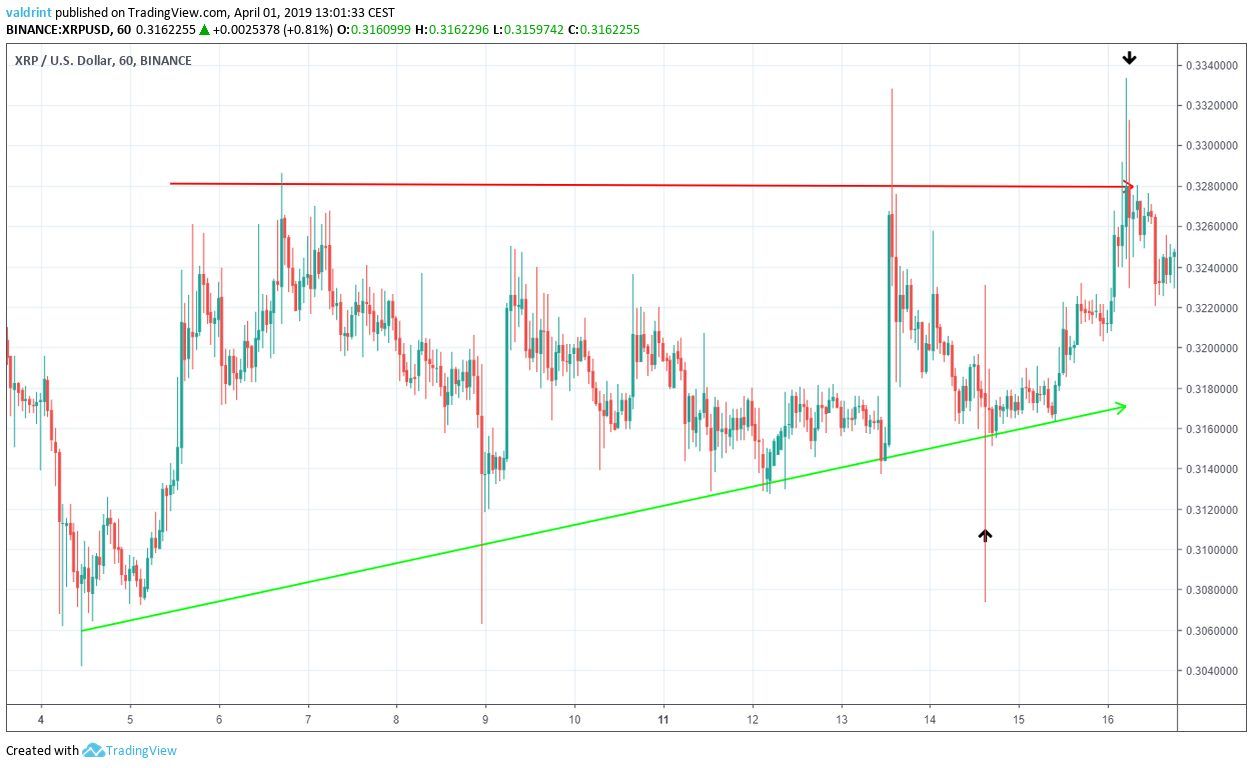 We successfully predicted this movement in our Mar 15 analysis.
Mar 25-27: Swing Low And Wedge Breakout
The price continued to trade within the confines of the triangle until a breakdown occurred on Mar 21.
Following the Mar 21 drop, XRP entered into a descending wedge that continued until Mar 26 when a low of $0.297 was reached.
On Mar 27, XRP experienced a reversal. Price broke out of the wedge and rose to a high of $0.324 on Mar 30. It dropped to under $0.32 before the end of the month.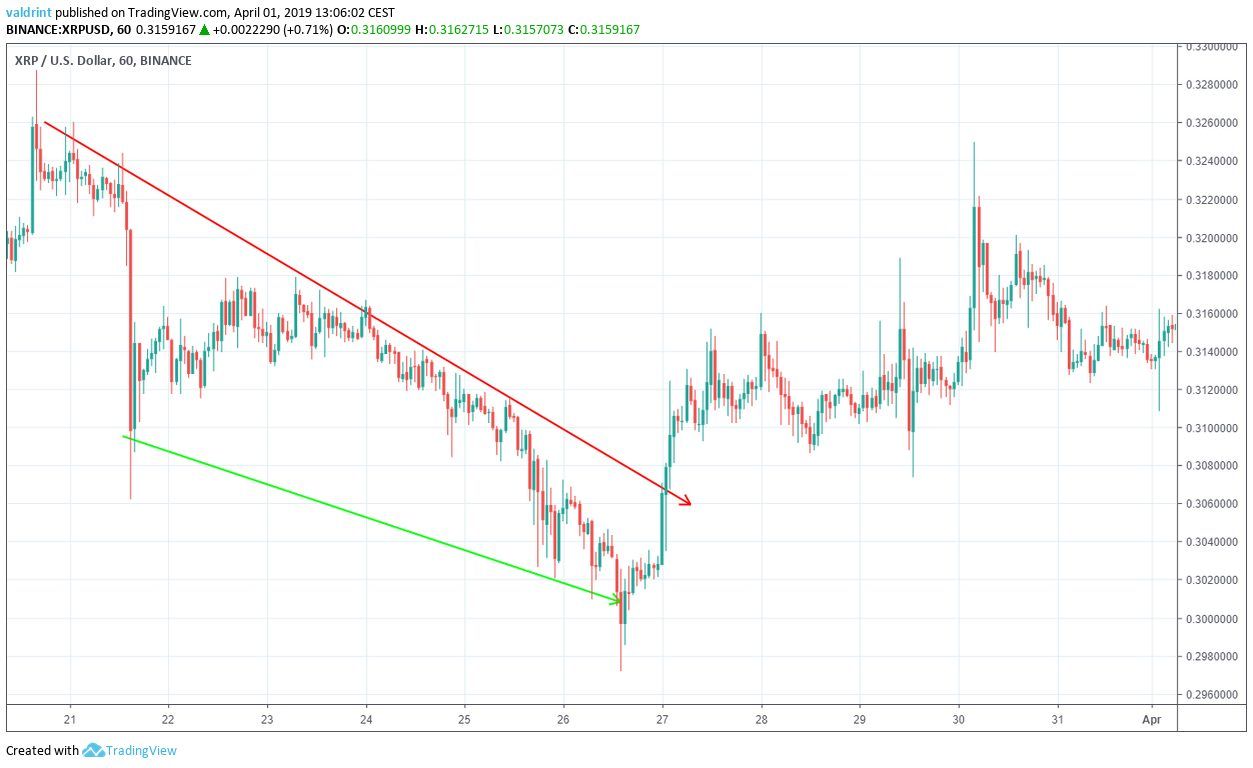 We successfully predicted this breakout for XRP in our Mar 26 analysis.
Summary of Analysis
In the month of March, the price of XRP  has been trading inside a horizontal channel, alternating between resistance and support. It is currently very close to the resistance line of the channel. Overall price losses have been experienced for the month.
Do you think the price of XRP will breakout or breakdown from the channel? Let us know your thoughts in the comments below!
Disclaimer: This article is not trading advice and should not be construed as such. Always consult a trained financial professional before investing in cryptocurrencies, as the market is particularly volatile.
Disclaimer
All the information contained on our website is published in good faith and for general information purposes only. Any action the reader takes upon the information found on our website is strictly at their own risk.