Paragon (PRG), a cryptocurrency focused on improving the worldwide cannabis industry, has recently experienced a staggering 3,400 percent growth in the last several hours.
Paragon initially completed its
initial coin offering
(
ICO
) in October 2017 after raising around $70 million digital assets during its three-month-long token sale period. Paragon is the brainchild of Jessica Versteeg, co-founder of AuBox — a luxury subscription service to medical cannabis — and former model. Versteeg created Paragon in an attempt to use blockchain technology to help bring stability to the nascent cannabis industry, helping to unite global legalization efforts and helping cannabis-based startups operate more efficiently. The platform, which promised to revolutionize the cannabis industry was initially met with much praise, but interest in the project dwindled as the project was issued a cease-and-desist notice by the U.S. Securities and Exchange Commission (SEC) in November 2018.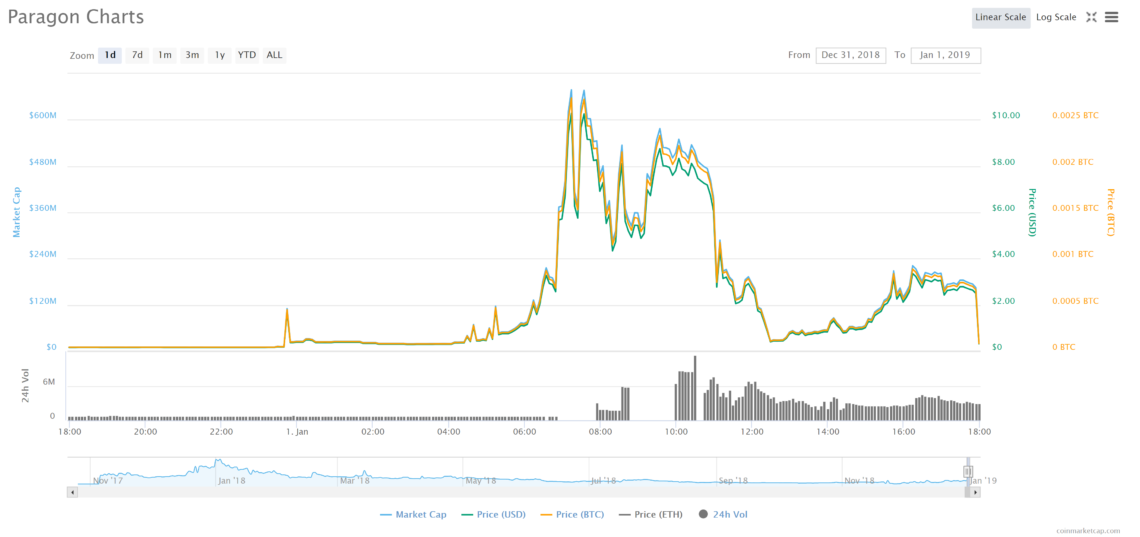 3,400 percent in four hours
Since the PRG tokens began trading in October 2017, PRG has almost exclusively lost value, barring a few spikes throughout the course of the last year. Since the beginning of 2018, Paragon Coins have witnessed a staggering decline in value, falling from a high of almost $0.90 in January, down to less than one cent in November. PRG has been trading at below $0.20 for well over half of its life, with daily trade volumes typically hovering around $100k throughout this period. Despite this, however, since the end of November Paragon has been on the move, climbing from just 0.8 cents on November 28, to more than 12 cents just two weeks later — a whopping 1250 percent improvement. Following a transient crash back to under five cents in the following days, PRG bounced right back up to 12 cents and continued to trade sideways until 2018 came to a close.
Then something changed…
Beginning in the early hours of 2019, PRG gained significant momentum, climbing from 30 cents to over $10 in the space of four hours. In the following hours, PRG experienced extreme
volatility
, crashing back to around $4 twice before spiking over $8 two more times. During this time, trade volume increased dramatically as the price spiked, but the gains were not maintained as PRG eventually crashed to just 45 cents over the following hours. The vast majority of trade volume originates at Stex, a small and obscure cryptocurrency exchange that has frequently been criticized for facilitating
pump and dump
tactics. The altcoin briefly reached as high as 18th place by cryptocurrency market capitalization, as its valuation swelled to nearly $700 million at midday. As of yet, the cause of the pump is unknown, but appears more than likely the result of market manipulation, as there is no clear reason why the coin would recover so drastically after experiencing almost total losses.
Past Controversy
On Nov 16, 2018, the SEC filed a cease and desist notice against Paragon for offering and selling PRG tokens in violation of the securities act, which mandates that any company dealing in securities must be licensed to do so with the SEC. According to the SEC, Paragon's ICO legally constituted a sale of securities, despite the company describing PRG as a utility token. If the company looks to sell any additional tokens in the future, it will need to register with SEC to do so. In addition to the cease and desist notice, Paragon was ordered to pay around $250,000 in fines and issue a refund to all investors who purchased PRG tokens during the ICO. This was the first time any such penalty had been issued against an ICO. The decision from the SEC appears to have stemmed from a class action lawsuit filed against the company in January after investors claimed the project was not properly licensed to sell securities. At this point, however, no federal court had held an ICO subject to securities laws. Despite the severe blow, Paragon appears optimistic about the outcome, spinning it as something that will inevitably help Paragon grow stronger as a company and community, and recently launched phase one of the Paragon app.
What is your opinion on Paragon (PRG)? Do you think the team has involvement in the recent surge? Let us your thoughts in the comments below! 
Disclaimer
All the information contained on our website is published in good faith and for general information purposes only. Any action the reader takes upon the information found on our website is strictly at their own risk.