DeFi-based cryptocurrency UniLend Finance (UFT) soared 250% over the last month to a six-month high, becoming one of the most traded coins on Binance, a major digital asset exchange.
UniLend, a decentralized lending and borrowing protocol launched in 2020, has climbed from $0.16 on Aug. 28 to $0.56 on Sept. 17, according to Coinmarketcap. In the previous 24 hours, however, UFT fell 3.6% to $0.35, with a trading volume of $15.67 million.
While the token has slumped 44% year-to-date, and more than 90% from its all-time high of $4.47 on Feb. 23, 2021, UFT has started to see a spike in interest in recent weeks. It became a top 15 cryptocurrency by trending search on Binance exchange, as of Monday.
UniLend was the tenth most searched asset on the crypto exchange, a spot ahead of popular memecoin DOGE. With a total market value of $11 million, Binance said that UFT dominated trading volumes on its exchange, accounting for up to 72% of the total.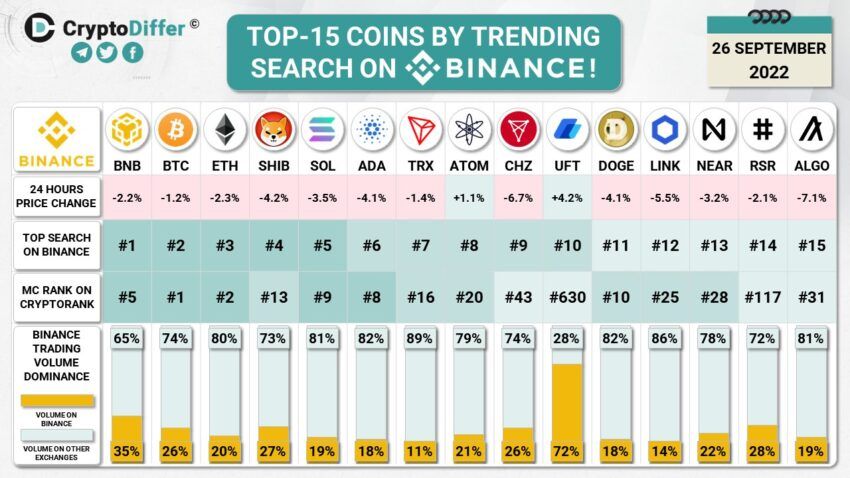 As of writing on Tuesday, that dominance had slowed to 60%. Coinmarketcap data shows UFT is held by 5,750 wallet addresses, with the top ten holders accounting for more than 91% of the asset's total supply, suggesting it is concentrated in a few hands.
UniLend Finance claims a community of over 100,000 across several social media sites like Twitter, Telegram, and Discord.
What is UniLend?
According to its website, UniLend describes itself as "a permissionless decentralized protocol that combines spot trading and money markets with lending and borrowing services through smart contracts."
Whereas other DeFi protocols support a limited number of cryptocurrencies, "anyone can list any ERC20 asset on UniLend for trading and lending/borrowing," it said.
The protocol says its main goal is to open up the decentralized financial industry to hordes of multi-billion-dollar ERC20 tokens, currently excluded from DeFi. It allows users to deposit any such tokens as collateral for lending and borrowing, as well as trade their assets in-platform.
UniLend's native token, UFT, is primarily used for governance purposes – meaning holders are required to vote on proposals that need majority consensus to be implemented. Users of the platform, such as liquidity providers, also receive voting power in the form of UFT as a reward.
Why the hype?
Since its launch, UniLend Finance has continued to grow its ecosystem through partnerships. It was listed on DEXTools a month ago, and said on Sept. 24 that more than three million users of the Delta Investment Tracker, an app that provides real-time tracking of crypto portfolios, "now have access to UFT."
"Users can now easily track UFT across major exchanges, get notified on the latest news about UniLend and much more," the protocol posted on Twitter. It has also inked deals with over 50 partners, including Binance, Algo Blogs, UniSwap, and others.
But it is the imminent launch of UniLend V2 that has whipped the market into a frenzy lately.
Targeting to tap the "$500 billion borrowing and lending market," UniLend says its improved version "will enable anyone to list a token on the protocol and straightaway access the DeFi services without any barriers."
"UniLend V2 will open up collateral for all assets using our unique approach of dual asset pools," it said in a blog post. "[The] dapp will allow a pair of any two ERC20 assets pooled together in permissionless nature and start lending/borrowing."
UniLend Finance claimed that "by eliminating the standard approach taken by major DeFi protocols, we will be the first to support every ERC20 asset for lending/borrowing without affecting or risking pools."
For Be[In]Crypto's latest Bitcoin (BTC) analysis, click here
Disclaimer
Following the Trust Project guidelines, this feature article presents opinions and perspectives from industry experts or individuals. BeInCrypto is dedicated to transparent reporting, but the views expressed in this article do not necessarily reflect those of BeInCrypto or its staff. Readers should verify information independently and consult with a professional before making decisions based on this content.
Jeffrey Gogo is a Zimbabwean financial journalist with more than 18 years of experience covering local and global financial markets; economic and company news. A climate change...
Jeffrey Gogo is a Zimbabwean financial journalist with more than 18 years of experience covering local and global financial markets; economic and company news. A climate change...
READ FULL BIO
Sponsored Sponsored