Ukraine vice-Prime Minister Mykhailo Fedorov celebrated a Uniswap "Donate to Ukraine" feature and asked for additional help. The DEX complied, and the donations continue to pour in.
Ukraine's Vice Prime Minister Mykhailo Fedorov praised Uniswap's "Donate to Ukraine" charity effort and has asked for additional support. Fedorov tweeted on March 2 that the people of Ukraine were grateful to the DEX for their campaign, which automatically exchanged any of their listed tokens to ETH.
Uniswap charity campaign
He additionally asked for Uniswap to put the campaign on their homepage so that it would be more visible to the crypto community, making it easier for them to assist. Uniswap agreed and carried out the change within 24 hours, and the donate to Ukraine feature is now visible on the Uniswap homepage.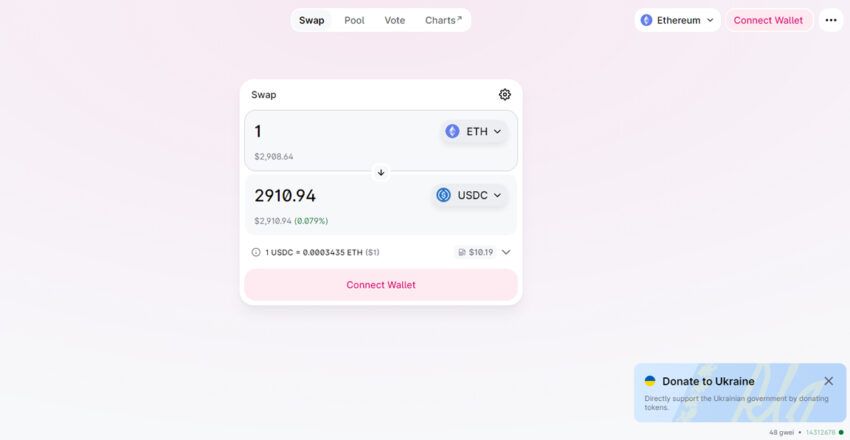 Uniswap added the donate feature to the homepage on March 1. It allows users to swap any token for ETH, which will then be sent to the Ukrainian government in a single transaction. It's one part of a concerted effort by the crypto community to help Ukraine.
Tens of millions of dollars in crypto donations have already flowed into Ukraine, and it does not look like it will stop soon. Gavin Wood, founder of Polkadot and much else, donated $5 million to the cause. An airdrop has also been confirmed by Ukraine's official Twitter account.
Crypto playing a big role in conflict
The role of cryptocurrencies has grown since Russia began attacking Ukraine. Fedorov has asked crypto platforms to block Russian addresses, a request which some crypto entities have agreed to. Binance, for example, has blocked the accounts of sanctioned Russians, but will not do so for all Russians.
Kraken CEO Jesse Powell, meanwhile, has said that Kraken would not do so without a legal requirement. Coinbase has also said that it will not block Russian user accounts. Western officials have chided crypto entities for possibly giving Russians a way out of the sanctions.
The crypto activity in Ukraine and Russia has both surged since the conflict began. As the ruble tumbles, Russian citizens are taking to crypto to secure their financial well-being. However, it is unclear how much of an effect it will have in Russia.
Disclaimer
All the information contained on our website is published in good faith and for general information purposes only. Any action the reader takes upon the information found on our website is strictly at their own risk.