This article will take a look at ten cryptocurrencies that have interesting developments lined up for the month of July, which could also have a positive effect on their price.
Ethereum
Current Price: $2,161
Market Cap: $251 Billion
Market Cap Rank: #2
Ethereum is a decentralized open-source blockchain. It launched in July 2015 and employs its native currency, ETH. Ethereum was one of the first platforms to allow for the creation of decentralized applications (dApps). Currently, there are more than one thousand dApps built on the platform. Due to its ERC-20 compatibility standard, the platform can also host other cryptocurrencies. ETH will be subject to numerous
forks
in 2021. After the
Berlin hard fork,
which went live on April 15, the London hard fork will
go live in July.
Six "Ethereum Improvement Proposals" (
EIP
) are
likely to be implemented
in the fork. Moreover, the one that has already been officially announced is
EIP-1559,
which could drastically reduce
gas fees
by completely overhauling the fee structure. Unlike the current structure, in which users bid for gas prices, the new structure will introduce a base fee for each block. In addition to this, it will delay the
"Difficulty time bomb"
in order to coincide with the release of ETH 2.0. As for its price movement, ETH has deviated below the $2,000 support area, before reclaiming it and moving upwards. The next resistances are at $3,031 – $3,350.
Ethereum Classic (ETC)
Current Price: $59.86
Market Cap: $6.9 Billion
Market Cap Rank: #17
Ethereum Classic is a hard fork of Ethereum, created as a result of a disagreement between Ethereum developers. More specifically, the disagreement was about whether the effects of a hack should be reverted or not. It was launched in July 2016. The native token is ETC. A network upgrade called
"Magneto"
will release
on July 7. It will include a series of EIPs that were introduced in the "Berlin" upgrade. ETC has broken out from a descending resistance line and is in the process of moving towards the $80 horizontal resistance area.
Swipe (SXP)
Current Price: $2.00
Market Cap: $200 Million
Market Cap Rank: #148
Swipe is a platform whose main aim is the connection between the fiat and cryptocurrency ecosystems. Its main products are: The Swipe debit card, the Swipe
wallet
and the native token, SXP. The
Swipechain testnet
will release on July 6th and is a component of the Swipe network. A fork of THORChain, it enables interoperability, allowing cross-chain swaps. While it is not designed as a substitute for other existing chains such as Ethereum or
BSC
, it will complement cross-chain trading. SXP has been hovering around the $1.65 horizontal support area since May 24. Technical indicators are showing some bullish signs in the form of multiple bullish divergences. The closest resistances are between $3.08-$3.62.
Kava.io (KAVA)
Current Price: $4.28
Market Cap: $274 Million
Market Cap Rank: #124
Kava.io
is a
DeFi
lending platform that allows its users to lend, invest and earn. Unlike other lending platforms, KAVA provides support for cross-chain assets. In addition to this, users of the platform can stake their tokens and earn rewards directly from the platform. The Kava Swap Incentivized Testnet
will launch on July 12.
It will be a testnet that will incentivize users to test its functionality. The first version of the test net will employ numerous new features, such as different Governance parameters, swap fees and rewards for delegation. KAVA has been trading inside a descending parallel channel since April 6. It is currently right at its resistance line, making its fourth breakout attempt (red icons). Technical indicators are bullish, supporting the possibility that it will be successful in doing so. The next closest resistance is at $7.25.
THETA (THETA)
Current Price: $6.85
Market Cap: $6.84 billion
Market Cap Rank: #18
THETA is a blockchain whose main purpose is video streaming. It functions as a decentralized network, where users share computing resources. Its native token is THETA, used mostly for governance issues. THETA aims to reward viewers with higher quality streaming service. In addition, it seeks to improve earnings for content creations. Finally, it intends to reduce costs for streaming platforms. The Theta
Mainnet 3.0
will
launch
on June 30. It will upgrade elite edge nodes and introduce both token staking and burning. THETA has been decreasing alongside a descending resistance line since April 14. It broke out from the line on June 4 and returned to validate it as support on June 22 (green icon). If successful in holding the higher low, the next resistance would be at $10.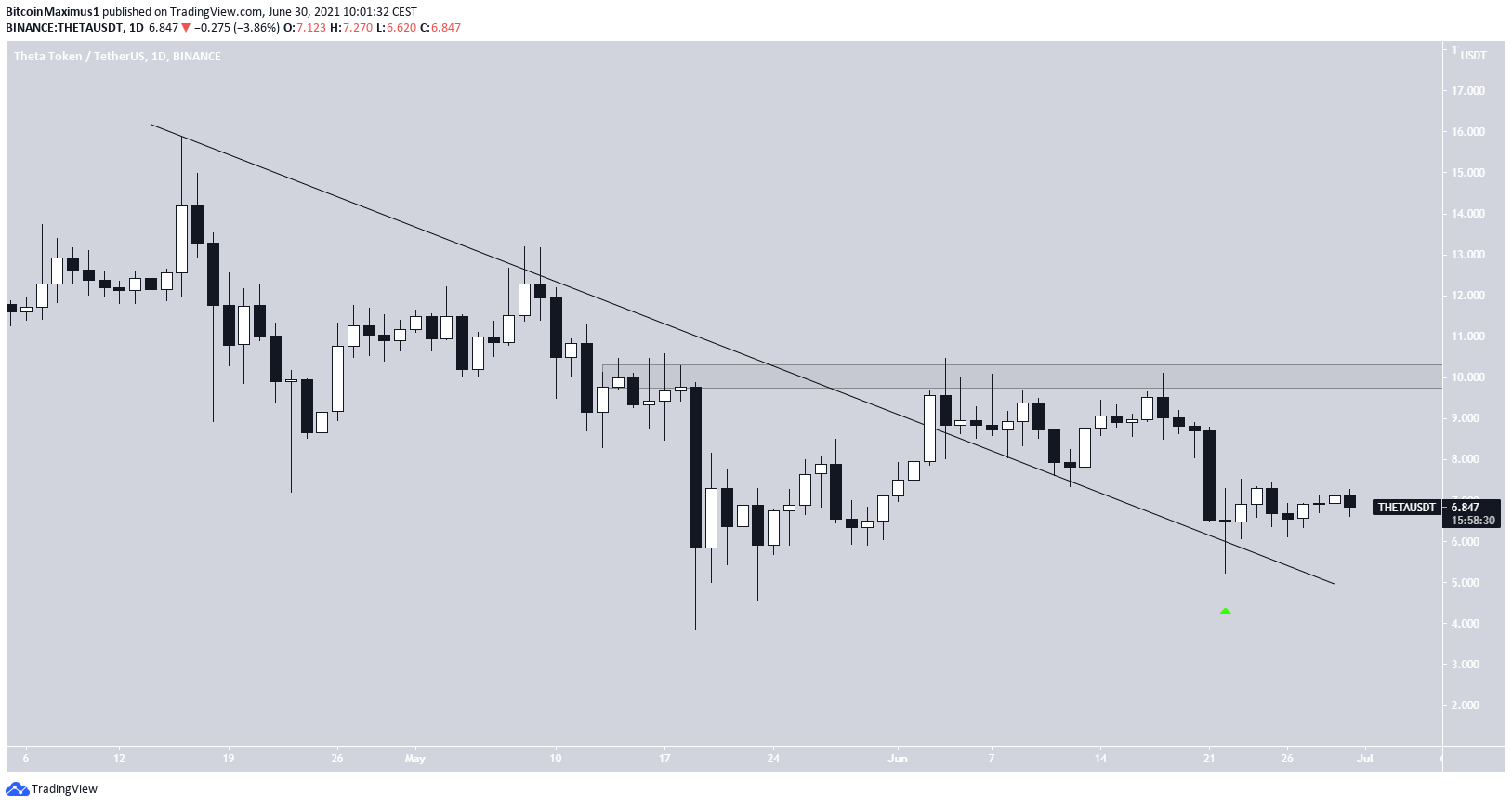 SelfKey (KEY)
Current Price: $0.0076
Market Cap: $35 Million
Market Cap Rank: #475
SelfKey
is an identity platform that is blockchain based. Its main product is a non-custodial wallet, providing users secure storage for their assets. Its native token is KEY.
On July 8
, KEY holders will receive additional KEYFI tokens as a result of an airdrop. The airdrop will provide new tokens in proportion to their KEY holdings. In addition, another airdrop will conduct on July 18, providing holds with one additional KEY token for each 60 tokens that they are holdings. KEY is in the process of creating a double bottom pattern inside the $0.007 support area. If so, it could increase towards the closest resistance at $0.012.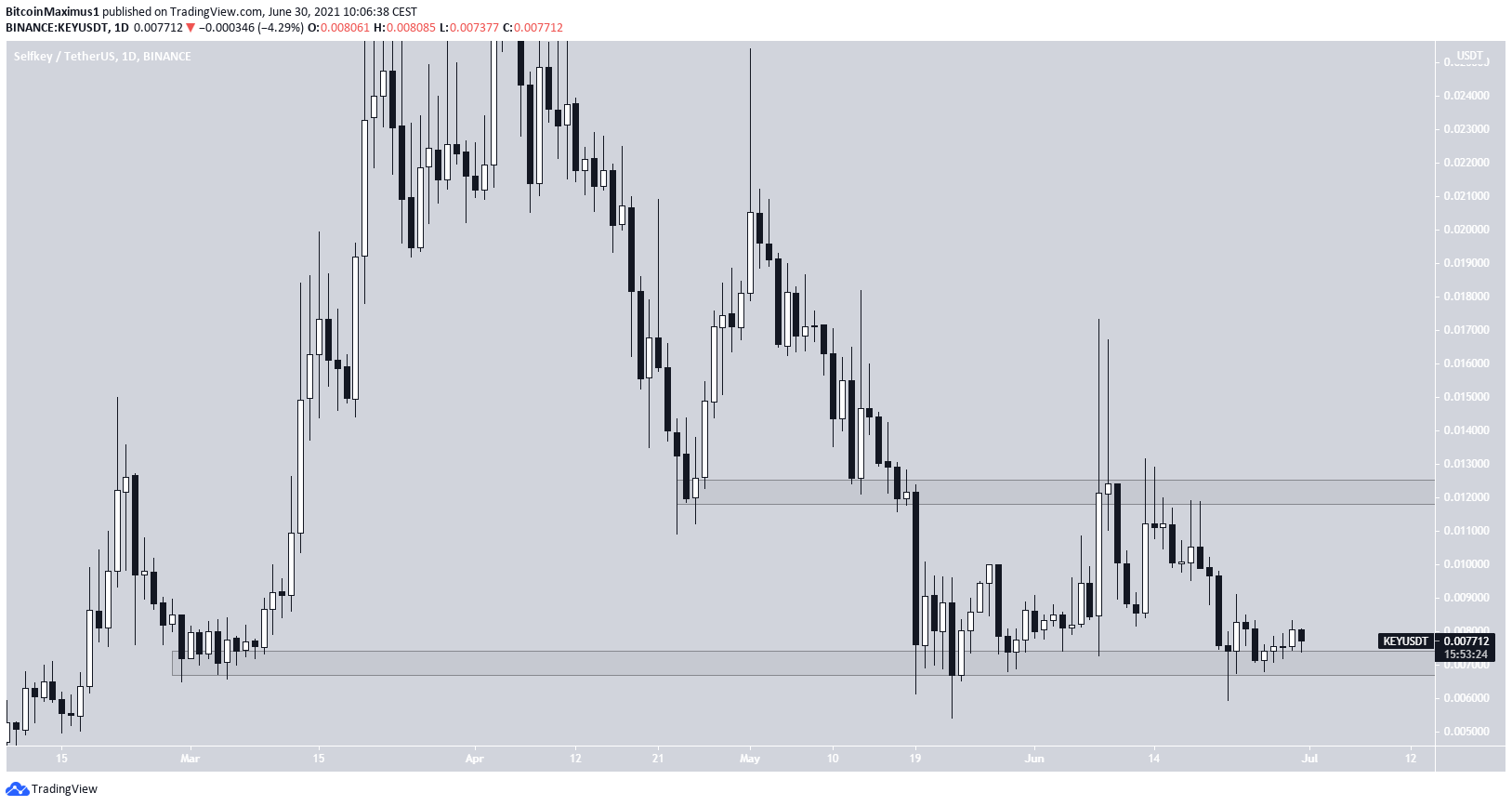 Horizon Protocol (HZN)
Current Price : $0.093
Market Cap: $3.745 Million
Market Cap Rank: #1165
Horizon Protocol
is a
DeFi
platform, that aims to extend the customary DeFi capabilities (lending, borrowing and liquidity), by creating on-chain synthetic assets. Therefore, market participants will provide stablecoins that back synthetic assets, which can be physicals assets, equity assets of even traditional financial market indices. It is a fork of Synthetix. The
Phoenix Oracle module
will launch in the beginning of July alongside the Horizon Genesis Mainnet. HZN reached an all-time low price of $0.079 on June 25. It has bounced since, but is still trading below a descending resistance line that has been in place since the beginning of June. Until it is successful in breaking out, the trend cannot be considered bullish. If the token breaks out, the closest resistance area would be at $0.20, the 0.5 Fib retracement resistance level.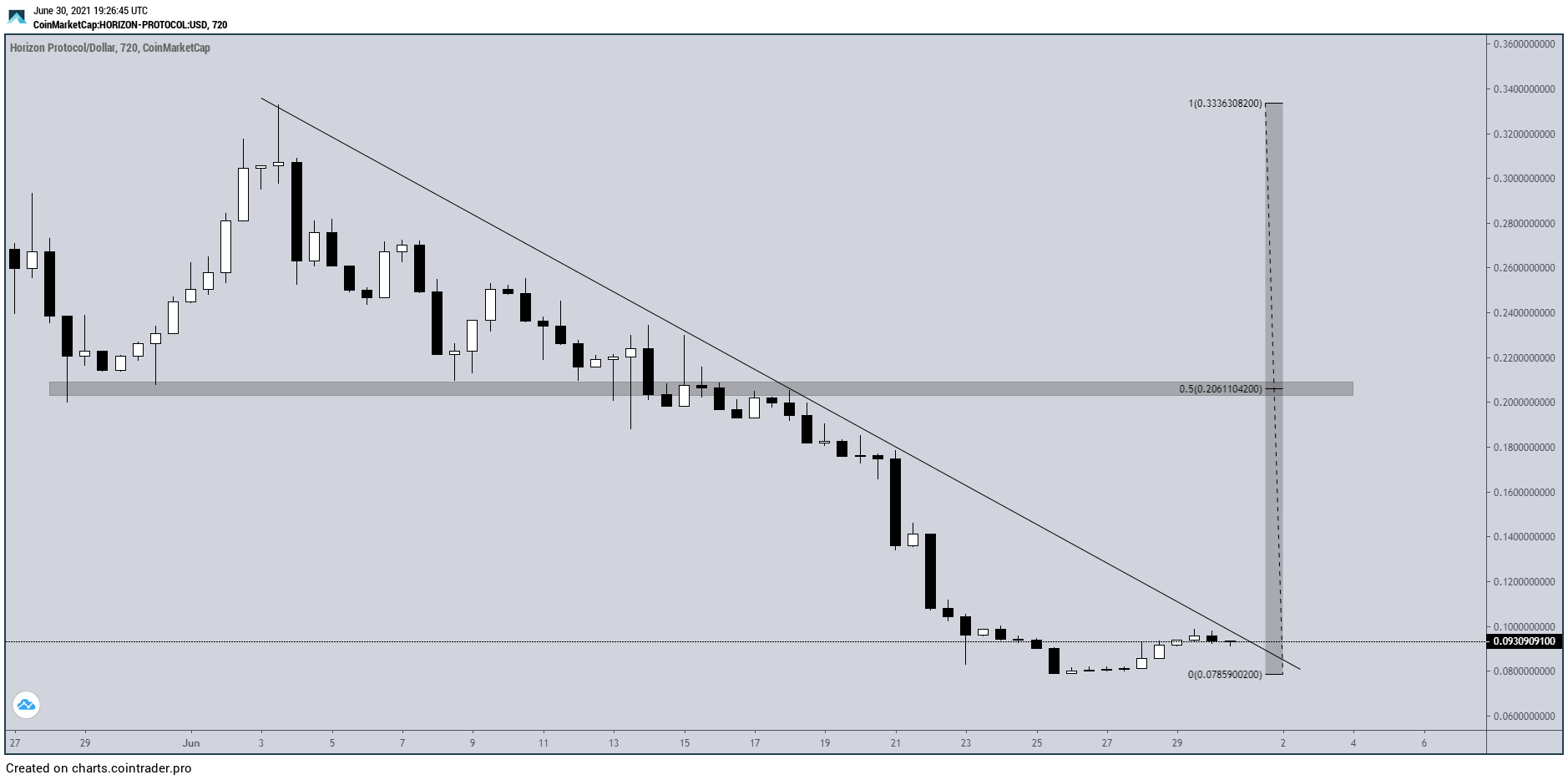 Pundi X (PUNDIX)
Current Price: $1.06
Market Cap: $274 Million
Market Cap Rank: #228
Pundi X
is a blockchain platform that offers point-of-sale solutions, aiming to revolutionize the retail industry. It launched in Jan. 2018 as the first point-of-sale solution in the world. Since then, it has released numerous successful products, such as:
XPOS
, XPASS,
XWallet
and BOB. The
second quarterly
burn will occur on July 17. So far, the preceding quarterly token burns have amounted to roughly
$50 million in value.
The token reached an all-time low of $0.578 on June 22 and bounced. The first resistance area is at $1.30.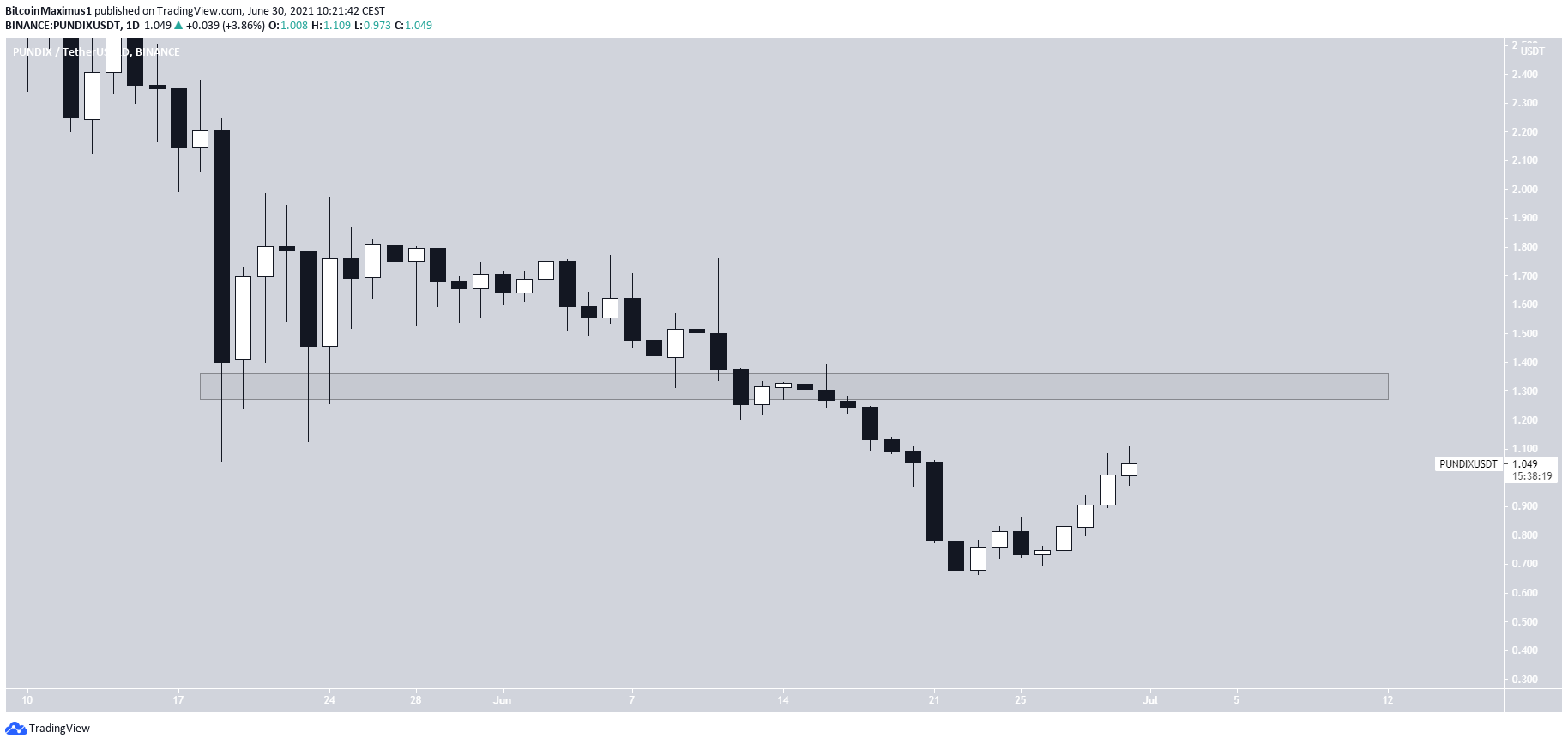 Fetch.ai (FET)
Current Price: $0.224
Market Cap: $167 Million
Market Cap Rank: #159
Fetch.AI
is an artificial intelligence blockchain platform that builds the necessary infrastructure in order to build a digital, decentralized economy. It is built on a sharded ledger and is capable of deploying artificial intelligence and
machine learning
solutions. The native token is FET, which is a crucial part of smart contracts in the network. The Mainnet bridge expansion
will go live
on July 16. It will allow for staking, with estimated annual returns of 70-75%. FET has created a double bottom pattern inside the $0.20 support area. It has begun to move upwards, but is still following a descending resistance line.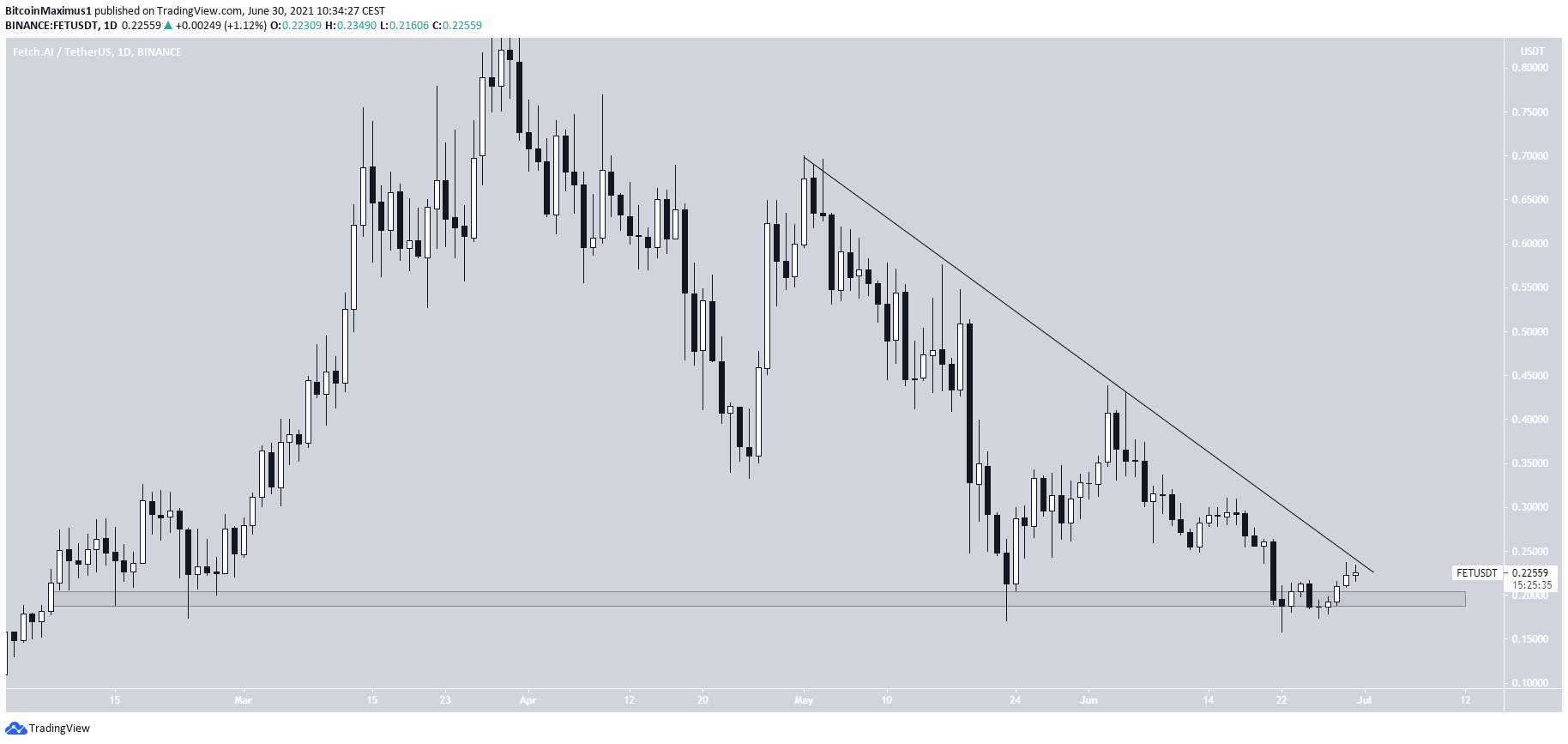 Lendefi (LDFI)
Current Price: $0.285
Market Cap: $1.3 Million
Market Cap Rank: #1504
Lendefi
is a DeFi protocol that enables users to lend their assets in order to gain interest. It supports multiple assets, while offering secure lending and under collateralized loans. The testnet will launch on June 28 while the
mainnet will go live
on the
Binance
Smart Chain on July 12. While it initiated an upward movement in the beginning of March, LDFI/ETH has fallen back to the 0.00013 support level since May 17.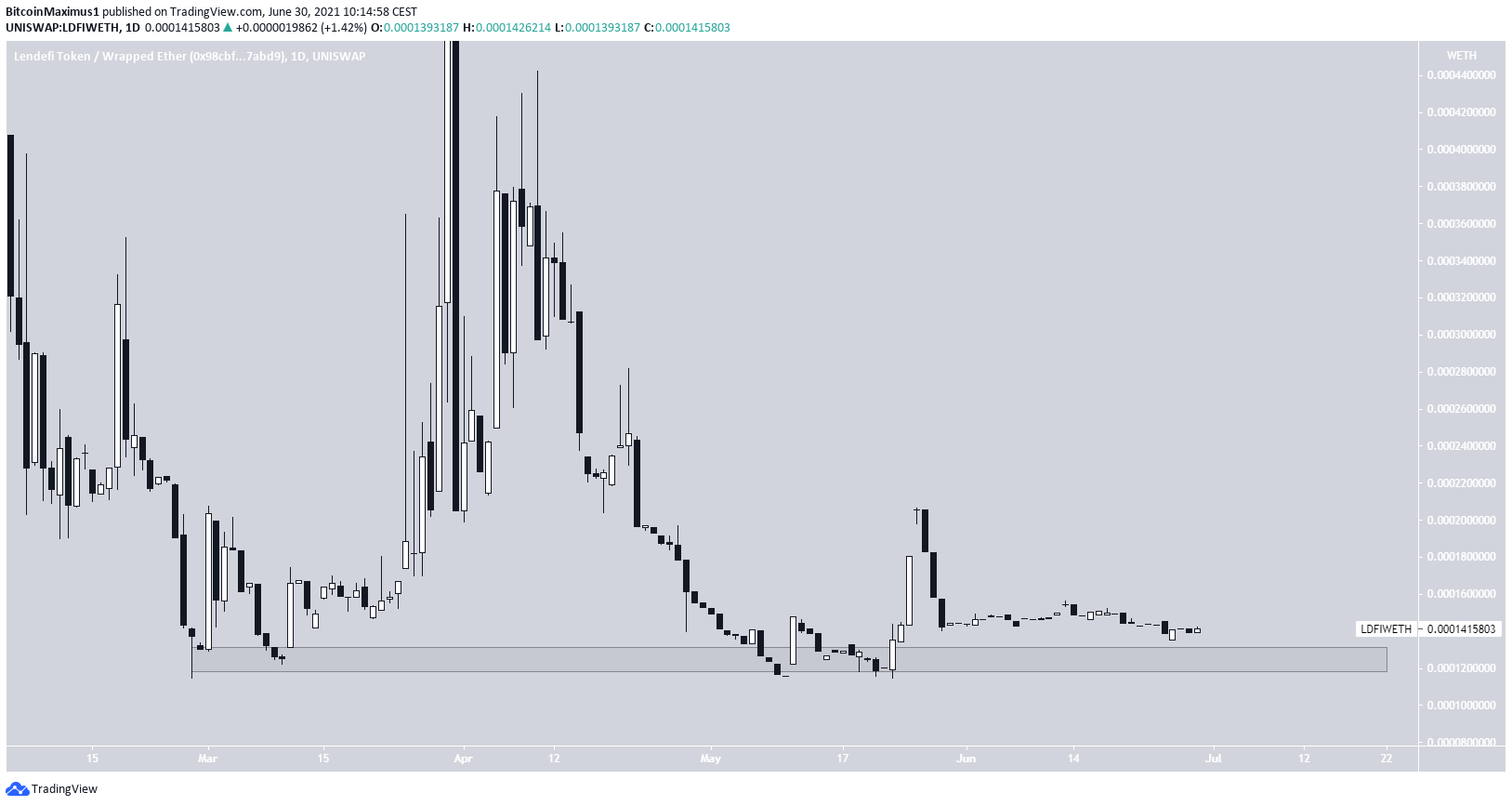 For BeInCrypto's latest bitcoin (BTC) analysis, click here.
Disclaimer
In line with the Trust Project guidelines, this price analysis article is for informational purposes only and should not be considered financial or investment advice. BeInCrypto is committed to accurate, unbiased reporting, but market conditions are subject to change without notice. Always conduct your own research and consult with a professional before making any financial decisions.