The 2-year-old cryptocurrency project gives 38% staking rewards. Is the project legitimate or a scam?
The HEX token is based on the Ethereum blockchain. Their website says they are the first blockchain certificate of deposit. Those who stake HEX tokens are given an average of 38% returns. The figure is lucrative because most US banks do not provide more than 2% annual interest.
Who is the founder?
The HEX was founded by Richard Schueler, who adopted the stage name Richard Heart. One of the steps to fundamentally analyze any project in Web3 is to check out the history of its founder.


Richard's mail archive shows that he used to run a course on How to Spam people. In fact, he was charged with invoking Washington State's anti-spam law.

His Twitter bio reads that he owns the most expensive Rolex, the world's fastest Ferrari, and some more boasting about his lifestyle. He has flexed his wealth on multiple occasions on social media. When he was asked why he flexes his wealth, he replied that it was for views and engagement.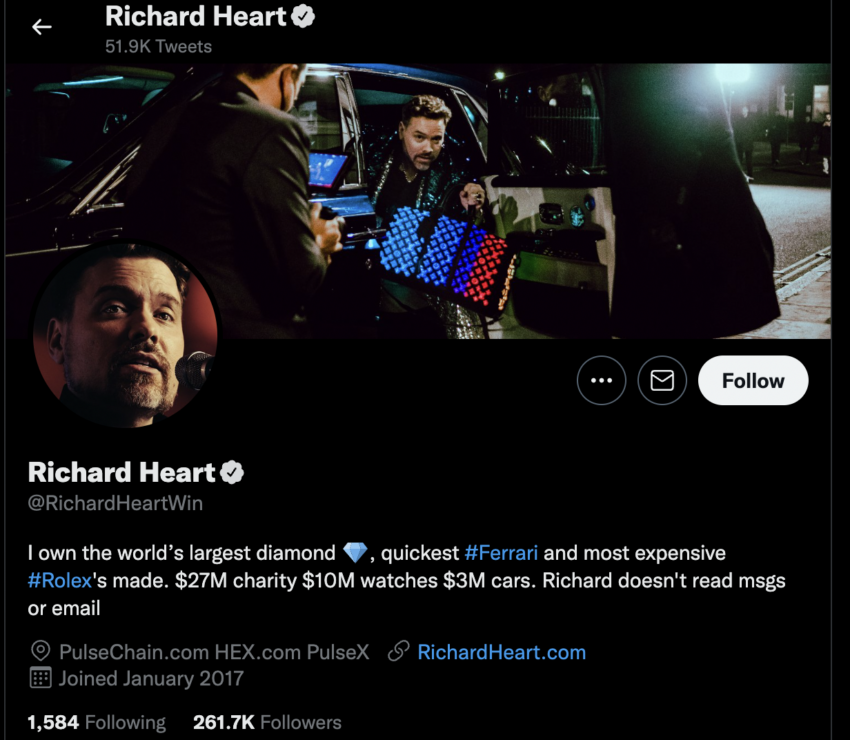 The aggressive marketing by HEX focused on price gains.
Twitter's name of the official account reads the gain in price and high staking rewards. There aren't many genuine projects that focus on price gains as much as HEX does. Generally, projects care about building the best services for their community. Their social media handles do not market how much the token's price increased, let alone shout it through their handle's name.

They also started a campaign #HEXBoughtThis on social media, where shillers or early investors flex their wealth bought from HEX gains.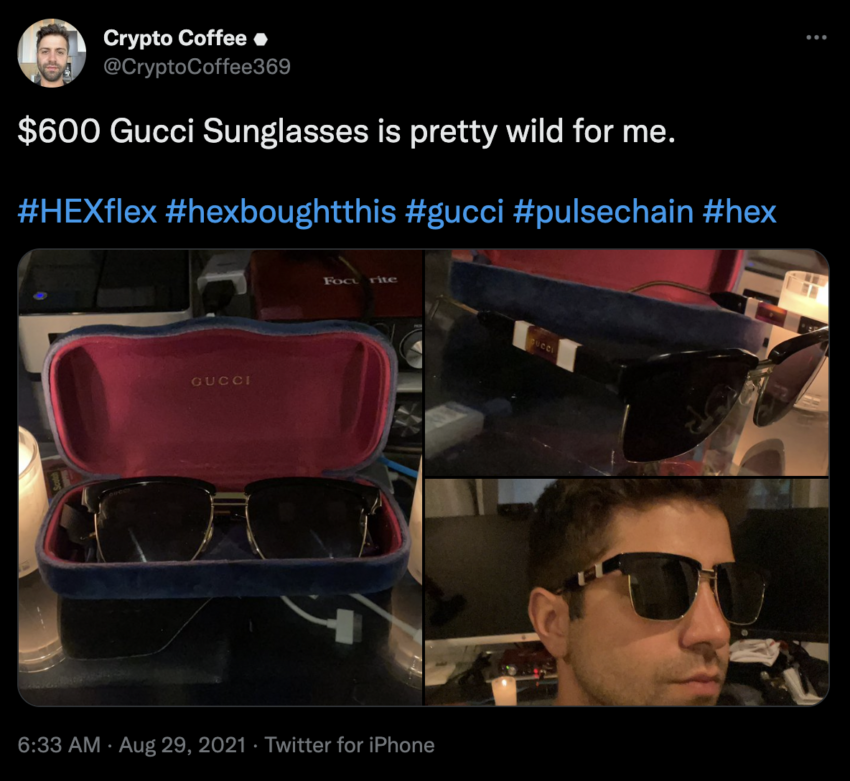 It is one of the most aggressively marketed crypto projects. The project has been advertised in newspapers, magazines, billboards, and airports. All these campaigns focus on showing how much the token's price has risen. The approach is the same as any get-rich-quick scheme, to cater to common people's greed. A Twitter user posted that HEX used customer records from the Ledger hack and sent marketing material by mail to addresses obtained from there. How many Web3 projects do the marketing at par with HEX?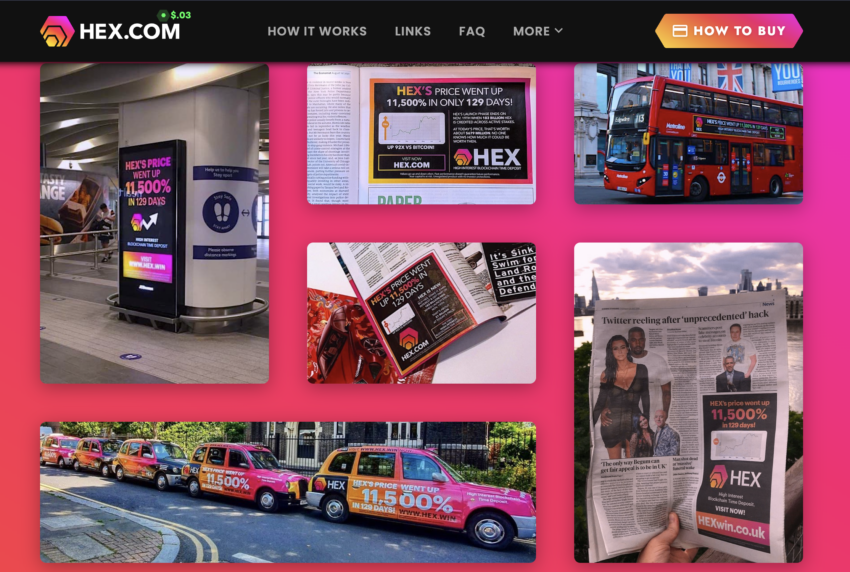 The website claims that investors will make "life-changing wealth." Genuine projects with strong products do not primarily focus on the increase in their market price for marketing purposes. Bitcoin and Ethereum's website does not discuss price fluctuations or creating "life-changing wealth" because they serve a purpose. Investors gaining money is a by-product of the greater purpose these projects serve.
The HEX buyers are incentivized to lock up their capital for a certain period. There is a heavy penalty if someone unlocks them before the lock-in period ends. This effectively reduces the supply of the tokens in the market, and demand is brought in through FOMO with the aggressive marketing campaign.
The staking rewards.
The website, as of writing, shows staking rewards of 38%. Who gets the staking reward?
In the proof-of-stake consensus mechanism, the validators deposit a certain amount to the smart contract as collateral to keep the blockchain secure. They are rewarded for their up-time and are slashed for remaining inactive for a long time.
While there is no such thing with HEX, the stakers do not stake their HEX to secure the blockchain or validate the transactions. The only purpose of staking HEX is to reduce the supply, which puts upwards pressure on HEX's price.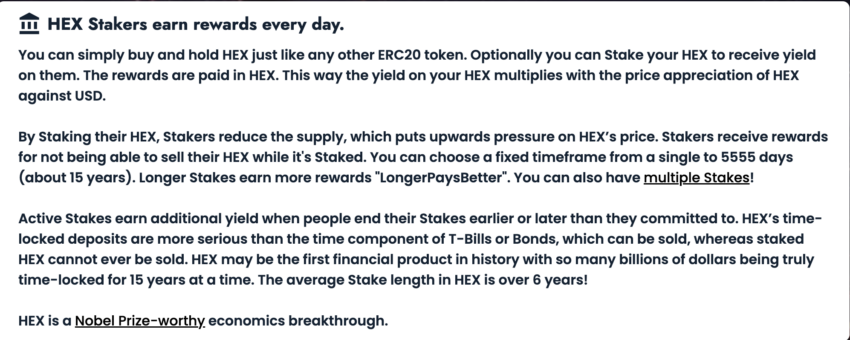 The argument on whether HEX is a scam or not is quite a hot topic of debate amongst the Twitter community. Along with critics, the project has attracted hardcore supporters. Notable industry leaders believe that HEX is a scam going to zero.
HEX made an all-time high in September 2021 at 0.51. It is down by around 94% from all-time highs. Most scam projects in crypto do not survive the test of bear markets. Will HEX survive the current bear market, or will it go to zero? Perhaps, only time can answer this.

For Be[In]Crypto's latest Bitcoin (BTC) analysis, click here
Disclaimer
In adherence to the Trust Project guidelines, BeInCrypto is committed to unbiased, transparent reporting. This news article aims to provide accurate, timely information. However, readers are advised to verify facts independently and consult with a professional before making any decisions based on this content.