It has happened again. Another cryptocurrency has witnessed phenomenal price gains, and you missed out. With the price of Egretia (EGT) now sitting at more than 60x its value on January 01, 2019, you are likely wondering how you can be one of the lucky few to benefit next time around.
In the last week alone, the cryptocurrency is up more than 150 percent, climbing from just $0.0078 each up to its current value of $0.021 (at the time of this writing). At the same time, trading volumes have rocketed to reach over $30 million in 24-hour volume — or five times higher than what was seen just a week ago.
Scaling further back, it becomes apparent that this is not just a short-term trend since the token has gained more than 5,900 percent since the start of the year and is potentially the highest performer in the last three months.
During this same period, the market capitalization of the token swelled from just $1.2 million at the start of 2019 — up to its current value of almost $86 million.
What could be behind such drastic price movements? A partnership with a huge corporation? Or perhaps it is down to a blossoming community forming around the product? Well, apparently not. From our research, we couldn't find any major news that would support the extreme bullish momentum seen by the cryptocurrency.
Moreover, it doesn't appear that the recent surge is the result of a simple pump-an- dump effort, since the cryptocurrency has been on an almost uninterrupted upswing for close to two months straight now. Instead, this radical price growth is likely simply the result of pure speculation with an ever increasing number of investors looking to cash in before it inevitably plummets.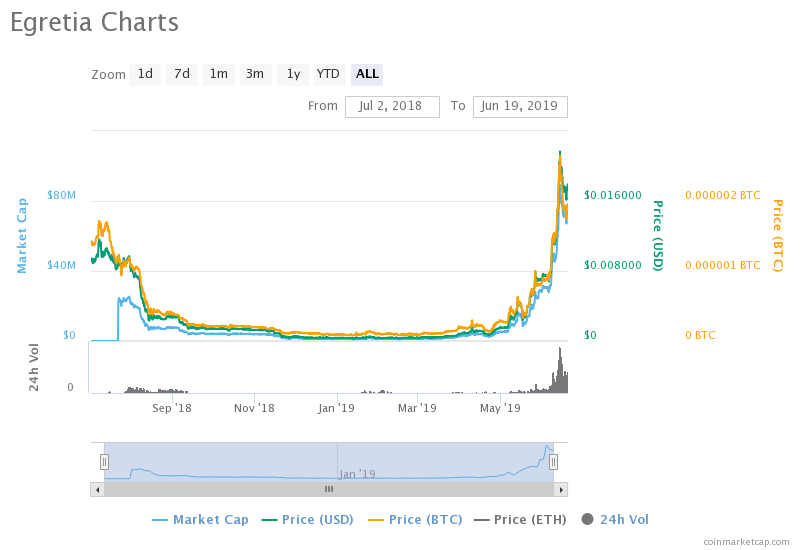 Although Egretia (EGT) has witnessed extraordinary gains in the past several months, this is by no means an indicator that similar gains are likely to occur with other small cap coins any time soon.
The truth is, there will always be cryptocurrencies that defy expectations and go on to experience astronomical gains. The great majority of this will be driven by wild speculation that could collapse at any moment.
Because of this, simply playing the numbers and hoping to strike it lucky is a poor strategy, since you not only need to choose the right coin but also get in and out at the right time — which is easier said than done.
What do you think causes the sustained pumps sometimes seen by unimpressive projects? Let us know your thoughts in the comments below. 
---
[Disclaimer: This article should not be construed as financial advice. It is not.]
---
Do you want to BeInCrypto? Join our Telegram Trading Community for exclusive trading signals, educational content, discussions and project reviews! Images courtesy of Shutterstock, Trading View and Twitter.