The Royal United Services Institute (RUSI), the UK's "leading" defense and
security
think tank, has released the findings of a new survey on perceptions of the crypto industry.
Conducted in partnership with the Association of Certified Anti-Money Laundering Specialists (ACAMS) and market research firm YouGov,
the survey
represents 566 unique responses from across the global financial and cryptocurrency industries, including cryptocurrency exchanges, financial regulators, and financial intelligence units. According to the survey's co-author Rick Mcdonell, Executive Director of ACAMS, the results of the survey give a,
unique global insight into how respondents from governments, financial institutions, and the crypto industry itself think about cryptocurrency: it's potential, and it's risks.
Differing Opinions
Per the survey, criminal activity remains top of mind for both governments and crypto insiders, with 70% of total respondents underlining this as a concern. However, the concern over which criminal use cases were the biggest problem showed significantly less agreement.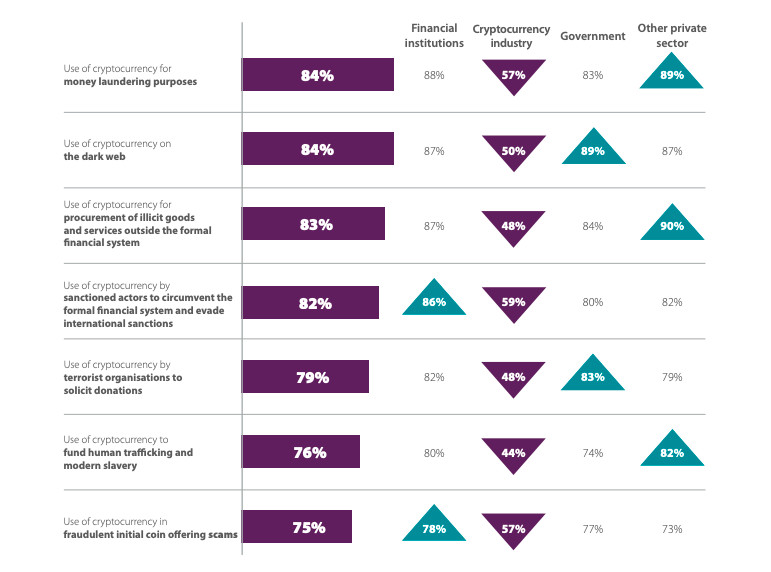 The survey also reveals differing opinions on the safety of crypto-asset use. Mainstream respondents see the asset class as risky. At the same time, crypto industry participants felt that they possessed the knowledge, skills, and tools to manage possible threats. According to the survey's other co-author,
Kayla Izenman
, a research analyst with RUSI,
the crypto industry appears to have a great amount of confidence in their own abilities to counter and detect risk, whereas the government doesn't have nearly as much faith.
In keeping with this confident stance, the survey showed that, by and large, the crypto industry believes that it's governments that are behind the curve in terms of perceived risks, opportunities, and regulations. On the question of whether cryptocurrencies could improve financial inclusion, differences were similar. Nearly 9 out of 10 in the crypto industry said yes, but government officials and financial sector representatives remained skeptical, with only 47% and 42% agreeing.
Common Ground
It's perhaps not surprising that those working in traditional financial institutions and the government would have starkly different opinions on whether crypto is more an opportunity than a risk than those working in the industry. However, there were a few things all survey respondents agreed upon. First, the use of cryptocurrency for day-to-day payments will increase in the next five years. And second, everyone is expecting more guidance and best practices from both government regulators and non-governmental organizations.
Disclaimer
BeInCrypto has reached out to company or individual involved in the story to get an official statement about the recent developments, but it has yet to hear back.