If you're wondering what was behind the change in sentiment in the bitcoin price, which on Oct. 8 flipped from red to green, you might want to thank Jack Dorsey.
Square has purchased $50 million worth of bitcoin, which it says aligns with its mission of economic empowerment. That amounts to 4,709 bitcoins, which the payments company will hold on its balance sheet, taking a
page out of the book
of MicroStrategy. The allocation represents 1% of Square's total assets, as of June 30, 2020. Square CFO Amrita Ahuja
said in a statement
,
"We believe that bitcoin has the potential to be a more ubiquitous currency in the future. As it grows in adoption, we intend to learn and participate in a disciplined way. For a company that is building products based on a more inclusive future, this investment is a step on that journey."
Today, @Square announced that it has purchased $50M in bitcoin. Square believes cryptocurrency is an instrument of economic empowerment and provides a way to participate in a global monetary system, which aligns with the company's purpose. For more, visit https://t.co/HPhSMfVgac.

— Square IR (@SquareIR) October 8, 2020
Catching on Like Wildfire?
The move marks the beginning of what is shaping up to be a trend in corporate America, one that started with MicroStrategy's Michael Saylor, whose company now holds bitcoin as a treasury reserve asset. While it's unclear whether it will catch on like wildfire, it could. Galaxy Digital Chief Michael Novogratz 
recently praised
Saylor for his first-mover moxie, adding that it wouldn't be long for the next one because it "steamrolls." Saylor applauded Square's Jack Dorsey for his leadership, saying "bitcoin makes a fine treasury reserve asset."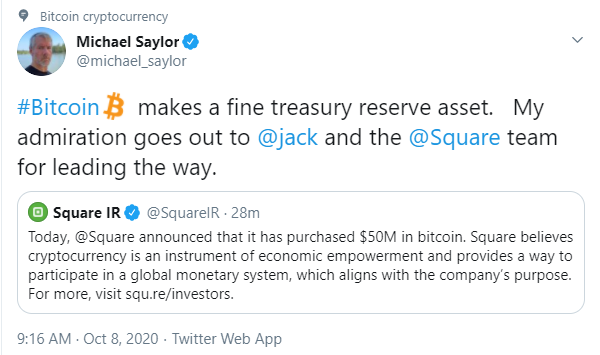 Bitcoin
billionaire Cameron Winklevoss also cheered Jack for the influential move, saying that "many other companies will follow and eventually central banks." Currently, central bank digital currencies are the
topic du jour
for central banks around the world.
#Bitcoin is on its way to becoming a corporate treasury asset. @michaelsaylor and @jack are leading the charge. Soon many other companies will follow, and eventually central banks. This is just the beginning…

— Cameron Winklevoss (@cameron) October 8, 2020
Square Stock Rallies
Square's stock price rallied nearly 3% on the development, suggesting that its investors are as bullish on bitcoin as the company is.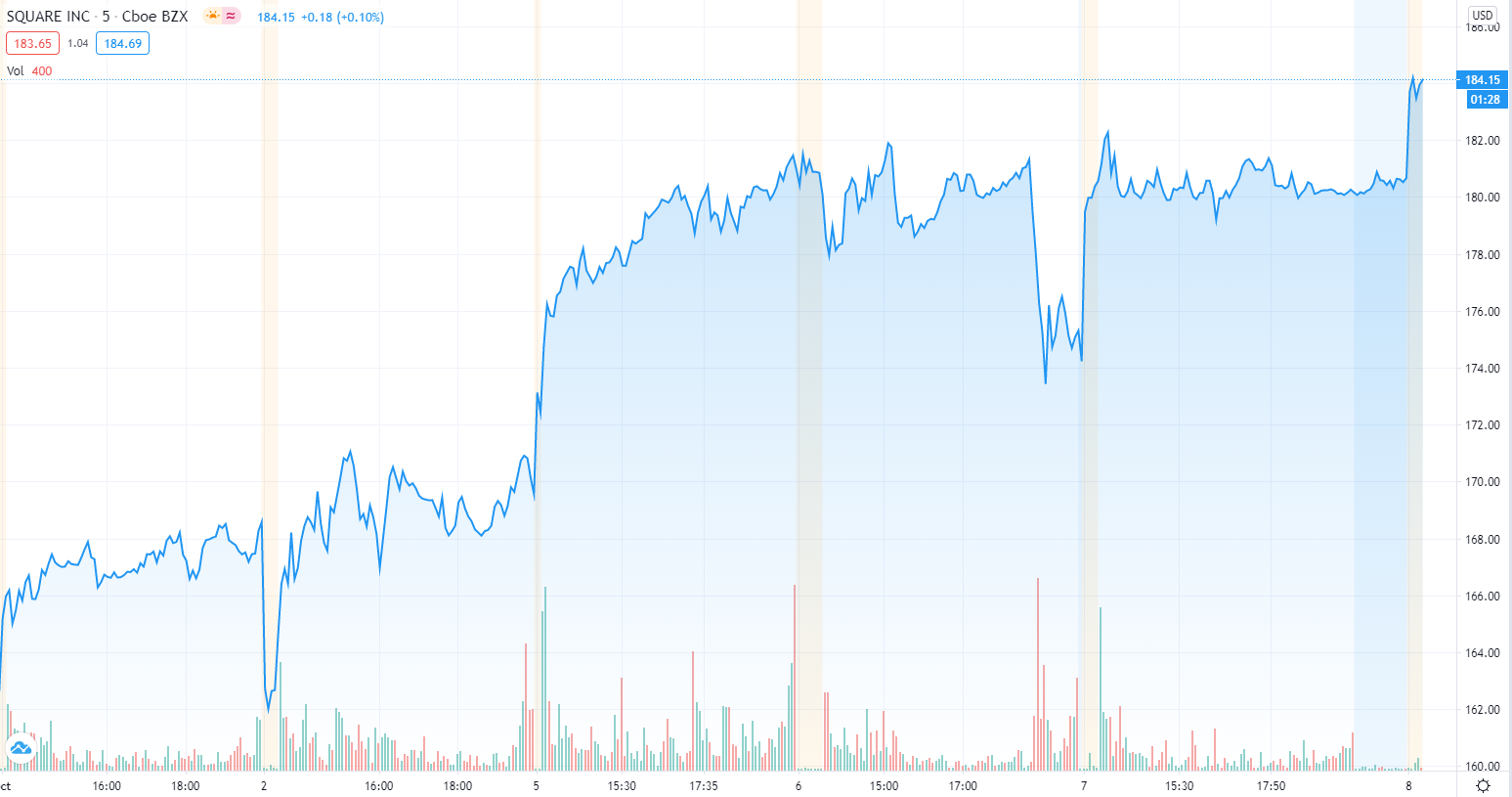 Not everybody was pumped about Square's deeper commitment to bitcoin, however, with
one value investor saying
on Twitter,
"If I ever see that on the balance sheet of a company I will sell all shares immediately."
If the recent moves by Microstrategy and Square are any indication, this investor might find it harder to pick stocks.
Disclaimer
BeInCrypto has reached out to company or individual involved in the story to get an official statement about the recent developments, but it has yet to hear back.