Silvergate Bank, the crypto lender that recently received a $200 million investment from Peter Thiel's Founders Fund, is under investigation by the United States Department of Justice (DOJ) for its dealings with cryptocurrency exchanges FTX and Alameda Research. The bank has been valued at nearly $1 billion after the investment.
The DOJ has accused Silvergate of failing to properly monitor customer accounts, which has resulted in millions of dollars being laundered through FTX and Alameda Research. The ongoing investigation is part of a larger investigation into money laundering activities conducted through virtual currency exchanges.
Allegations of Money Laundering
Reports have stated that Silvergate allowed large transfers of funds without proper monitoring or oversight, sometimes even up to hundreds of thousands of dollars per day, which provided a convenient environment for criminals to move their funds without detection. The DOJ believes this created a major risk for investors who trusted Silvergate's services.
This news may come as a shock to those in the crypto community who have viewed Silvergate as a bank that has a relatively lenient stance towards digital currencies compared to other banks. However, it highlights the importance for financial institutions dealing with cryptocurrencies to adhere to anti-money laundering regulations established by authorities such as FinCEN and OFAC.
Holdings in Silvergate Bank
Several major fund management companies have holdings in Silvergate Bank, including State Street, BlackRock, and Vanguard. According to a filing with the Securities and Exchange Commission (SEC), State Street disclosed a 9.3% stake in Silvergate Capital as of Dec. 31, 2021.
Vanguard showed an 8.59% holding in the company as of Dec. 31, 2021, according to a filing registered from February 2022.
BlackRock Boosts Stake in Silvergate
BlackRock (BLK) sent Silvergate Capital's stock sharply higher on Jan. 31 after disclosing a 7.2% stake as of Dec. 31. The asset management giant held more than 228,000 shares of Silvergate, an increase from the roughly 187,000 shares it owned one year earlier that accounted for 6.3% ownership at the time.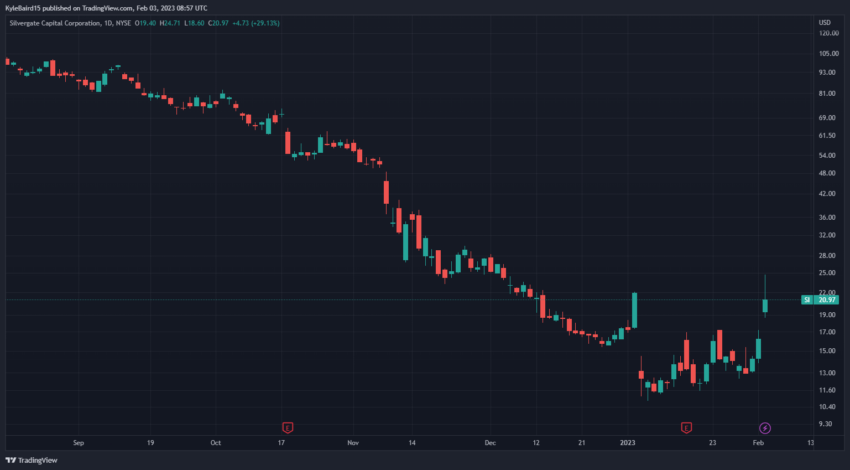 Due to the 2022 crypto bear market that was exacerbated by the collapse of the FTX crypto exchange in November, Silvergate shares were down 90% on a year-over-year basis before a 9.96% gain on Jan. 31. This relief rally was largely attributed to BlackRock's filing revealing its increased stake in the company.
Troubled Times for Digital Assets
The digital asset industry underwent a transformational shift during the fourth quarter of 2022, with significant over-leverage leading to high-profile bankruptcies. This created a crisis of confidence across the ecosystem and pushed many participants to shift to 'risk off' positions.
Silvergate has experienced significant outflows of deposits and then took steps to maintain cash liquidity.
The company used wholesale funding and then sold debt securities to cope with the sustained lower deposit levels and keep its highly liquid balance sheet.
Silvergate prepares for a sustained period of lower deposits. By managing its expenses and evaluating its product portfolio and customer relationships. The company also decided to substantially reduce its workforce due to present economic realities.
"Our mission has not changed," declared Alan Lane, CEO of Silvergate. "We remain dedicated to offering value-added services for our core institutional customers. And believe in the potential of the digital asset industry. To uphold this commitment, we are taking action to weather the present situation. While maintaining a highly liquid balance sheet and a strong capital position."
Impact on Silvergate Shares
Shares in Silvergate have been soaring, with a 38% increase, and are now higher by 30% year to date. Despite the positive news, share prices remain down 80% year over year due to the crypto bear market and the bank's relationship with the failed crypto exchange FTX.
Silvergate Capital is the parent company of Silvergate Bank. The bank provides financial infrastructure solutions to the digital asset industry. Silvergate is a California-chartered bank with headquarters in San Diego.
Disclaimer
Following the Trust Project guidelines, this feature article presents opinions and perspectives from industry experts or individuals. BeInCrypto is dedicated to transparent reporting, but the views expressed in this article do not necessarily reflect those of BeInCrypto or its staff. Readers should verify information independently and consult with a professional before making decisions based on this content.