Cryptocurrency-backed loan providing platform SALT announced the addition of Litecoin (LTC) collateral options to its platform today, as well as the removal of its cap on maximum loan amounts.
The price of SALT (SALT) reacted favorably, jumping by more than 50 percent. The 110th ranked cryptocurrency now has a market cap of $49,819,743 USD and a 24-hour trade volume of $21,203,276 USD.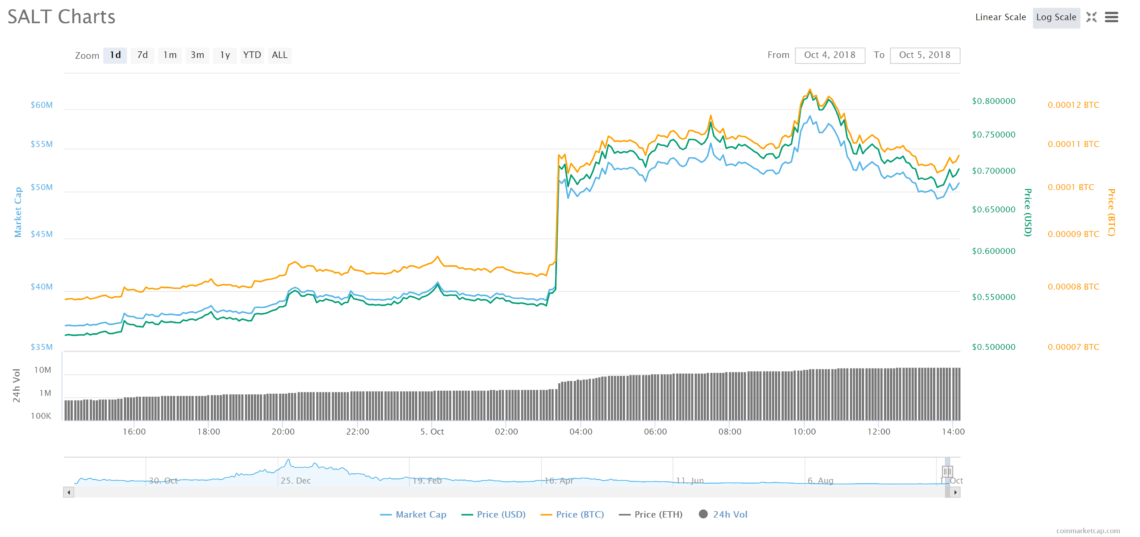 'Lite' On The Salt
Today, SALT announced it would soon be adding the option to stake Litecoin as collateral in securing a cash loan on its platform. The self-proclaimed 'leading provider of large blockchain-backed loans' offers customers liquidity options by putting up cryptocurrency as collateral. This allows the ability to get a quick cash loan without the need to sell off any digital assets. SALT is primarily a platform used by large-scale investors and projects looking for liquidity, as they have previously offered loans up to $25 million for staking Bitcoin (BTC) and Ethereum (ETH). Litecoin is a peer-to-peer, open-source digital currency based almost entirely off the Bitcoin blockchain. As such, the Litecoin network operates almost exactly like the Bitcoin network. Now the seventh-ranked cryptocurrency, the project released on Oct 7, 2011. As well as now accepting Litecoin as collateral, SALT has removed its maximum $25 million loan cap.
Sunshine On A Rainy Day
SALT's market price saw a huge spike following the news, shooting up by more than 50 percent. SALT has unfortunately been one of the biggest losers of the year in terms of market value, however. The company's market price during the 2017 year-end bull run launched from $2 to over $17 in just 2 months.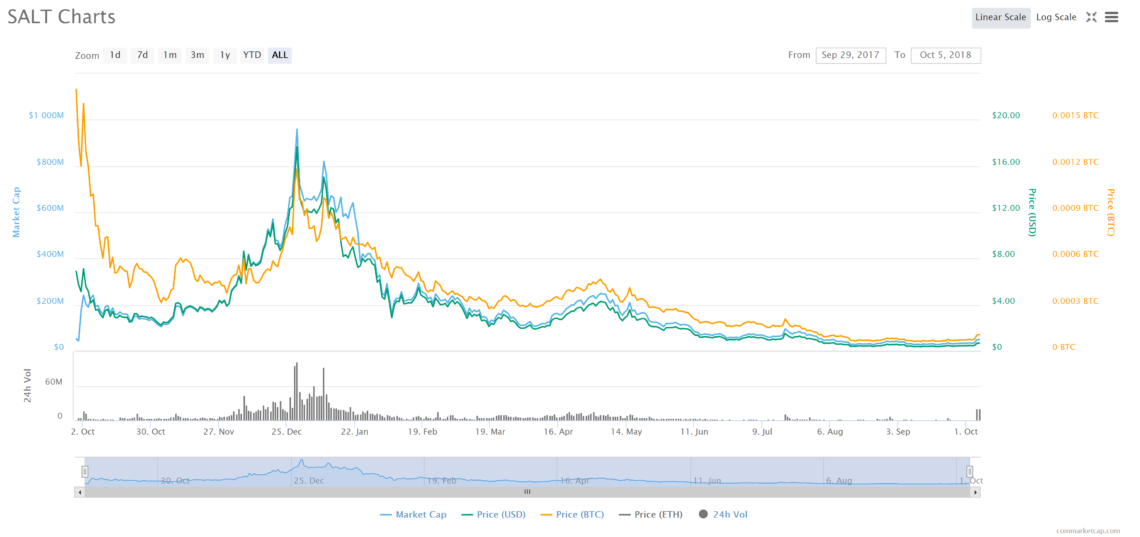 This year has brought a large correction to crypto markets across the board. Whereas most other cryptocurrencies slipped back to prices 80 percent to 100 percent below their all-time highs, SALT dipped far below its $2 starting point to trading at an all-time low of $0.35 in September of this year. This is to be expected, considering both Bitcoin and Ethereum have themselves suffered huge losses in the current bear market. Whether or not SALT has formed a bottom after this news remains to be seen. SALT's market price at the peak of the 2017 bull run is a prime example of showcasing the unprecedented fervor and speculation that ran amuck at the height of the cryptocurrency trading bubble.
What are your thoughts on the SALT platform? Let us know your thoughts in the comments below! Also, stay tuned for a full SALT price analysis for 2018 and 2019 in the coming weeks! 
Disclaimer
All the information contained on our website is published in good faith and for general information purposes only. Any action the reader takes upon the information found on our website is strictly at their own risk.