Ripple recently announced the launch of a new on-demand liquidity (ODL) service called Line of Credit, which enables users to carry out cross-border payments using XRP at the enterprise level.
In an announcement on its website, the company revealed that the new product will solve the problem of small and medium-sized enterprises (SMEs) needing individual credit arrangements with different partners in different markets.
Ripple says Line of Credit solves this long-standing problem for companies by cutting out the need for bespoke liquidity arrangements in the fiat currency of each market they trade with.  The service provides a simplified one-stop credit access solution for every market using XRP that customers can buy from Ripple on credit.
Today, we launched Line of Credit—a new beta service that allows #RippleNet customers using On-Demand Liquidity to instantly source capital and initiate payments using XRP. Read more on Insights: https://t.co/2DHVXa2yD1

— Ripple (@Ripple) October 8, 2020
How It Works
As the name implies, Ripple will extend an XRP-denominated line of credit to the ODL service's RippleNet users. They in turn will be able to use the single global network to carry out near-instantaneous cross-border transactions in every jurisdiction on earth where Line of Credit is available.
This means that instead of the existing situation where customers face multiple individual credit arrangements with multiple individual partners in multiple jurisdictions, they can now have just one credit arrangement. This arrangement, the company says, charges only a simple fee on the amount borrowed.
Customers have told us time and again that access to capital is the biggest barrier to growth. Scaling quickly is a must. If you're an incumbent w/ a large balance sheet, that's easy. Startups/SMEs/eCommerce companies unfortunately lack the resources to do the same. 1/5 https://t.co/DoRm1wdiiE

— Asheesh Birla (@ashgoblue) October 8, 2020
Ripple stresses that Line of Credit offers faster service than conventional ODL services. The company also says that the new service is significantly cheaper than typically available alternatives as well as fully transparent without any hidden fees or charges.
XRP's Relationship With ODL
Speaking at the LA Blockchain Summit on Oct 6, Ripple Co-Founder Chris Larsen suggested that the XRP price is not correlated with RippleNet ODL because XRP is principally driven by crypto market conditions. Responding to a question from Fortune's Jeff John Roberts at the event, Larsen said:
"If you look at the XRP Ledger, XRP the decentralized digital currency, most of what happens in that ecosystem is really correlated with Bitcoin and Ethereum. It's like $100 billion trading per year, let's say. The vast, vast majority is connected with what's happening in the overall market, and it is being driven by all the things that drive Bitcoin and Ethereum."
He added, 
"Is it a store of value?…Is it speculation? That's just all happening in its own economic reality, completely separate from what Ripple is focused on. If you look at ODL over the past two years, it's about $2 billion. That's a tiny fraction of the overall experience that is happening in those markets."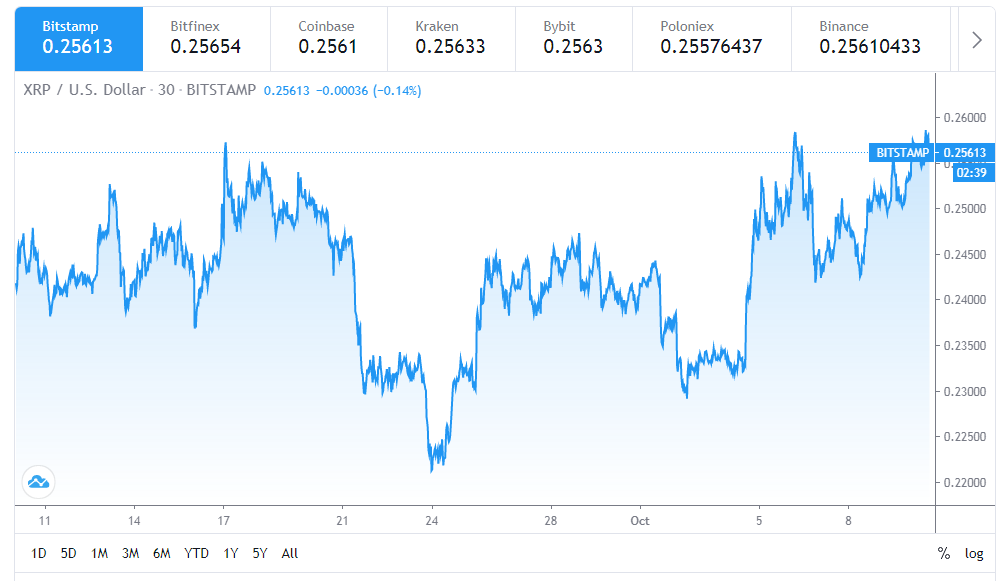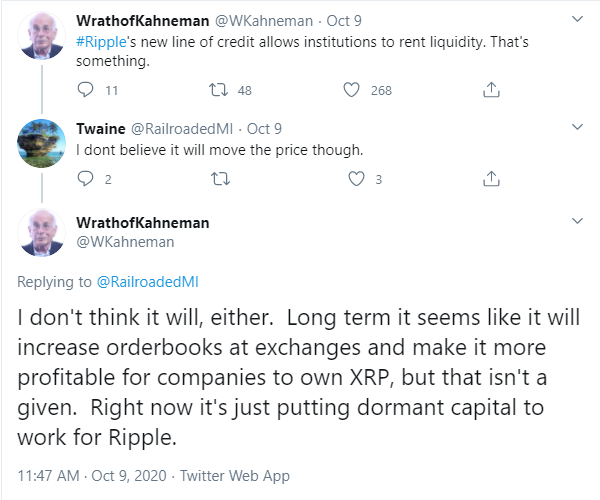 At the moment, the company says,  Line of Credit will only be available to eligible institutional RippleNet customers and is not by consumers, retail customers, or the general public. The service is the latest product from Ripple that uses RippleNet to compete with or disrupt a legacy cross-border financial system. RippleNet has been touted by some as a possible competitor with the SWIFT network as the default medium for fast and cheap cross-border settlements. 
Disclaimer
All the information contained on our website is published in good faith and for general information purposes only. Any action the reader takes upon the information found on our website is strictly at their own risk.