Over the past year, PrimeXBT has been a rising star within the cryptocurrency markets, offering a clean and easy to use platform that allows traders to employ leverage on a variety of different assets while also offering an abundance of features that are sure to enhance every trader's profitability.
PrimeXBT's meteoric popularity in recent times has come about as other competing platforms face a multitude of controversies that have led traders to search for alternatives, with BitMEX leaking confidential user information, while erroneous pricing data on Deribit cost many traders sizeable amounts of money. The exodus of traders away from these platforms has clearly fueled PrimeXBT's massive success, and the exchange is now launching a massive international hiring spree to help maintain this growth. In
a recent post
on CoinMarketCap's job page, PrimeXBT details their need for remote business developers from multiple different continents who can help stimulate the company's growth within the different markets. "As International Business Developer you will be responsible for client acquisition strategy development and execution. Your work will have a direct impact on the business growth, therefore your remuneration will reflect upon these successes: the more business you bring – the more you earn. Sky is the limit," PrimeXBT notes in the job post. PrimeXBT noted in
a tweet
from early-November that they are also searching for customer service representatives who have advanced language skills in Turkish, Chinese, Japanese, Russian, and Portuguese. "#PrimeXBT aims to provide 5-star customer service to all of its users. We are looking for customer service reps with the following language skills: Turkish, Chinese, Japanese, Russian, Portuguese. Interested? Send a CV to
[email protected]
with the subject 'CS Job application,'" they noted.
About PrimeXBT: What You Need to Know
PrimeXBT
is a leveraged trading platform where all transactions are settled in Bitcoin. Unlike other competing platforms, traders on PrimeXBT are able to access markets beyond just digital currencies, including multiple forex trading pairs, stock indices, and commodities. In addition to offering access to a wide variety of different assets, the platform also enables its clients to utilize up to 1000x leverage on supported assets, which can allow traders to significantly increase their profitability without risking heightened amounts of baseline capital. Here are the key PrimeXBT features you need to know about:
PrimeXBT offers a fully customizable trading dashboard that allows traders to maximize their efficiency and profitability.
Rich Features – users can utilize the abundance of features the platform offers, including multiple charts, indicators, and more.
Mobile Applications – use PrimeXBT's iOS and Android apps to manage old positions and open new ones on the go!
Professional Charts – use state-of-the-art charts and indicators to make informed trading decisions.
Lucrative Referral Program – open fresh revenue streams using PrimeXBT's lucrative referral and CPA program.
Industry-Leading Security – the platform uses a multi-tiered security system and address white-listing to ensure the security of all user funds
Instant Order Execution – execute instant orders and never miss thee perfect entry and exit
Multiple Order Types – use multiple order types that best fit your trading strategy
Full User Privacy – set up a fully anonymous trading account without surrendering any personal information. No KYC required!
Up to 1000x Leverage – use up to 1000x leverage on a wide variety of assets to make your trading as profitable as possible. With as little as $10, traders can trade with up to $10,000
Multiple Supported Assets – trade cryptocurrencies, commodities, forex, and stock indices, inclusing Bitcoin, S&P 500, Gold, EUR/USD, more than 30 other assets
Credit Card Deposits – instantly deposit funds into your trading account using Changelly
Infrastructure in Switzerland – part of PrimeXBT's infrastructure is located in Switzerland in order to ensure that clients have maximum privacy and security
Convenient and Customizable
Trading can be a tricky venture, so PrimeXBT offers cutting-edge tools that can help aid its users, including a fully customizable dashboard, an array of different technical indicators, charts, and multiple order types. The customizability of the platform allows traders to craft a trading dashboard that fits their needs, which translates into greater efficiency and more consistent profitability. Traders can also download PrimeXBT's mobile applications on iOS an Android so that they can track their positions on the go, and even enter fresh ones if they want to.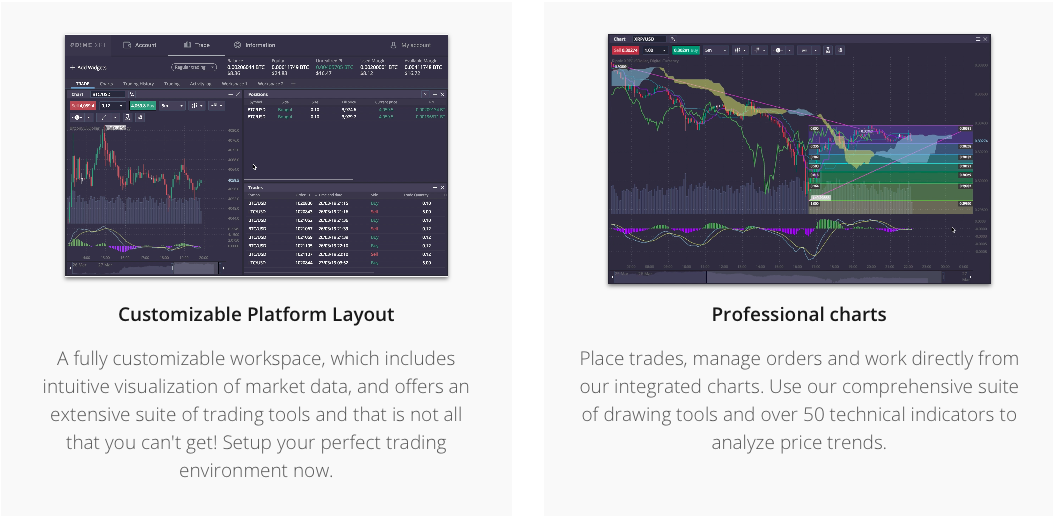 Adding to this convenience is the fact that PrimeXBT allows users to deposit funds with a credit card, which makes adding funds to trade with fast, easy, and super convenient. PrimeXBT offers its users ultra-fast order execution so that traders can perfectly time all their entries and exits, and the platform's stability ensures traders never have to worry about orders going unfilled or platform downtime during times of major
volatility
within the markets. The platform also has a bounty of
educational resources
available in an effort to make trading with margin as easy as possible, including step-by-step guides and
intuitive videos
. If these videos don't answer a client's question, the platform also boasts a world-class multi-lingual 24/7 live support team to assist its clients with all their inquiries.
More Ways to Profit: PrimeXBT Offers Lucrative Referral Program
Another feature that prospective users should be aware of is the extremely popular referral program that the exchange offers, which allows traders to profit from recruiting new users to the platform. The top three referral partners have already gained over 111 Bitcoin worth of cumulative earnings, which is a stunning statistic while considering that PrimeXBT is still a relatively young platform.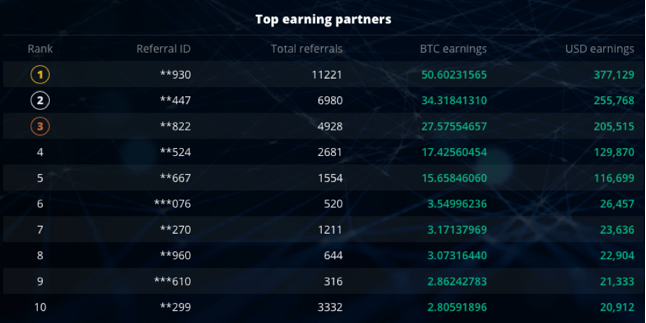 Traders looking to open up additional revenue streams will greatly appreciate the opportunities that PrimeXBT offers, as its popular referral program and newly released CPA program are perfect for individuals, influencers, and resource owners who are looking to open as many revenue streams as possible.
Industry Leading Security and Privacy
All prospective users should be aware of the platform's industry-leading security features and fully anonymous accounts, which ensure that users are safe from nefarious actors who often target cryptocurrency exchanges. PrimeXBT's commitment to their user's privacy is so strong that they even decided to move part of their infrastructure to Switzerland, which adds an extra level of privacy and security for all their clients. Address whitelisting is another key feature that allows clients to rest assured knowing that their funds are safe, as nefarious actors cannot withdraw funds unless it is to an address that you have already added to your whitelist. This guarantees that hackers will never be able to steal funds from the platform.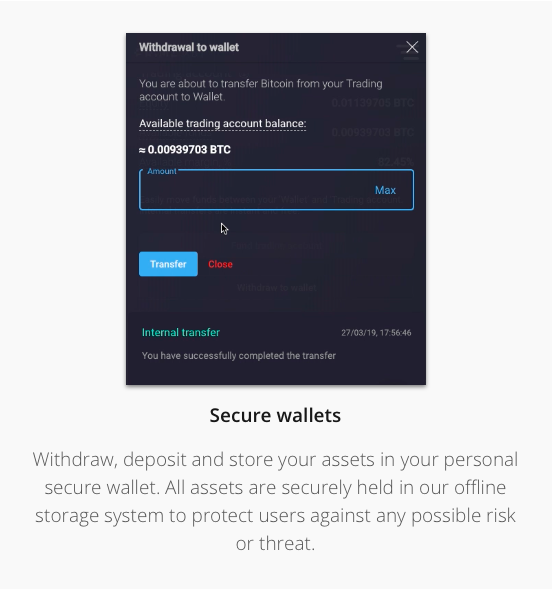 PrimeXBT to Continue Its Growth
As more traders flee embattled platforms like BitMEX and Deribit in favor of PrimeXBT, it is highly probable that the exchange will continue to expand their global team as they fan the flames that are fueling their rise to the top of the industry. Will you be the next member of the growing PrimeXBT team?
Disclaimer
All the information contained on our website is published in good faith and for general information purposes only. Any action the reader takes upon the information found on our website is strictly at their own risk.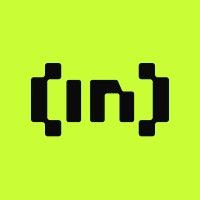 BeInCrypto Team comprises a diverse group of experienced journalists, analysts, and crypto enthusiasts dedicated to delivering the latest news, insights, and analyses in the...
BeInCrypto Team comprises a diverse group of experienced journalists, analysts, and crypto enthusiasts dedicated to delivering the latest news, insights, and analyses in the...
READ FULL BIO
Sponsored Sponsored