Planet earth: The current system for issuance of environmental assets, like carbon credits, is excessively slow and expensive: blockchain will bring the efficiency we urgently need to save our planet says Luis Adaime, the co-Founder and CEO of Moss.
In a recent statement, Greenpeace announced (in a rather sensationalist way) that "bitcoin is fueling the climate crisis" and suggesting that a change in its code would solve the problem. That is a bit extreme: Bitcoin mining emits 114 million tons per year, or 0.15% of global emissions (in comparison with 1.4 billion for our annual use of the Internet).
As I have argued in my previous column, the emissions for Bitcoin mining are minimal on a per asset basis, and offsetting them is a minimal cost of 0.05% per asset. "Proof of stake" assets, like Celo and Polygon, emit 99% less than Ethereum.
So, having established that the emissions or environmental impact of blockchain are minimal and irrelevant, let's discuss why its use is key for saving the planet.
The global environmental service system is archaic, analogue, manual and inefficient
The environmental services sector is one of the very few that has not yet been disrupted by technology. Let's look at the issuance and verification of avoided deforestation carbon credits, for example. Global registries define a protocol (a list of requirements) based on scientific work, and charge a fee per carbon credit generated so as to finance its operations.
Forest owners or conservation project proponents hire a consulting firm, called a certification company, that will assist in the preparation of a document called the "PDD" (project design document). The PDD must include several analyses on the area's characteristics, like biodiversity and rainfall, but most importantly it includes the projections for the avoided emissions that are generated from protecting that specific area.
The concept is based on the fact that half of a tree is made of carbon atoms, thus, when one protects a forest, one is protecting a huge inventory of carbon and avoiding emissions. When one burns a tree, the carbon atoms in that tree's cellulose molecules are released to the atmosphere as CO2, CH4 (methane) and other pollutant gas. This protection work is a relevant solution to the world's greenhouse gas emissions: experts estimate that 20% of the world's emissions comes from us slashing and burning our forests. So, if we stop burning our forests, we will cut the world's emissions by one-fifth. If people are paid via the sale of carbon credits, they will make money from conservation and will be aligned with saving the world's forests.
The world's largest cottage industry?
As amazing as it may sound, the bulk of the analysis conducted by these consultants is still done by hand on worksheets. The establishment of the baseline, or the benchmark for comparison of the forest's protection work, is subjective and varies widely from case to case. In many cases, forest engineers visit the project many times prior to finishing their analysis. They often measure tree trunks with metric tape.
Once the PDD is finished, it is audited (manually) by a previously authorized auditing company, and then finally, the document is, once again, submitted for (manual) verification by the registry. All this manual work leads to a slow process and very high costs: it takes 3 years and more than $700,000 to certify an area, regardless of the area's size.
Now, this process has not changed much in the past 20 years. And the efficiency that blockchain brings to this procedure described above is monumental. For starters, the global registries have 3 functions: (1) they establish the protocol (2) they verify the data and certify the carbon credit process (3) they manage the database and charge a (hefty) fee for the registration of the transactions.
Blockchain advantages
Well, right off the bat, the last part is completely replaceable by blockchain. That is one of the main reasons for the creation of blockchain: registering transactions in a secure, transparent, cheap way. There is absolutely no reason for established registries to be wearing that hat of running an off-chain database (and overcharging for this service).
Currently, the system is based on the credibility and trust of these registries for running the databases. But, since they use very outdated technology, they are prone to human error, hacker attacks, power failures, etc. Blockchain allows for permissionless and anonymous, decentralized management of such information and transactions. And, best of all, it eliminates the risk of "double-spending."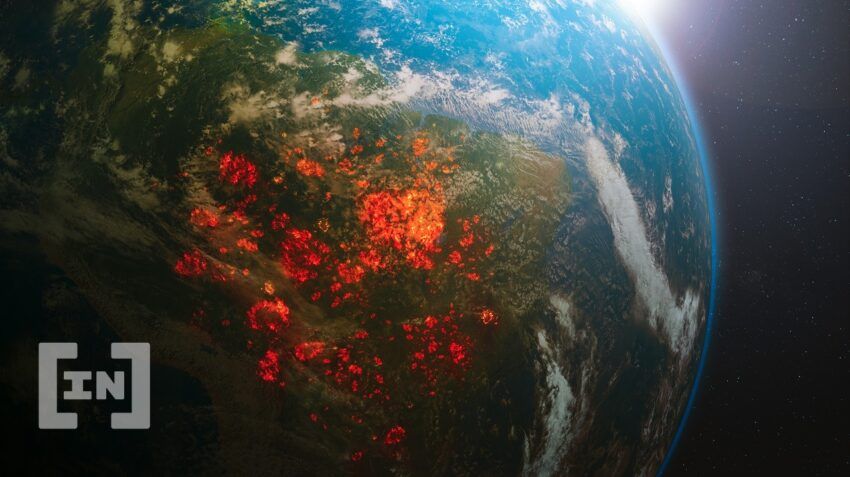 Planet Earth: Carbon credits
Historically, carbon offsets (synonymous to carbon credits) have a bad reputation for being used more than once, or sold more than once, or sold when there is no project behind it. The use of blockchain has eliminated this risk and added significant value to the chain.
The second hat worn by registries is also replaceable by technology, especially blockchain, nowadays. One can currently reflect the various data sets, like satellite imaging, into blockchain, thus rendering needless the auditing of the veracity of the data.
At the end of the day, certification protocols are nothing more than algorithms (a set of rules) in which one inputs data on one side and gets potential carbon credits as outputs on the other side.
Currently, especially in our era of artificial intelligence, optical character recognition and automation via coding, none of this work of certifying processes and protocols needs to be done by hand. In fact, many institutions, like NCX Restor and Nori, have begun using digital databases and artificial intelligence for the determination and immediate automatic issuance of carbon credits.
Planet Earth: DAOs for the win
Finally, the best and most appropriate use of blockchain and web 3.0 is the determination of the protocol. I firmly believe that we should be conducting this process via a DAO, a decentralized autonomous organization.
The use of blockchain governance in a DAO would allow for the various stakeholders to critique and contribute to the creation of the protocol, in a collaborative, open-source way, as opposed to the obscure and incredibly slow process used by the incumbent players.
Many people and the media wrongly criticize carbon credits because they don't understand the protocol for issuance. If we had the process of establishing the rules for issuance open to all, in a public way, with the advantage of dynamic governance, instead of meetings behind closed doors by committees elected in political or unclear ways, we probably would legitimize the creation of carbon credits and trust the system a lot more.
Via blockchain we can make the process of issuing carbon assets and remunerating conservation fast, cheap and credible. And reach the small conservation project that has been priced out of the system. Let's hope that the world recognizes this in time for us to save the world.
About the author

Luis Adaime is the co-Founder and CEO of Moss. Luis worked from 2012 to 2019 as the portfolio manager and partner for Latam Equities long-only funds at Newfoundland Capital Management. Previously, he was a Managing Director of York Capital Management, working as a Portfolio Manager for the firm's investments in Latin America. Prior to York, Luis was a Partner at BRZ, a Brazilian hedge fund, working as a commodities Analyst and Portfolio Manager for both their value and long/short funds. Luis began his career working as a Latin American financial institutions Research Associate at Credit Suisse and later moved to the bank's proprietary desk in São Paulo. Luis holds a B.Sc. in Management Science and Engineering with a minor in Economics from Stanford University and graduated with a laude from Phillips Academy, Andover. He is a native of Brazil and is fluent in English, Portuguese, and Spanish.
Got something to say about saving Planet Earth? Or Planet Earth and carbon credits? Write to us or join the discussion in our Telegram channel. You can also catch us on Tik Tok, Facebook, or Twitter.
---
Disclaimer
In compliance with the Trust Project guidelines, this opinion article presents the author's perspective and may not necessarily reflect the views of BeInCrypto. BeInCrypto remains committed to transparent reporting and upholding the highest standards of journalism. Readers are advised to verify information independently and consult with a professional before making decisions based on this content.

Our Guest Op-Eds represent in-industry voices in the crypto and Web3 space. Have an opinion? Email
[email protected]
.
Our Guest Op-Eds represent in-industry voices in the crypto and Web3 space. Have an opinion? Email
[email protected]
.
READ FULL BIO
Sponsored Sponsored