Although merely just holding
Bitcoin
is a very smart play, want to know what is even smarter? Using your Bitcoin to make more Bitcoin.
There are more ways than ever to do this, including automated trading bots. But have you heard of this new tool that's even more powerful than a simple trading bot? It is the AI-powered Crypto Autopilot by
OSOM
.
Make Money Smarter With the OSOM Crypto Autopilot
The
OSOM Crypto Autopilot
is bringing a cutting edge algorithm that has been used by traditional institutional investors to the world of crypto for the first time ever. The Autopilot was founded by the brilliant minds behind OSOM and InvestSuite.
OSOM
is a Belgium and Estonia-based licensed
crypto wallet
and exchange. They're always coming up with innovative ways to help users build their wealth and increase their financial literacy. With offices all over the world, InvestSuite provides modern digital investment solutions to financial institutions. They teamed up to create this tool that led to annualized returns of 56.5%. And yes, it's available for just about anyone to use.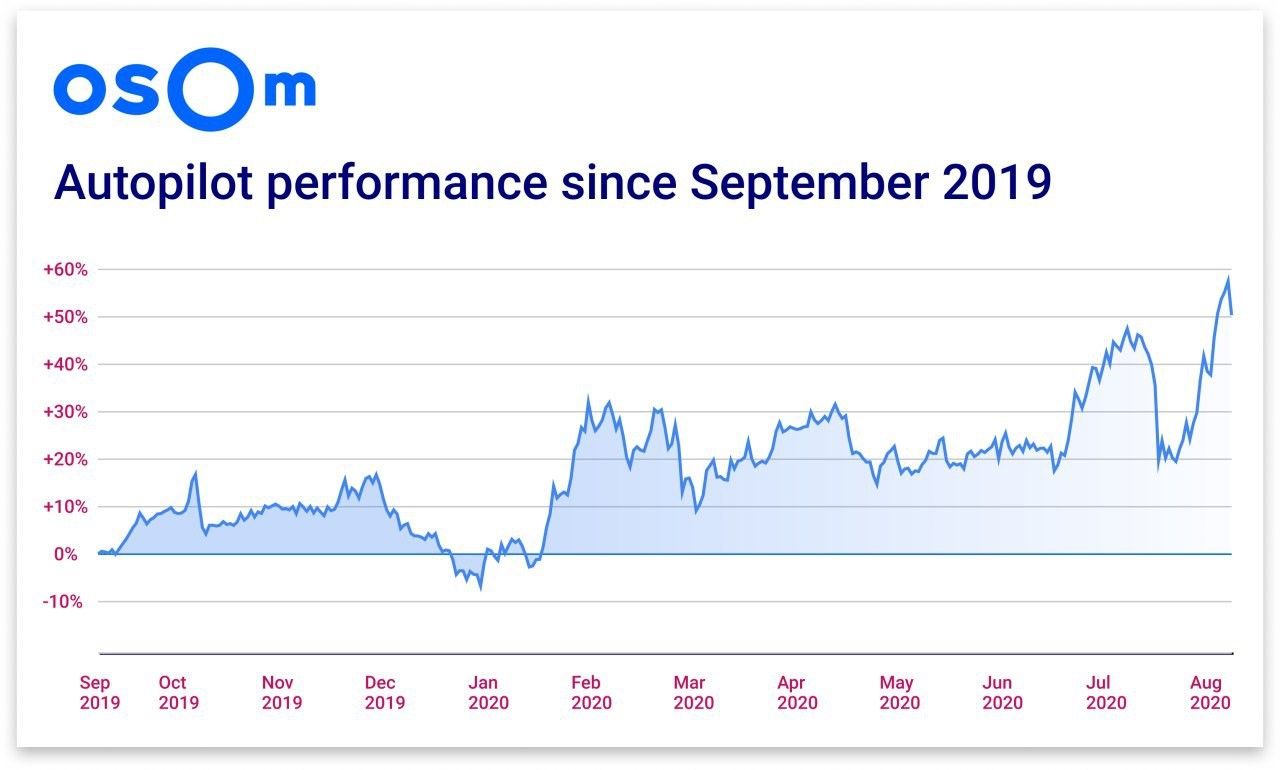 How Does It Work?
The Crypto Autopilot is powered by InvestSuite's Portfolio Optimizer technology to build a completely diversified and automated crypto asset portfolio. This is totally different to many other trading bots on the market that utilize the Modern Portfolio Theory, which is over 50 years old. Instead, the Crypto Autopilot incorporates the Investsuite Value at Risk measurement – it calculates loss size and time needed to recoup losses. It's perfect when applied to medium to long-term growth strategies, as trading bots should.
The Testing Phase
Of course, the Crypto Autopilot experienced heavy testing before being released for public use. The most recent test-run of the product lasted six months upon which it yielded an annualized return rate of 56.5%. To see how the Crypto Autopilot measured up against other investment vehicles in the market, it also followed several well-known crypto index funds like Huobi's HB10, CIX100, CCi30, and Bitwise10 – none of them came close to Crypto Autopilot's 56.5% return.
Diversification is Key
One of the main highlights of the Crypto Autopilot that is worth pointing out is that at any one time, the Crypto Autopilot is invested in over 30 cryptocurrencies. The greatest return opportunities tend to lie in highly undervalued altcoins with strong growth potential. The advanced quant trading algorithm that is the Crypto Autopilot chooses its picks from a constantly updated list of altcoins that are most appealing – all of which possess strong project integrity as well as high volume and liquidity. The secret is in the sauce.
Only Pay When You See Returns
This is the best part of the Crypto Autopilot. The makers behind the tool have created something so powerful that they are confident it will always outperform in the medium to long-term that they do not take any fees until you've made returns. This means that when you make a return with the Crypto Autopilot, you only pay 10% of your profits at the end of the month. This fee is much lower than many of the other bots on the market which also charge monthly fees. The Crypto Autopilot does not charge any monthly fees.
Simplicity At Its Finest
OSOM
sure seems to like comparing the Autopilot to other tools in the market. They recently put together a blog post comparing themselves to some of the most popular crypto trading bots – 3 commas, Cryptohopper and Coinrule. Although these three trading bots have their share of Pros (great tooling options for advanced traders or developers), they are not ideal for use by laymen. They require you to have some understanding of bot configuration and trading rule and parameter setting, not to mention accounts with outside exchanges. OSOM's Crypto Autopilot is simple and easy – just follow a few quick and easy like depositing your funds (yes, very easy) steps and you're on your way to profits! It's perfect for those without much time or technical knowledge, but still want to participate in the wealth accumulation. And the minimum investment for the Crypto Autopilot is only 0.005 BTC. You can read the blog post for yourself
here
.
Final Thoughts
The Crypto Autopilot is currently available by waitlist only but it already has many users, who have already seen returns. This information appeared in OSOM's monthly Crypto Autopilot newsletter outlining July's Crypto Autopilot performance. According to the newsletter, the performance in Euros for Bitcoins in the Autopilot was +24.13% for the month. They also revealed that the Autopilot diversified its portfolio with the following altcoins:
Chainlink
(LINK),
Tezos
(
XTZ
),
Cardano
(ADA),
Augur
(REP),
Kyber Network
(KNC),
Enjin Coin
(
ENJ
),
Zilliqa
(ZIL) and
MCO
(MCO). These are great altcoins, so it's fairly impressive to see the Crypto Autopilot making such hot picks.
Want To Sign Up for the Crypto Autopilot?
It's easy to get on the waitlist – you can sign up
here
. All you need to do is register your
OSOM
account via the website or download the
iOS
or
Android
app. And if you've got any additional inquiries, take a look at the comprehensive OSOM
FAQ
or send over an email directly to the team at
[email protected]
Disclaimer
Any third-party hyperlinks and banners don't constitute an endorsement, guarantee, endorsement, warranty, or recommendation by BeInCrypto. Cryptocurrencies are highly volatile. Do Your Own Research before using any third-party services or considering any financial action.