The meme coin market continues to showcase extraordinary volatility, with the Pepe ($PEPE) price sliding by over 9% yesterday.
Dogecoin ($DOGE) fared a little better, dipping by just 1%, yet price remained trapped in a narrow range that has been in play since early May.
However, it's not all bad news for meme coin enthusiasts, with Wall Street Memes ($WSM) continuing to turn heads in the market. This brand-new meme coin project has had an impressive start to its presale phase, amassing over $1.6 million from early investors.
Meanwhile, AiDoge is preparing for its IEO after concluding its hugely popular presale.
Pepe Faces Unprecedented Challenges as Bearish Sentiment Dominates
$PEPE suffered its third bearish daily close in a row yesterday, with the token now trading around the $0.00000128 level.
Per CoinMarketCap, this means $PEPE has fallen over 70% from its all-time high posted on May 5.
Moreover, Pepe's market cap has dipped below the $500 million level. This has allowed rivals, like Baby Doge Coin and Floki, to claw back some market share as they capitalize on Pepe's current vulnerability.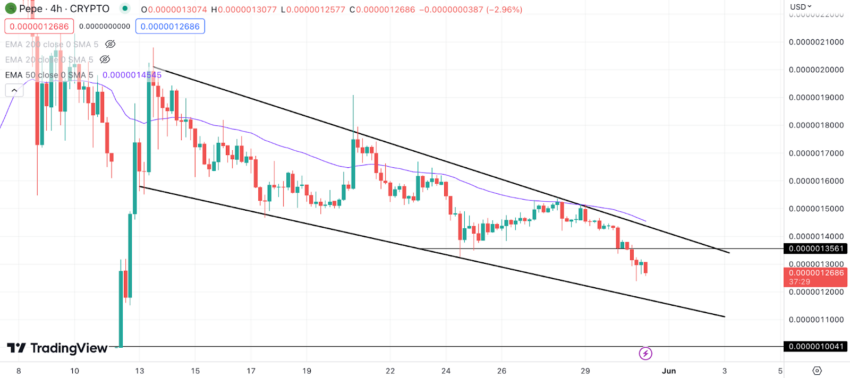 Unfortunately for Pepe bulls, the token's downward trajectory doesn't look like changing any time soon. Market sentiment is overwhelmingly bearish as most early investors look to liquidate their positions and cash in on the token's prior success.
It appears that the incredible hype around $PEPE has died out – a scenario that is all too common in the meme coin niche. A similar situation has also happened with the other tokens that were soaring alongside $PEPE, like Wojak and Turbo.
Evidence of this declining interest is visible in Google Trends data, which shows that mentions of "Pepe coin" have drastically fallen over the past three weeks.
Furthermore, CoinGecko reports that only 55% of people are "feeling good" about the token's prospects – a far cry from the near-universal optimism seen in early May.
As $PEPE struggles to find its footing amidst the ongoing volatility, it seems like the token's glory days are behind it – meaning the road ahead for HODLers appears uncertain.
Dogecoin Continues Downtrend – But Investors Remain Optimistic
While $PEPE grapples with declining fortunes, another prominent meme coin, Dogecoin, has also hit a rough patch.
$DOGE witnessed a 1% drop in value yesterday, raising concerns among investors since the coin has now broken out of an ascending channel it was trapped in on the 4H price chart.
Adding to investors' worries is that $DOGE retested the channel's boundary from the other side and now appears to be rejecting it – setting the stage for a downward impulse.
This impulse is gathering steam, with the coin's price briefly touching the $0.0712 level.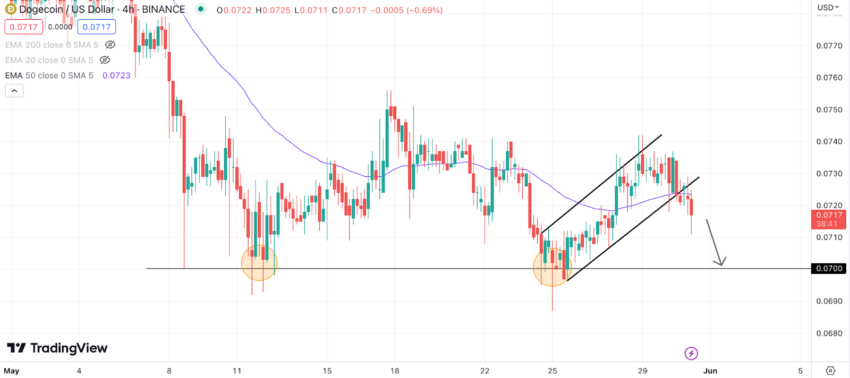 Despite this, there's a silver lining for $DOGE bulls, given the strong support zone located nearby at $0.070. This zone has held firm throughout the past month, highlighting the volume of buy orders situated here.
Interestingly, the last time that $DOGE traded below this region was back in March – just before the bull run that saw price spike by nearly 50%.
Adding more optimism is that the number of long-term $DOGE holders continues to rise steadily, per CoinMarketCap. This indicates that many investors are maintaining their faith in $DOGE and are willing to hold on to the coin in case it recovers.
Overall, despite the recent decline in Dogecoin's value, there are glimmers of hope for investors – and given the coin's remarkable resilience, it wouldn't be a surprise if $DOGE rebounded in the coming weeks.
Promising Newcomer Wall Street Memes Raises Over $1.6m Through Presale
While these two established meme coins navigate their respective market challenges, a new player is emerging that's capturing investors' attention.
Wall Street Memes ($WSM), a brand-new addition to the meme coin niche, has started making waves – raising over $1.6 million through its recently-launched presale phase.
Given that the presale only kicked off on May 26, this means that Wall Street Memes is raking in over $300,000 per day from eager investors.
The surge of interest around Wall Street Memes is fuelled by the project's colossal community, which stands at over 1.1 million people, spread across social media channels like Instagram and Twitter.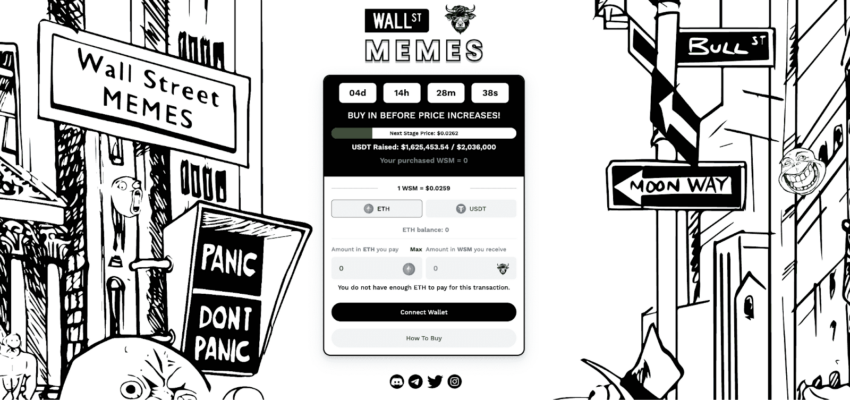 This community has made a name for itself thanks to its comical take on current events – an approach that has seen tech mogul Elon Musk interact with Wall Street Memes' Twitter account on several occasions.
The team behind Wall Street Memes now aims to tokenize this vibrant community by introducing the $WSM token. By holding $WSM, community members can profit from the community's growth and mass appeal.
Moreover, the project's developers are already showcasing their community-driven approach by launching a colossal airdrop, which will see five lucky "degens" receive $10,000 worth of $WSM each.
Those looking to be in with a chance of winning this token allocation must join the official Discord server, connect their socials, and purchase $WSM through the presale.
Fortunately, Wall Street Memes' presale is still only in Stage 4 out of 30, meaning tokens are priced at just $0.0259.
However, only 20 million $WSM tokens are reserved for this stage – underscoring that investors must act quickly, given the rapid pace that these tokens are being scooped up.
Visit Wall Street Memes Presale
AiDoge Prepares for IEO After $14.9m Presale
In other meme coin news, AiDoge is preparing to list on leading exchanges after raising over $14.9m in one of the biggest crypto presales of the year.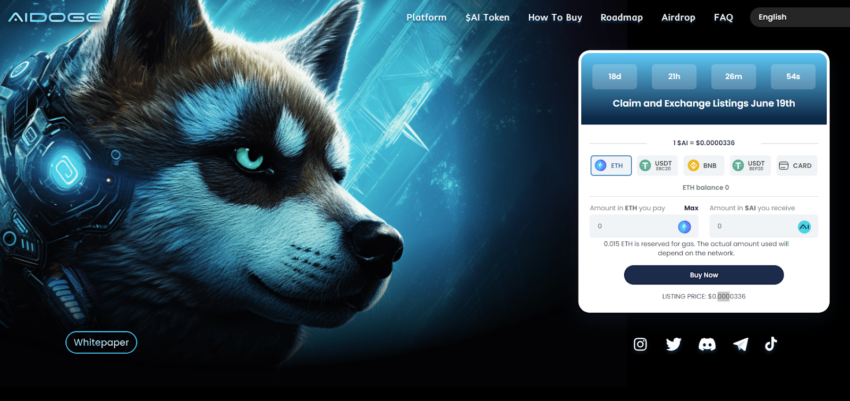 The project is centred on an AI-powered meme generation platform that will allow users to create topical memes using text-based prompts. The platform will be accessed using the native $AI token, which can also be staked for daily rewards.
The AiDoge presale has now sold out, although investors have one last opportunity to buy the token at the listing price of 0.0000336.
With such huge attention from the crypto community and some traders backing the token to explode on listing, $AI is definitely one to watch this month.
Disclaimer
This article is sponsored content and does not represent the views or opinions of BeInCrypto. While we adhere to the Trust Project guidelines for unbiased and transparent reporting, this content is created by a third party and is intended for promotional purposes. Readers are advised to verify information independently and consult with a professional before making decisions based on this sponsored content.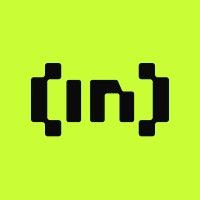 BeInCrypto Team comprises a diverse group of experienced journalists, analysts, and crypto enthusiasts dedicated to delivering the latest news, insights, and analyses in the...
BeInCrypto Team comprises a diverse group of experienced journalists, analysts, and crypto enthusiasts dedicated to delivering the latest news, insights, and analyses in the...
READ FULL BIO
Sponsored Sponsored