The world of meme coins is witnessing a seismic shift, as trading volume has declined by 25% in recent weeks.
Meme coin lovers appear to be liquidating their holdings, with previously successful tokens like Pepe Coin and Wojak seeing substantial price drops.
However, amidst this lull, two unique presale meme projects are defying the trend and capturing investor attention – Wall Street Memes ($WSM) and AiDoge ($AI).
Meme Coin Market Takes a Hit as Investors Look Elsewhere
It's now impossible to ignore the broader downturn affecting the meme coin market, with trading volume down significantly from the highs of mid-April.
James Tolan's Dune analytics tracker reveals that the total meme coin trading volume is now just a fraction of its peak on April 15.
Moreover, the total number of meme token creations has also fallen, indicating that crypto developers aren't as keen to launch new projects in this niche as they once were.
The consumption of gas in meme coin transactions, relative to other crypto transactions, is also declining.

These metrics highlight the dramatic slowdown in the meme coin market, which mirrors much of what was seen throughout the crypto winter of 2022.
The meme coin frenzy now appears to have died out, with popular tokens like $PEPE and $WOJAK no longer the forces they once were.
Data from CoinMarketCap reveals that $PEPE's price is now 66% below the all-time high posted in early May, while the $WOJAK price has dropped 84% in the same period.
Trending and hyped newcomers and established market players like Dogecoin and Shiba Inu have suffered significant losses in recent weeks – this suggests investors might have capitalized on the price surges in late April and early May.
As the market digests this transformative phase, it's uncertain how the narrative surrounding meme coins will unfold, leading to intense speculation from the investment community.
Wall Street Memes Navigates Market Challenges & Raises $100,000
Despite this shifting landscape, several new coins are still standing out and defying the odds.
The most notable is Wall Street Memes ($WSM) – a brand-new meme coin already gaining significant traction during its recently-launched presale phase.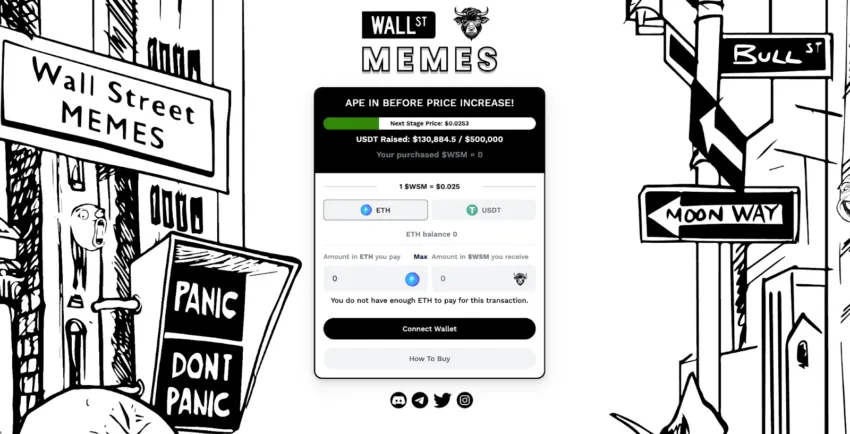 As its name suggests, Wall Street Memes is linked to the incredibly popular WallStreetBets subreddit, which now boasts over 13.9 million members.
However, the project's popularity mainly stems from the previous success of the Wall St Bull NFT collection, which debuted in early 2021. This collection achieved immediate success – selling out in 32 minutes.
The success of this collection has led to a robust community forming around Wall Street Memes, with more than 214,000 people following the project's official Twitter account and another 140,000 on Instagram.
Wall Street Memes is now back with a bang, thanks to the presale for the community-driven $WSM token and a hugely hyped new Ordinals collection – which has just 420 available to mint.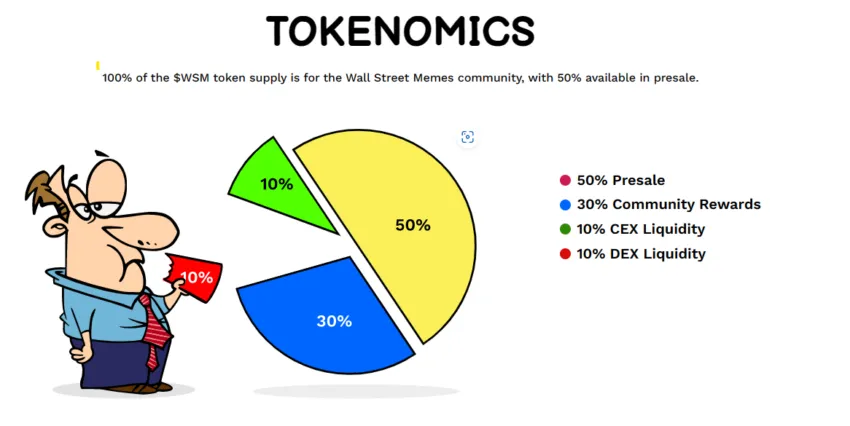 The total supply of $WSM is capped at two billion, with 50% of these tokens reserved for presale investors – which is open to all.
The remaining 50% of the supply will be used for community rewards and CEX/DEX liquidity, putting the project totally in the hands of the community, with no team allocation or private sale.
Although Wall Street Memes' presale phase only commenced on May 26, more than $100,000 in funding has already rolled in – highlighting the immense backing from meme coin enthusiasts.
Early-bird investors can purchase $WSM tokens through this presale for just $0.025 – the lowest price these tokens will likely be offered.
Visit Wall Street Memes Presale
AiDoge Presale Breaks $14.5 Million Funding Milestone Ahead of CEX Listings
Another project that's withstanding the ongoing market turmoil is AI-powered meme sensation AiDoge ($AI).
Like Wall Street Memes, AiDoge is in its presale phase – which has now raised an incredible $14.5 million in just over four weeks.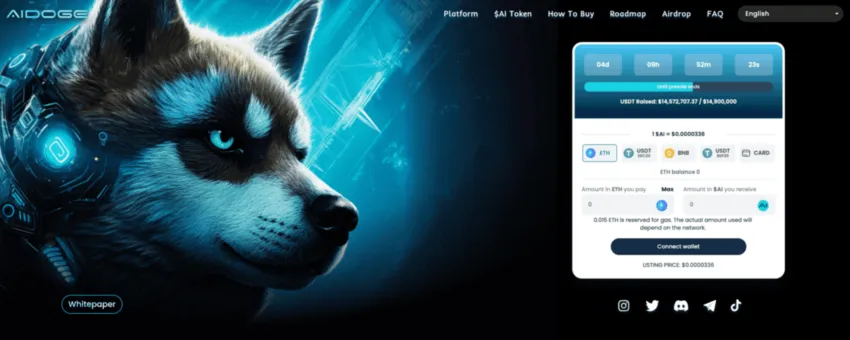 Meme coin lovers have been coming in their droves to purchase $AI tokens through this presale, given that they're being offered at a discount relative to the intended listing price of $0.0000336.
Naturally, this has led to a massive uptick in interest in AiDoge – with over 19,000 people opting to join the project's official Telegram channel.
The interest AiDoge is receiving stems from the project's unique blend of meme-style appeal and AI-driven use cases.
One of the most compelling use cases is the cutting-edge meme generator, which users can utilize when creating viral-ready memes.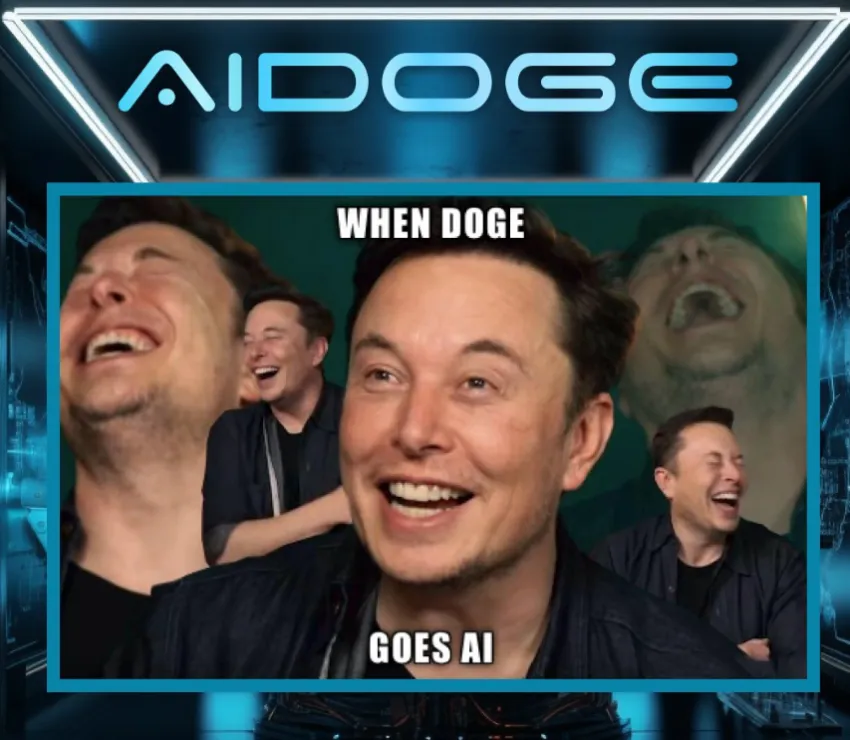 Per AiDoge's whitepaper, there's no need for prior experience when using this tool since it relies solely on text-based prompts – much like ChatGPT.
The AiDoge ecosystem will also have a public wall feature whereby meme lovers can post their creations for others to see. Community members can upvote and downvote user-created memes, with those receiving the most votes being rewarded with $AI tokens at the end of each month.
AiDoge is now in the final stage of its presale, meaning $AI tokens are priced at $0.0000336.
With CEX listings looming in the next few weeks, this could be the last chance for early investors to get involved before public market momentum takes hold.
Disclaimer
This article is sponsored content and does not represent the views or opinions of BeInCrypto. While we adhere to the Trust Project guidelines for unbiased and transparent reporting, this content is created by a third party and is intended for promotional purposes. Readers are advised to verify information independently and consult with a professional before making decisions based on this sponsored content.