Trading for a living can be harsh, no matter if you are a crypto maximalist or a stock investor. Turn your eyes away from the charts for a moment and your whole investment may vanish. Literally!
It all started as a fun contest among Robinhood — a popular mobile investing app — losers on a subreddit. However, things got quickly out of hand when the big boys showed up. And by big boys, we mean actual investors who lost hundreds of thousands of dollars by making just a couple of bad investments. Like this gentleman:
According to his story, he actually lost around $1.6 million (his portfolio worth at its all-time high) after successfully trading for around four years. He started with $850k and went upwards to $1.6M. Then he got a new job that took most of his time and couldn't monitor his portfolio anymore. As a result, one big downswing happened that basically busted his account. No, he didn't buy Bitcoin at $19k nor Ethereum at $1.2k. Not even Ripple at $3. He lost his bankroll the old way, investing in stocks — two in particular: Stitch Fix, an online shopping service, and Tilray, company specialized in medical cannabis. He traded on a margin, increasing the risks and didn't protect his funds accordingly. The image of his portfolio tells the rest of the story. Surprisingly, he doesn't plan to quit and still dreams of bouncing right back recovering that juicy $1 million. You Only Live Once (YOLO) right?
YOLO-ing to Bankruptcy
That's not the only case on the r/wallstreetbets subreddit. More followed like this: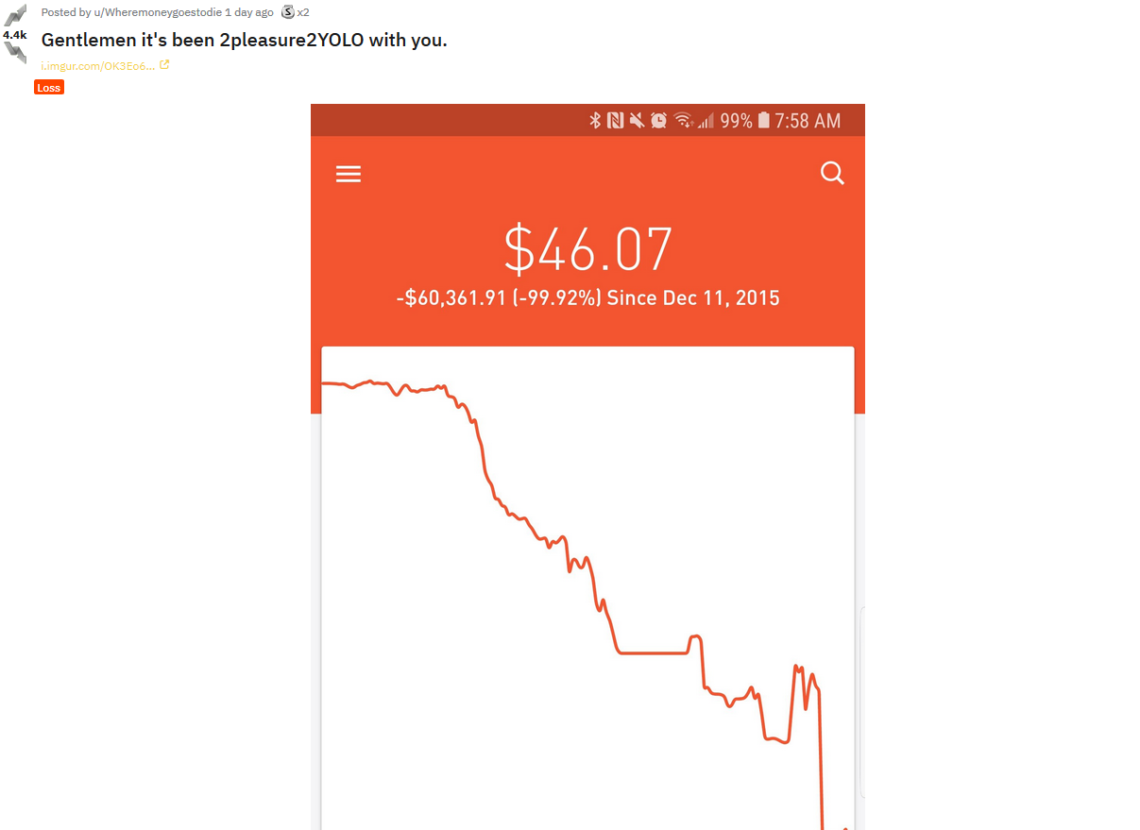 The wannabe investor lost his money on the option — a financial derivative much riskier than investing in stocks — market rollercoaster trying to tame the Amazon 'beast.' As one can see, the fight was indeed lost. Nevertheless, he doesn't regret it. He doesn't consider himself a degenerate, gambling with money he COULD afford to lose. Now how about ending in style:
When asked about what actually happened and how he lost $30k, this guy answered honestly on the subreddit: 'Ok so I clicked buy. Then made money. Then clicked buy again. Then had no money.' On a serious note though, he took his chances on the option market gambling on Netflix and Amazon. Unfortunately, like most investors, he ended up losing. Nothing to see here.
Think Twice Before Playing With Fire
All these cases presented here may seem like jokes, yet, they are definitely not if we take a closer look at the numbers. Losing $850k is no joke for anyone — which is why you have to be
extra careful
when investing in any type of asset. 2018 has shown all crypto enthusiasts that permanent bull markets don't actually exist and what goes up will come down at some point, even for a short while. It's better not to use
margin trading
when investing in cryptocurrencies, as it will increase your risk exponentially. Margin trading is meant for much calmer markets where a two percent swing is a big deal — not for a market where a five or 10 percent spike is almost a daily occurrence. Try to have stop losses, especially if you invest short or medium term. It's much healthier to admit your poor decision and fix the situation than watch your bankroll go to zero.
Did you witness any similar loses during this year's crypto bear market? Do you have a story to tell — a cautionary tale to other crypto bros? If so, please share it in the comment section below. 
Disclaimer
All the information contained on our website is published in good faith and for general information purposes only. Any action the reader takes upon the information found on our website is strictly at their own risk.