Key Highlights For March 8, 2019
The price made a low of $1.973 on March 4.
The price reached a high of $2.179 on Mar 5.
It made continued making higher highs.
It is trading inside an ascending channel.
There is bearish divergence in the RSI
It is following a long-term support line.
Ascending Support Line
The price of Lunyr (LUN) on Binance is analyzed in 30-minute intervals from Mar 5 to Mar 8.
The price made a low of $1.973 on Mar 5. A gradual rise ensued. Over the next few days, Several market cycles were completed with each dip representing a higher low than the last.
Tracing these lows gives us the ascending support line. It illustrates that Lunyr's price has followed an upward trend over the last few days.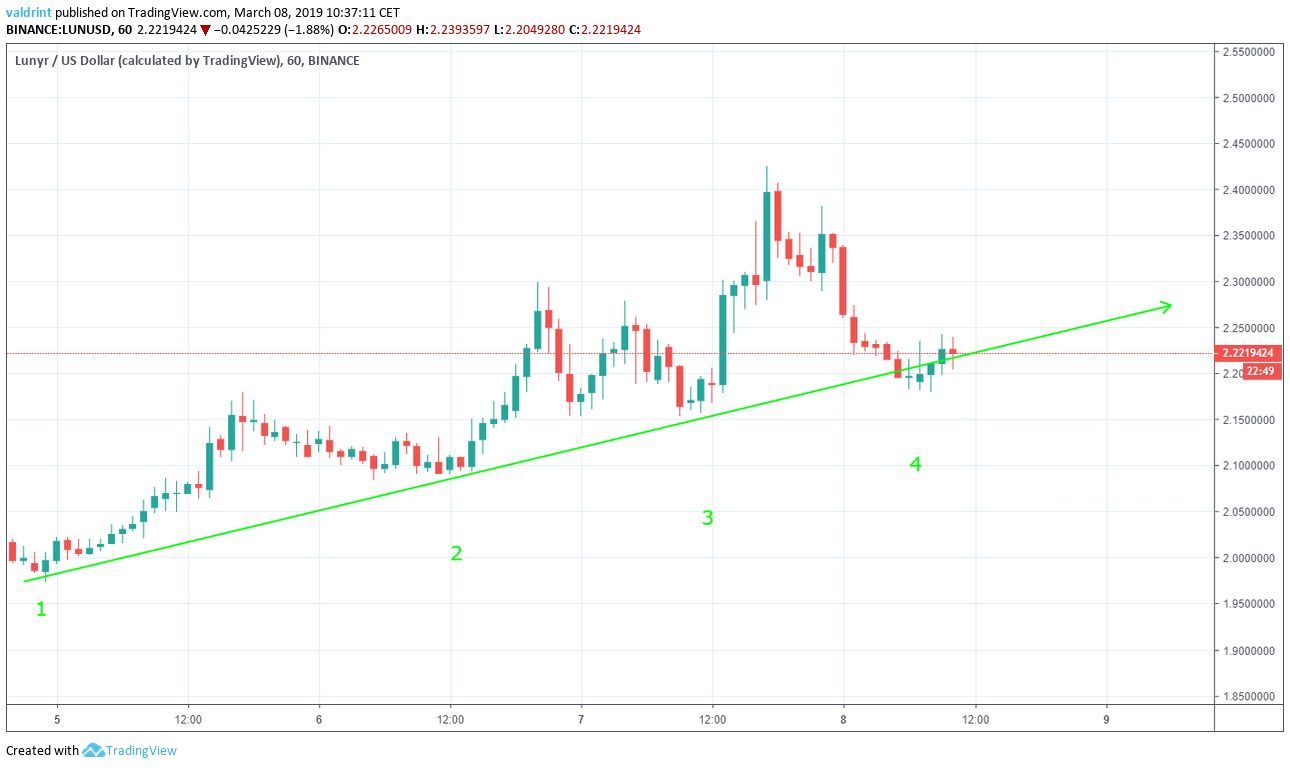 The dates on which the line was touched are:
The support line can act as a floor for the price, preventing further downward movement. However, a breakdown below these lines could initiate a rapid price decrease.
The breakdown below the support line by a wick in a volatile market is relatively unimportant as long as it is not succeeded by continued breakdowns. Small dips below the line occurred on Mar 8 but are so far insignificant.
LUN is currently trading along the support line. However, if the recent price decreases worsen, the price will likely fall below the support line. This could precipitate even greater price decreases.
Ascending Channel
The price reached a high of $2.179 on Mar 5. It continued making higher highs. It reached the final high of $2.424 on Mar 7.
Tracing these highs gives us an ascending resistance line.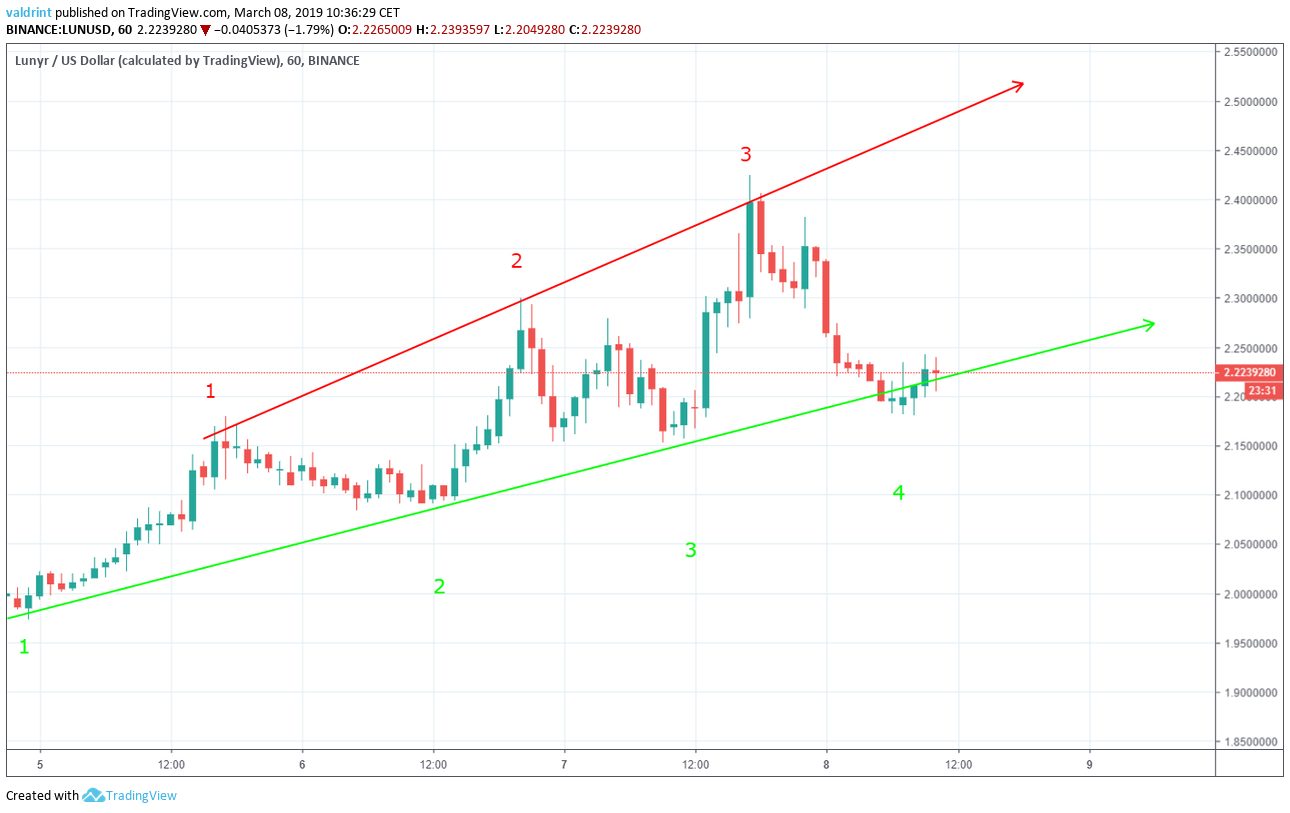 The dates on which the line was touched are:
The resistance and support lines combine to create an ascending channel, which is a neutral pattern, a price decrease and increases being equally likely. This would be the case for Lunyr had recent price drops not brought LUN below the support line.
As LUN continues trading near support, a breakdown appears possible. Careful attention should be paid to LUN's movement over the next several hours and days.
Looking For A Reversal
The relative strength index (RSI) is an indicator which calculates the size of the changes in price in order to determine oversold or overbought conditions in the market.
Moving averages are an important analytical tool used to identify current price trends and the potential for a change in an established trend.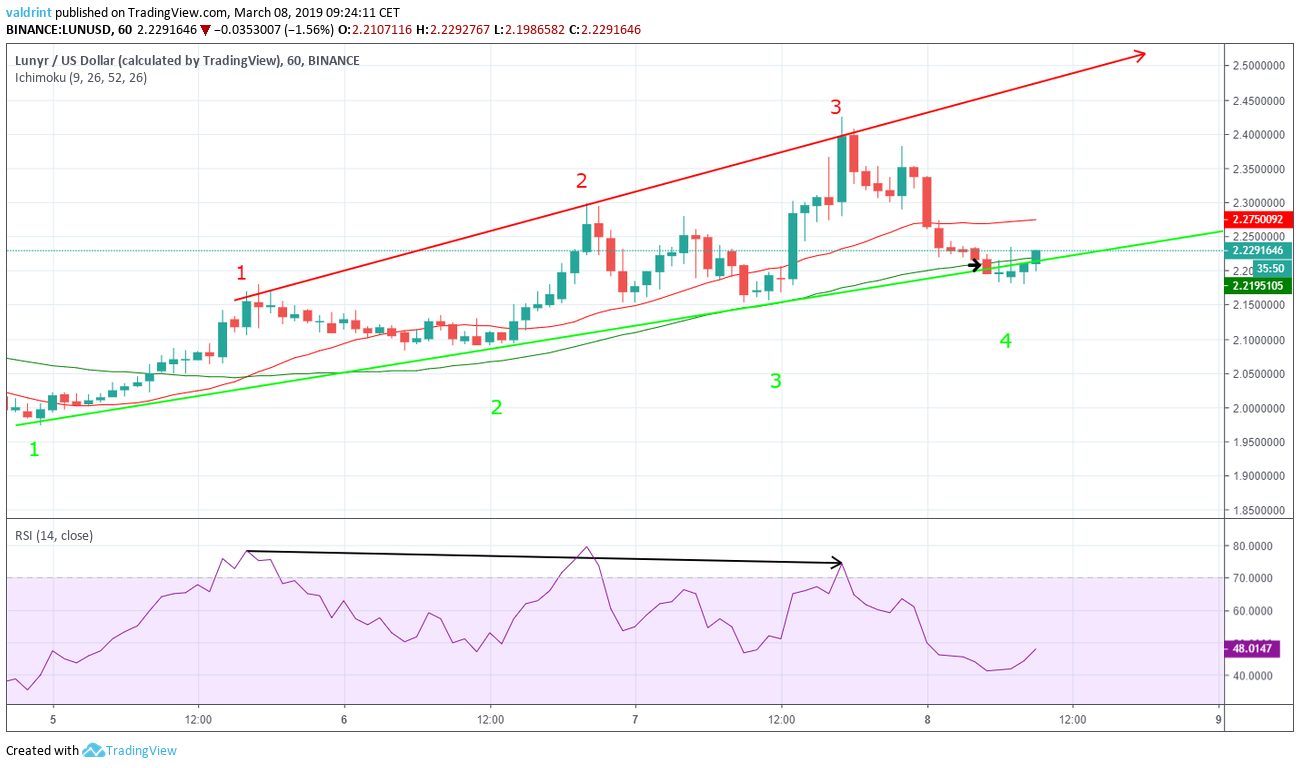 The price reached a high of $2.179 on Mar 5. It continued creating higher highs, culminating at $2.424 on Mar 7.
Similarly, the RSI reached a high of 79 on Mar 5. However, it continued to make lower highs.
This is called bearish divergence and often precedes drops in price. Furthermore, the price moved below the 21 (green) and 50(red) period moving averages on Mar 8—a sign indicating that the current upward trend is over
Coupled with LUN's drop below support, price decreases for appear likely in the near future.
Resistance and Support
To determine this possible future prices, LUN was analyzed in four-hour intervals from Feb 7 to Mar 8.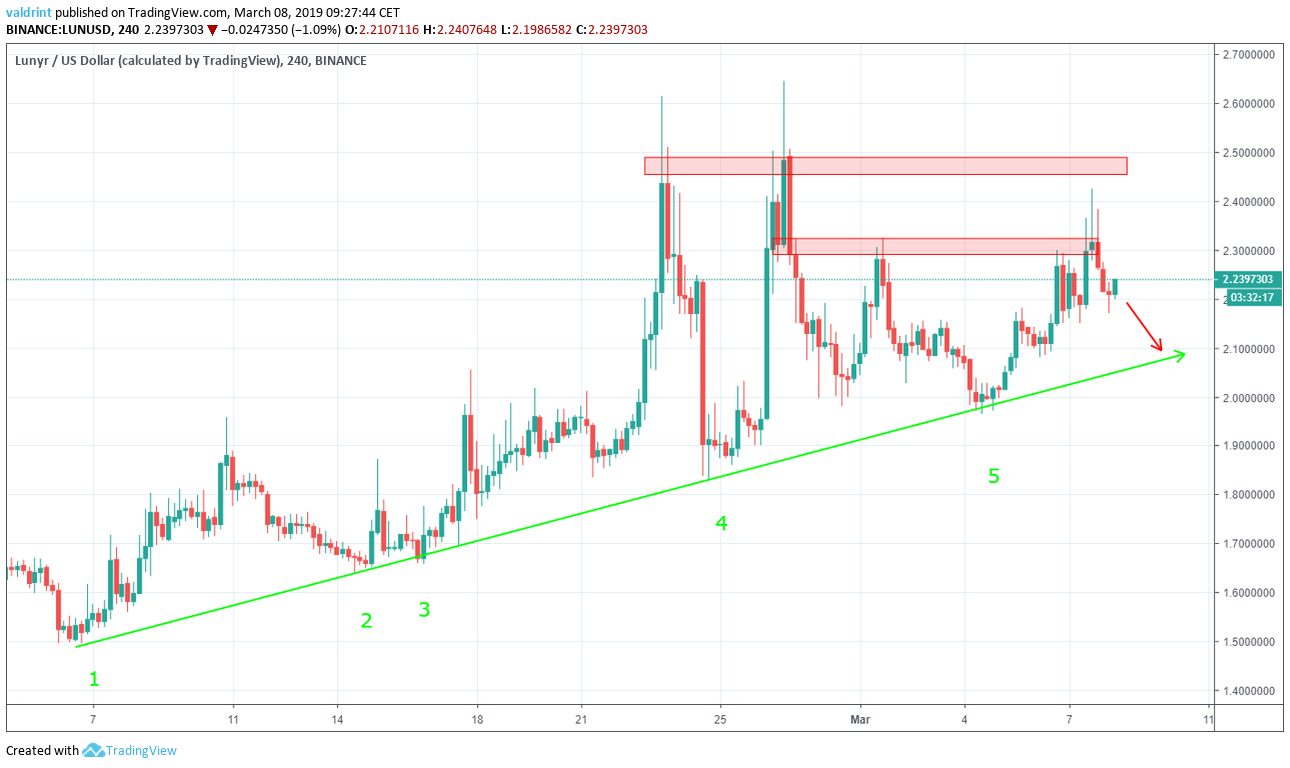 The price reached a low of $1.484 on Feb 7. It has made successive higher lows since. Tracing these lows gives us the ascending support line.
The dates in which the support line was touched are:
Feb 7
Feb 14
Feb 17
Feb 25
Mar 5
The support line currently is at $2.08 The closest resistance area is found near $2.3. The second is found at $2.48.
Based on this analysis the price of LUN is more likely to break down from the ascending channel and head to the long-term support line of $2.08. If prices break below this level, heavier losses may incur. If a continued does break down below the support continues, this prediction will be partially validated. If prices drop to $2.08 or under, it will be fully validated.
What do you think the future has in store for LUN? Let us know in the comments below.
Disclaimer: This article is not trading advice and should not be construed as such. Always consult a trained financial professional before investing in cryptocurrencies, as the market is particularly volatile.
---
Do you want to BeInCrypto? Join our Telegram Trading Community for exclusive trading signals, educational content, discussions and project reviews! Images courtesy of Shutterstock, Trading View and Twitter.