With the world of cryptocurrency constantly evolving, new contenders are entering the market on a regular basis. Among them, Love Hate Inu (LHINU), an innovative meme coin, has been the center of attention lately owing to its thriving presale phase.
This Friday is a significant milestone for Love Hate Inu as it prepares for its listing on the prestigious OKX exchange, sparking a wave of speculation and anticipation among investors.
Could OKX Listing Trigger Price Surge for LHINU?
It's been an incredible few months for Love Hate Inu's developers and investors, with the project entering the mainstream consciousness through social media buzz and features on mainstream media outlets.
These factors combined to help Love Hate Inu's presale generate over $10.2 million in funding – making it one of the most successful crypto presales of 2023.
The presale's success has culminated in an OKX listing, which is scheduled to occur on May 19 at 10am UTC. Traders will be able to access the LHINU/USDT trading pair, then will be able to withdraw their LHINU tokens from May 20 at 10am UTC.
Per CoinMarketCap, OKX is currently the world's fifth-largest cryptocurrency exchange, regularly handling over $920 million in daily trading volume.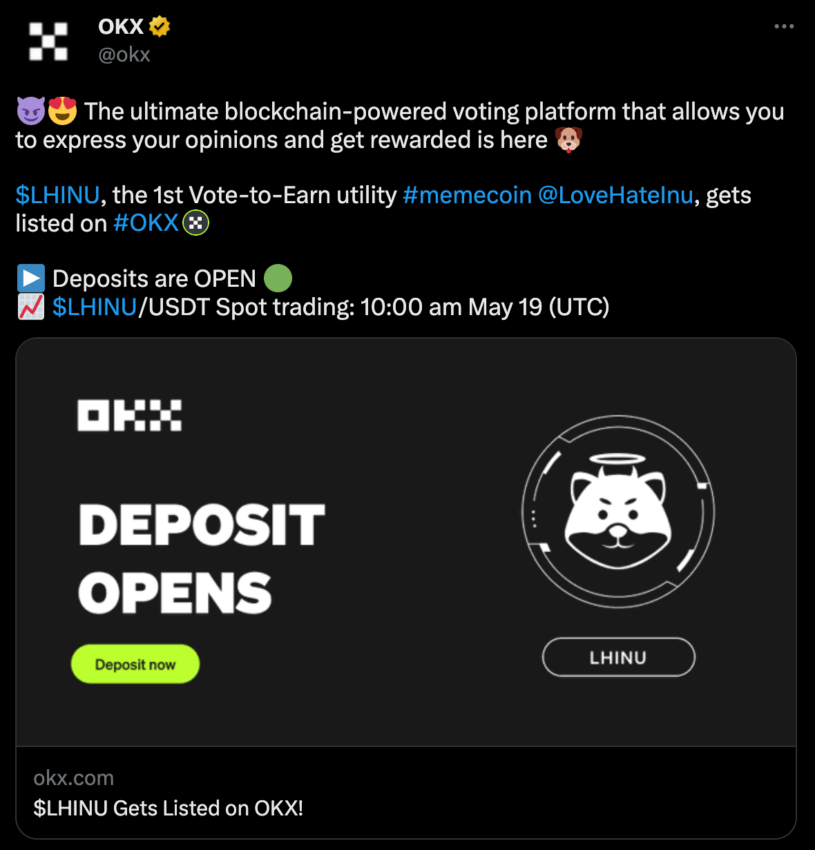 Moreover, OKX receives more than 2.2 million visitors each week, indicating a significant user base that may wish to gain exposure to Love Hate Inu's potential growth.
The good news doesn't stop there for LHINU holders, as the token will also be listed on the Uniswap decentralized exchange (DEX) just four hours after the OKX listing takes place.
According to crypto data site DeFiLlama, Uniswap is the world's largest DEX in terms of trading volume and has over $6.7 billion in total value locked (TVL).
These listings on reputable and established exchanges will increase liquidity and accessibility for LHINU traders – bolstering the token's growth and market presence.
The Meteoric Rise of the Love Hate Inu Community
These listings could not have been possible without the traction that Love Hate Inu received during its presale phase, which commenced in March 2023.
Almost instantly, Love Hate Inu's presale became a significant talking point in the crypto market, attracting the attention of retail investors worldwide.
Naturally, this led to a strong community forming around the Love Hate Inu project – with more than 16,600 people opting to join the official Telegram channel.

Love Hate Inu's Twitter account has also grown exponentially since the presale's launch, reaching over 43,000 followers.
The hype surrounding Love Hate Inu has also caught the attention of prominent crypto influencers. YouTuber Michael Wrubel, who has over 310,000 subscribers, recently posted a video detailing how Love Hate Inu could be the next Shiba Inu – and how it could potentially 100x in price.
A similar project drawing parallels to Love Hate Inu is AiDoge, another new meme coin with utility that's so far raised over $8.5m during its presale.
Love Hate Inu is a Meme Coin with Real Utility & Community Power
But why has Love Hate Inu received so much attention since the presale launched?
Put simply, Love Hate Inu is a meme coin that's not just about "hype" but also about tangible utility.
This meme coin pioneers a new Vote-to-Earn (V2E) concept powered by blockchain technology that allows users to earn LHINU tokens for participating in various polls.
These polls are decided on by Love Hate Inu's developers or other community members and will revolve around controversial figures or real-world events.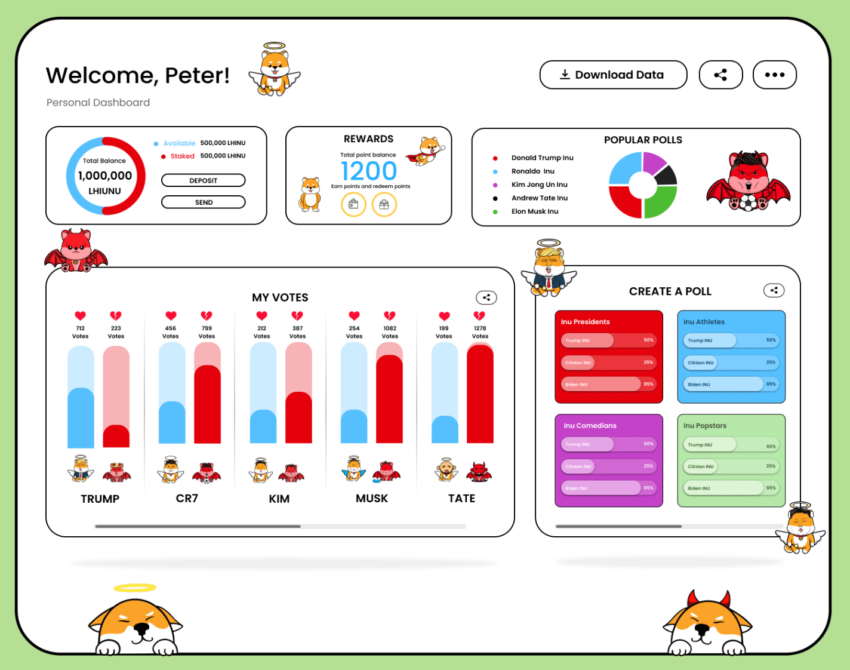 For example, Love Hate Inu's platform may have a poll asking, "Should Elon Musk stay on as Twitter CEO?" – and community members can have their say on whether they "Love" or "Hate" the idea.
Per Love Hate Inu's whitepaper, all votes are securely recorded using blockchain technology, which guarantees accurate and unchangeable results. Also, users need to stake their HINU tokens for at least 30 days before they can vote in polls. This rule helps to prevent scam or bot accounts from affecting the results.
Ultimately, Love Hate Inu's compelling setup gives the power back to the community, thereby disrupting the rapidly-growing online survey market. Couple this with the coin's meme-style branding, and it's clear why Love Hate Inu has gone viral over the past two months.
Exciting Future Ahead for Love Hate Inu Investors
With Love Hate Inu's OKX and Uniswap listings inching ever closer, the future looks exceptionally bright for this exciting meme coin.
As noted in the project's roadmap, these listings are just the beginning of Love Hate Inu's journey – a journey that will be filled with new and compelling features for token holders.
Per the roadmap, Love Hate Inu's team aims to obtain partnership agreements with leading brands in Q4 2023. This setup will enable users to vote in "sponsored polls" accompanied by various prizes, such as branded merchandise and NFT discounts.
Looking further ahead, Love Hate Inu's developers have set their sights on 2024, with plans to incorporate the V2E mechanism into significant metaverse experiences.
While specific details about these metaverse experiences remain under wraps, this strategic move signifies Love Hate Inu's commitment to staying at the forefront of technological innovation.
As Love Hate Inu continues its remarkable journey, the upcoming exchange listings could be a pivotal moment – reinforcing its position as a meme coin that combines hype and community engagement in an unprecedented manner.
Disclaimer
This article is sponsored content and does not represent the views or opinions of BeInCrypto. While we adhere to the Trust Project guidelines for unbiased and transparent reporting, this content is created by a third party and is intended for promotional purposes. Readers are advised to verify information independently and consult with a professional before making decisions based on this sponsored content.