On September 5, 2019, the Litecoin price reached a low of ₿0.0061. Since then, it has initiated two upward moves, lasting five days each — increasing by 16 percent and 18 percent, respectively. On September 18, Litecoin reached a high of ₿0.0078.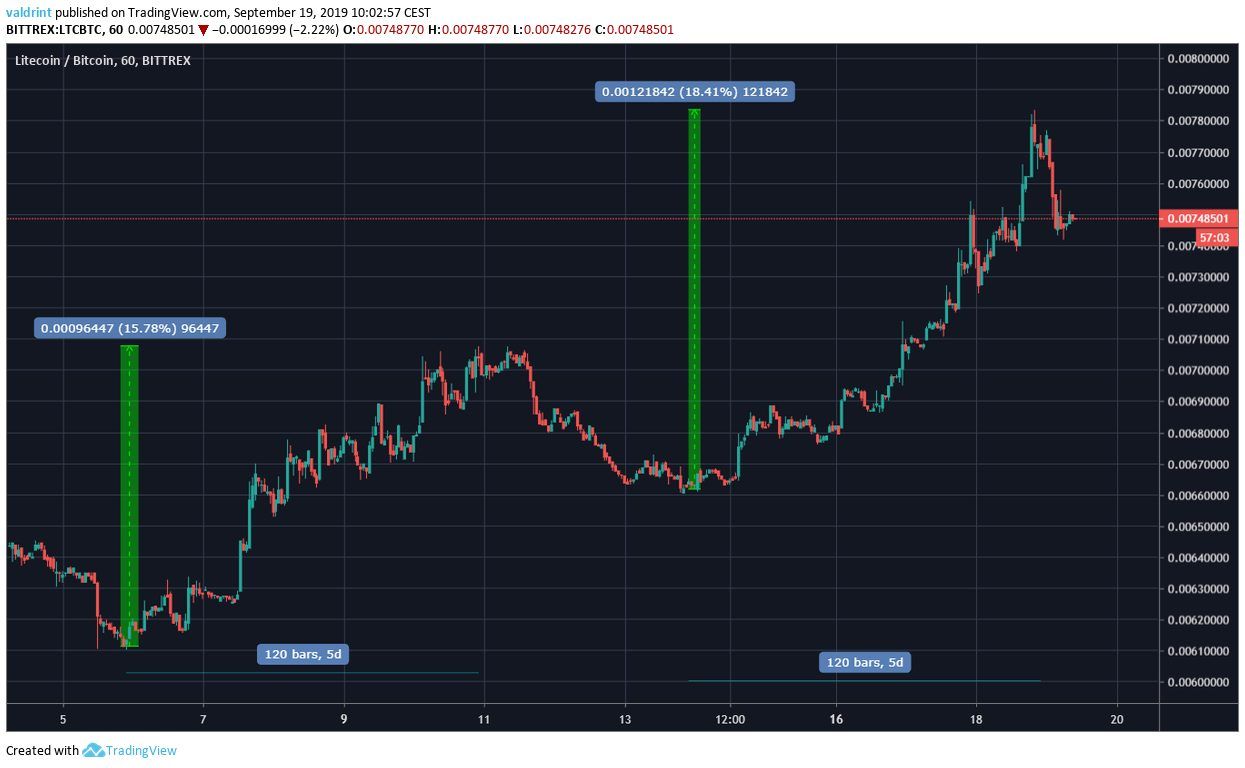 How long will LTC continue this upward move? Keep reading below in order to find out.
For our previous analysis, click here.
For those of you more interested in a video analysis, please click below:
Litecoin Price: Trends and Highlights for September 19
LTC/BTC is following a descending support line.
Two resistance areas are found at ₿0.0080 and ₿0.0098.
The 10- and 20-day moving averages have made a bullish cross.
The MACD is in positive territory.
The short-term RSI has generated bearish divergence.
Descending Litecoin Price Support
A look at the daily chart shows that the Litecoin price has been following a descending support line since July 10.
The price is not following any clear resistance lines.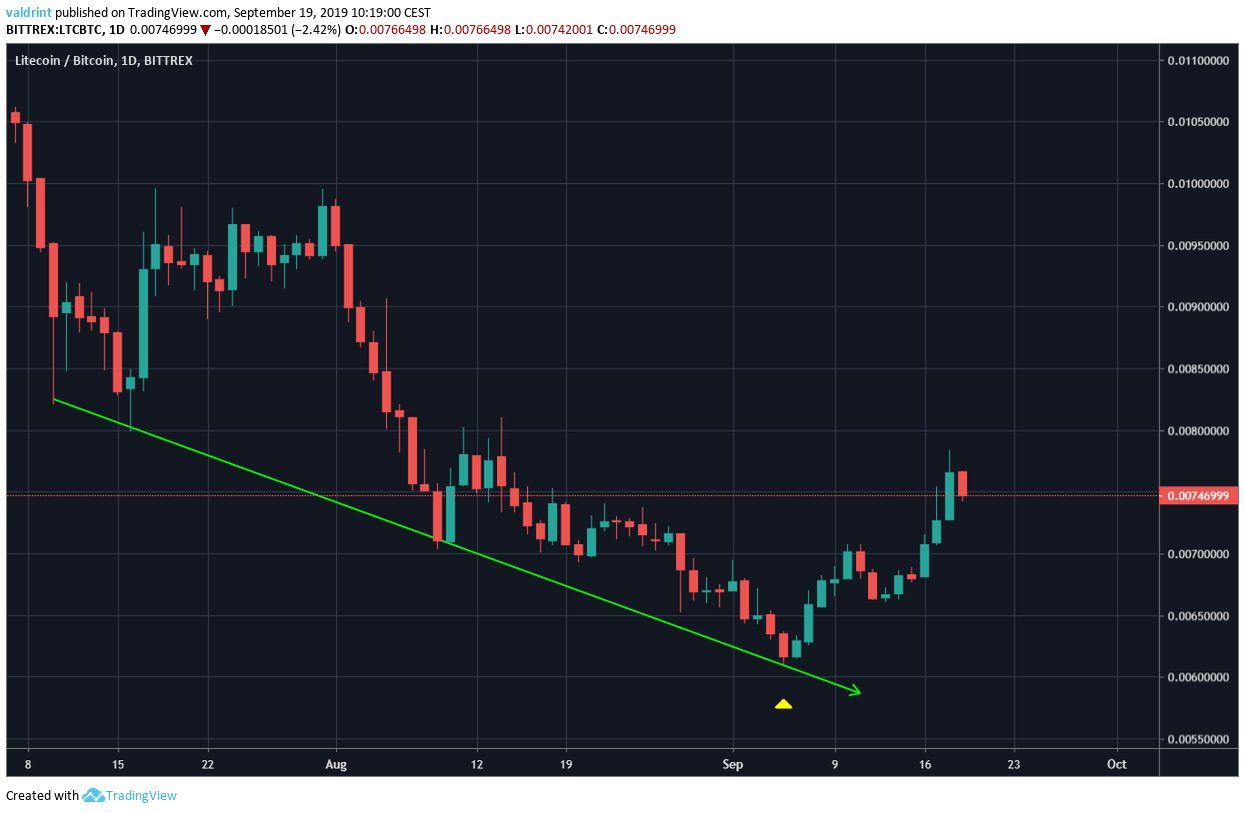 The support line has been touched four times, most recently on September 5.
Afterward, the two upward moves discussed in the introduction were initiated.
Furthermore, one resistance area can be traced.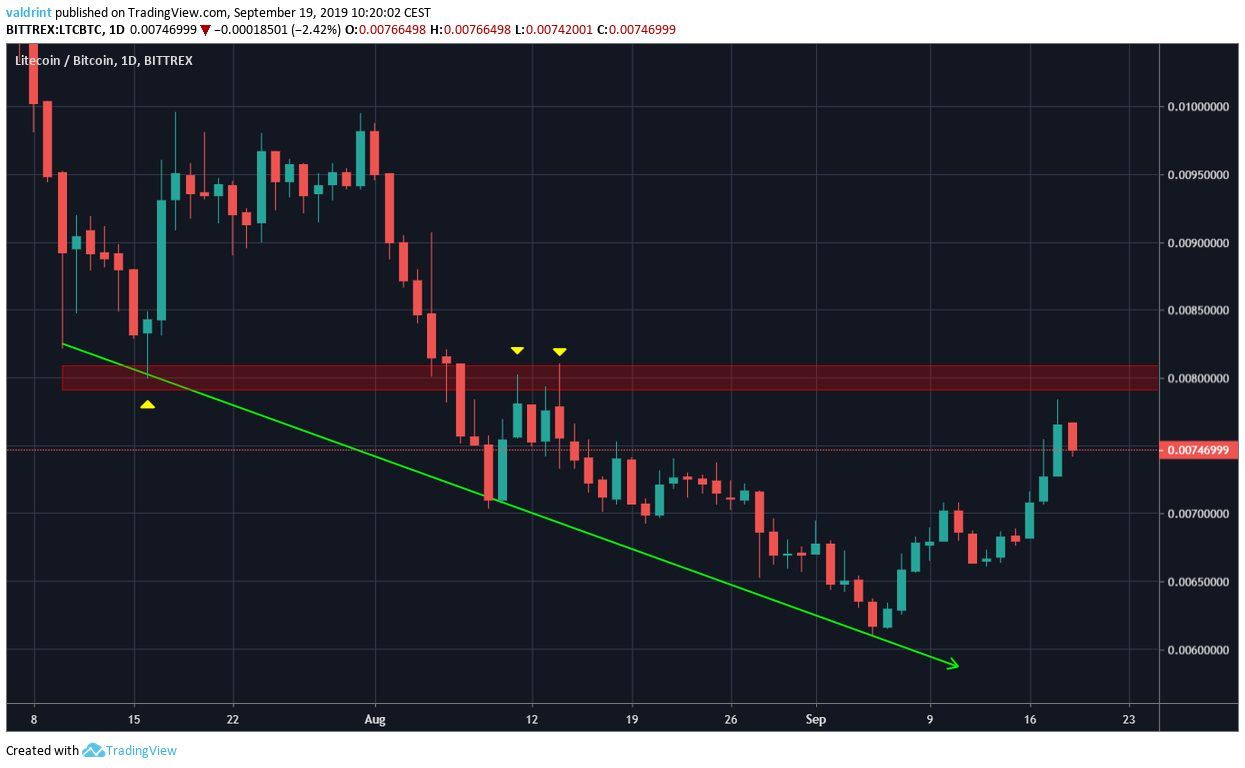 It is found at ₿0.0080.
Most recently, it rejected the Litecoin price on August 12, causing it to create a long upper wick.
Will LTC be successful in breaking out above it?
Possible Upward Move
Analyzing the daily moving averages (MA) provides a considerably bullish sentiment.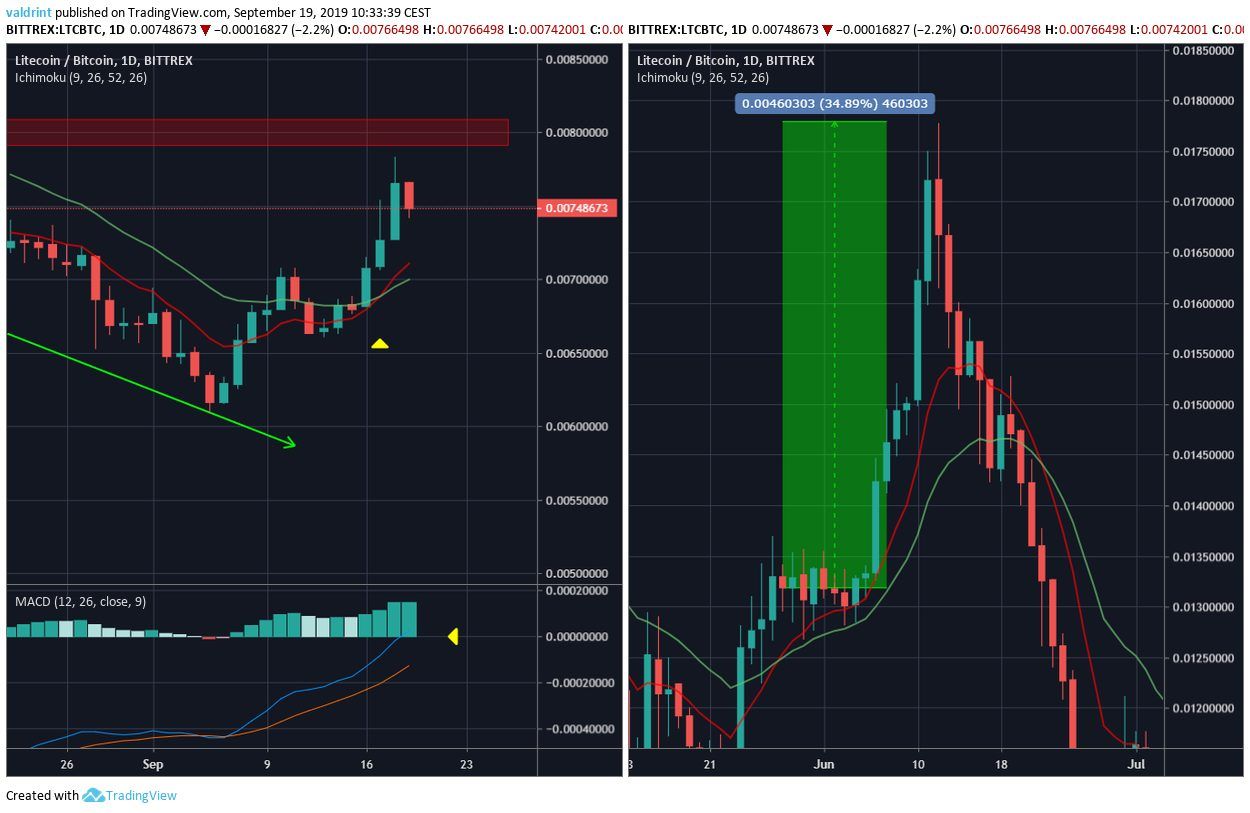 The 10- and 20-day MAs have just made a bullish cross. This move was accompanied by the MACD crossing into positive territory.
The previous time this occurred, on May 26, the price went on to increase by 35 percent.
A similar increase from the current price would take LTC to ₿0.0095, very close to the second resistance area of ₿0.0098.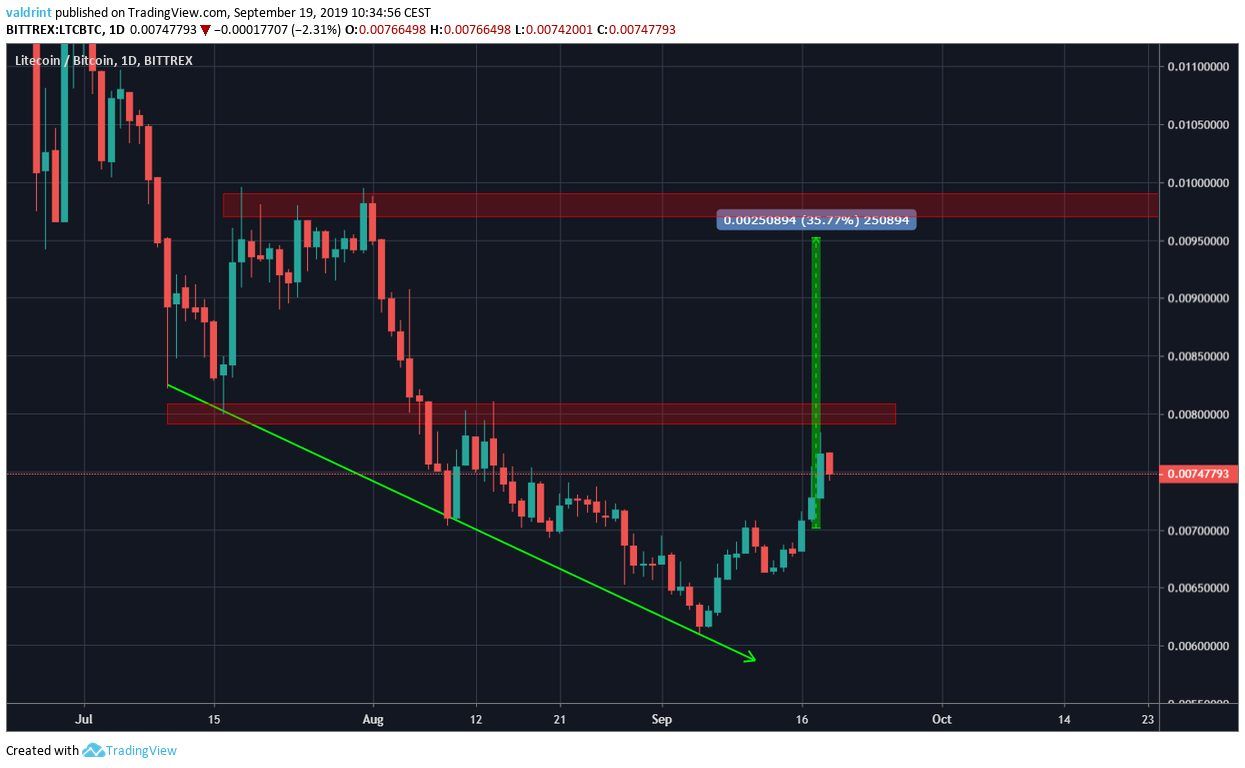 Morning Star
A look at the weekly chart shows that LTC is in the process of completing a "Morning Star", which is considered a bullish pattern.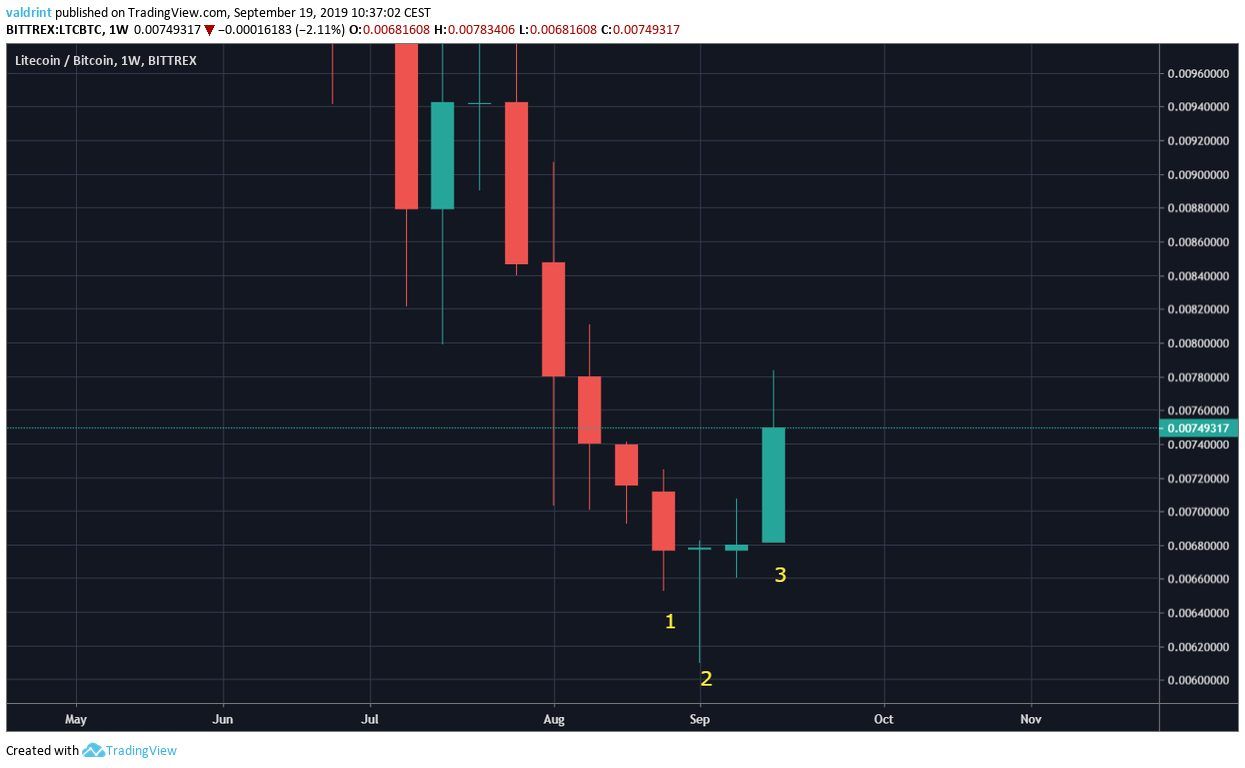 The Litecoin price followed a series of bearish candlesticks by creating a bullish doji.
Afterward, it created a bullish engulfing candle, reaching highs above the opening prices of the previous bearish candle.
This often indicates that future increases are in store for the price.
A price close above ₿0.0075 for the week would confirm the pattern.
Future Movement
Going back to the hourly time-frame, we can see that LTC has begun to show signs of weakness, in the form of bearish divergence.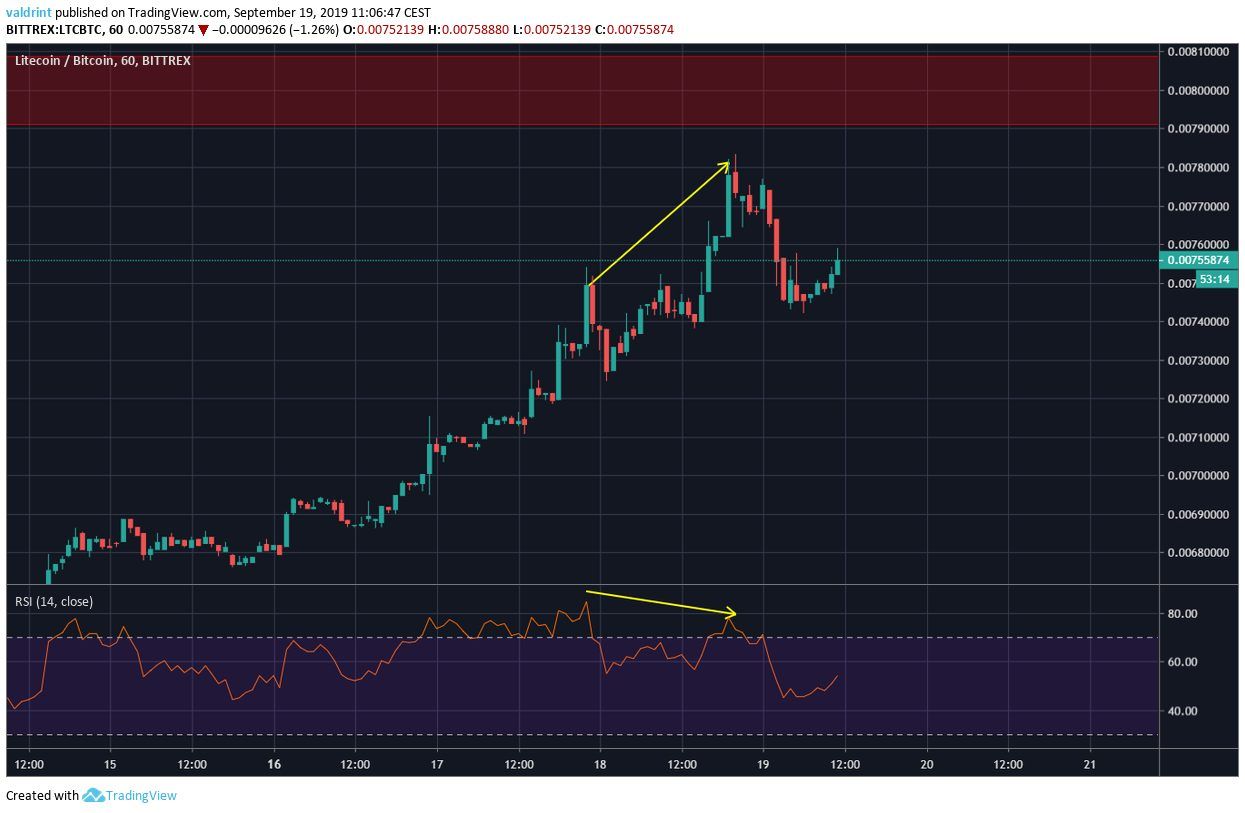 The divergence, however, is not very significant and is only present in short-term time-frames.
Therefore, we believe a slight retracement towards ₿0.0072 is likely before LTC continues its upward movement.
Afterward, we believe it will break out above the first resistance area.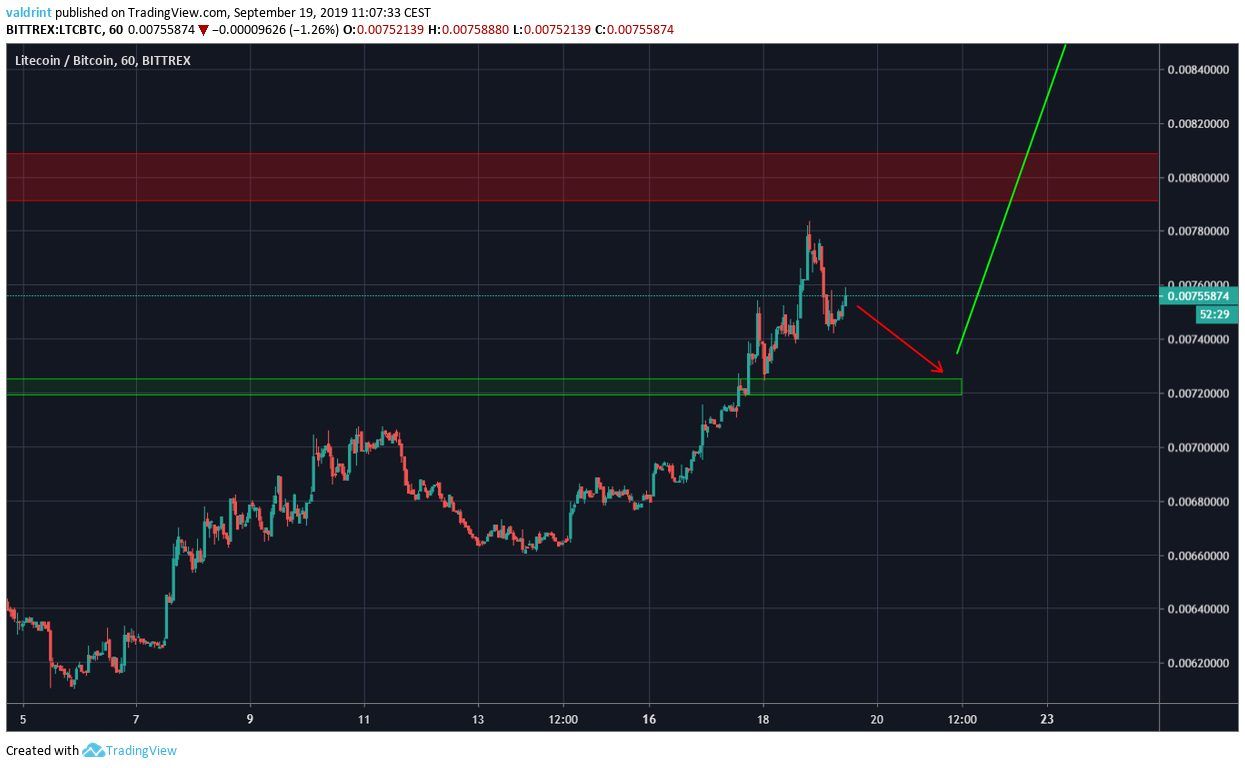 Litecoin Price Summary
The Litecoin price is following a descending support line.
According to our analysis, It is likely to increase above the resistance area at ₿0.0080.
For hypothetical trading purposes, we consider LTC a buy, especially at prices close to ₿0.0072.
Do you think the LTC price will break out above the resistance area? Let us know in the comments below.
---
Disclaimer: This article is not trading advice and should not be construed as such. Always consult a trained financial professional before investing in cryptocurrencies, as the market is particularly volatile. 
Images are courtesy of TradingView, Shutterstock.
Disclaimer
All the information contained on our website is published in good faith and for general information purposes only. Any action the reader takes upon the information found on our website is strictly at their own risk.