It's been an exhilarating 48 hours for Litecoin and Doge CEO holders, with both cryptos experiencing price pumps out of the blue.
$LTC's value is up nearly 8% since Sunday, while $DOGECEO's price has rocketed by more than 106% in the lat 48 hours, providing a much-needed spark to their respective communities' optimism levels.
Meanwhile, the recently-introduced crypto project AiDoge ($AI) is making waves of its own and has now raised over $8 million through its presale phase – all in under three weeks.
Market Optimism & Upcoming Halving Spark Litecoin Price Surge
The sudden surge in Litecoin's price has been attributed to several factors, including a positive start to the trading week in the crypto market and the ever-nearing LTC "halving," which will occur in August.
Regarding the former, investors appear to have shaken off the bearish worries of last week and began this week on an optimistic note, with Bitcoin and Ethereum both rising over 1%.
This positive sentiment has benefitted Litecoin, with the coin now trading at around $89.27 – over 16% higher than the lows of May 8.
Per CoinMarketCap, over $767 million worth of LTC was traded in the past 24 hours, making it the seventh-largest cryptocurrency globally, as measured by trading volume.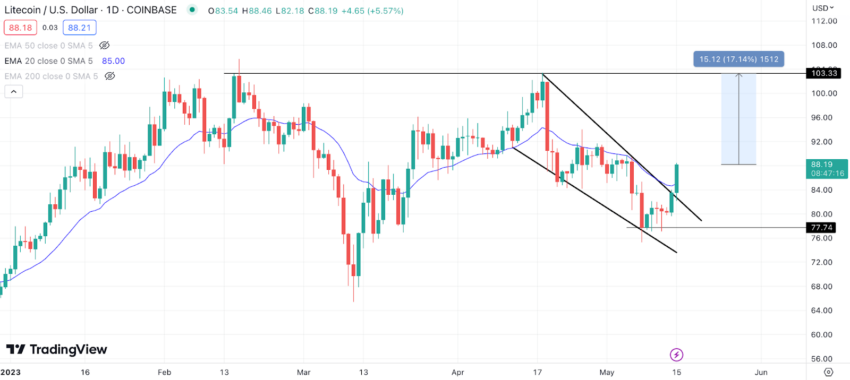 This will be music to the ears of Litecoin holders, who have seen the coin's value sink since mid-April. Zooming out, Litecoin is still trading well below previous all-time highs, yet the recent price boost is undoubtedly a move in the right direction.
Another reason for excitement is the upcoming 'halving' event for Litecoin. This event, which happens every four years, cuts the reward for mining a Litecoin block in half – which means that fewer new Litecoin coins will be made.
Ultimately, this creates a "supply shock" for Litecoin, driving the LTC price higher in the lead-up to and after the halving. However, it appears the bullish momentum is beginning early this year, with eager investors looking to stock up on LTC ahead of this seismic event.
Doge CEO: Community-Driven Meme Coin Rides the Bullish Wave
While Litecoin is clearly gaining significant traction, it's not the only cryptocurrency making headlines.
Another coin capturing investor interest is Doge CEO ($DOGECEO), best known for its obvious link to Dogecoin.
For those unaware, Doge CEO is a community-driven meme coin project that seeks to empower retail traders to optimize their wealth creation. Doge CEO does this through a 10% buying and selling tax, which is partly "reflected" back to $DOGECEO holders.
Per the project's website, the total supply of $DOGECEO tokens is 420 quadrillion. However, 2% of the accrued transactional tax for each transaction is used to purchase and burn tokens – meaning the more Doge CEO transactions that occur, the fewer tokens that will exist.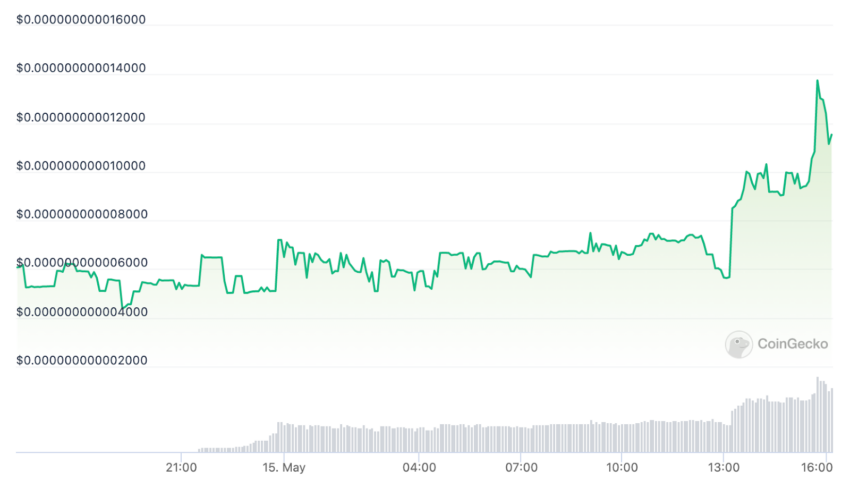 Although this system is designed to reduce the total supply and make the remaining $DOGECEO tokens scarcer, it isn't the main reason the token price has surged.
Instead, $DOGECEO's price has been rising due to the positive contagion effect from the ongoing meme coin frenzy brought about by the success of coins like Pepe Coin and Turbo.
According to BSCScan, a block explorer for the Binance Smart Chain (BSC), there are now over 5,700 $DOGECEO holders, with new buy orders arising every minute.
These metrics highlight that investors are rushing to purchase tokens while sentiment is overwhelmingly bullish, hoping to gain exposure to the upward momentum.
At the time of writing, $DOGECEO is still around 38% lower than the highs of mid-April. However, given that the token's positive trajectory shows no signs of slowing down, there's a growing belief that Doge CEO could return to these highs – or even exceed them.
AiDoge Presale Raises Over $8 Million Ahead of Planned CEX Listings
While Litecoin and Doge CEO are causing a stir in their respective spaces, a new crypto contender is rapidly gaining attention.
Enter AiDoge ($AI) – an innovative meme coin project that's stirring up the market with its one-of-a-kind "meme generator."
The project only launched its presale phase in late April, yet it has already raised a stunning $8 million as eager investors look to get their hands on $AI tokens ahead of the centralized exchange (CEX) listings planned for Q3 2023.
AiDoge's presale is set to have 20 total stages, with Stage 11 now in progress – meaning investors can purchase $AI for just $0.00003.

This means investors can obtain tokens at a 12% discount to the intended CEX listing price of $0.0000336.
Given the buzz surrounding the project, obtaining $AI tokens at such a low price point could prove fruitful for meme coin investors.
Per AiDoge's whitepaper, the development team intends to "revolutionize" the meme creation process through the platform's meme generator.
This meme generator, built using AI technology, will allow users to effortlessly create viral images in seconds using text-based prompts – much like OpenAI's language model, ChatGPT.
Moreover, AiDoge.com will provide a pathway for community members to earn $AI tokens. This system will work by users uploading their memes to the "public wall" – creators of the memes with the most upvotes will receive $AI rewards at the end of each month.
The combination of AiDoge's tailor-made meme generator and the project's unique earnings protocol has led to tremendous hype from retail traders, with nearly 18,000 people opting to join the official Telegram channel.
All in all, the signs are looking promising for AiDoge – and with the momentum around meme coins continuing to grow, many investors believe $AI could be set for a successful latter half of 2023.
Disclaimer
This article is sponsored content and does not represent the views or opinions of BeInCrypto. While we adhere to the Trust Project guidelines for unbiased and transparent reporting, this content is created by a third party and is intended for promotional purposes. Readers are advised to verify information independently and consult with a professional before making decisions based on this sponsored content.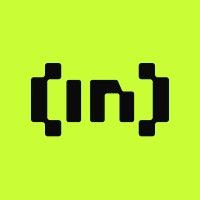 BeInCrypto Team comprises a diverse group of experienced journalists, analysts, and crypto enthusiasts dedicated to delivering the latest news, insights, and analyses in the...
BeInCrypto Team comprises a diverse group of experienced journalists, analysts, and crypto enthusiasts dedicated to delivering the latest news, insights, and analyses in the...
READ FULL BIO
Sponsored Sponsored