Ledgible provides clear data that simplifies taxes and accounting for everyone.
There is no doubt that the popularity of crypto is rising day by day. Even though the regulatory side of crypto is clearing up among global nations, the crypto tax space still contains some uncertainty. Crypto tax payment is necessary for everyone who trades crypto on a regular or irregular basis.
However, calculating your crypto tax is a pain. With several buy and sell transactions, the accurate calculation always ends up in question. This is where Ledgible comes to the rescue. With its crypto tax solution, the tax calculation is simpler and done automatically on the platform.
What is Ledgible?
Ledgible is a US-based cryptocurrency accounting and tax solution platform. The experts at Ledgible created the platform, targeting professionals, businesses, and crypto users. Ledgible provides a professional crypto tax solution for its users.
The platform offers two key platforms focusing on different sectors of users, tax and accounting. It determines and calculates crypto liabilities. It provides a fundamental collection of information, such as wallet balances, capital gain, loss, and exchange orders, all automatically.
"Ledgible is uniquely positioned to aggregate, normalize, and make crypto data Le[d]gible for traditional financial players. Through partnerships with some of the largest names in TradFi and integrations with leading crypto firms, Ledgible bridges the gap between crypto and traditional finance. Whether it be individual taxpayers all the way up to the world's largest institutions, Ledgible is here making crypto data, Ledgible."

Trevor English, VP
What are the key products of Ledgible?
Ledgible crypto tax offers a variety of reports, either for individual investors or for tax preparers and firms handling clients. Users can also utilize it just for general record-keeping for monitoring cryptocurrency throughout the year. Here are the three main products of Ledgible.
Ledgible Crypto Tax Pro
This product is purely for tax professionals, accountants, and law firms. These tax professionals can quickly collect client information, generate reports, and manage tax filing, all in a SOC 1 & 2 Type 2 Audited platform.
Ledgible Crypto Tax
It is an individual filer-focused tax product. All those who have to submit taxes on their crypto assets can benefit from this offering. Users can add their data sources with the file import or robust manual entry option, giving users additional functionality over many of Ledgible's competitors.
Ledgible crypto accounting
This is an enterprise and institutional-focused product that can aid in crypto data management, bookkeeping, and other accounting procedures. It entails similar features to that of ledgible crypto tax and also includes a much more detailed dashboard for portfolio management.
The platform also offers several reports and general ledger integration options. The platform essentially functions as a sub-ledger to firms' general ledger accounting systems.
"Traditional financial (TradFi) institutions and enterprises are generally not prepared to handle the nuances of cryptocurrencies natively —  from the number of significant figures used in calculating the value of digital asset holdings to the recognition of non-standard naming conventions for standard cryptocurrencies (i.e. XBT vs BTC), and a whole host of variances not seen with traditional assets. While seemingly simple challenges at face value, these are essential to the accurate reporting of crypto activity. This is where Ledgible comes into play."

Jeff Gapusan, VP of Strategy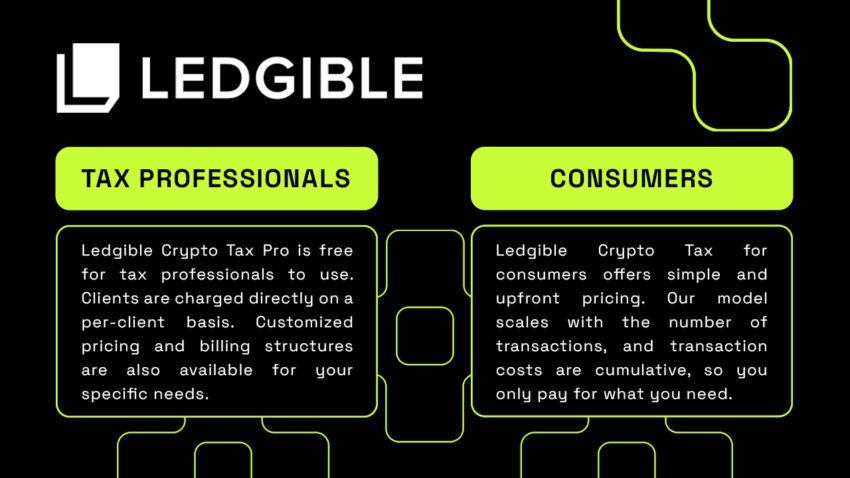 What are the charges for Ledgible's products?
Ledgible's products have flexible charges. The three products have different pricing:
Ledgible crypto tax: This product is basically free for users. Users can access all the features of this product for free. The platform charges you only if you need to access or download your reports.  The price of crypto tax begins at $49 for tax-year reporting and up to 200 transactions. Pricing is calculated on the basis of the number of transactions. Users can get access to 200-1000 transactions with an additional $50 payment and $100 for each set of 2500 transactions over 1000.
Ledgible crypto accounting: Businesses can start a 30-day free trial for this product. After the trial period, if businesses are satisfied and wish to continue, the Ledgible team works to build a custom, personalized plan to suit users' needs.
Ledgible crypto tax pro: This product offers paid and free plans for tax professionals, allowing accountants and firms to upsell their services for crypto advisory and tax planning, in addition to general crypto tax filing. Tax professionals just need to fill out this form to get started.
Conclusion
If you are a crypto trader, tax professional, institution, or investor, analyzing and evaluating each transaction for tax reporting is a pain. Ledgible's easy-to-use platform will help tax professionals, taxpayers, and businesses aggregate, normalize, and make crypto data legible for tax filing.
Ledgible provides crypto audit, crypto accounting, crypto tax, and transaction tracking for its users. With its flexible pricing and friendly platform, tax calculations are now simpler and easier.
It also ensures the safety of user data with enterprise-grade SOC 1 and 2 security. If you are looking for a platform that can track your transactions and generate your reports while safeguarding your data, Ledgible should be your go-to platform.
FAQ
Which exchanges, blockchains, and cryptos does Ledgible support?
Ledgible supports various exchanges, blockchains, wallets, and accounting platforms. You can see the full list here.
How can you identify your crypto tax obligation?
You may receive transparent reporting on the gains and/or losses you experienced throughout the tax year by utilizing Crypto Tax.
What kind of report does Ledgible provide?
It provides a basic set of reports that help you filter and examine your whole cryptocurrency portfolio in useful ways. These include wallet balances, capital gain and loss, and exchange orders, among many more.
Follow them on social media to stay updated:
Disclaimer
All the information contained on our website is published in good faith and for general information purposes only. Any action the reader takes upon the information found on our website is strictly at their own risk.