With its booming popularity in the digital art and design community, the Midjourney AI art generator needs little introduction. Many artists, designers, and even marketing teams use Midjourney to generate inspiration and content for art projects. But the AI art generator world isn't just limited to Midjourney. If you're looking to switch things up, we have compiled a list of five of the best Midjourney alternatives for creating AI art.
Believe that AI is our future? Join BeInCrypto Trading Community of crypto-lovers on Telegram: learn more about the currency of the future and decentralized systems, start trading with our FREE Trading Basics course and discuss coin trends with PRO traders! Join now
What is Midjourney?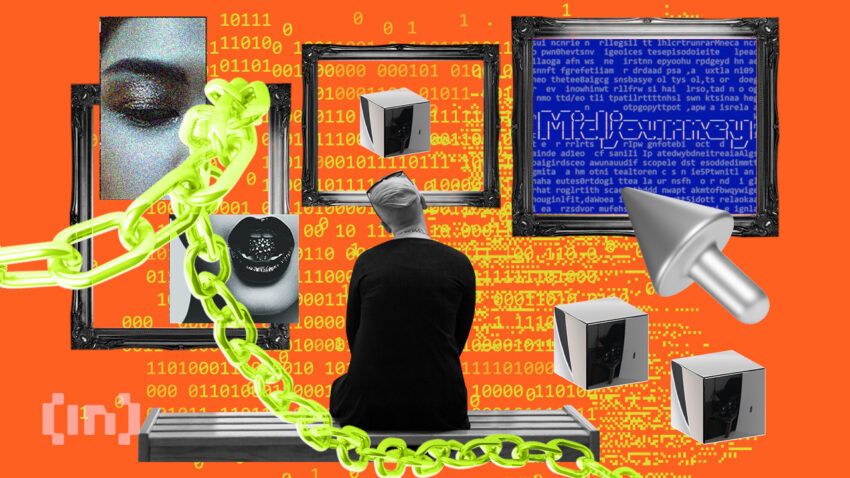 Midjourney is an innovative tool that utilizes artificial intelligence and machine learning to create stunning art. It allows users to generate unique and visually captivating images with just a few clicks.
The AI art generator can create complex and intricate designs that would be difficult for a human artist to achieve manually. The tool is handy for creating rich environments with vibrant detail — especially fantasy and sci-fi scenes that resemble rendered concept art from video games.
Using the tool is straightforward. Just feed your text input into Midjourney's AI model, and it will create a visual representation of your input within seconds. Combining the limitless creativity of AI with the artistic vision of human creators, the tool can unlock new forms of expression.
Why you might need Midjourney alternatives
Overall, Midjourney AI is a powerful tool with the potential to revolutionize the world of art and design. However, like most AI art generators, Midjourney also has some shortcomings.
For instance, Midjourney isn't as easy to use as some of its alternatives. Users need to create a Discord account and join the Midjourney server to interact with and prompt the AI model. In comparison, other AI art generators, like DALL-E 2.0, have a more simple and more intuitive user interface.
Cost is another reason to look for Midjourney alternatives. While the basic plan is currently priced at a reasonable $10 per month (as of March 2023), users spend as much as $60 per month to access advanced features and benefit from greater privacy.
In contrast, some of the AI art generators discussed in this article offer simpler and more flexible payment options. These include pay-as-you-go options, wherein you only pay for the resources you use.
6 Best Midjourney alternatives
Generator
NFTs and smart contract-based
Pricing model
Pay-per-use
Industry focus
Blockchain development
ChainGPT is a cutting-edge AI model specifically developed for the realm of blockchain technology and crypto-related subjects. With expertise in solidity development, smart contracts, pine script, and an array of other solutions, ChainGPT leverages its advanced AI capabilities. The foundation of ChainGPT lies in the enhancement and extensive training of machine learning open-source models, enabling it to evolve into the advanced AI model it is today. To access a multitude of AI tools and products powered by ChainGPT, users can utilize the $CGPT utility token, which supports the ecosystem.
ChainGPT has three plans, a free plan, and two pay-per-use plans. The PPP plan is 0.1 $CGPT/ use. The Freemium plan is 10,000 $CGPT for unlimited use. The Beta version of ChainGPT is free.
-No-code smart contract generator
-Smart-contract auditor
-Code debugger
-Code-to-words converter
-Documentation creator
-Chart analysis
-AML (Anti-Money Laundering) features
-Blockchain analytics
ChainGPT enables users without any graphic design or coding expertise to swiftly generate and deploy nfts on the blockchain in under 30 seconds. The algorithm is purposefully designed to produce distinctive and exclusive NFTs based on user input. By specifying parameters like shapes, colors, textures, and even more precise details such as the desired digital art type, in-game item, or digital collectible, users can bring their creative vision to life.
Generator
Image, video, and writing-based
Pricing model
Subscription-based
Industry focus
Graphic design
Platform
Web and mobile app-based
Picsart is an AI-based service for editing. The platform has many of the features of your favorite image and video editing software. This includes: background and object remover, photo effects, video trimmer, and much more.
You can also utilize the marketing, events, and social media features. Utilize Picsart for your business to generate logos, social media banners, and ads to name a few. The AI features image, video, as well as text generation.
Picsart is very affordable. It is subscription based with three plans for users. There is a free plan, $5 a month for individuals, and $7 a month for a team.
-Free to use
-Accessible via both the mobile app and the web
-Photo and video editing software that is extremely powerful
-With a single click, you can remove and replace image backgrounds
-A vast library of images, fonts, stickers, and templates
The free photo editor on Picsart has all the features you need to realize your artistic vision. Picsart is photo editing made simple, with simple drag-and-drop features and sophisticated editing tools that essentially edit photos for you. Easily manipulate multiple images in a batch with the ability to crop, resize, and upscale 50 images simultaneously. You can also replace backgrounds for a large number of images and insert new ones seamlessly. Additionally, safeguard your work by adding a personalized watermark to each image effortlessly.
Pricing model
Pay-per-use
Industry focus
Graphic design
DALL-E 2 is the brainchild of Open AI, a US-based AI research lab that has made waves with its flagship AI chatbot, ChatGPT. With the ability to generate stunningly realistic images from mere text descriptions, DALL-E 2 is another promising creation by the boundary-pushing company.
In fact, with a high-quality prompt, the AI model can deliver the level of quality that a painter or digital artist would take hours, if not days, to produce. In all, it is one of the best Midjourney alternatives on the market today.
DALL-E 2 is available for free. Upon registration, you'll receive 50 credits at no cost; from the second month onward, you'll receive 15 complimentary credits. If you exhaust your free credits, you have the option to purchase additional ones. You can purchase 115 credits for $15 as of March 2023.
-Realistic and high-quality images.
-Multiple iterations of an image per prompt.
-Built-in editing and retouching tool.
-High-resolution images.
-Built-in mechanism to curb misuse (the tool refuses to create pornography, hateful, violent, or other potentially harmful content).
Using DALL-E 2 is simple. Head to the official DALL-E 2 website and create an account (or login). Note that you may have to share your email and phone number for verification. 
Once in, you can start creating art by feeding the tool a descriptive text prompt of up to 400 characters. DALL-E 2 operates based on its own comprehension of the subject matter, style, color palettes, and intended conceptual meaning. The more precise and detailed your prompts are, the better the results. 
Generator
Image, audio, and video-based
Pricing model
Pay-per-use
Industry focus
Marketing copy
With Simplified, users can fine-tune prompts with specific details like color and style (e.g., post-apocalyptic or cyberpunk), resulting in fascinating artwork. Users can generate multiple variations of a single image just by tweaking the prompts. 
If you're searching for a tool that can help you create highly detailed, surreal images and support copy and content creation, Simplified is a strong option. In addition to generating AI art, Simplified's AI model can assist with content writing, video production, and creating social media posts.
You can use Simplified to an extent as a free Midjourney alternative. However, like with Midjourney, there are certain caps beyond which you will have to upgrade to continue using the tool. In the case of the AI art generator, you get 25 free credits. After that, you could buy one of the paid packages starting at $15 for 100 images.
-Text-to-image AI art generator.
-Multiple iterations of an image per prompt.
-Built-in image editing tools.
-Built-in article writer, video creator, and social media tools.
-Social media campaign planning and analytics (upgrade to a paid plan required).
Simplified has a suite of products, including, but not limited to: ecommerce, online ads, posts and stories. With it, you can make posts for Instagram, Facebook, LinkedIn, or Pinterest. You can also create ads for your business.
Simplified AI is a marketing copy generator. It can develop content for blogs, generate memes, and much more.
Industry focus
Graphic design
Platform
Code and web-based
Stable Diffusion works the same way as any other text-to-image art generator — it uses artificial intelligence technology to transform text prompts into visual images. It is a truly free alternative to Midjourney. Just visit the website and start experimenting with the AI art generator — no payment or sign-up is required. It is by far the easiest of all the AI image generators we have used.
Stable Diffusion Online is available for free. Additionally, individuals with technical expertise can easily set up a private Stable Diffusion demo.
-High-quality, high-resolution images.
-Multiple images per prompt.
-Privacy friendly (Stable Diffusion Online claims not to collect any personal information, including your text prompts and images).
-Free to use
-No limitations on what you can use as your text prompt. Although, new updates to the Stable Diffusion algorithm make creating NSFW content and deep fakes difficult.
Although it operates similarly to other tools in its category, there is a key difference. Stable Diffusion is an AI image algorithm rather than a standalone tool. As a result, users must access the technology through a website that provides it, such as Stable Diffusion Online. Alternatively, those with technical expertise may also choose to set up the algorithm on their computer.
Pricing model
Subscription-based
Industry focus
Graphic design
Integration capabilities
Web and app-based
Lensa provides users with an easy way to transform selfies into cool avatars. You can feed the AI model with a text description, and Lensa will create images from scratch.
The app also comes loaded with features that'll make your pics pop. From glitch removal to background blurring and object removal —  Lensa has tons of editing/enhancements features.
Lensa offers a range of subscription options to suit your needs. Prices vary from $3.49 to $139.99 depending on the level of access you require and the duration of the subscription.
-Multiple art styles: Lensa offers a whole range of styles to choose from, including retro, black and white, contemporary, cartoon, salty, dramatic, and landscape. 
-Magic retouch: From drab to fab, the magic retouch feature lets you airbrush your selfies and other images to the point of perfection.
-Offers other editing features, such as blurred backgrounds and the ability to change hair color and backdrops and apply multiple filters.
-The ability to trim, change aspect ratios, and add music and filters to your videos.
Lensa uses Stable Diffusion, the deep-learning, text-to-image AI model developed by Stability AI. The first stable release of the model came in December 2022. Stable Diffusion is open source and available for free. However, to run it, you'll need a PC with a minimum configuration of a new-generation AMD/Intel processor. Plus, 16GB RAM, an NVIDIA RTX GPU (or equivalent) with 8GB memory, and 10GB of free storage space.
In contrast, Lensa is pretty lightweight and works on any relatively new smartphone. The app is available to download on the Android and Apple app stores.
Choosing the best Midjourney alternatives
All the Midjourney alternatives discussed in this piece come with their own strong points and shortcomings. The onus is on the user to find which one suits their needs. Choose your AI image generator by considering four important criteria: flexibility, affordability, range of features, and quality of output. Overall it's clear that the AI image generator market is expanding rapidly. Consumers are already spoilt for choice, and we have a feeling there will be more to come!
Frequently asked questions
Is there an alternative to Midjourney free?
Which is better, Dall-E or Midjourney?
Disclaimer
In line with the Trust Project guidelines, the educational content on this website is offered in good faith and for general information purposes only. BeInCrypto prioritizes providing high-quality information, taking the time to research and create informative content for readers. While partners may reward the company with commissions for placements in articles, these commissions do not influence the unbiased, honest, and helpful content creation process. Any action taken by the reader based on this information is strictly at their own risk.