Are you new to trading cryptocurrencies and looking for a way to practice without risking real money? A crypto demo account can be a great tool for beginners to learn about trading platforms, trading features, and strategies.
This article will explore crypto demo accounts, how they work, and which crypto exchanges offer these risk-free accounts. Whether you're interested in spot trading, futures trading, or trading bots, a demo account exists for you. Let's get started!
What is a demo account?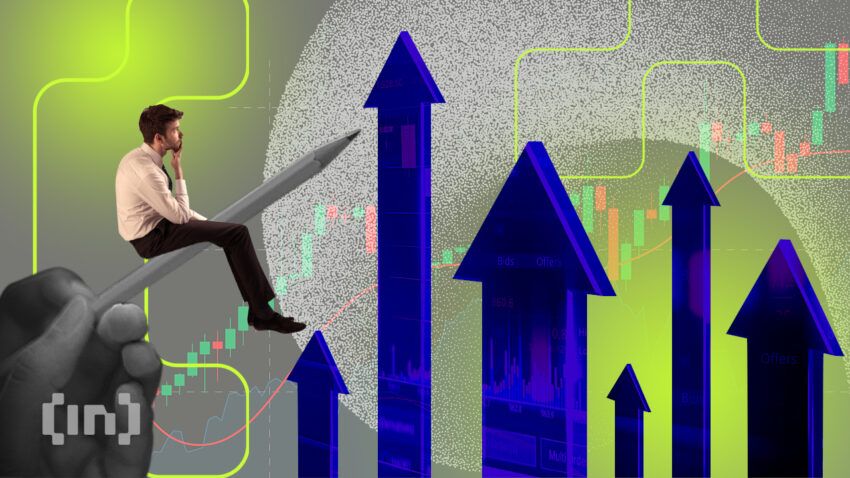 Crypto demo accounts allow traders to practice trading cryptocurrencies without the risk of loss of actual funds. They're ideal for novices who wish to learn the ropes of trading on the crypto market. Demo accounts are also great for experienced investors looking to test out new strategies and techniques before risking real funds.
Demo accounts give users a chance to explore the platform, execute trades and monitor market activity without investing actual funds. They are funded with virtual money, which can be used to buy and sell various crypto like a real trading account.
Crypto demo accounts offer traders a safe environment to practice trading techniques and strategies, explore different tools and indicators, and build confidence in their abilities before investing actual funds. It is an invaluable resource for anyone wanting to learn about cryptocurrency trading without the risk of loss due to a lack of experience.
Why do you need a demo account?
Demo accounts can be very beneficial for several reasons.
The first one is that it allows you to practice trading. A crypto demo account offers traders a risk-free setting to practice and learn about trading. It enables them to become familiar with the trading platform, execute trades in real-time without fear of actual financial loss, or simply learn what it takes to become successful at trading.
The second benefit of a crypto demo account is that it allows you to test trading strategies. Demo accounts provide an ideal platform to test trading strategies and techniques before applying them in a live trading account. Traders can test different approaches, assess their efficiency, and make necessary adjustments before investing actual funds into them.
It goes without saying that a demo account can also help you gain confidence. Trading on a demo account can give traders confidence in their abilities and reduce the fear of making mistakes. It allows them to learn from their errors and hone their skills without fear of financial loss. At the same time, it allows any new trader to learn about the crypto market. Demo accounts are an ideal way to gain insight into the crypto market and all its elements. Traders can monitor price changes, analyze charts and indicators, and gain a better grasp of how everything operates.
Top 10 crypto demo accounts
1. Kraken: Best for futures trading
Website: www.kraken.com
Kraken Futures offers a demo platform that allows users to experience futures trading without the risk of using real funds.
Cryptocurrency futures trading offers several advantages, making it an attractive option for investors. One of the main benefits is the ability to gain exposure to a wide range of cryptocurrencies without actually owning them. Traders can benefit from the price movements of different cryptocurrencies without worrying about the associated risks and complexities of storing, transferring, and securing assets.
You may also use futures to hedge against market movements. This means that if you already own cryptocurrencies, you may use futures contracts to protect your positions against price fluctuations. This allows them to mitigate risk and protect their investment in a volatile market.
Kraken Futures offers a crypto demo account to help you learn how this type of trading position works.
You can create a Kraken Futures demo account here.
Kraken futures crypto demo account features:
Multi-collateral wallet (use a variety of collateral types to manage all of your positions)
Support API trading
Use futures to hedge against spot market volatility
You may make a profit regardless of the way the crypto market moves
2. Margex: Best for deposit fees
Website: www.margex.com
Margex is a cryptocurrency trading platform that caters to individuals looking to engage in the digital asset markets. It was founded Aug 15, 2019, and is based in Seychelles.
The platform allows traders and investors alike to enjoy a suite of services including: spot trading, futures, staking, demo trading and other trading related activities. It offers a user-friendly and transparent interface, allowing traders to buy and sell various cryptocurrencies seamlessly.
Margex distinguishes itself with a range of features designed to enhance the trading experience and provide added convenience for users. The platform does not charge any fees for deposits, making it cost-effective for traders to fund their accounts and get started.
You can create a Margex demo account here.
Margex demo account features:
Risk-free trading
Live demo
No deposit required
No sign-up required for demo
Advanced and user-friendly interface
Use promo code to get an exclusive, risk-free $100 airdrop to trade
3. eToro: Best for copy trading
Website: www.etoro.com
The eToro demo account is an excellent way to explore the world of online trading without risking any of your hard-earned money.
When you open a demo account, you will be given $100,000 of virtual cash to invest in any asset on the platform. This allows you to experiment with different trading strategies and test your skills in a risk-free environment.
To begin using the platform, you need to switch your account from "Real" to "Virtual." This can be done by clicking on the "REAL" text below your profile picture and selecting "Virtual Portfolio." Once you've made the switch, you can start exploring the features of the platform and familiarizing yourself with its functions.
The platform is user-friendly and easy to use, but exploring its features can help you get the most out of your demo account experience.
You can create an eToro demo account here*.
eToro practice account features:
Clean and simple interface
Real-time trends with advanced analysis tools
Leveraged trading, "Stop Loss," and "Take Profit."
Connect with top traders from all over the world and copy their portfolios
Try eToro's ready-made thematic portfolios
*eToro is a multi-asset investment platform. The value of your investments may go up or down. Your capital is at risk.
eToro USA LLC does not offer CFDs, real Crypto assets available.
4. Bybit: Best for margin trading
Website: www.bybit.com
Bybit is a popular cryptocurrency derivatives exchange that was established in 2018. It offers a demo trading account (called Bybit Testnet) and supports MetaTrader 4 or MT4. This makes it an excellent option for those familiar with forex trading.
With MT4 support, traders can perform automated trades, back-test strategies, and perform advanced technical analysis. Bybit also provides advanced analytical tools and trading customization for a better trading experience.
You can get started with a Bybit MT4 demo trading account in no time. Traders can download MT4 for their preferred platform, log in with their demo account details, and start trading. When ready to move to a real account, traders can add their Bybit account details to MT4. Or, use Bybit's web or mobile platform to trade cryptocurrencies like Bitcoin.
You can create a Bybit demo account here.
Bybit practice account features:
Users receive Testnet coins through various faucets
Clean interface that provides access to crypto prices and other essential metrics
Bybit Learn site is available for new traders to learn about crypto and trading strategies
Bybit's Copy Trading platform allows traders to copy and execute trades of experts
5. BYDFi: Best for demo trading
Website: www.bydfi.com
BYDFi (Build Your Dream Finance), formerly Bityard, is a relatively new exchange. It was started in 2019. BYDFi has spot, derivatives, copy trading, and lite contracts. Lite contracts are BYDFI's version of demo trading.
As a derivative investment tool, Lite Contracts allow investors to trade the price movements of various financial assets such as stock indexes and commodity futures.
Traders can speculate on various financial markets by trading Lite Contracts without actually holding the underlying assets in the relevant markets. You can enjoy over 70 different assets with the demo trading feature. However, there are limits associated with each asset.
Every asset has a specific trading limit. These limits are based on leverage, with KYC, and without KYC. Naturally, KYC will allow larger trading volumes than the latter.
Lite Contracts on BYDFi support trigger orders, which allow users to place orders without freezing margin in advance.
BYDFi lite contract features:
Up to 125x leveraged trading
Stop loss and take profit
Trigger orders (limit orders)
$100,000 in demo funds
Lite contracts are made simple and easy for newcomers to understand
6. StormGain: Best for high leverage
Website: www.stormgain.com
StormGain offers futures markets with a 200x margin. This can be extremely risky and wipe out a trader's entire position with just a 0.5% move in the wrong direction.
The StormGain demo account is a great way to get a feel for the platform and understand why leveraging trades should be treated cautiously. The demo account provides standard-looking price charts with indicators. Plus, the ability to draw and save trendlines that recalculate when the timescale is altered.
One advantage of this crypto demo account is that it allows trader assets to be liquidated a few times without risking real funds. Not all demo accounts allow this.
You can create a StormGain demo account here.
StormGain practice account features:
Dashboard with limit orders, stop-loss and take-profit orders, and other tools
User-friendly layout and easy navigation
AI with automatic trade alerts and sentiment gauge
Leverage of up to 1:200 on BTC/USDT pair, up to 1:100 on ETH/USDT, BCH/USDT, and LTC/USDT pairs, and up to 1:50 on other supported cryptocurrency pairs
Support for trading top cryptos
7. TradingView: Best for technical analysis
Website: www.tradingview.com
TradingView is a highly sought-after cloud-based charting and networking website in the trading and investing world.
Initially, the platform was developed for stock scanning and charting purposes. Through TradingView, users can monitor the historical prices of thousands of trading pairs across various markets on one platform. However, it is not an exchange where one can deposit funds and trade with real money.
Users can activate a demo account to simulate trading and back-test strategies from the community. This feature is best suited for experienced investors familiar with the platform or those who want to learn more about technical analysis. TradingView supports various order types like market and limit, as well as take profit/stop loss orders.
TradingView gathers data from numerous crypto exchanges, giving access to hundreds of crypto pairs. Another big advantage of the TradingView demo account is the strategy tester feature. It allows you to simulate trading strategies and evaluate results.
Users can customize popular cryptocurrency indicators and draw chart patterns, overlay tools, and even use custom indicators created by other users.
Get started with a TradingView demo account here.
TradingView demo account features:
Simulated trading and back-testing of strategies and ideas from the community
Access to hundreds of crypto pairs from various exchanges
Advanced charting system with the ability to add popular and custom indicators, draw chart patterns, and overlay tools to charts
Multiple order types, such as market, limit, and stop loss orders
Real-time monitoring of active positions and pending orders
One-stop-shop to chart hundreds of trading pairs and demo trade
8. Binance: Best for altcoin trading
Website: www.binance.com
Binance is a leading player in the crypto market. The exchange offers traders an extensive range of products and services, plus access to a huge selection of altcoins.
The platform offers a demo account with a virtual balance to assist new traders with leverage trading. The Binance demo account, a mock trading account, replicates real trading environments. Users can hone their trading skills using advanced chart analysis tools and order types such as market, limit, stop limit, stop market, trailing stop, and post only.
At the same time, you can practice your futures trading strategies on this demo account. Binance offers USDT perpetual contracts with up to 125x leverage. Users can speculate on more than 233 crypto trading pairs without taking any risks.
Though not the most user-friendly platform, Binance provides a simulated trading environment that can also be accessed through its app. Therefore, a demo account on Binance is an ideal option for new traders who wish to practice with high leverage without any risk attached.
You can create a Binance demo account here.
Binance mock trading account features:
Access to a trading account with a balance of 15,000 USD
User interface looks the same as the live trading interface, with a few details to tell them apart
Offers advanced trading techniques and futures trading
Useful for both beginner and advanced traders
Demo account (called "mock trading") can be activated in the settings
Accessible through the Binance website or mobile app.
9. Cryptohopper: Best for trading bot trading 
Website: www.cryptohopper.com
The Cryptohopper demo account offers a paper trading bot. While this simulator may not be as straightforward as other platforms, it allows users to learn how to use a trading bot.
The free plan gives access to most of their trading bots and paper trading accounts. Paper trading on Cryptohopper works similarly to regular trading but connects to public data instead of your own exchange account.
You can deposit up to $100k of any cryptocurrency into this free simulator and experience trading on real exchange with real-time data.
You can create a Cryptohopper demo account here.
Cryptohopper automate trading account features:
Automatic trading feature that allows you to initiate efficient trades using algorithms
Exchange and market arbitrage feature that takes advantage of pricing differentials across more than 70 trading exchanges
Market-making feature with multiple configurations to help get the best deal.
Mirror trading feature that allows inexperienced traders to copy proven strategies from trading experts
Offers a stop-loss feature that captures profits and reduces high-risk chances regarding a reversal.
The demo account allows you to trade using historical data.
10. OKX: Best for spot trading
Website: www.okx.com
OKX is another top cryptocurrency exchange that offers traders a crypto demo account for their traders.
Users can choose to trade spots or derivatives on the OKX demo account, which provides an opportunity to learn about leverage and how to manage funds. Consecutive trading sessions on the demo account can help traders keep emotions in check and learn to make decisions based on logic.
Experienced traders can also use the demo account to test new strategies and become more comfortable with the OKEx user interface. The demo account is accessible from the normal account. The interface is almost identical, with a few labels that let the trader know they're in the demo account.
You can create an OKX demo account here.
OKX demo account features:
Simulated trading environment for top cryptocurrencies.
The demo account starts with 9,000 USD.
Practice with different order types, including market, limit, stop-limit, and more.
Provides an opportunity to test out different trading pairs and markets.
Easy-to-use interface with step-by-step tutorials for spot, futures, and perpetual trading.
Ability to transition from demo trading to real market trading seamlessly.
Resources for learning more about trading, including a beginner's guide and tutorial on crypto derivatives.
11. KuCoin: Best for derivatives trading
Website: www.kucoin.com
KuCoin offers a crypto demo account for individuals who are new to cryptocurrency trading, allowing them to create trading strategies and get familiar with the markets. This practice account is known as the Kucoin Sandbox.
The platform is known for supporting 600+ tradable assets and providing a plethora of services and products for users to make profits, with safety and security measures in place to minimize risks.
KuCoin offers a range of products, including spot trading, margin trading, futures contracts or derivatives ETF, and crypto lending, as well as services such as P2P, trading bot, and special privileges for API users.
The KuCoin demo account provides access to all these features and services, allowing traders to experiment and develop their skills before investing real money.
Get started on Kucoin Sandbox.
Kucoin Sandbox features:
Popular cryptocurrency exchange with a global reach
Simple and safe platform for trading digital assets
Supports over 600 cryptocurrencies and 1000+ trading pairs
Multiple auto-trading and financial tools, including trading bots
24/7 customer support
Ready to start your trading journey?
Starting to trade crypto can be intimidating, but there are options available to help you develop your trading skills in a risk-free environment. By using a demo trading account or paper trading platform, you can simulate real-world trading with virtual funds and explore the various trading features offered by different exchanges and trading bots.
Once you feel comfortable, you can start trading with real money on a reputable crypto exchange. Remember to always define a trading strategy with risk management rules that is repeatable and profitable before you start trading with real money. Additionally, consider using a zero-fee crypto exchange to keep trading costs down. Whether you are interested in futures trading or simply want to trade crypto, there is a platform out there for you to practice and refine your skills.
Frequently asked questions
Which exchange has a demo account?
Can you trade with a demo account?
Which crypto app has a demo account?
Where can I do demo trading?
Does KuCoin have a demo account?
Does Kraken have a demo account?
Disclaimer
In line with the Trust Project guidelines, the educational content on this website is offered in good faith and for general information purposes only. BeInCrypto prioritizes providing high-quality information, taking the time to research and create informative content for readers. While partners may reward the company with commissions for placements in articles, these commissions do not influence the unbiased, honest, and helpful content creation process. Any action taken by the reader based on this information is strictly at their own risk.
Iulia Vasile is a seasoned professional in the cryptocurrency and blockchain industry, working full-time in the field since 2017. With a background in computer engineering, she...
Iulia Vasile is a seasoned professional in the cryptocurrency and blockchain industry, working full-time in the field since 2017. With a background in computer engineering, she...
READ FULL BIO
Sponsored Sponsored