In recent years, the popularity of cryptocurrencies and other digital assets has skyrocketed. As a result, the crypto space is witnessing a corresponding increase in the demand for secure and user-friendly cryptocurrency wallets. One popular digital currency is ergo (ERG). This article explores the top ergo wallets you can use in 2023. We determine these rankings by evaluating security features, ease of use, and general user experience.
Want to get reviews on the best crypto wallets and exchanges? Join BeInCrypto Trading Community on Telegram: read reviews, discuss crypto projects, ask for technical analysis on coins and get answers to all your questions from PRO traders & experts! Join now
What is an ergo (ERG) wallet?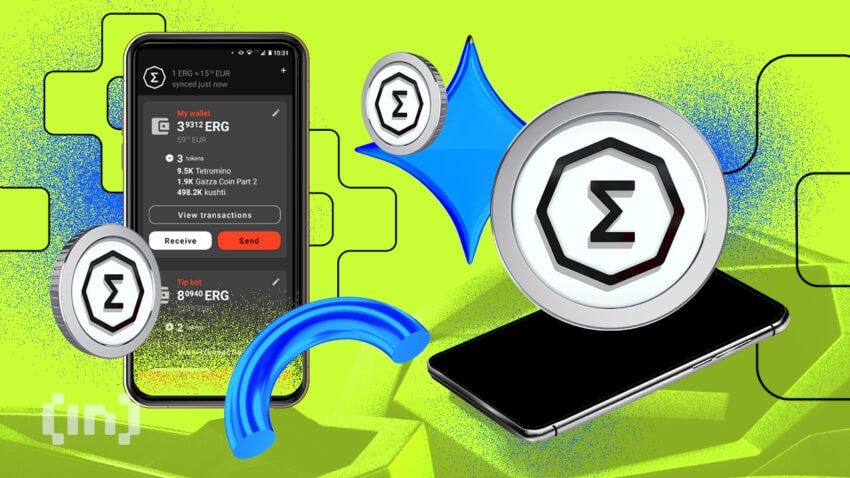 An Ergo (ERG) wallet is a digital wallet designed to hold and manage the cryptocurrency ERG, the native coin of the Ergo blockchain. Ergo is an altchain enabling the creation of smart contracts, decentralized applications (DApps), and blockchain-based solutions. ERG helps users pay transaction fees to access the platform's features.
An ERG wallet typically includes a wallet address and a private key. The ERG wallet address is the equivalent of a bank account number used to receive ERG. The private key is like a password and helps you access and manage your ERG. Therefore, it is critical to keep your private key safe and secure.
Several ERG wallets are available, including hardware, software, and web-based wallets. Some popular ERG wallets are Ergo Wallet, Ledger Nano X, Trezor Model T, MyEtherWallet, Guarda Wallet, and Ledger Live. Each wallet has its own unique features and advantages. Therefore, it is necessary to research and choose a wallet that serves your specific needs and preferences.
Top 7 Ergo (ERG) wallets, hot & exchanges
When selecting the top ergo (ERG) wallet, ensure you choose a reputable wallet with a good track record. In addition, it is a good idea to check reviews from ERG holders before making your final choice.
1. Trezor (hardware wallet)
Trezor is a secure and convenient hardware wallet provider that provides an easy and safe way to store digital assets, including ERG. Installing the Ergo app on your Trezor device allows you to easily create an ERG wallet address, making it a suitable option for storing your coins.
With its offline storage and advanced security features, Trezor is among the safest cold storage wallets for safeguarding your cryptocurrency investments.
Features of Trezor
Trezor is a portable hardware wallet that you can easily take with you on the go
It has a USB type-C cable that connects to PCs and smartphones, making it widely compatible
The wallet supports over 1400 cryptocurrencies
Trezor allows access to third-party exchanges and decentralized applications
It has a simplified user interface making it easy to use even for beginners
Pros and cons
Pros
Trezor has high-security features and built-in protections
Its support for multiple digital assets makes it a versatile option
The software is open-source, providing transparency and security
A touchscreen is included to enhance the user experience
Cons
The screen size is small, which can make it difficult to read
Trezor is more expensive when compared to other hardware wallets on the market
2. SafePal (hardware wallet)
The SafePal S1 is a hardware wallet that offers a highly secure way to store and manage digital assets. For example, keeping your private keys offline eliminates the risk of hacking or theft. In addition, the SafePal S1 supports a wide range of cryptocurrencies and includes features that allow you to manage your assets easily. This includes viewing your transaction history and executing new transactions.
Features of SafePal
A user-friendly interface that is easy to navigate, even for those new to cryptocurrency storage
Enhanced security features that provide an additional layer of protection
Mobile compatibility, allowing you to manage your assets on the go
Backup and recovery options to ensure your private keys remain safe
Support for multiple languages, making it accessible to a global audience
The ability to store an unlimited number of tokens
Comprehensive customer support through various social media channels such as email and live chat
Pros and cons
Pros
The user interface is simple and easy to use
It features multiple security layers for authentication, providing maximum protection for your assets
You can reach the customer support team via chat for quick assistance
Cons
There is currently no desktop version of the wallet available
There is also no web-based interface for managing assets
3. Ledger (hardware wallet)
Ledger is a hardware wallet that provides secure storage and management for various cryptocurrencies, including ERG. As a leader in the field, Ledger offers certified crypto asset hardware wallets. It assures maximum protection for digital assets such as Bitcoins, Ethereum, and XRP.
Features of Ledger
Strong security measures include two-factor authentication (2FA) and encryption to ensure the safety of your ERG.
Open-source: meaning the code is publicly available for review and validation, making it transparent and secure.
User-friendly and convenient to use: A wallet with a simple and intuitive interface for easy navigation and understanding.
Compact, portable design: A small and lightweight wallet makes it easy to carry around.
Integration with popular cryptocurrency exchanges and support for multiple accounts: A wallet that allows you to easily connect to and manage multiple exchange accounts, giving you more flexibility and control over your ERG.
Pros and cons
Pros
Device-based; uses USB to store private keys for better security
Compatible with many devices, including desktop computers and smartphones
Multiple actions and runs on third-party apps, making it versatile
Easy-to-use interface
Cons
The small screen display may make it difficult to view information
Lacks touchscreen functionality
Not fully open source so that it may lack transparency and security compared to fully open-source wallets
4. Guarda Wallet (hot wallet)
Guarda, a non-custodial multi-platform wallet, offers several options for storing, managing and trading ERG. It is available on the web, desktop, and mobile and features a user-friendly interface. With a Guarda wallet, you can easily connect to decentralized exchanges and manage multiple accounts and wallets from a single dashboard.
Features of Guarda
The wallet comprises a simple layout and clear instructions, making it easy to navigate and use.
Guarda ensures the safety of your cryptocurrency through a combination of hot and cold storage and locally storing your private keys on your device in a secure, encrypted format. Additionally, it offers multi-factor authentication for an extra layer of protection.
Supports over 400,000 crypto assets
Guarda is a non-custodial wallet, which means you have full control over your private keys, thus ensuring confidentiality.
Guarda is accessible across platforms; web, desktop, and mobile, including Windows, Mac, Linux, iOS, and Android.
Pros and cons
Pros
Offers support for a diverse range of cryptocurrencies
Accessible on multiple platforms
Features an easy-to-use interface
Includes robust security features
Cons
Limited support for NFTs and fiat currencies
Light wallet limiting users from running full nodes
5. Satergo (desktop wallet)
Satergo is a desktop wallet that enables users to send, receive, and store ERC20 tokens on the Ethereum blockchain. It is the official desktop wallet for ergo and the only wallet with support for running a full node. The Satergo Wallet provides a user-friendly interface and supports multiple currencies while allowing users to manage their private keys.
Features of Satergo
Multi-signature
Light and portable
Easy to use
Its open-source nature guarantees transparency
Robust security features
Pros and cons
Pros
Compatible with major desktop platforms
Fully packed features and reliable
Non-custodial wallet
Embedded node functionality
Cons
MyEtherWallet (MEW) is an open-source, client-side interface for creating and managing Ethereum wallets. It allows users to generate a new wallet or restore an existing one.
Features of MyEtherWallet
Has an option for hardware wallet integration
User-friendly and easy to use
Multiple currency compatibility
Flexible wallet solution
Its open-source nature provides transparency
Pros and cons
Pros
It gives users full control over their private keys
Secure and autonomous
Access to DApps and NFTs
Cons
Absence of live customer support
Complex navigation for beginners
7. Nautilus (browser extension)
Nautilus wallet is simple and intuitive, offering users transparency through an open-source platform. The wallet "roams the seas beyond the reach of land-based governments," as per the Nautilus website.
The ergo-specific Nautilus wallet is privacy focused and enables users to hold multiple cryptocurrencies and fiat currency on a device via a browser extension. In addition, it deploys privacy-as-a-service by allowing users to own their data.
Features of Nautilus
Web browser extension wallet
Integration with Ergo DApps
Privacy mode
Ledger integration
Stealth addresses
NFT display
Pros and cons
Pros
Multi-currency support
It has a great all-in-one view display
Compatible with multiple platforms and devices
An easy-to-use and intuitive interface that's easy to navigate
Cons
Their wallet is a desktop option with no mobile version.
Ergo wallet features compared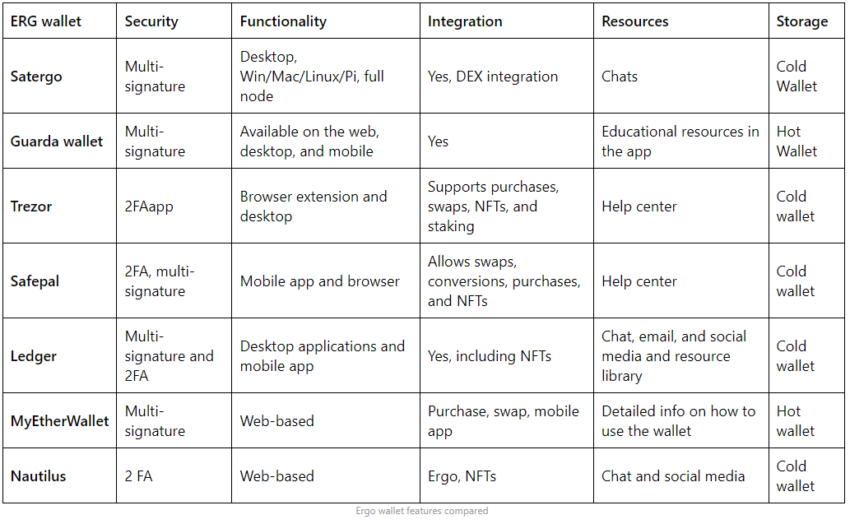 Getting an Ergo wallet
Ultimately, choosing an ERG wallet that suits your needs and requirements is paramount. Consider the wallet's platform. For example, consider a mobile wallet if you mostly use a mobile device. If using a desktop more regularly, consider a software or web-based wallet. Security is paramount, and ensure you research and understand your responsibilities with any given wallet. Ultimately, "not your keys, not your coins" is the number one rule in crypto.
Frequently asked questions
Does Ergo have a wallet?
Yes ergo (ERG) has its official wallet called the Satergo Wallet. It is a lightweight, open-source wallet for Windows, Mac, and Linux. It has a simple and intuitive user interface, making it easy to send, receive, and manage ERG. In addition, it supports cold storage, allowing you to store your ERG offline securely.
Is Ergo mobile wallet safe?
An ergo mobile wallet is a convenient way to manage and access your ERG on the go, but it's paramount to consider the security risks. You can enable 2-factor authentication and pin codes on your mobile wallet. It's also vital to remember that mobile wallets may not be as secure as hardware wallets and are less secure than running a full node. A mobile wallet for ergo can be safe, but you should always be vigilant and follow best practices to keep your phone secure.
Can I use Yoroi wallet for Ergo?
Yes, Yoroi Wallet is a lightweight Cardano blockchain wallet that also supports ergo. However, the Yoroi team recently announced the imminent sunset of its support for Erg in the coming months. The team cited its intention to upgrade its systems to meet the demands of the Cardano ecosystem.
Where can I buy an Ergo wallet?
You can download the official ergo wallet, Satergo, for free. You can also obtain a hardware wallet which supports ERG, such as Ledger, Trezor or Safepal from their respective websites or authorized retailers. When choosing an ergo wallet, it's paramount to research and settle for a wallet that meets your specific needs and preferences.
Can you store Ergo in Coinbase wallet?
Coinbase is a popular cryptocurrency exchange with web and mobile wallets for storing and managing various digital assets. Unfortunately, the coinbase wallet does not currently support ERG. As such, you cannot store ERG directly in a Coinbase wallet.
Disclaimer
All the information contained on our website is published in good faith and for general information purposes only. Any action the reader takes upon the information found on our website is strictly at their own risk.
At Learn, our priority is to provide high quality information. We take our time to identify, research and create educative content that is useful to our readers.
To maintain this standard and to continue creating awesome content, our partners might reward us with a commission for placements in our articles. However, these commissions don't affect our processes for creating unbiased, honest and helpful content.