Since the popular BlockFi rewards Visa signature was paused in 2022 due to the sudden bankruptcy of BlockFi, many crypto users have been searching for the best BlockFi credit card alternative. Here, we've listed the top five BeInCrypto-approved choices in 2023.
There's no need to worry about your credit score or decide between the best credit card offers. Your digital assets will allow you to do everything your bank cards allow you and more. Check out the top crypto credit cards that allow you to earn rewards and earn crypto while spending your digital assets with a zero transaction fee.
Join an exclusive wait list for free to be the first to get the new YouHodler crypto card with up to 5% cashback for all transactions
5 best BlockFi credit card alternatives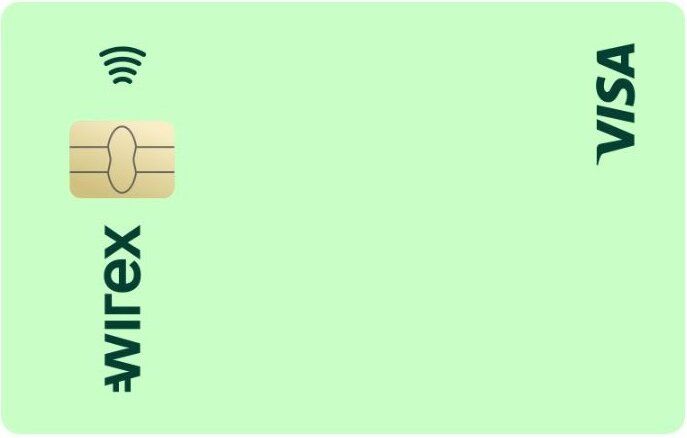 1. Wirex Card
Best for free global ATM withdrawals
The Wirex card is a great choice for people who have cryptocurrency but don't want to sell it just to get some cash. Instead of selling your crypto, Wirex allows you to borrow stablecoins against the value of your crypto. You can borrow up to 80% of your crypto's worth, and the interest starts at 0%.
You only pay interest on the days you actually use the credit, and you can pay it back whenever you want. The approval process only takes about a minute right in the app.
On top of all that, the platform is super secure, thanks to a partnership with Fireblocks, a leading digital asset custody platform. You can even link your stablecoin account to your Wirex card and use it to shop at over 81 million locations around the world.
The Wirex card offers up to 8% cashback, which is much more than the 1.5% that was offered by the BlockFi card. The Wirex card is a debit card, and thus prospective holders do not need to be credit checked, as was the case with BlockFi.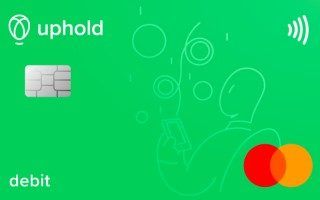 2. Uphold Card
Best for UK-based individuals
The Uphold debit card is uniquely integrated with its app, allowing you to easily switch between funding sources from any asset you own, including cryptocurrencies. You'll earn crypto back rewards, getting 2% when you spend in fiat currencies and 4% when you spend in crypto. Your rewards are funded in XRP.
Unlike many other crypto credit cards, Uphold doesn't charge any foreign transaction fees or annual fees. While there is a one-time fee for the physical card, there's no deposit or trading commission when you buy or sell assets.
Uphold's card works both online and at physical merchants, just like any other Mastercard. All transactions settle in local fiat currency, eliminating the hassle of converting cryptocurrencies manually. Plus, you can instantly freeze or unfreeze your card and manage notifications through the app, offering an added layer of security for your digital assets.
The Uphold card grants users up to 4% cashback (in XRP) versus the 1.5% that was once granted by the BlockFi card. Unlike BlockFi, Uphold doesn't perform a credit score check. Both cards offered a zero annual fee and 0% foreign transaction fees.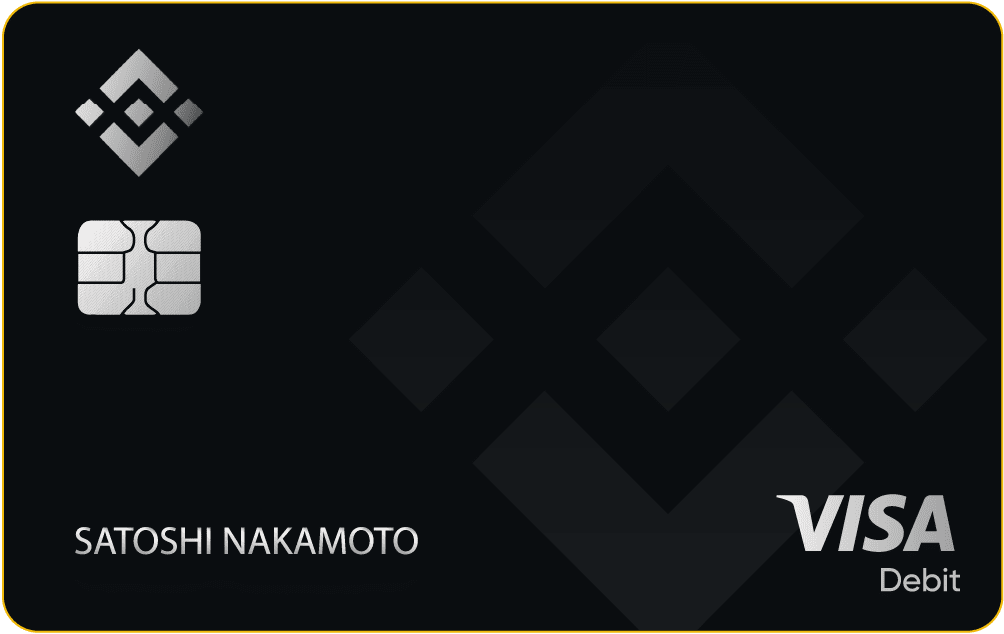 3. Binance Card
Best for Europe-based accounts
The Binance Card is a game-changer for crypto enthusiasts in Europe, offering a way to spend digital assets at over 60 million stores. While the card is offered in other locations too, the Binance crypto debit card in Europe has the best conditions.
Unlike traditional credit cards, it lets you earn up to 8% cashback in crypto (actual cashback level based on your BNB holdings).
Topping up is a breeze with zero fees, and you get instant, secure access to your card details through two-factor authentication. Best of all, there's no hit to your credit score. This card bridges the gap between your digital assets and real-world spending, making it a strong competitor to offerings like the Blockfi credit card and the Gemini credit card. It's a top-notch credit card offer for those looking to earn rewards while leveraging their crypto holdings.
Unlike BlockFi, Binance offers higher cashback based on the amount of BNB you hold in your account. The cashback can be up to 8%, which is much more than the 1.5% that was offered by the BlockFi card.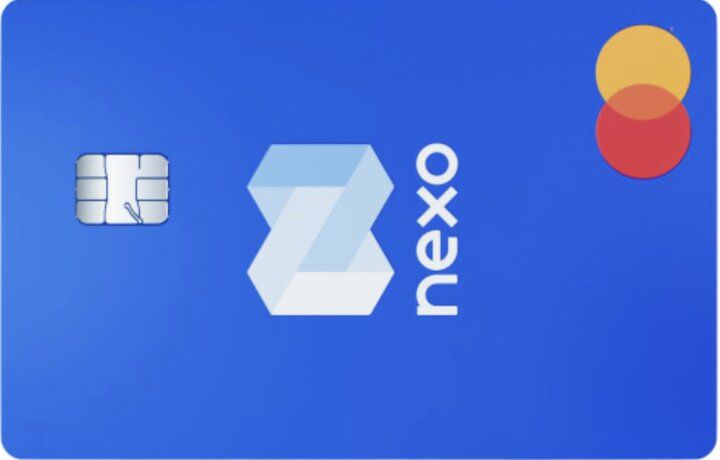 Cashback
0.5% in BTC or up to 2% in NEXO
Nexo card is another great alternative to the BlockFi credit card as it offers up to 16% APR on popular cryptocurrencies and 14-16% on stablecoins and fiat savings. Plus, you can earn up to 2% cashback on all transactions made with the Nexo Card, making it a lucrative choice for those looking to grow their digital assets.
Nexo also offers the option to borrow funds starting at 0% interest rates and repay your credit line at your convenience, in fiat or crypto.
With military-grade security and partnerships with world-renowned custodians like Ledger Vault and Bakkt, Nexo ensures your assets are highly protected. Add to this 24/7 customer support, and you have a platform that not only allows you to maximise your crypto but also provides peace of mind.
Nexo card is a debit card, which means that it doesn't need to check on your credit card score before issuing a card in your name. It also offers a comparable high interest on your crypto assets, as the BlockFi card used to offer.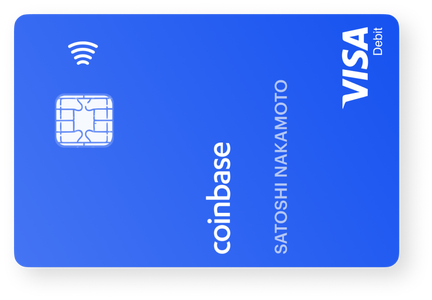 Card issuance
4.95 EUR/GBP
Cashback
Up to 4% in XLM/GRT, 1% in BTC, ETH, DOGE
The Coinbase Card offers a versatile way to earn crypto rewards on a rotating schedule, allowing you to diversify your holdings easily. Accepted wherever Visa is, the card lets you spend either crypto or fiat currency, giving you more spending flexibility.
Rewards are credited within 24 hours, and you can manage your funds effortlessly through the Coinbase platform. Unlike competitors, it has no annual fee and offers compatibility with mobile payment options like Apple Pay. Overall, it's a compelling alternative to BlockFi for those looking to earn and manage crypto through everyday spending.
The Coinbase card is available in the U.S., U.K., and Europe.
The primary distinction between BlockFi's Rewards Visa Signature Card and the Coinbase Card lies in their nature: BlockFi offers a credit card, whereas Coinbase provides a debit card.
BlockFi's card pays an unlimited 1.5% back in your choice of crypto and features a 3.5% crypto-back rate as a welcome bonus, with no annual or foreign transaction fees. On the other hand, Coinbase offers a rotating schedule of crypto rewards. Applying for BlockFi's card involves a soft credit check and a hard pull if you decide to open it, which could affect your credit score.
How popular are crypto credit cards?
Most people are familiar with credit cards, but crypto credit cards are relatively new. As the name suggests, they operate on the same premise, except with decentralized systems.
Much like traditional credit cards, crypto credit cards allow users to access capital without the burden of generating an entirely brand-new loan or credit line. However, they differ in that you may gain rewards in crypto instead of fiat.
Innovation is the creation of the new or the re-arranging of the old in a new way.

Mike Vance: Fintechly
As such, although crypto credit cards are relatively new financial instruments, they are by no means unpopular. According to a survey of 2,500 Americans conducted by credit.com, 5% have a crypto credit card. Another 13% in the survey said they don't own a crypto credit card but are open to owning one.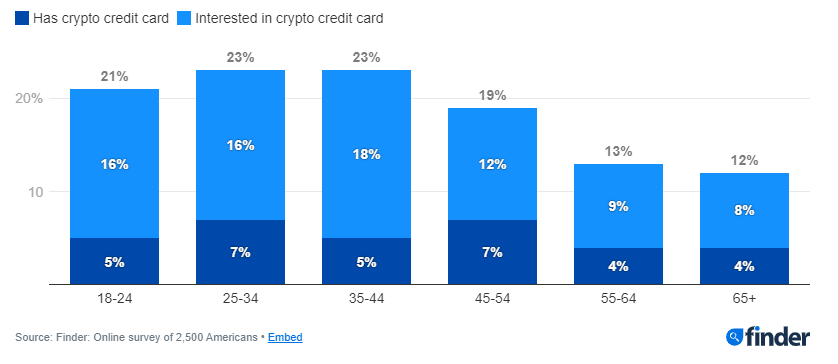 Is BlockFi credit card still available?
The BlockFi credit card is no longer active or usable. When it was operational, you could earn 1.5% back in a variety of cryptocurrencies on all your purchases, which increased to 2% if you spent more than $30,000 in a year. If you have concerns about your assets with BlockFi, you should reach out to the dedicated BlockFi claims agent, who handles large-scale bankruptcy cases.
Court documents reveal BlockFi owes between $1 billion and $10 billion to over 100,000 creditors. Although the company has filed for Chapter 11 bankruptcy, which is generally used for restructuring rather than liquidation, it claims to have over $1 billion in assets and plans to reorganize for the benefit of all stakeholders. As of September 2023, some users who had funds stuck in BlockFi have reported being able to finally withdraw their crypto.
What went wrong with BlockFi?
In a court filing from April 2023, BlockFi creditors stated that poor management decisions were the major culprit of its downfall. After the collapse of FTX, BlockFi liquidated around $240 million in cryptocurrency, leading to major financial losses and possible tax issues for its customers. The funds were then deposited in Silicon Valley Bank, which was not stable enough for bankruptcy protection, and BlockFi failed to secure a necessary bond.
BlockFi also used $22.5 million of customer funds to buy its executives a $30 million insurance policy. Lastly, creditors claim that nearly $100 million in value was lost due to a decision to liquidate assets when bitcoin's value was low.
How do you choose a BlockFi credit card alternative?
While the BlockFi credit card is no longer a viable option, crypto users looking for the best crypto credit cards thankfully have solid alternatives. If you value the BlockFi Rewards Visa Signature Card for its ability to earn rewards in digital assets, you may consider the Wirex or Nexo cards. These companies offer competitive conditions and some of the best bitcoin debit card offers. Also, potential users don't need to worry about their credit scores.
Much like the BlockFi credit card, all the crypto cards mentioned in this list allow you to earn crypto on eligible trades. Depending on your location, some of these cards offer many free services, such as deposit and withdrawals, but conditions may apply. Always thoroughly research the conditions of your chosen crypto credit card, noting that financial services can vary depending on your location. It's important to know what fees you're expected to pay and the exact process to earn crypto before committing to any credit card offers.
Frequently asked questions
Is BlockFi a real credit card?
Who is BlockFi credit card partner?
What credit score do you need for BlockFi credit card?
What credit score do you need for BlockFi credit card?
Who owns BlockFi credit card?
Is BlockFi a U.S. company?
What is the credit limit for BlockFi?
Disclaimer
In line with the Trust Project guidelines, the educational content on this website is offered in good faith and for general information purposes only. BeInCrypto prioritizes providing high-quality information, taking the time to research and create informative content for readers. While partners may reward the company with commissions for placements in articles, these commissions do not influence the unbiased, honest, and helpful content creation process. Any action taken by the reader based on this information is strictly at their own risk.
Iulia Vasile is a seasoned professional in the cryptocurrency and blockchain industry, working full-time in the field since 2017. With a background in computer engineering, she...
Iulia Vasile is a seasoned professional in the cryptocurrency and blockchain industry, working full-time in the field since 2017. With a background in computer engineering, she...
READ FULL BIO
Sponsored Sponsored