On Dec 11, private conversations surfaced allegedly between Ran Neu-Ner, the host of CNBC South Africa's Crypto Trader show and Shaun MacDonald, a mysterious investor.
Their conversation consists of a rather interesting exchange of words filled with accusations, proud and bold statements, and even challenges to the law. Sparked by an investigative article published by Frank Chaparro, who, supported by Larry Cermak and Isabel Woodford, apparently conducted an investigation into a project close to both Ran Neu-Ner and Shaun MacDonald called Blockchain Terminal. Blockchain Terminal completed its
ICO
on April 30, 2018, and raised US$31 million from investors — out of which US$1.3 million came from Ran Neu-Ner. One of the investors was Shaun MacDonald, but he was so much more than that. In fact, he was allegedly the mastermind running the show behind the curtain, and he could not show his real face — for it has already been apparently tainted by crime. Shaun MacDonald is a fictional character according to the investigative article, which reveals the investor as Boaz Manor, a former hedge fund manager who misappropriated more than US$114 million of investor funds, some of which went into the purchase of diamonds in Hong Kong. Once caught, the Canadian was sentenced to four years in jail and a lifetime ban from securities and finance. Ran plays into this story by means of his promotional activities under the guise of full disclosure. His website hosts a collection of all of his crypto investments. For a short period, Blockchain Terminal was a part of his portfolio. Ran also visited the company during the summer and had the opportunity to test out the system. https://twitter.com/cryptomanran/status/1007705256652886017 However, according to the investigative article, the system did not work properly, nor did the company. Frank together with his team, reached out to various hedge fund managers who claimed to have received the terminal, only to have it remain in their offices for months on end before forcing the company to take it out. They've never seen the product in action, even though it is currently on sale on the official website of the company. The premise of the conversations sparked by the investigation positions Ran Neu-Ner as having fed false information to a reporter Larry Cermak who conducted an investigation into an ICO-financed blockchain startup called Blockchain Terminal (BCT). Shaun is presenting a legal threat to Ran, claiming to have collected more than 80 documents tying him to the project. In the first part, it looks like Ran is actually admitting to a couple of accusations, including fraud. He claims that the South African Law Enforcement cannot do and will not do anything to him, or, as he says, "people get away with murder here." The conversation then switches complete focus on the investigative article, with Shaun claiming that Ran has led to the destruction of Larry's career by feeding him false information.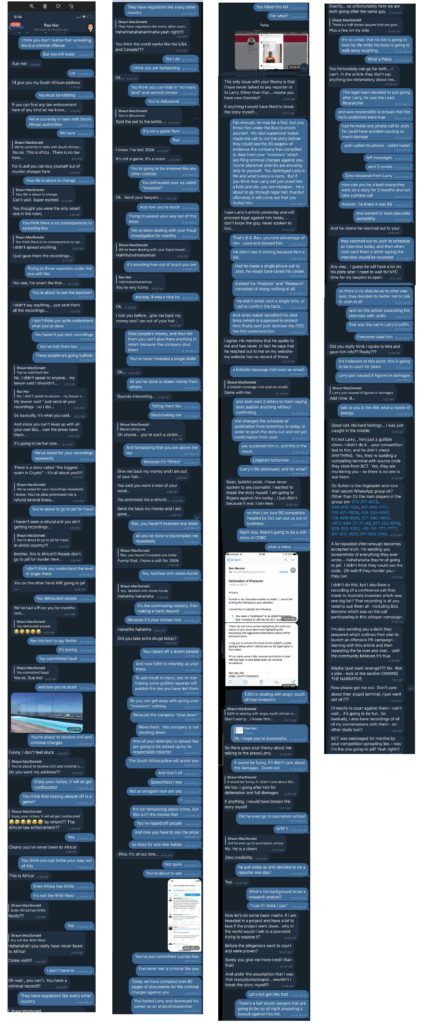 Have a look at the conversation between Ran and Shaun and make your own judgments, then tell us in the comments what you think. 
[Disclaimer: This story is developing and is not meant to defame any individuals. Allegations are just that, and may not always present the truth.]
Disclaimer
All the information contained on our website is published in good faith and for general information purposes only. Any action the reader takes upon the information found on our website is strictly at their own risk.