A civil lawsuit alleges that BitMEX's co-founders directed roughly $440 million away from the exchange despite knowledge of investigations. It also suggests that the funds were moved to limit seizure by authorities.
A
civil lawsuit
dated Oct. 30 alleges that BitMEX executives engaged in market manipulation and unregistered trading. Furthermore, it claims that BitMEX's co-founders sought to move approximately $440 million out of BitMEX, knowing that civil and criminal charges were unfolding. The complaint was filed by
traders
Yaroslav Kolchin and Vitaly Dubinin against the founders of BitMEX parent company HDR Global Trading Limited. Among other serious accusations, it refers to BitMEX co-founders Arthur Hayes, Benjamin Delo, and Samuel Reed as "notorious fraudsters." The lawsuit uses the indictments by the Department of Justice and the U.S. Commodity
Futures
Trading Commission (CFTC) as exhibits.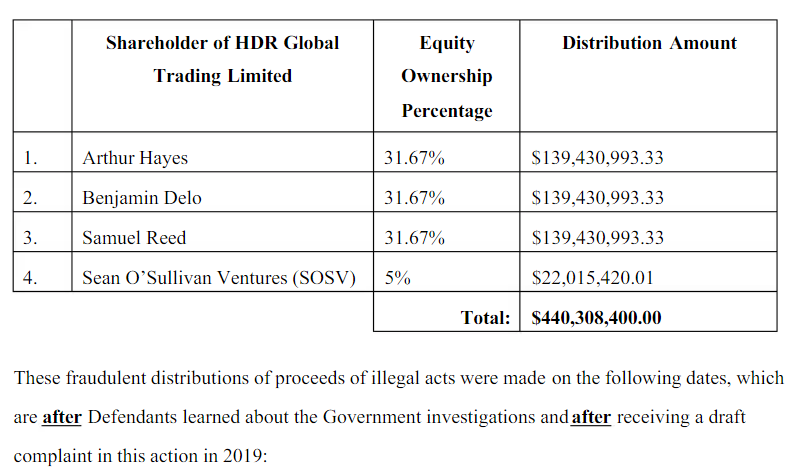 The suit claims that the executives caught wind of the impending charges in 2019 and sought to move funds away to minimize the amount seized by authorities. It then says that these funds were distributed between the three co-founders and Sean O'Sullivan Ventures.
Regulators Ramping Up Investigations
BitMEX
first faced
this legal case in May, with the plaintiff BMA LLC accusing it of money laundering, wire fraud, and civil conspiracy. Claims in the suit included exacerbating price fluctuations and causing the most liquidations. Shortly after the initial announcement of the indictments, CEO Arthur Hayes
stepped down
as CEO.
Update:

The open interest on the BitMEX Bitcoin perp has fell further throughout the night, and reached 45,112 BTC at 07:00 (GMT+2).

The open interest (measured in BTC) is currently down 16% since the CFTC announcement. pic.twitter.com/GTnI291Enu

— Arcane Research (@ArcaneResearch) October 2, 2020
The newest development is a serious escalation of the circumstances of BitMEX, which saw an exodus of users following the indictments. Investors withdrew over 37,000 BTC while open interest dropped by 16%, according to Arcane Research. SEC Commissioner Hester Peirce, who supports digital currencies, said that the BitMEX arrests are a sign of
increasing regulatory scrutiny
. Speaking on the Unconfirmed podcast, Commissioner Peirce said that unregistered securities via ICOs and celebrity promotions are under examination.
Binance Faces Accusations
Binance
, the world's largest cryptocurrency exchange, is also facing problems. Forbes released a
report
on Oct. 29 pointing to a leaked document alleging that Binance was looking to circumvent U.S. regulations. It claimed that a "Tai Chi entity" was used to execute a bait and switch and funnel profits towards Binance. The exchange firmly
denied
these accusations, also stating that the report had inaccuracies.
FUD. The statements and accusations in the article are incorrect. The whole article hinges on a 3rd party document. The said document was not produced by a @Binance employee (current or ex). Anyone can produce a "strategy document", but it does not mean Binance follows them. 1/7 https://t.co/AnIUJLXWTZ

— CZ Binance (@cz_binance) October 29, 2020
Binance officials said that the document was merely a strategy document that "anyone can produce." Binance U.S. CEO Catherine Coley has also
responded to the allegations
, saying that the U.S.-arm has made no payments to Binance.
Disclaimer
BeInCrypto has reached out to company or individual involved in the story to get an official statement about the recent developments, but it has yet to hear back.