LandVault assists in facilitating the entry of brands into the Metaverse.
The Metaverse is a digital realm that is becoming increasingly important. It is expected to become an alternate internet destination that offers unparalleled global trade, human coordination, and connectivity.
The possibility of a virtual world and people being a part of it has been a myth until recently. Now, every large brand is trying to make their name heard in the Metaverse.
The Metaverse's development in 2022 presents unique difficulties. In general, creating apps or user experiences calls on a variety of resources and skill sets in order to be successful. A solution was necessary to tackle these problems and make the onboarding process much more seamless.
LandVault, with its years of experience, has evolved as a solution for it. With its services, users and brands can seamlessly onboard into the Metaverse. Let us take a deeper look into LandVault and what it offers.
LandVault in brief
Landvault.io is the metaverse's largest real estate corporation.
The developments include businesses like Mastercard, L'Oreal, and Heineken, as well as web3 projects like World of Women, MAYC, and AlienBoy, with a staff of 120 architects, designers, and developers.
The company began in gaming as Admix, developing technology to allow brands to infiltrate games through product placements. Admix, founded in 2018 by Sam Huber, has secured $37 million from top VCs and works with over 300 leading companies, including McDonald's and Calvin Klein, to help them activate their brands inside games through product placements.
In 2022, Sam chose to transition the company from gaming to the Metaverse, acquiring a metaverse studio and rebranding as Landvault. He wanted to provide an end-to-end solution for brands and IP entering the Metaverse, from land rental through building and monetization.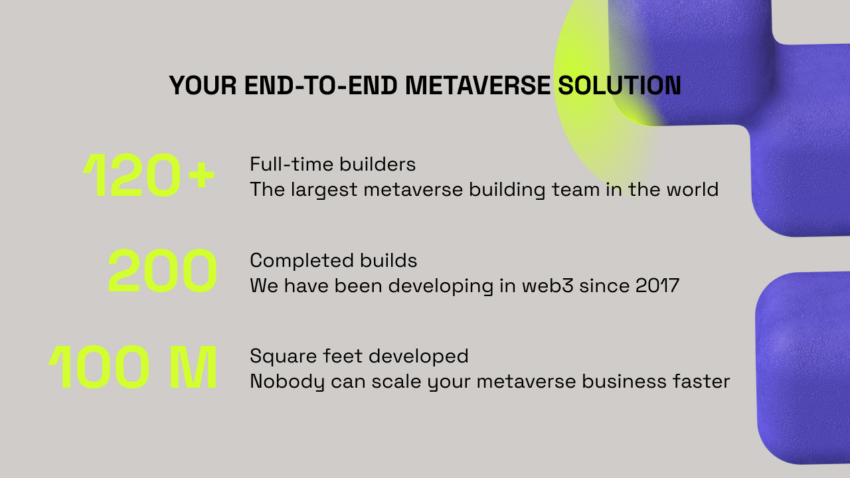 LandVault completes 100 million square feet of virtual real estate development
LandVault, the largest metaverse real estate company assisting significant brand entry into the Metaverse, has completed the building of 100 million square feet of virtual real estate. This includes work with major corporations such as Mastercard, Heineken, and Standard Chartered Bank, as well as native web3 ventures such as World of Women and Property.
LandVault has produced the equivalent of 1,300 football fields' worth of virtual land and is leading the way in developing a rapidly expanding virtual world.
"This milestone is significant in our mission to build the Metaverse." We believe that over the next decade, every brand and IP will need a business in the Metaverse, just like they have a business on the internet. However, while building quantity, we also feel a responsibility to build the Metaverse responsibly, in a way that serves both brands and users."

Sam Huber, CEO of LandVault.
The recent merger of Admix with LandVault resulted in the acquisition of more than 130 employees, including 120+ specialized metaverse developers and artists. This established the company as a noteworthy powerhouse in metaverse building, as evidenced by this latest development milestone.
According to reports, more than $120 billion has already been invested in the Metaverse in the first five months of 2022, more than doubling the $57 billion invested in the entire year of 2021, with venture capital, private equity, start-ups, and established brands all looking to capitalize on the opportunity.
How to be a part of LandVault?
To become a part of LandVault, you can contact the team with your ideas here.
Final thoughts
The Metaverse is the new trend in the growing world of crypto. But establishing your presence in this space requires expertise. LandVault has over five years of experience in building with the top brands in the industry.
Reports also suggest that the LandVault ecosystem has the potential to generate up to $5 trillion by 2030. With investments in the Metaverse rising, LandVault could be one of the best platforms for you to build and grow your business in the metaverse.
Website | Discord | Twitter | LinkedIn | Youtube
Disclaimer
All the information contained on our website is published in good faith and for general information purposes only. Any action the reader takes upon the information found on our website is strictly at their own risk.