Football is the most popular sport among crypto investors, per a recent KuCoin survey. Out of the 70% that are watching the FIFA World Cup 2022, nearly half are also trading fan tokens. But crypto scams are rearing their ugly head, so maintain caution. 
One of the most prestigious sports events is currently underway in the Middle Eastern region of Qatar. It's expected that more than a million football fans from across the globe will watch games in the infamous air-conditioned stadiums for the very first time in history.
However, the 2022 FIFA World Cup will also be a first for several other reasons, especially the way crypto features in it. This event is expected to be a massive booster for crypto adoption.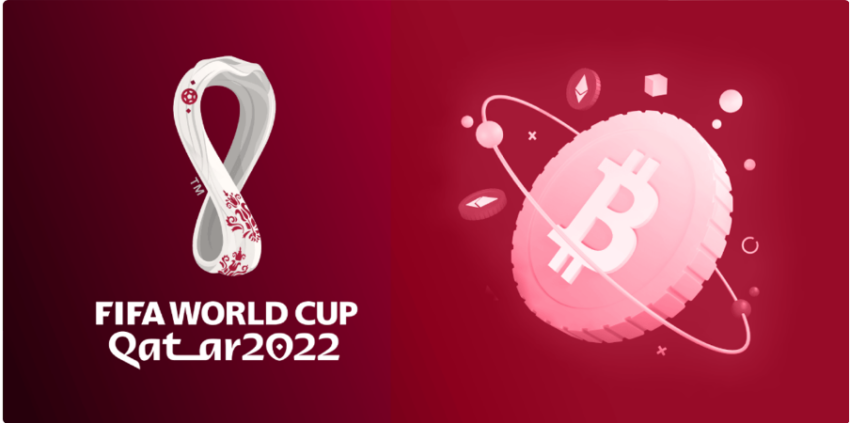 One reason is the industry's prominence in the event's sponsorship. Earlier this year, World Cup organizers chose cryptocurrency platform Crypto.com as one of the event's main sponsors. It will give the exchange exposure to an estimated audience of five billion viewers, which wasn't the case in the last World Cup.
But more importantly, Fans make World Cups. And this time, the cryptocurrency exposure has changed how fans interacted with their teams—bridging the gap between football and the blockchain industry.  
Football meets crypto in Qatar
Since the last major bull run in the crypto market, the sports industry has adopted cryptocurrencies and blockchain-based solutions with open arms. The love for crypto in sports remains strong even when the global market goes through periods of bearishness.
The Seychelles-based crypto exchange KuCoin shed some light on this joint venture. The exchange published the "When Crypto Meets Football" report.
This report is based on surveys among 20,180 crypto investors between January and September of 2022 and 8,022 users in KuCoin communities in November 2022. ​It revealed how crypto investors engage with their favorite sports, specifically football, in web3.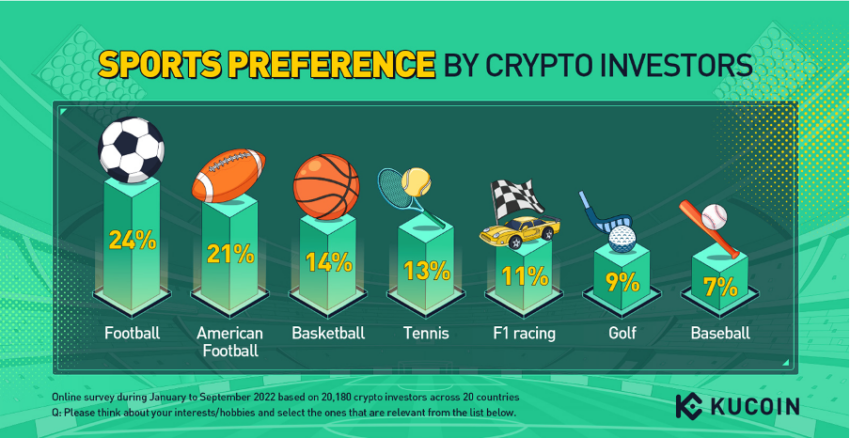 According to the survey, football is the most popular sport among crypto investors. 24% of crypto investors say that football is their favorite sport. According to FIFA, there are five billion football fans worldwide, with Latin America, the Middle East, and Africa representing the largest fan bases.
"Community" (41%), "Teamwork" (33%), and "Passion" (30%) are considered the top values shared among crypto and football. This was followed by "Strategic" (27%) and "Accessibility to All" (23%). Some attributes combine crypto and football.
An anonymous Nigerian football participating in the survey stated: 
"Fans' support is the common thing that holds crypto and football. They revolve around individuals that look past traditional social constructs to form a community based on shared passions and dreams. They both have a feeling of inclusiveness, being free and not biased."
Overall, seventy percent of crypto investors are keeping a close eye on the event, making it the first event in the Top Sports Events watched in 2022/2023.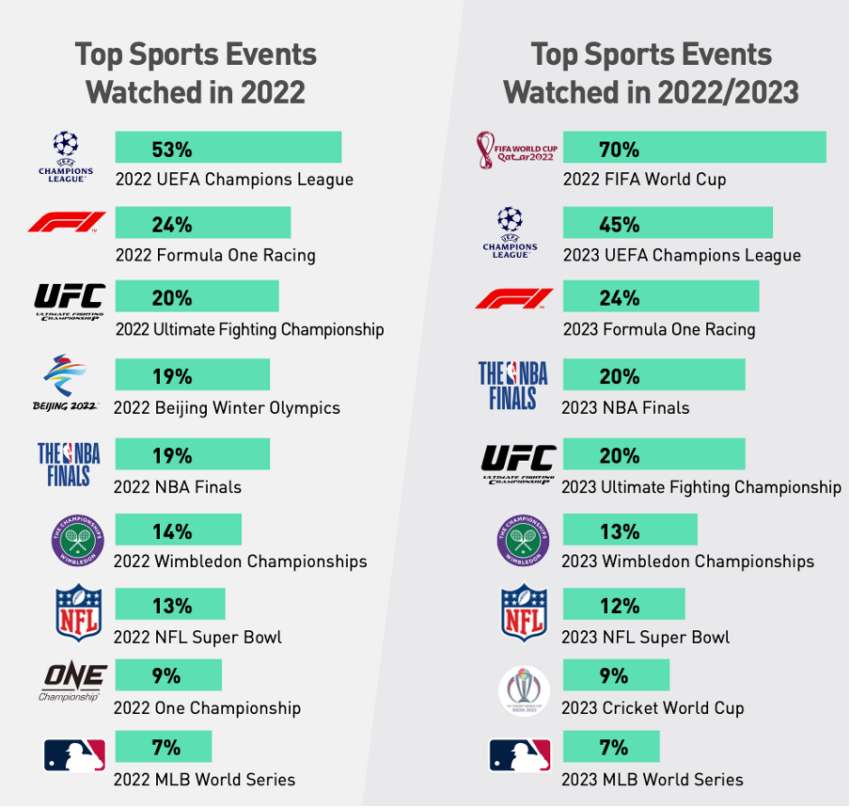 Geographical differences
Fans across the globe have shown interest in this event. But this time, crypto investors, too, were a part of this cohort. Geographically, Europe, Latin America, the Middle East, Africa, and Southeast Asia are regions where passions for crypto and football cross paths. France, Spain, Vietnam, Germany, and Brazil feature the largest share of football fans among crypto investors.
Four of every ten crypto investors in these countries identify as football fans.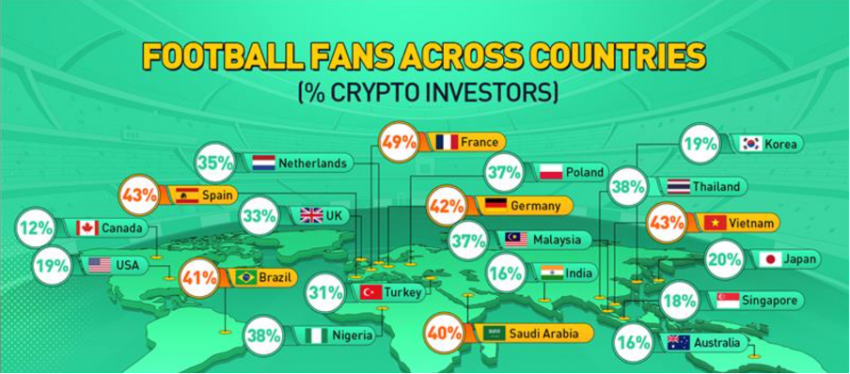 Now given the unprecedented traction, the crypto community has taken fan interactions with their respective clubs to a new level—with fan tokens.
By the fans, for the fans
More and more football clubs are turning to the crypto industry to boost revenues by issuing a new type of digital asset called fan tokens. The relationship enables clubs to issue so-called digital 'fan tokens' that can be sold to supporters and traded like other assets.
The tokens are akin to a club-specific asset, allowing virtual coins to be bought and sold with their value rising and falling in line with demand and team performance.
The tokens are often marketed with real-world perks such as promotions, rewards, and discounts in the club shop. Even a chance to unlock VIP rewards, including a meet and greet with favorite players, VIP seats, and other unique benefits.
The more tokens, the greater the access and shot at team governance.
In the earliest highest-profile link-up between football and cryptocurrency, big-name football clubs such as Paris Saint-Germain, Manchester City, Barcelona, and Juventus, partnered with the Socios crypto platform.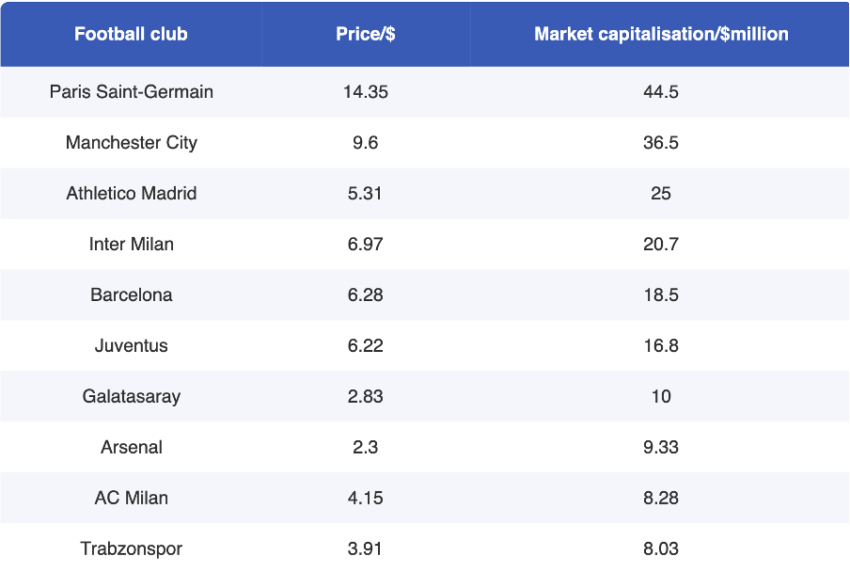 To buy tokens, supporters must first convert traditional funds, via an app, into Socios' cryptocurrency, Chiliz.
Given the footballing exposure, the sales of fan tokens have only accelerated, from $1.90 billion in April to almost $7 billion in November 2022, with an all-time sales volume surpassing the $175 billion mark. 
The World Cup 2022 too saw this trend
48% of football fans among crypto investors surveyed are interested in trading fan tokens during the 2022 FIFA World Cup. 
The event is also expected to drive popularity for other sports tokens. 28% of football fans among crypto investors also expressed interest in investing in general sports tokens or projects. The top mentions were Sweatcoin (SWEAT), Chiliz (CHZ), Stepn (GMT), Alpine (ALPINE), and Flow (FLOW). 

Now to bridge the gap between football and crypto users, different platforms took part in the biggest sporting event. First, it was OKX, as reported by BeInCrypto. In the latest development, KuCoin in conversion with BeInCrypto stated:
"KuCoin is partnering with high-impact Web3 companies, such as Polygon – the leading Layer 2 platform for Ethereum scaling and infrastructure development, WinGoal – a burn-to-earn and win-to-earn-more F2P World Cup DApp, and YGGSEA – the first subDAO of Yield Guild Games, to launch "Shoot to Win Goal," a 4-day event that aims to highlight the intersection of crypto and football while rewarding cryptocurrency users within the global ecosystem with a $1 million prize pool."
Indeed millions of fans, sponsors, and famed crypto-related firms would all come under one stage. But one needs to maintain caution as well.
Safeguard against exploits
Cryptocurrency scams are one of the biggest risks for anyone investing and gambling on the World Cup, as reported by BeInCrypto on Nov. 24. As tickets for this year's event are only available digitally, scammers have increasingly capitalized on creating fraudulent websites offering them.
False websites for merchandise, gifts, and giveaways also entice the unwary among the event's enthusiasts. 
Disclaimer
Following the Trust Project guidelines, this feature article presents opinions and perspectives from industry experts or individuals. BeInCrypto is dedicated to transparent reporting, but the views expressed in this article do not necessarily reflect those of BeInCrypto or its staff. Readers should verify information independently and consult with a professional before making decisions based on this content.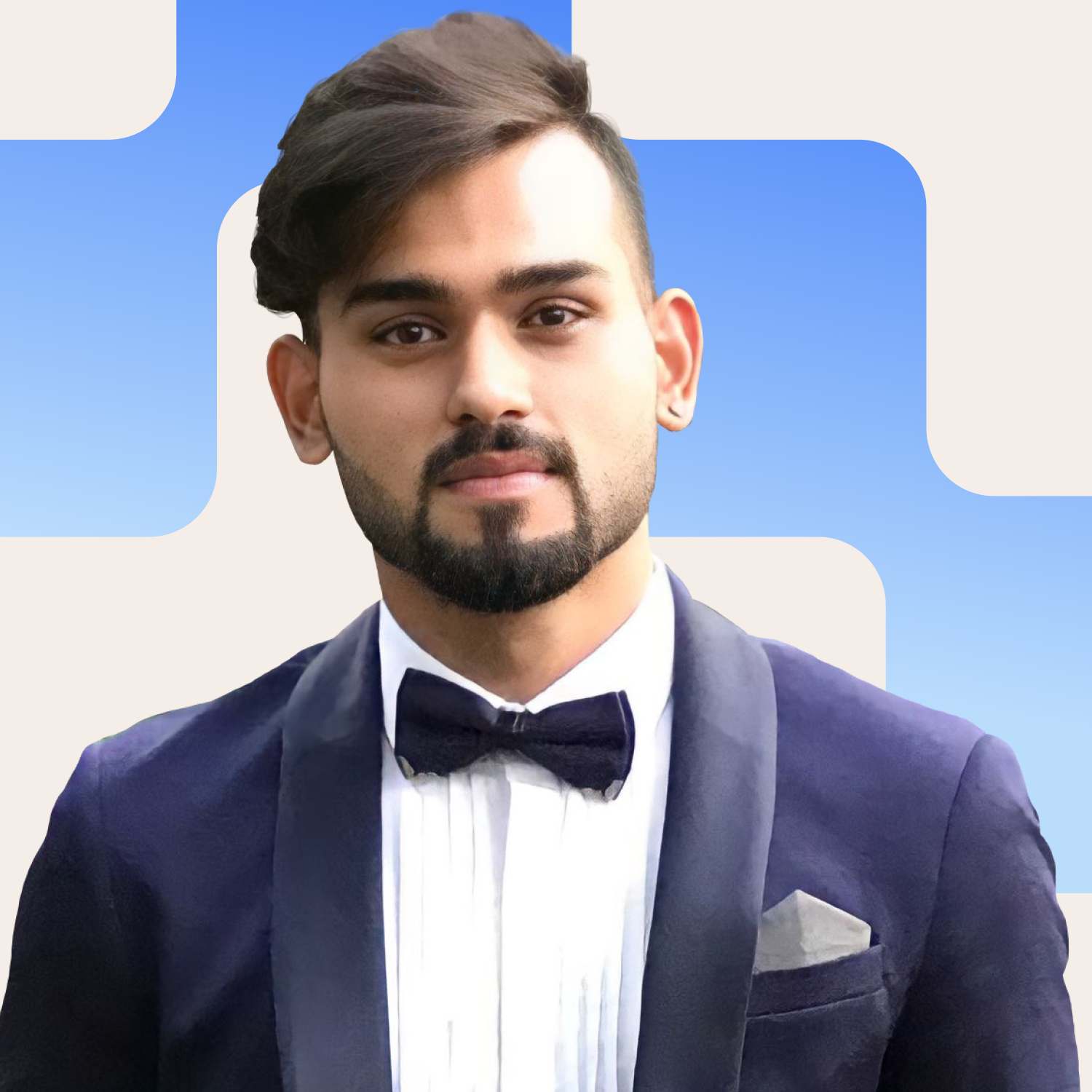 An engineer and an accountant by degree, Shubham ventured into the crypto world to pursue his passion. He believes digital currencies will redefine our economies in the decades to...
An engineer and an accountant by degree, Shubham ventured into the crypto world to pursue his passion. He believes digital currencies will redefine our economies in the decades to...
READ FULL BIO
Sponsored Sponsored