At BeInCrypto, we offer regular price analyses of Dogecoin and other cryptocurrencies. Today, we are beginning a new series of monthly price predictions for the month of April for several cryptocurrencies including Doge.
---
On Dec 17, 2018, the price of Dogecoin (DOGE) reached a high of $0.0031.
A sharp drop began on Dec 20. It was followed by a long, gradual decrease. The price made a bottom at $0.0017 on Feb 6, 2019. It has been on a gradual uptrend since. On
Apr
1, a rapid upward move was initiated. At the time of writing on Apr 2, DOGE had made a high of over $0.003.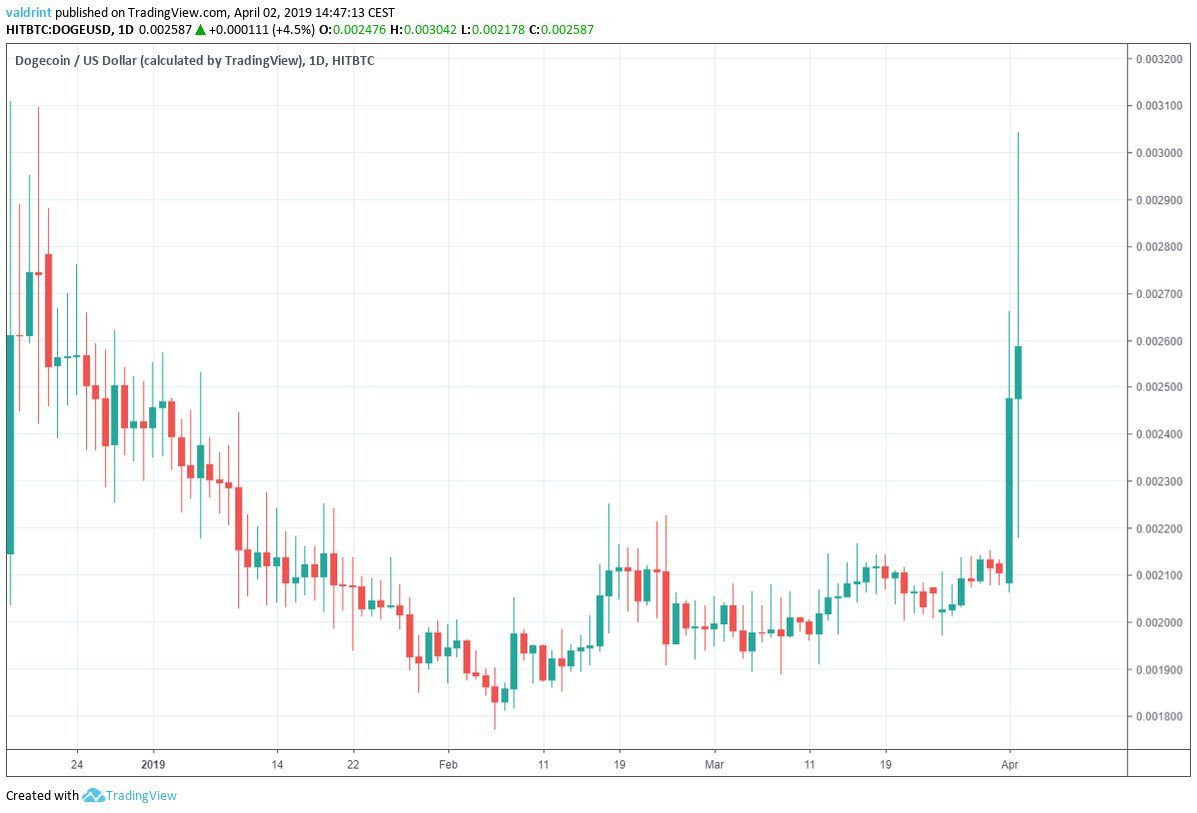 Dogecoin (DOGE): Key Trends And Highlights
The price of DOGE/USDE began an uptrend on Feb 6.
Dogecoin broke out from an ascending triangle on Apr 1.
It is trading above the 100-period MA but below the 200-period MA.
Ascending Triangle
The price of
DOGE/USD
is analyzed at one-day intervals from Dec 15, 2018 to Apr 2, 2019 using data from HitBTC. This is done in order to trace Dogecoin's current trading pattern.
On Feb 6, the price made a low of $0.0017. Since then, several market cycles have been completed with each low being higher than the previous one. Tracing these lows gives us an ascending support line: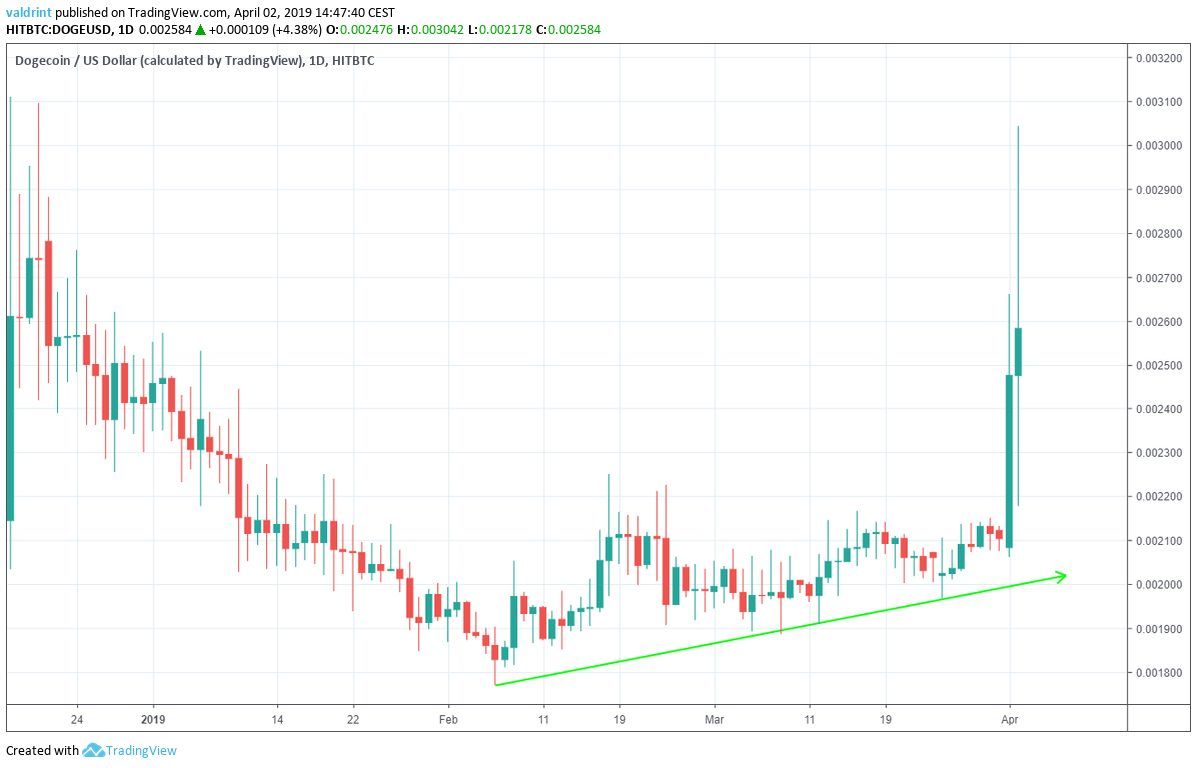 On Feb 15, the price reached a high of $0.0022. A gradual decrease ensued, followed by a gradual increase. The price reached the same level several times. Tracing these highs gives us a horizontal resistance line. The support and resistance lines combine to create an ascending triangle: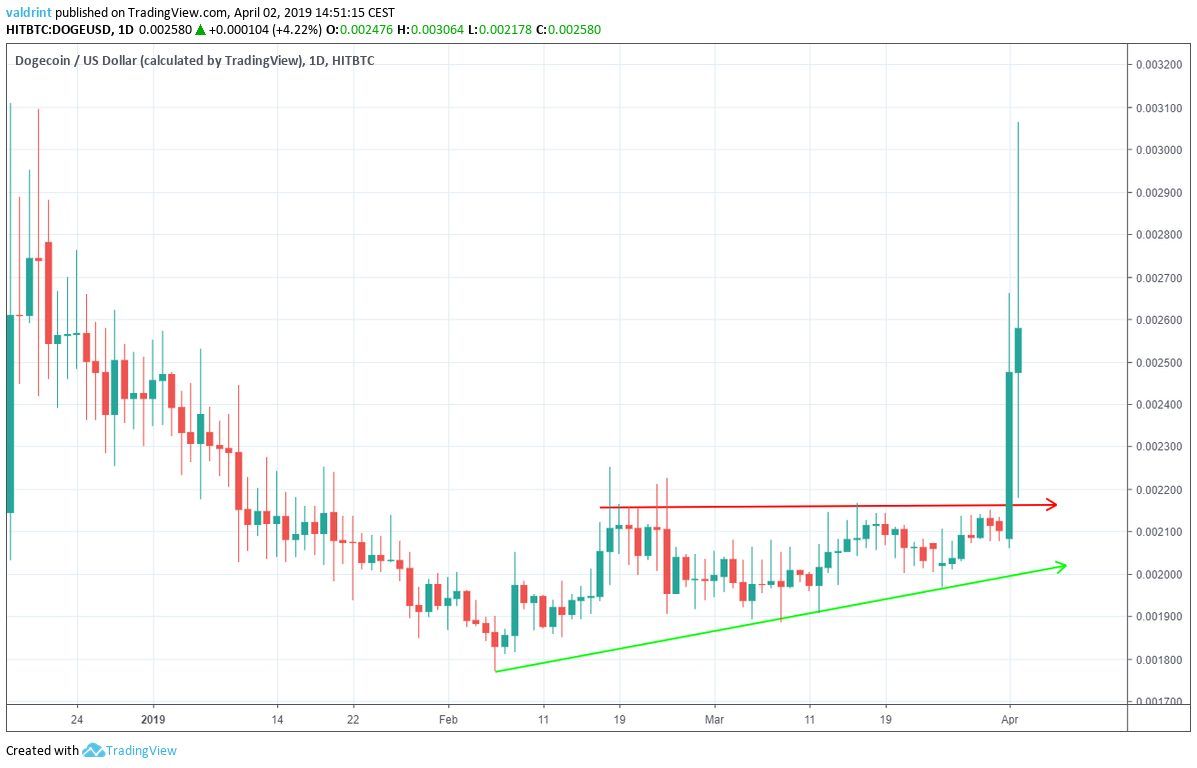 This is a bullish pattern. It suggests price increases until a breakout. Dogecoin broke out from the trading pattern on Apr 1. How long will the price keep increasing? Let's find out.
Moving Averages
To better assess Dogecoin's future possible price levels, we incorporate moving averages and resistance areas into this analysis.
Moving averages (MAs) are tools used in technical analysis to smooth out price action. It is a lagging indicator since it is based on past prices. The relationship between prices and moving averages can help in identifying the beginning and end of a trend.
Resistance areas are created when the price visits the same level several times. They can provide reversal areas in case a breakout occurs.
Below, MAs and resistance areas are traced alongside the price of DOGE/USD: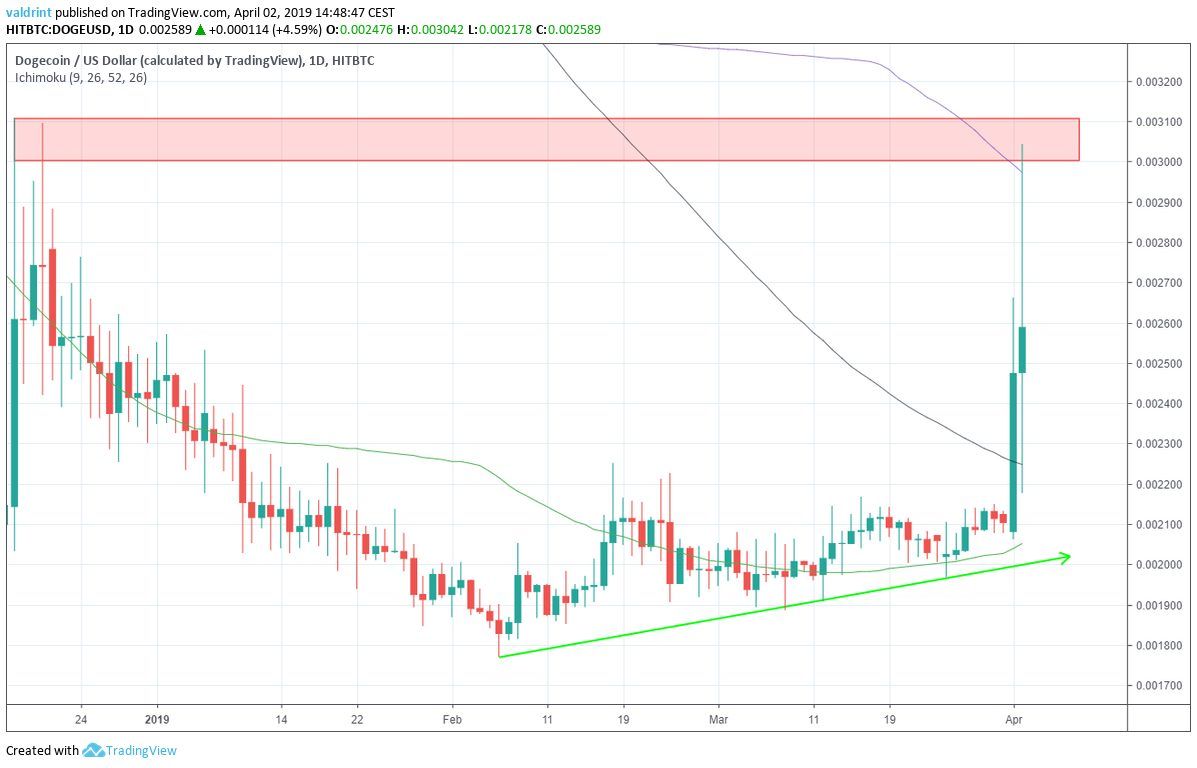 On Feb 16, the price moved above the 50-day MA. The price of Dogecoin then broke out from the triangle on Apr 1 and crossed the 100-day MA. The breakout took DOGE/USD to the resistance area near $0.003. This coincides with the 200-day MA. However, there was an immediate push back that brought Dogecoin this level. On the contrary, when Bitcoin spiked past $5000 on Apr 2, there was a sustained movement beyond all three MAs. Based on the rapid rise and inability to sustain levels above the 200-day MA, Dogecoin may see price losses as part of correction for recent gains.
April Price Prediction And Summary
In the graph below, the green arrow measures the height of the triangle: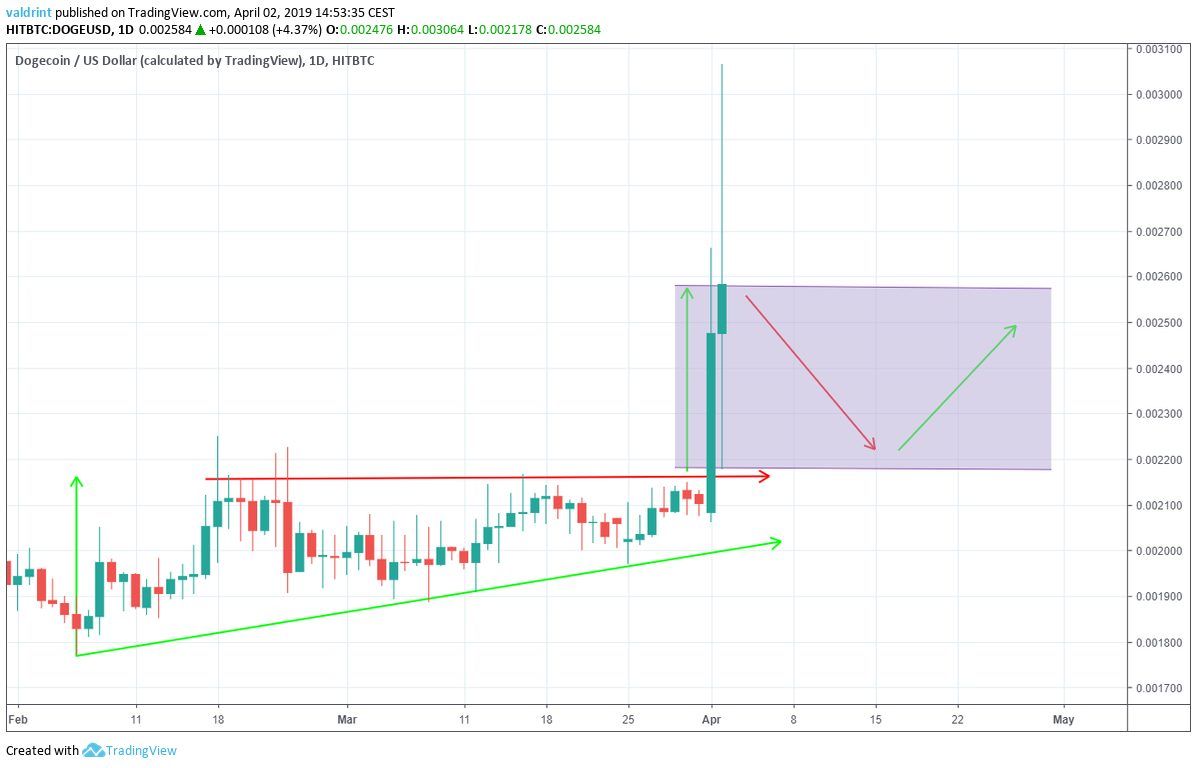 Projecting the same height to the breakout point, we get prices of $0.0026. This is where Dogecoin is currently trading. Furthermore, as we can see from the first graph, there has been minimal movement since the high on Dec, 2018 and the succeeding decrease. Therefore, we believe that the price has to consolidate for a longer period of time before it trades at levels above those on Dec, 2018.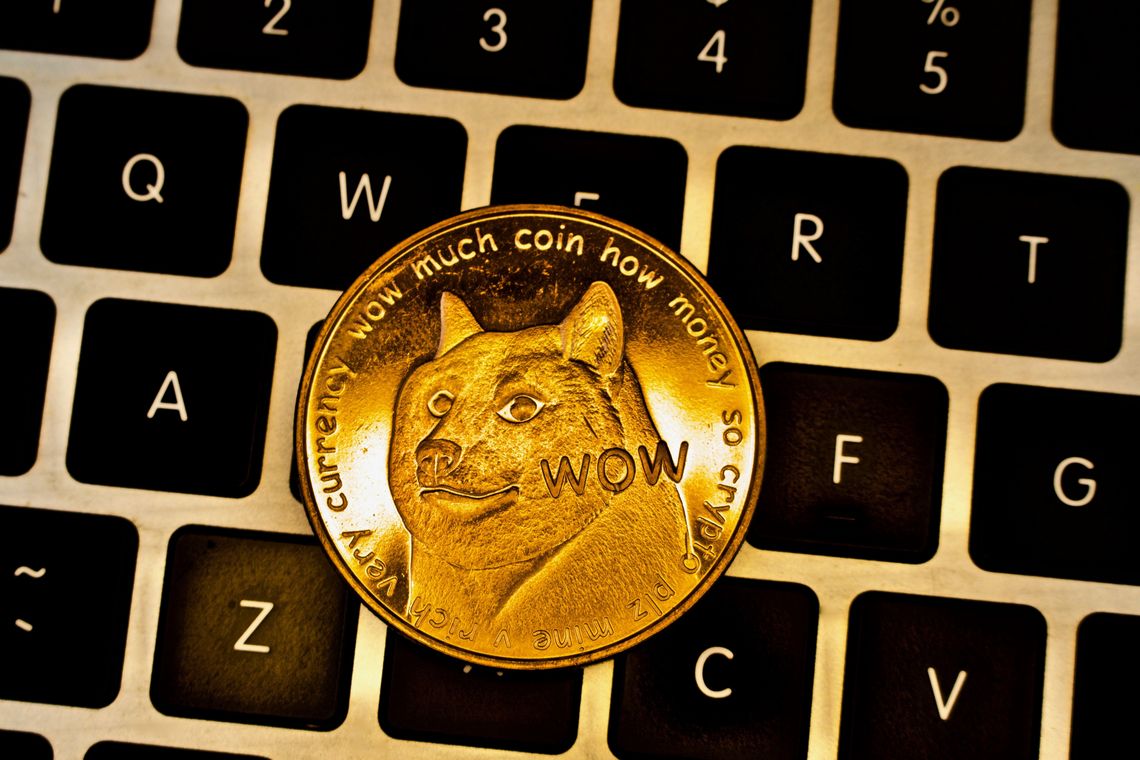 Combined with the fact that there is still resistance left for the price to clear, we believe that the price will not reach the $0.003 level or the 200-period MA soon. Rather, Dogecoin's price is likely to decrease and possibly touch the resistance line before starting an upward move. Lastly, we believe that the price will be trading between $0.0026 and $0.0022 at the end of April.
Do you think the price of DOGE will continue to increase or start to drop? Let us know your thoughts in the comments below!
Disclaimer: This article is not trading advice and should not be construed as such. Always consult a trained financial professional before investing in cryptocurrencies, as the market is particularly volatile.
Disclaimer
In line with the Trust Project guidelines, this price analysis article is for informational purposes only and should not be considered financial or investment advice. BeInCrypto is committed to accurate, unbiased reporting, but market conditions are subject to change without notice. Always conduct your own research and consult with a professional before making any financial decisions.