On July 2, 2019, the IOTA price reached a high of 39,400 satoshis. A downtrend ensued which is still in effect. While the price made an attempt at a reversal in the period from July 16-25, it ultimately proved unsuccessful.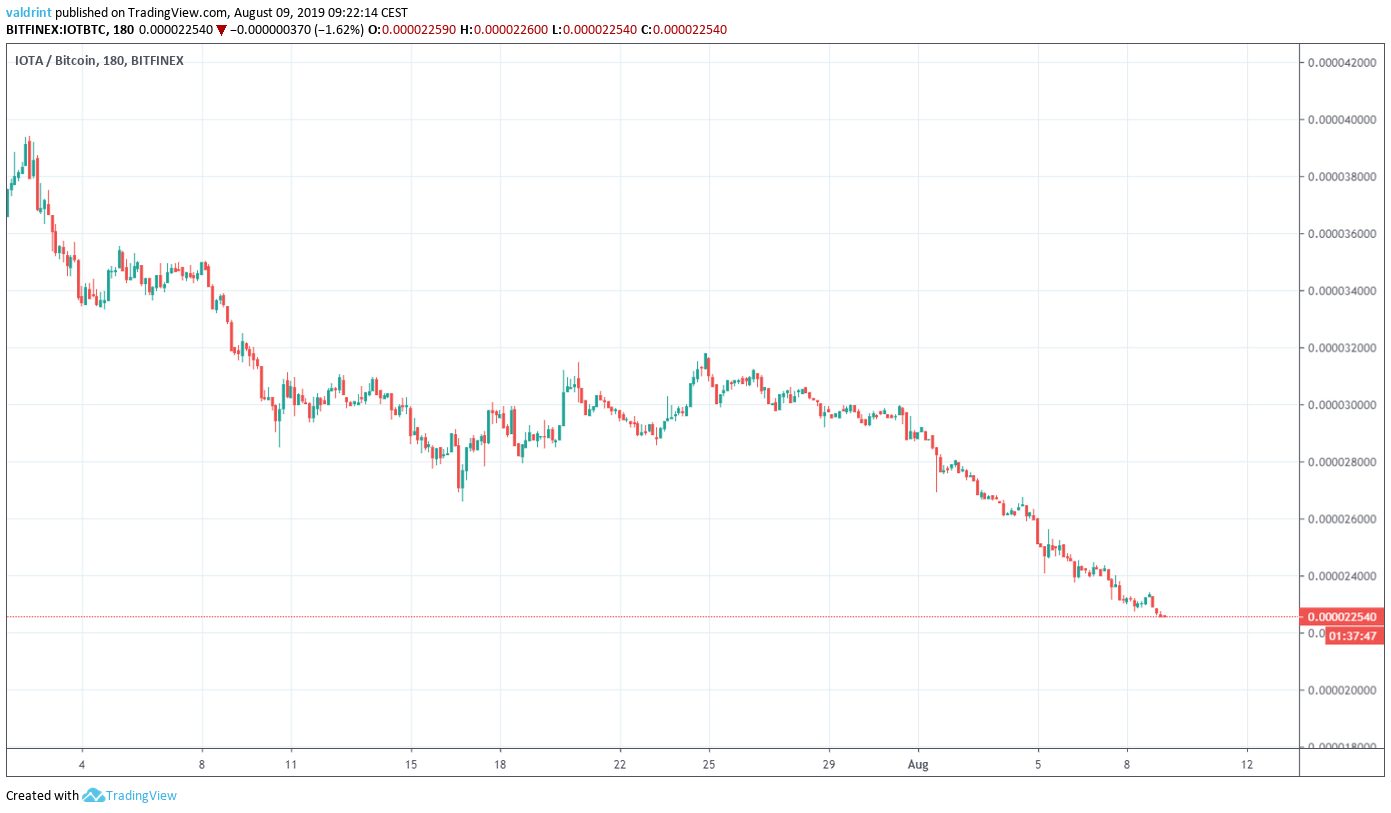 At the time of writing, IOTA was trading near 22,500 satoshis.
How much longer will it continue to decrease? Continue reading if you are interested in finding out.
For our previous analysis, click here.
If you are interested in trading cryptocurrencies with a multiplier of up to 100x on our new partner exchange with the lowest fees, follow this link to get a free StormGain account!
IOTA Price: Trends and Highlights for August 9
IOTA/BTC is trading inside a descending channel.
It has made an all-time low price.
There is support at 17,500 satoshis.
Moving averages have made a bearish cross.
The RSI is deep into oversold territory.
All-Time Low
First, we will start by taking a look at the weekly time-frame, in order to get an understanding of where the price is trading relative to previous levels.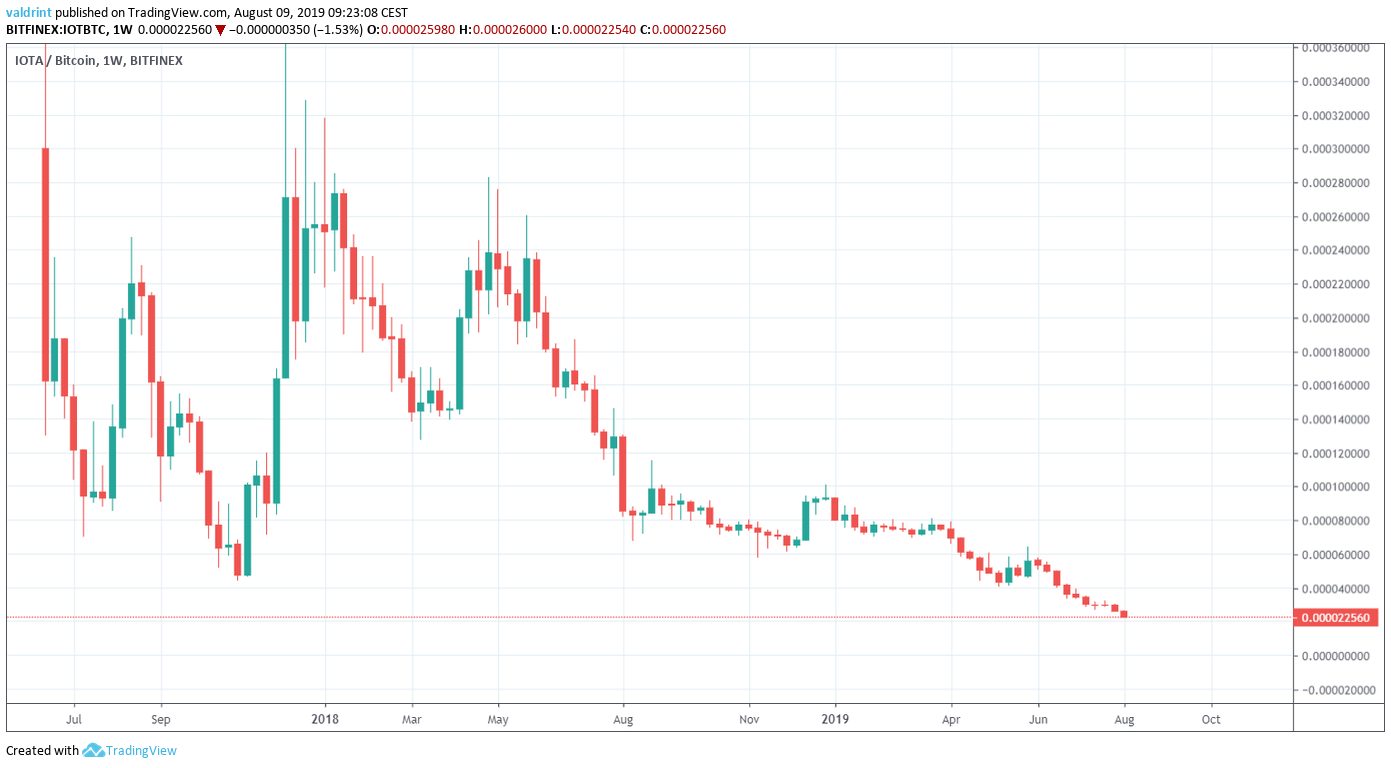 Beginning in June, the price has been trading at an all-time low, reaching successively lower values.
This makes it harder to predict a bottom since there are no support areas suitable for initiating a reversal.
Therefore, in order to do that, we will use the support lines of current patterns and Fibonacci levels.
Descending Channel
A look at a shorter-term time-frame shows that the price has been trading inside a descending channel since June 26.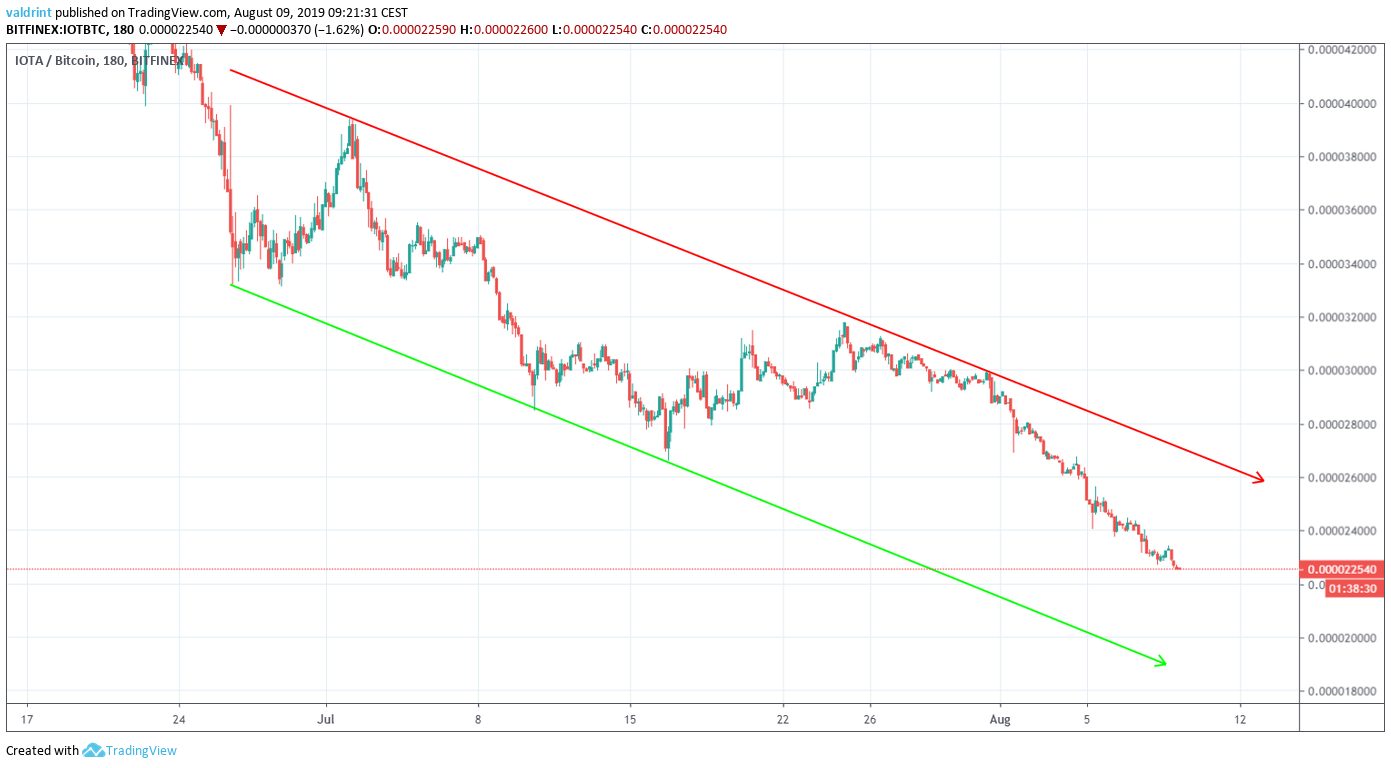 It made consecutive breakout attempts in the period from July 24 to August 1, all of which were unsuccessful.
The IOTA price began to decrease afterward.
At the time of writing, it was trading in the middle of the channel.
In order to predict a likely bottom, we have used a Fibonacci retracement tool in the upward move beginning on December 15.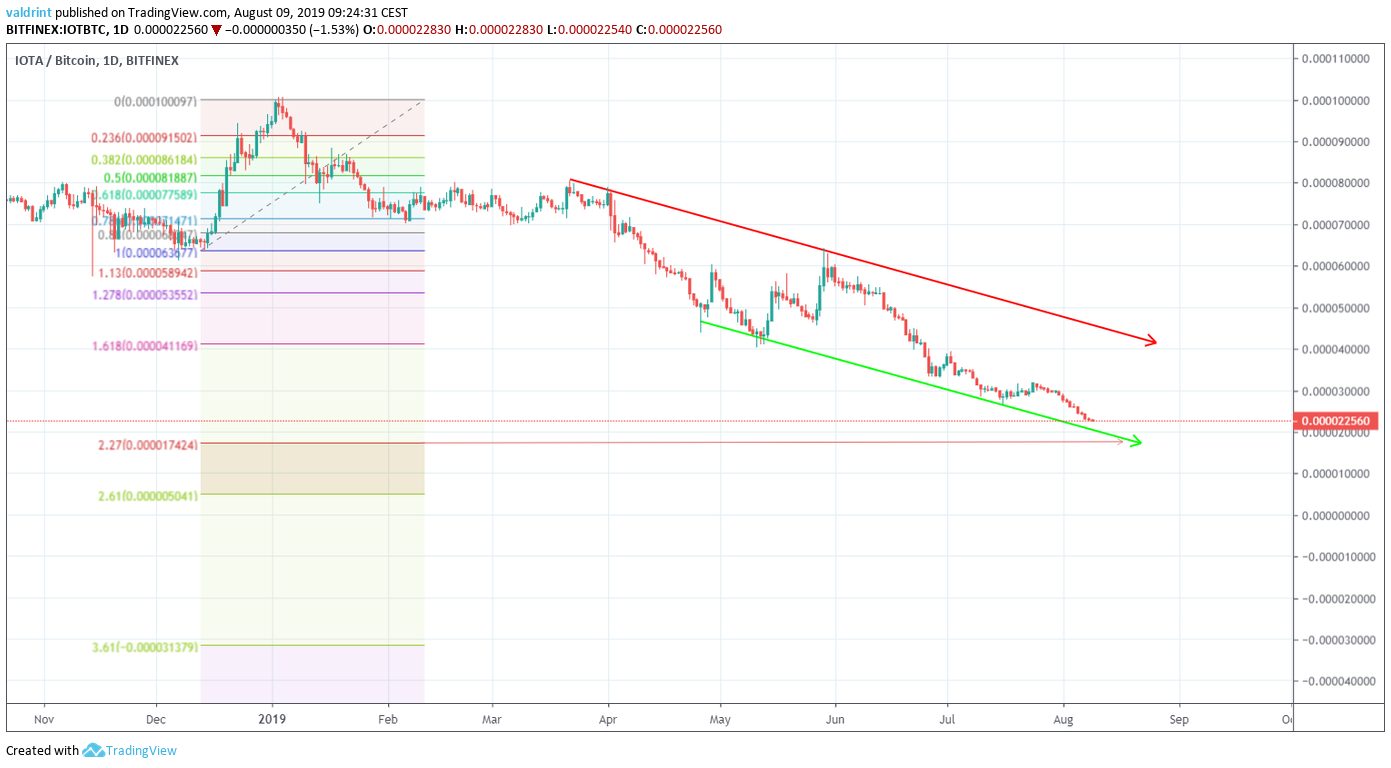 The closest support level is found at 17,500 satoshis, found at the 2.27 fib level.
If the price decreases at the rate predicted by the support line, it is likely to reach it in the next week.
Let's take a look at technical indicators and see how likely that is.
Trade IOTA and other cryptocurrencies quickly and securely on our partner exchange, Binance.
Technical Indicators
A look at the daily moving averages (MA) supports the possibility that the IOTA price will continue to decrease.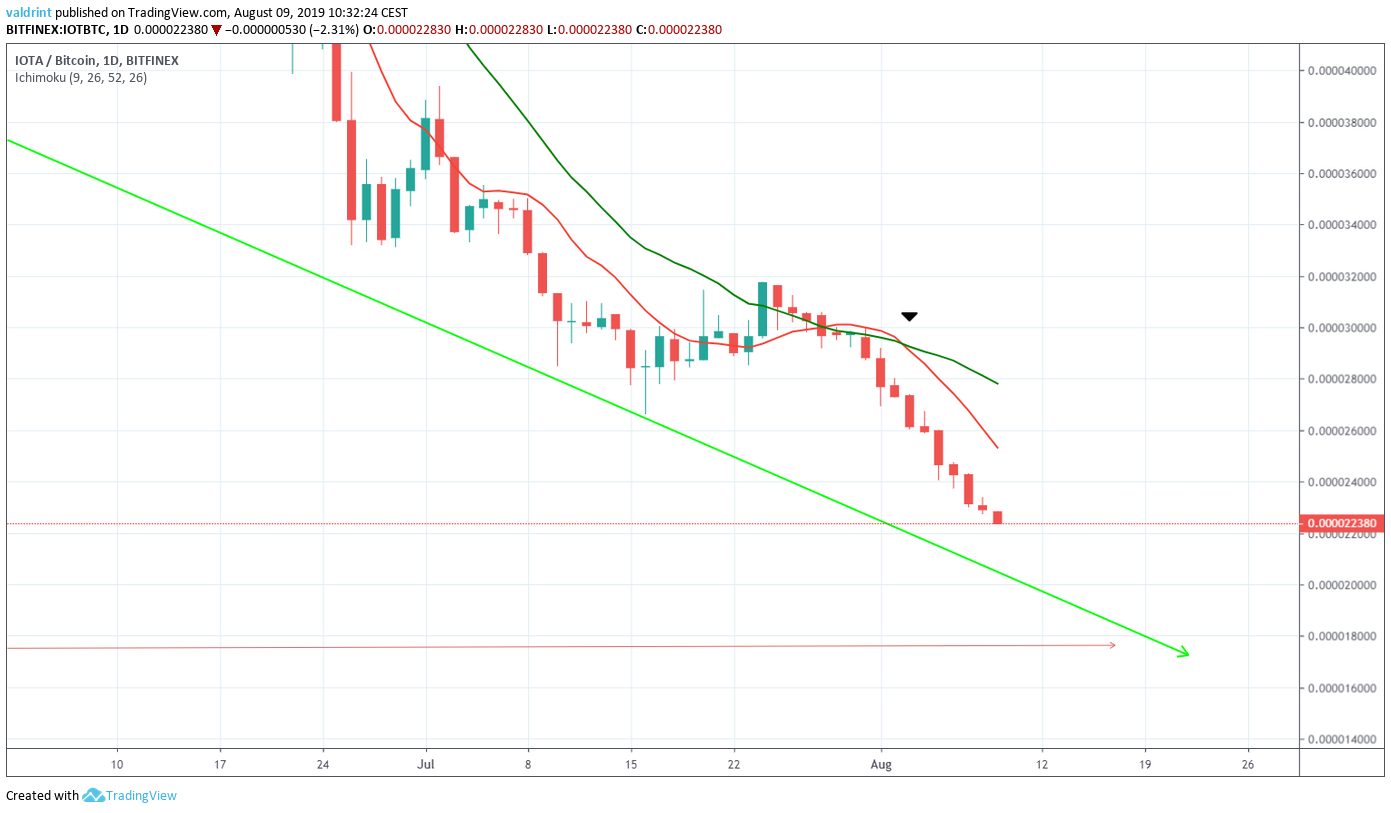 The IOTA price began showing signs of strength at the end of July, even generating a bullish cross.
However, that was short-lived since a bearish cross occurred shortly after on August 2.
This is often a sign that a downtrend has begun.
The price has been decreasing since, facing very close resistance from the 10-day MA.
Likewise, IOTA began generating bullish divergence during the same period, only to break the upward sloping trend-line at the beginning of August.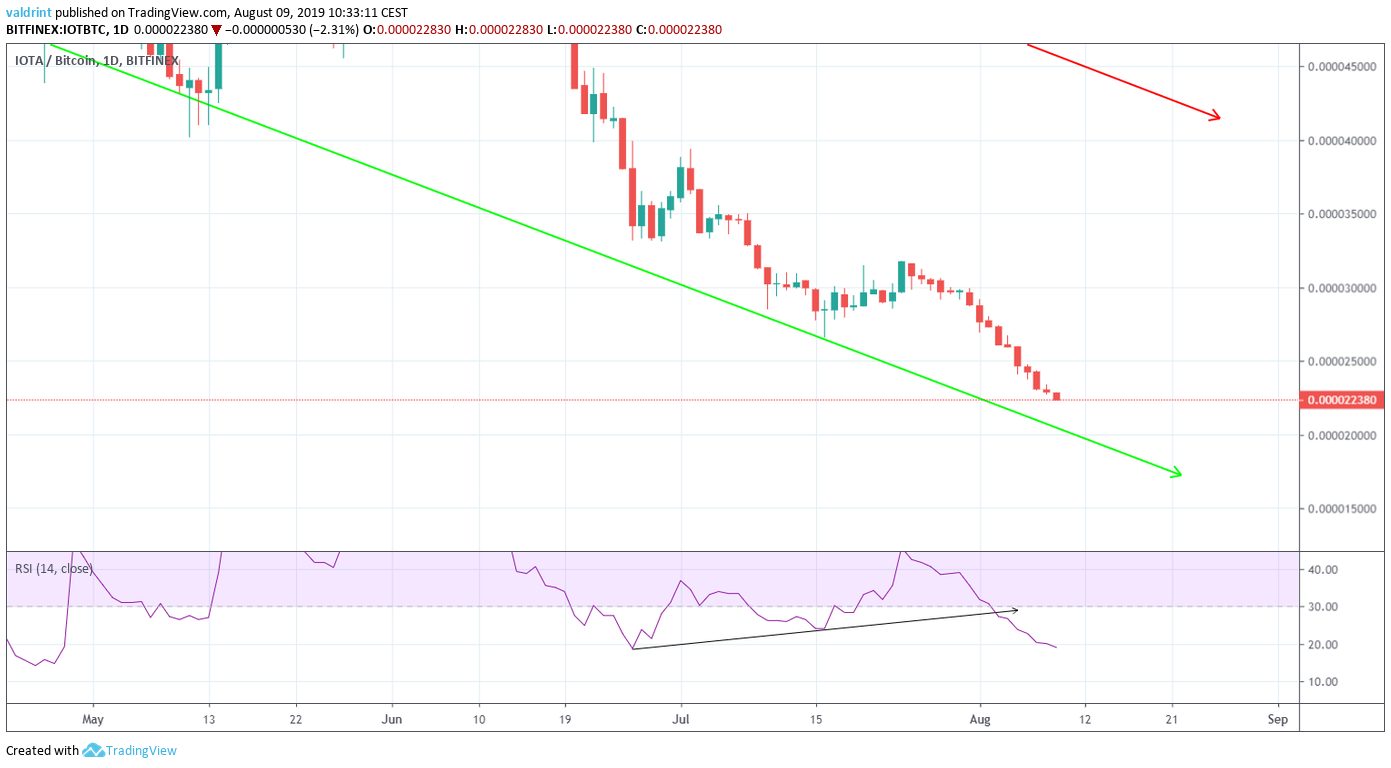 However, the RSI is still into deeply oversold territory.
It is currently at 20.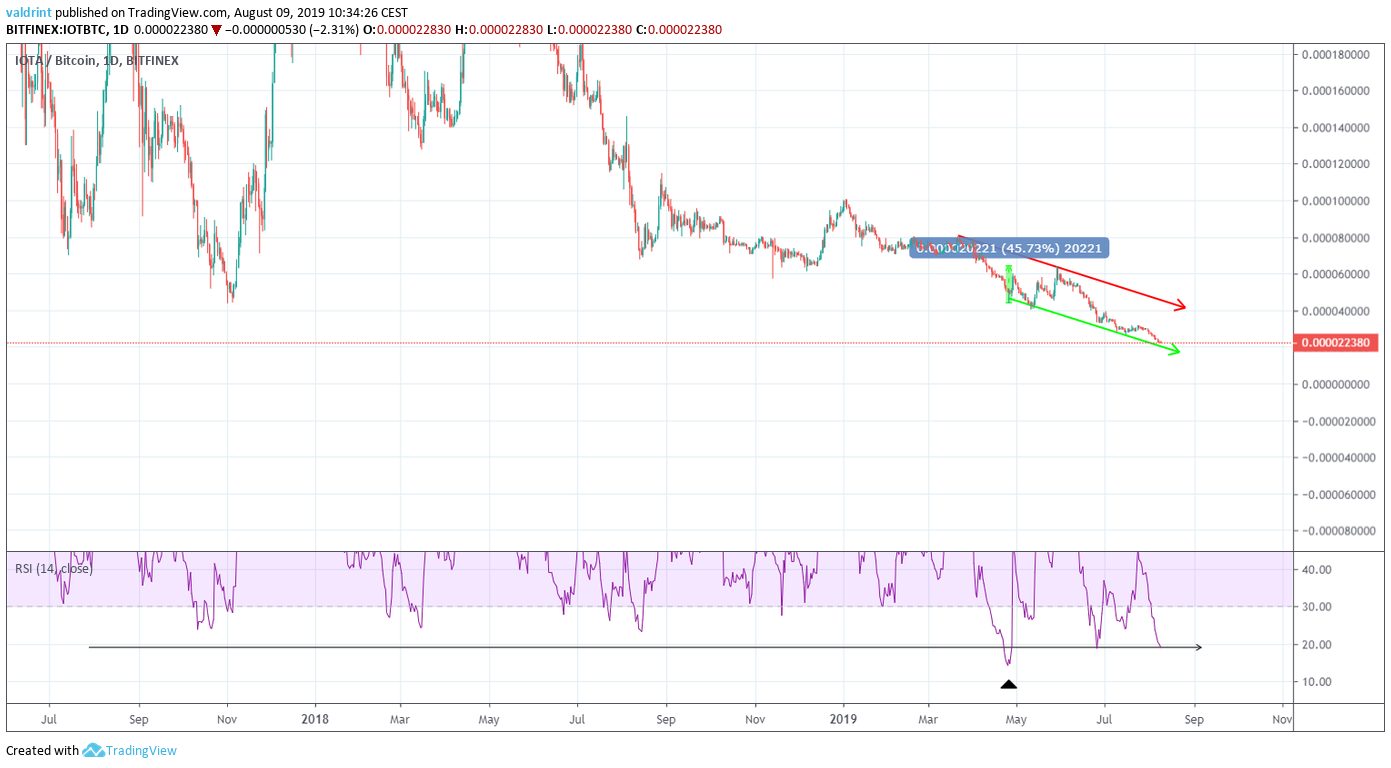 During its entire existence, RSI has only traded below this level once, in April 2019.
When it did, an upward move occurred that led to an increase of 45%.
If the IOTA price decreases to the support line, generating lower RSI values in the prices, a similar upward move could transpire.
IOTA Price Summary
The IOTA price is trading inside a descending channel.
According to our analysis, it is likely to continue to decrease until it reaches the support level outlined above at 17,500 satoshis.
Afterward, an upward move is likely.
Do you think the IOTA price will reach the support line of the channel? Let us know in the comments below.
---
Disclaimer: This article is not trading advice and should not be construed as such. Always consult a trained financial professional before investing in cryptocurrencies, as the market is particularly volatile.
Images are courtesy of Shutterstock, TradingView.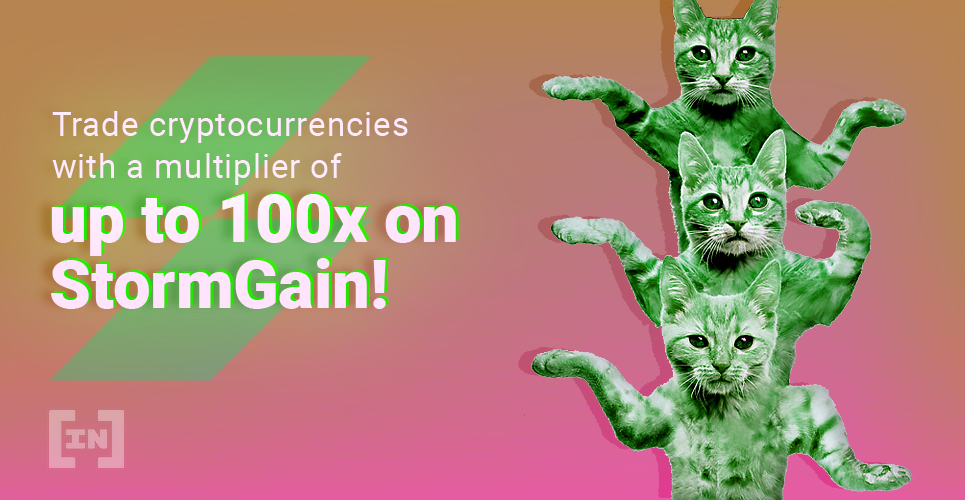 ---
Images courtesy of Shutterstock, Trading View and Twitter.