In another blow to the Indian crypto ecosystem, exchange CoinSwitch Kuber temporarily halted crypto purchases.
Media reports confirmed that users didn't have an option to make an instant payment with Unified Payments Interface (UPI) or bank transfers via NEFT/RTGS/IMPS.
Crypto purchase options are now limited in India
The development follows clarification from the country's payments body that it was "not aware of any crypto exchange" using its instant payment system. Soon after which, Coinbase India had also backtracked from its official announcement that the platform supported UPI transfers.
While the regulators and the crypto players have not made any official comment on the matter yet, the regulatory uncertainty in the domestic market has led to the decision. And, until a framework is in place, CoinSwitch Support has stated that crypto deposit and withdrawal functions will remain shut.
The response by the exchange suggests that more guidelines might be on the way as the stakeholder remarked that "we are already in talks" with the policymakers to discuss crypto oversight.
Meanwhile, another e-wallet services provider Mobikwik has also recently pulled away from its services on crypto platforms. In this regard, Binance's domestic subsidiary WazirX had notified on its app that users need to use available alternatives after changes to the framework from April 1.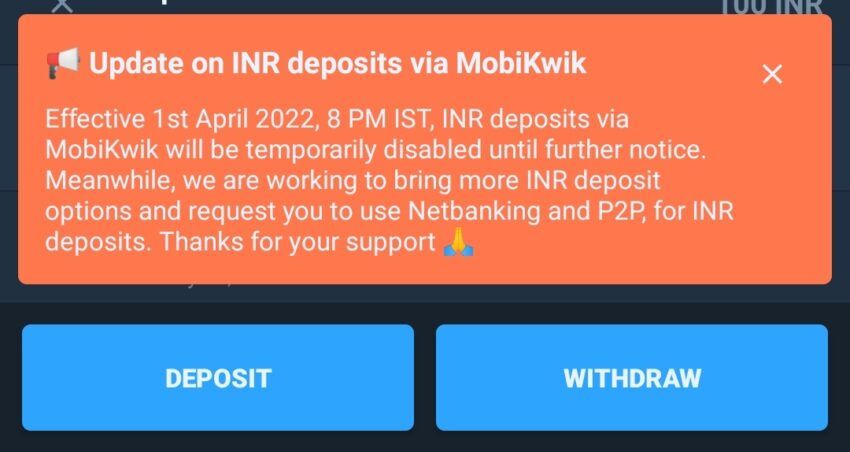 If reports are to be believed, MobiKwik also refused to explain the reason to the crypto platforms why it was withdrawing its services.
However, we know that the new taxation regime for virtual digital assets took effect in India on April 1. This is when the industry also awaits a cryptocurrency bill. But, the industry chatter had previously revealed that India intends to frame extensive crypto legislation only after a global consensus.
Legislative bill nowhere in sight as trading volumes plunge
However, until that happens, the exchanges are left to deal with plunging trading volume. Data by research firm CREBACO highlighted that volumes have fallen by over 50 percent on average across exchanges since last week.
WazirX, one of the top exchanges in India recorded a 24-hour trading volume of $57,617,455 at the time of writing. On the 30-day chart, the exchange recorded a volume hike around April 1, after which it dipped to the lowest level on April 11.

For most exchanges, this is a six-month low.
Having said that, earlier today, WazirX chief Nischal Shetty took to Twitter to underline how India is losing out on the web3 developments due to its regulations and "banking issues."
Disclaimer
BeInCrypto has reached out to company or individual involved in the story to get an official statement about the recent developments, but it has yet to hear back.