The renowned analyst who correctly predicted the 2022 Bitcoin collapse has been accused of inaccurate predictions and pumping low-cap altcoins.
Traders, whales, and HODLers might govern the crypto market trajectory but analysts, more often than not govern the market sentiment acting as a guiding light for many in the space.
Pseudonymous crypto analyst Il Capo of Crypto has a tightly knit follower base on Twitter of around 541.9K followers.
The crypto analyst was recently blamed for "engaging in cherry picking," by another cryptocurrency and finance researcher who goes by the name of FatManTerra on Twitter.
Analysis or cherry-picking?
In a detailed Tweet, FatMan presented a chart of Bitcoin's price alongside Crypto Capo's Tweets after the BTC all-time high. An interesting comparison shows how Capo's bottom analysis was followed by higher losses. Notably, most of Crypto Capo's prediction around BTC price was in fact negated by the real price action.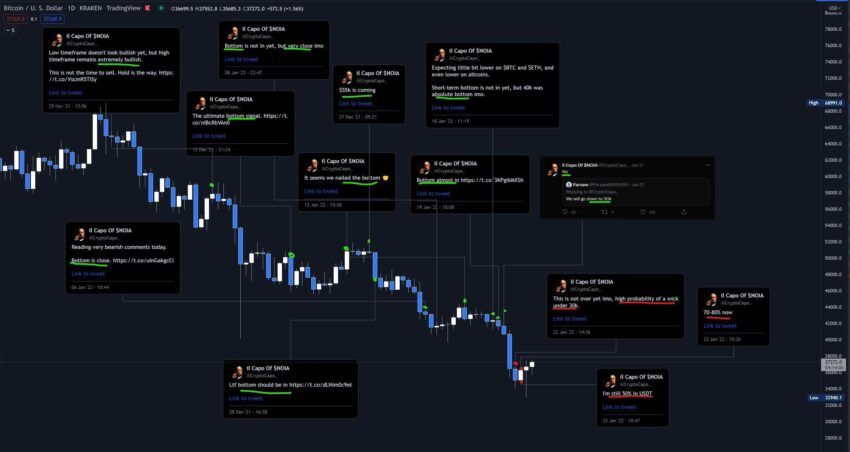 On 29 Nov, after the BTC all-time high Capo advised his followers that "HODL is the way."
On the contrary, after Nov. 29, BTC saw a bullish push of over 10% in the lower time frame while the coin's long-term trajectory tilted towards bearish pulling down its price by over 20% in just one week.
Yet again, in early Jan., Capo predicted that BTC bottom was close. At that time, Bitcoin's price oscillated near the $43,000 mark. From the day of the Tweet till Feb. 1, BTC's price noted a 17% drop, falling to a low of $32,000 in the following days.
On Jan. 13, Capo once again celebrated a BTC bottom at the $43,000 mark when in reality BTC price saw a retest of the lower $32,000 over the next 10 days. Additionally, around the same time, BTC RSI was trending lower presenting a high sell-side pressure.
Around Dec., when Bitcoin's price was at $48,000 mark Capo's predictions of a rise to $55,000 were also invalidated as BTC faced a strong rejection at the $50,500 mark.
On Jan. 18, Capo called the $40,000 bottom but the same did not play out and price fell down to the $32,000 level over the following week invalidating the analyst's bottom prediction yet again.
On the contrary, when the analyst placed bearish bets on BTC's price on 22 Jan., Bitcoin price appreciated by 25% in the following week after Capo's 'predictions of a wick under $30K."
Finally, once again on 23 Jan. Capo presented how he was more invested in USDT due to the shaky BTC price but in reality, Bitcoin price saw a mid-short term boost before falling.
Capo shot in the dark
Interestingly, in March 2022 when BTC was oscillating around the $40,000 mark the analyst accurately predicted that Bitcoin price would collapse by up to 50%.
However, the same didn't stand true for his March 2021 prediction when he anticipated that BTC was going to be trading between $200,000 and $500,000 before March 2022.
Fast forward to this March, BTC was in fact forming a bear flag after experiencing a 50% correction between Nov. 2021 and Jan. 2022. The bearish formation was confirmed in late April 2022, leading to a 56% downtrend that saw Bitcoin hit $17,600 in mid-June.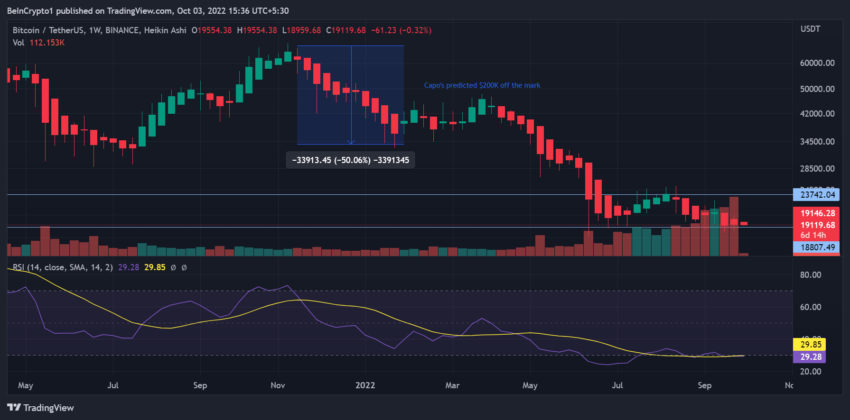 Disclaimer
In line with the Trust Project guidelines, this price analysis article is for informational purposes only and should not be considered financial or investment advice. BeInCrypto is committed to accurate, unbiased reporting, but market conditions are subject to change without notice. Always conduct your own research and consult with a professional before making any financial decisions.