Many philanthropic organizations initially suffered due to the cancellation of in-person donations. However, the initial pause in traditional donations caused by the pandemic was seemingly momentary, as charity donors began shifting to crypto donations.
Major fundraisers across the United States had to be cancelled, causing them to lose massive amounts of tickets and revenue that would have been generated by the events. Organizations backed by government contracts feared the repercussions of the epic loss once the fiscal year ended. Furthermore, the need for social services like food banks were outpacing revenue.
Officials of Eve's Place — a non-profit that provides empowerment-based programs to victims of domestic, sexual, and teen dating abuse — had to shut down their annual charity event when the nation was placed on lockdown, and needed to find a way to counteract the loss of revenue.
Initially, the thought of welcoming digital currency had been a conversation that arose but was not considered a high priority until the lockdowns happened, sending their fundraising initiatives to a screeching halt. Then the organization received a generous $65,000 donation in cryptocurrency.
Charities are now proliferating, having adapted to the crisis and evolved their methods by accepting cryptocurrencies, because fiat is by no means the only option.
Since adapting to the current climate, there has been momentous progress in adopting cryptocurrencies and blockchain technology in the philanthropic sector by some governments and intercontinental organizations.
Overflow, an organization that helps charities accept online donations of publicly-traded stock, told BeInCrypto that it sees non-cash asset donations continuing to grow, noting the changes that have taken place this year:
"As a stock donation platform, one significant change that we noticed is that stock gifts tend to be much larger than cash donations. Compared to traditional donation platforms, we're seeing a higher average gift per person — $2,150 vs $128 — which shows that people are much more generous when they donate stock instead of cash."
It's no longer thought of as a "fringe" method of support, but is evolving into a donation method that is becoming more mainstream. In January, Deutsche Bank reported predictions that there will be 200 million global crypto users by 2030, with the crypto hardware wallet industry anticipating a continued growth by an annual 25 per cent.
Blockchain facilitates donors to view and analyze the migration of their donations, from the moment it was given to the instance the charity spent it, which purportedly safeguards a greater element of transparency and eradicates the possibility of misreporting.
The beauty of digital currencies is that it ostensibly has shown resilience during the pandemic when social-economic conditions have negatively affected nearly all facets of the natural rhythm of things. Because of its borderless, neutral nature — not to mention its ability to transcend censorship — crypto has an all-inclusive choice for use in philanthropic enterprises.
Global crypto donations are rising
According to the Global NGO Technology Report, which interviewed over 5,000 non-profit organizations around the world, digital currency donations represent 2 per cent of payment methods used in the US and Canada, which is up by 1 per cent from the previous year. It was also found that they reach 5 per cent in Africa, 4 per cent in Asia, 2 per cent in Australia and Europe, and 1 per cent in Latin America.
The expansion of digital currency donations, which also encompasses both bitcoin (BTC) and altcoins, is something worth mentioning. In 2018, this form of payment reportedly covered 1 to 4 per cent of donations, while this year alone it has advanced intercontinentally, reaching up to a 100 per cent increase in contrast to the previous amount in the US, Europe and Australia.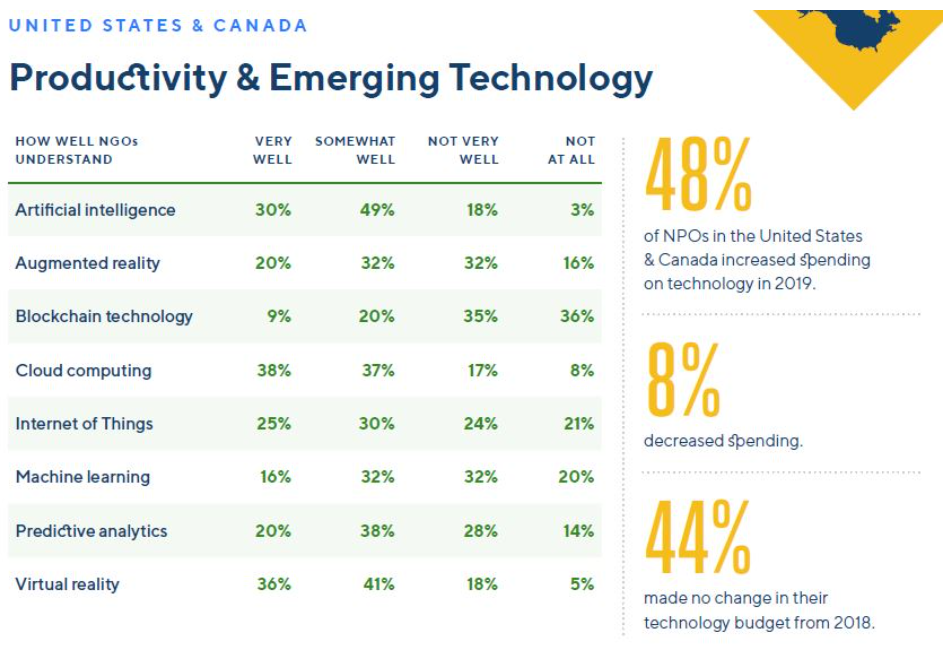 Overflow explained from their experience which is the most popular way to donate, saying:
"After cash, some of the most common ways to give are stocks and Bitcoin. Donating stock and Bitcoin can drive significant tax savings and since donors are becoming more and more tax-savvy, stock and crypto donations are also becoming more popular."
While these payment methods remain the least used in comparison to digital wallets such as Paypal, credit and debit cards, cryptocurrencies are gaining momentum.
Benefits with tax implications
For non-profit organizations, crypto donations come with a variety of perks that go beyond the most obvious, i.e. revenue — more precisely, it is another source of revenue that supersedes dollar bills.
Even though cryptocurrency is taxable by the Internal Revenue Service (IRS), it isn't regulated by the Federal Reserve, nor by the stock market and other platforms fiat performs on. Accepting cryptocurrency contributions could keep non-profit organizations from sinking, possibly protecting a layer of protection against the fluctuation of traditional markets.
However, most laws that apply to other assets do apply to BTC. This means people are still accountable to tax laws, though BTC and altcoins are normally considered an intangible personal property as opposed to being thought of as currency. Therefore, they are not generally recognized as legal tender in the US or most other countries.
The IRS explains that if the charity is recognized under IRS rules, crypto donations will not result in income, gain or loss, and thus crypto is treated as other capital assets, including stocks. Elaborating on the issue, Overflow said:
"Consider non-cash contributions to drive more tax savings and make a bigger donation to a non-profit of your choosing."
More money goes to non-profits due to low-to-nothing processing fees. Receiving crypto donations ultimately means that more money ends up with the organization, and less ends up in taxes.
The element of transparency is revolutionary in many ways. Blockchain enables ordinary people to trace the movement of money, and makes it insusceptible to tampering without somebody noticing, as the flow of crypto is open to all eyes, without third party involvement.
Even though blockchain meticulously keeps track of transactions. The beauty of the technology is that the specific personal identities of individual crypto holders is not a necessary component in transactions.
The unique characteristics of cryptocurrencies are quite attractive, such as a layer of anonymity within a decentralized arena, which provides the opportunity to curtail banks and government regulations, which have no power over the digital currencies, since they are not regarded as legal tender.
When non-profits meet crypto
Bitcoin, as well as other digital currencies, have even begun assuming leading roles in facilitating payments that are not associated with banking systems.
For example, Bail Bloc founder Rachel Rosenfelt launched a unique charity initiative to employ monero (XMR) mining to give underrepresented and undocumented immigrants a better opportunity at fair treatment in the US courts.
The initiative allows the project to collect XMR to help individuals avoid pretrial incarceration for cases involving US Immigration and Customs Enforcement. Unlike traditional charity initiatives, Bail Bloc isn't focused on utilizing the usual means to finance a charity operation, but rather the computer processing power of those who participate.
Earlier this year, Irvine Valley College began accepting cryptocurrency donations, which put them among the first colleges that can accept donations through BitPay, a Bitcoin payment solution. Since 2017, BitPay has reportedly managed over $50 million in donations.
As per Alex Wilson, a co-founder of charity-related startup The Giving Block, "universities have received some of the largest cryptocurrency donations in the non-profit sector; however, not many universities accept Bitcoin or other cryptocurrency donations yet. According to a Coinbase study, 56 per cent of the top-50 universities now have at least one course on blockchain or cryptocurrency."
Wilson revealed that the project has seen hundreds of millions of dollars worth of crypto donated to non-profits over the last few years, with a large portion going towards universities.
GiveTrack is another blockchain-fueled project that is supported by Bitcoin non-profit organization BitGive. It was created with the precise goal to empower donors with the ability to follow transactions on a public platform in real time, providing total transparency for donors to know where their money is going. 
Earlier this year, BitGive announced that they had partnered with Direct Relief, GiveDirectly, and One Fair Wage Emergency Fund in an effort to collectively leverage blockchain technology in administering financial assistance to individuals impacted by the pandemic.
The initiative dubbed the BitGive COVID-19 Emergency Relief Fund works to provide personal protective equipment for medical professionals, financial help to individuals, whose employment was impacted, as well as global funding for people in need.
The American Red Cross is one of the biggest and certainly most identified humanitarian organizations, and has been accepting BTC donations since 2014. This opened up the doors to allowing charity givers more flexibility in their opportunities to contribute.
Though the American Red Cross has been accepting BTC donations for a while now, earlier this year, the Italian Red Cross announced that they would also now be accepting BTC donations to raise relief funds for individuals impacted by the pandemic. All donations received from the enterprise will reportedly be utilized to establish a second-level advanced medical post.
In 2019, the International Children's Emergency Fund (UNICEF), which is an agency of the United Nations, launched an experimental crypto fund, empowering the organization to accept contributions in BTC and ether (ETH). The organization is tasked with the responsibility of rendering humanitarian and developmental assistance to children and young people around the world.
The first donation received by the UNICEF came from the Ethereum Foundation, which gave somewhere around $150,000 worth of BTC and ETH to UNICEF, in October 2019. Then, in January 2020, Ethereum Classic Labs donated $1 million dollars to the non-profit. UNICEF executive director Henrietta Fore said, at the time:
"The creation of our Cryptocurrency Fund is a significant and welcome step forward in humanitarian and development work."
The future of philanthropy
"Due to the rise of the stock and crypto markets, we believe that philanthropy will become accessible to everyone. In the past, philanthropy was mostly popular among high net worth individuals, while now more and more people are turning to charitable giving to support the causes and charities they are passionate about," Overflow offered the projection, conceptualizing the future of philanthropy.
The company further listed three main reasons why the philanthropy world started changing so rapidly:
Millennials are more socially aware than the prior generations as they grew up in the age of digital and social media. As a result, donating to charity makes people feel more connected to their communities and gives them a higher sense of purpose.
It is now possible to make donations online and choose from numerous donation types, such as cash, stocks and cryptocurrencies. An abundance of donation options is making philanthropy accessible to people of all income brackets and asset classes.
People are becoming more aware of the significant tax benefits that charitable donations can drive. Charitable giving is becoming a popular way for people to support their favorite causes and save on taxes.
Speaking about how to make donations "smarter," Overflow said that there are several strategies that can help people maximize their impact as well as their tax deductions. According to the organization, it is necessary to "always check whether your company offers a matching gift program. This way, you'll be making two donations instead of one!"
Overflow continued, saying:
"Imagine a scenario in which you sell your securities first and donate the proceeds to a non-profit. After selling the stock, you will have to pay a capital gains tax, which can be anywhere from 15 per cent to 20 per cent depending on your tax bracket. As a result, you will end up paying a massive tax and making a donation that is 20 per cent less than you would have made had you donated your securities directly to the charity."
"Always research the organization you're supporting. It's important to know how your donations will be used and what portion of the non-profit's budget is going towards their charitable programs. One of the most transparent non-profits we know is the New Story Charity that separates all donations for their home building programs from any operational expenses."
The world has changed, and is changing. While the future at this juncture in time still remains uncertain, innovators around the globe have pushed the envelope, so to speak, escalating yesterday's technological limitations, breaking barriers and opening up the door to new possibilities. So that life can continue moving forward undeterred, while we experience what appears to be a new era in innovation.
Disclaimer
All the information contained on our website is published in good faith and for general information purposes only. Any action the reader takes upon the information found on our website is strictly at their own risk.