Despite massive gains throughout 2019, the Bitcoin price experienced losses between June 1 and 8. It is trading inside a descending channel. On the contrary, the gold price is trading inside an ascending channel and was able to increase.
In this analysis, we examine Bitcoin's losses and gold's gains, side-by-side, to assess their significance and similarities.
Gold Price
In our May 25 comparative price analysis of Bitcoin (BTC) and gold, we noted that Gold ($/OZ) had broken out above a descending resistance line on May 23. Furthermore, while the gold price had increased slightly, the Bitcoin price suffered small losses.
Since then, the price of gold has been trading inside an ascending channel after reaching hourly lows of $1315.3 on June 3.
A gradual increase began on Jun 3. On Jun 5, the gold price made a high of $1344.08. It has been decreasing since.
At the time of writing, the price of gold was trading near $1340.
The highlighted part is the price of gold during the measuring period of June 1 – June 8.
Bitcoin Price
The price of 
BTC/USD
is analyzed at two-hour intervals from May 23 to June 8. On May 27, the price reached a low of $86453. A gradual increase ensued and the Bitcoin price made a high of $9109.0 on May 30. It has been decreasing since, trading inside the descending channel outlined below: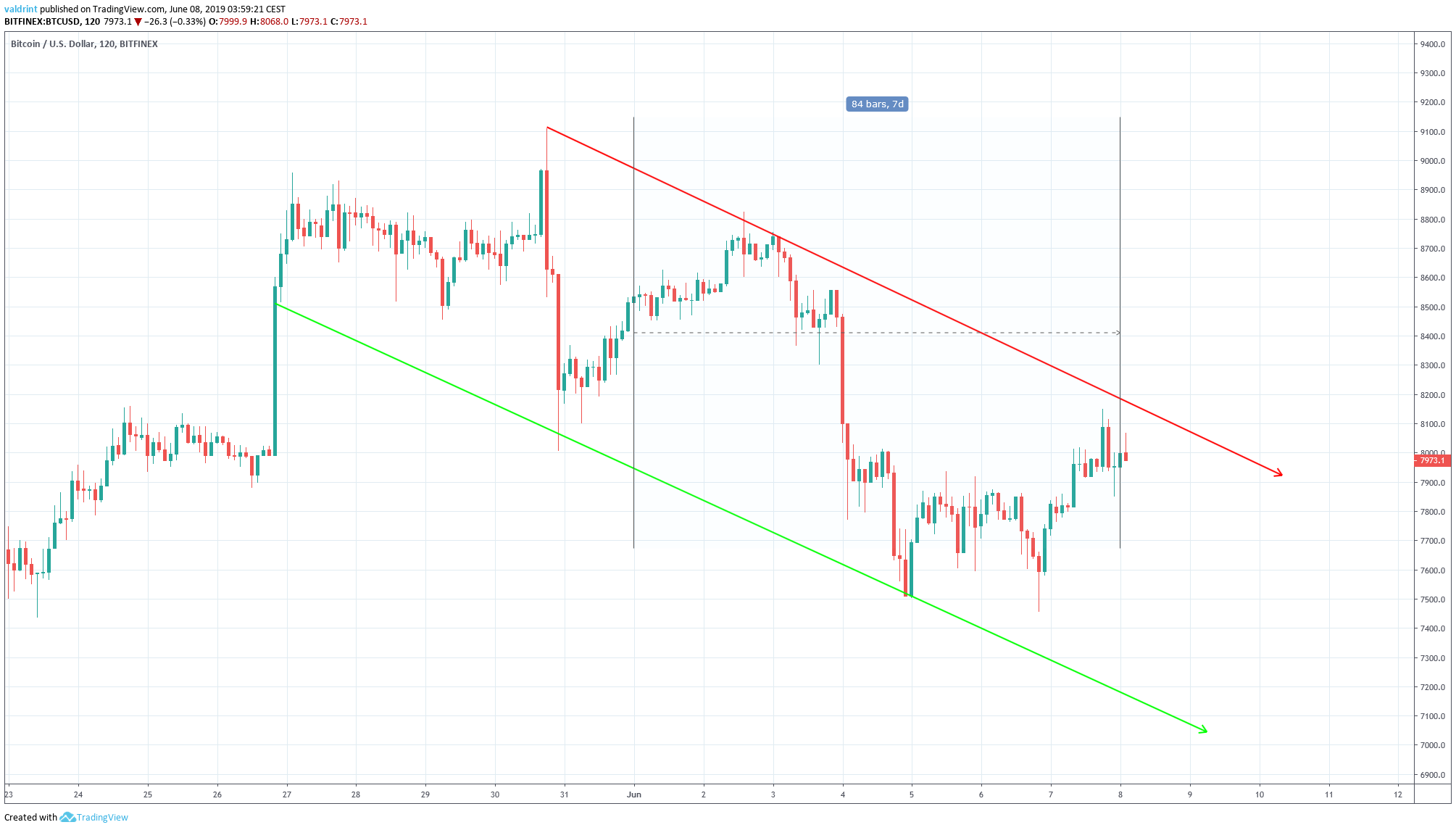 The highlighted period is the price of Bitcoin during the period of June 1 – June 8.
Summary: Which is Performing Better?
The price of Bitcoin (candlesticks) and the price of Gold (gold) are compared at one-hour intervals from June 1 to June 8 in the graph below.
Bitcoin (BTC) began the week with a gradual increase. However, on June 3, it began a rapid decrease. Over the next two days, it had reached a total decrease of 12 percent. A gradual increase ensued and the price created the ascending channel outlined in the section above. However, the increase was not enough to vault BTC into a positive rate of increase. Instead, the measuring period for BTC finished with a decrease of 6.34 percent. Gold did not experience such significant fluctuations during this period. It began a gradual increase on June 3 — which lasted throughout the measuring period. It concluded with an increase of 2.69 percent. To conclude, for the week of June 1-8, Bitcoin dropped while the price of gold rose. The drop for Bitcoin was more significant than the gains for gold.
Which of the two assets do you believe will increase the most during next week? Let us know in the comments below.
Interested in 2019, 2020, and 5 year Bitcoin price predictions? Click here: LONG-TERM BTC/USD PREDICTIONS!
Disclaimer: This article is not trading advice and should not be construed as such. Always consult a trained financial professional before investing in cryptocurrencies, as the market is particularly volatile.
Disclaimer
In line with the Trust Project guidelines, this price analysis article is for informational purposes only and should not be considered financial or investment advice. BeInCrypto is committed to accurate, unbiased reporting, but market conditions are subject to change without notice. Always conduct your own research and consult with a professional before making any financial decisions.