A group of cryptocurrency influencers has had their Instagram accounts disabled.
The first of the bans occurred shortly after the content creators raised issues about the lack of female representation in the industry following the announcement of the nominations for the first-ever Binance Influencer Awards. Of all the nominees, only two are women. Some observers, including those silenced on Instagram, claim that non-male voices are under-represented in the industry. Those at the center of the debate received a lot of hate for even raising the issue. This seems to have manifested in an Instagram ban, based on unknown reasons.
What's the Story?
Late last month, major cryptocurrency exchange
Binance
announced the first-ever
Binance
Influencer Awards. The awards ceremony will be held at Binance's virtual conference to celebrate the exchange's third birthday. The 'OffTheCharts' virtual conference will headline on July 14. Awards for the best influencers are regional. The exchange called on different communities to put forward nominations, and, of them, only two female influencers made the cut.
Argentine
content creator Catalina Castro (@TechconCatalina) was among six influencers shortlisted for the Binance Spanish Influencer Award. North American Rachel Siegel (@CryptoFinally) was chosen as one of the U.S.'s top influencers. According to a Binance press release, the final winners
will be calculated
based on votes via Google and social media, along with the opinions of the Binance team. The public vote will comprise 60 percent of the award weighting while Binance will add the other 40 percent.
Influencers Take Issue at Lack of Female Representation
The exchange revealed each region's nominations earlier in July. The male-dominated list of influencers has not gone unnoticed. Siegel, an outspoken critic of attitudes towards women in cryptocurrency, pointed out that she was the only female nominated in the U.S. and Global categories. When the nominations were revealed on July 3, she appealed to followers '
who believe in inclusion
' to vote for her.
I am so humbled and grateful to be nominated by @binance for the top crypto influencer in North America.

If you believe in inclusion, if you've ever supported me, please go drop a vote for ya girl: https://t.co/ViaL3IgAUc ❤️ pic.twitter.com/z4qbmvxBlc

— CryptoFinally 💫 (@CryptoFinally) July 3, 2020
In the days that followed, she and other prominent influencers continued to hammer home the point. She has since received a lot of support, as well as plenty of criticism.
Why the Hate?
In response to Siegel's criticisms, many have used the opportunity to attack the notion that there should be greater representation. One reoccurring theme is that social media should celebrate influencers based on the value they bring. Not their gender or some other attribute that they have no control over. Others attacked Siegel on a more personal level, drawing attention to the fact that her content may seem dumbed down. They also highlighted several scantily-clad selfies filling her Instagram. They claim this
does little to support her integrity
and worth as a content creator. Siegel is a relative newcomer to the industry and has been heavily criticized for her educational content. She has risen to prominence relatively quickly. She also appeared as a 'Crypto Expert' on a recent MTV show, attracting plenty of negative attention. Some argue that her gender alone has allowed her to get away with more for less quality content. Her fans, on the other hand, say that this point is based on nothing but jealously of a successful woman in a cutting-edge industry. Even Siegel's fellow nominees have attacked her. GreenEggsnHam (@HamEggsnSam), also nominated for the North American Binance Influencer Award,
tweeted
an appeal for votes with the following message, which was accompanied by a facepalm and laughing face emoji:
"Do you really want CryptoFinally to win?"
Okay the big vote is here!

Link below, it's a simple twitter poll. If we do this I get to make a 15-30 second acceptance speech for Binance's virtual conference.

Let me just say – you won't be disappointed with what I have to say, it will be like no other acceptance speech. 😳 pic.twitter.com/9KNZfwqS17

— GreenEggsnHam (@HamEggsnSam) July 3, 2020
Insta-Bans on Instagram
Instagram appears to have banned a handful of the most vocal critics. Siegel, along with other prominent female content creators, reported on July 6 that they could no longer access their accounts on the Facebook-owned platform. Searches also revealed that they had indeed been removed. Those known to be impacted so far are Siegel, Castro, Lea Thompson (@GirlGoneCrypto), and Eryka Gemma (@BankofEryka). All four female influencers have spoken out against the male-dominated industry, both prior, and during the recent Binance nominations debacle. In a
video detailing the removal
, Siegel claims Instagram gave her no warning about a violation of the platform's terms and conditions. In fact, she says she mostly used Instagram for selfies and didn't shill investment opportunities or engage in other activities that may be deemed controversial. Siegel claims that critics orchestrated an attack on her based on her views for greater inclusion:
"This is clearly a targeted attack because what are the chances… that the day after we start talking about the lack of female nominees… all three of our accounts on Instagram are ripped."
During the video, she notes that she isn't criticizing Binance. The exchange's CEO, Changpeng Zhao, actually
tweeted his support
for the women. Zhao added:
"This is not right. We need to fight this."
Male-Dominated Industry = Male-Dominated Awards Ceremony?
It's no secret that men dominate the crypto and the broader tech industry space. Understandably, under-represented members would want to see greater inclusion. However, the issue is a complex one. On the one hand, a female winning the award could indeed encourage more women to get involved. This could go a long way to changing the view that crypto is a 'boys club,' possibly making it a more inclusive space. On the other hand, if judges overlook content creators because they don't represent a minority, this may threaten the integrity of the awards. Would a winner really be the best cryptocurrency influencer? Or would they simply be there as a symbol of greater inclusion? Although some have focused, perhaps unfairly, at the amount of skin on Siegel's Instagram, there is also an argument to be made that her nomination comes at the expense of other female influencers. This extends the idea that only women who show off their physical assets are worthy of praise and celebration.
Battle of the Sexes
Will this encourage women who do not fit with traditional notions of beauty to take part in the industry? Or does it, in fact, send the message that the only way to get ahead in crypto is by pandering to the desires of the men?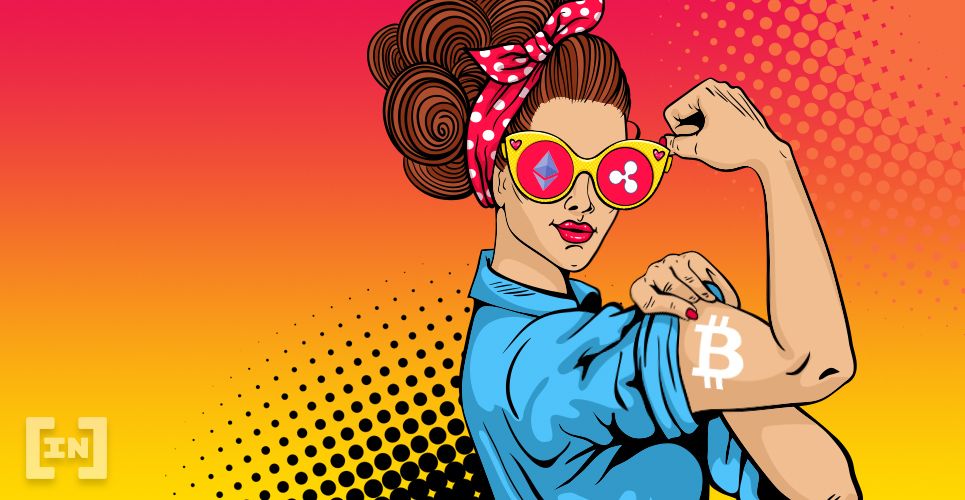 Whatever your views are, it seems unfair to dismiss her content purely because it's overly simple.  If cryptocurrency adoption is the name of the game, then surely her accessible and often fun content fills a niche unserved by other influencers. In fact, other influencers often focus exclusively on charting and make little effort to appeal to absolute newcomers. Perhaps this alone is worthy of recognition.
Instagram Bans Hint at Toxic Side of Crypto
If the influencers facing bans are indeed correct about the orchestrated attack theory, then it's not a good look for the industry. One of the central tenets of cryptocurrency is its censorship-resistance. Reporting accounts on Instagram goes against this very belief. In the end, the reason for the lack of female representation doesn't matter. Attempting to silence those who have different opinions is clear evidence of a toxicity that Siegel, Castro, and others have been addressing in their content. If the industry wants to be taken seriously and deemed truly inclusive, these actions seem an incredibly poor way to go about it.
Disclaimer
All the information contained on our website is published in good faith and for general information purposes only. Any action the reader takes upon the information found on our website is strictly at their own risk.