Sophia, the famous AI-operated robot, will be in attendance for the annual African Blockchain Conference 2019. Other prominent people, like the presidents of Uganda and Sierra Leone, will also be in attendance.
Since being introduced to the world in 2016, Sophia has risen to become the most recognizable robot in the world. She can display some 50 facial expressions and was the first non-human to receive a UN title. She also received citizenship in Saudia Arabia in 2017. Now, Sophia
will be attending
a tech-centered conference focusing on blockchain technology. The African Blockchain Conference 2019 will be hosting Sophia and many high-ranking tech leaders, politicians, and analysts in the continent. The focus of the conference will be on the so-called '4th industrial revolution' and how it will impact Africa. It is the first time Sophia has attended such an event. The conference is expected to host around 3,000 people in both the public and private sectors. Topics to be discussed will be fintech, payment systems, blockchain, education, and the future of technology. In total, there will be around 50 speakers.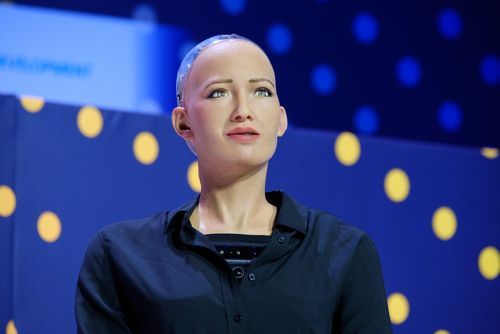 Sophia is known for being the best representative of the power of artificial intelligence and how far we've come. She's now coming to be present at a conference specializing in blockchain, a technology often associated with AI. AI and blockchain have often been seen as parallel technologies, and many analysts have spoken of AI needing blockchain innovation for mass-use. Earlier this year, a conference
specializing in AI and blockchain
was held in Malta. According to Kwame Rugunda, Sophia was previously at the Transform Africa Summit in Rwanda. She will be in attendance as an attraction to show attendees the power of technology and what the future holds. Maybe in the future, some of Sophia's machine-learning could be shared with other like-minded AI systems via a decentralized network. It's certainly within the realm of possibility.
Do you believe Sophia is an appropriate ambassador to showcase how quickly technology is moving in our current '4th industrial revolution?' Let us know your thoughts below. 
Disclaimer
All the information contained on our website is published in good faith and for general information purposes only. Any action the reader takes upon the information found on our website is strictly at their own risk.