When news broke last month that Florian Picasso planned to launch a collection of non-fungible tokens (NFTs) based on a ceramic bowl by his grandfather, Pablo Picasso, it came as a surprise to the rest of the artist's family.
Lawyers for the estate were quick to denounce the sale as unauthorized, leading to a feud among the Cubist's extended family.
Picasso's granddaughter Marina and her great-grandson planned to release a series of 1,010 NFTs along with a dance track by Florian, a Vietnamese-born French DJ, and record producer.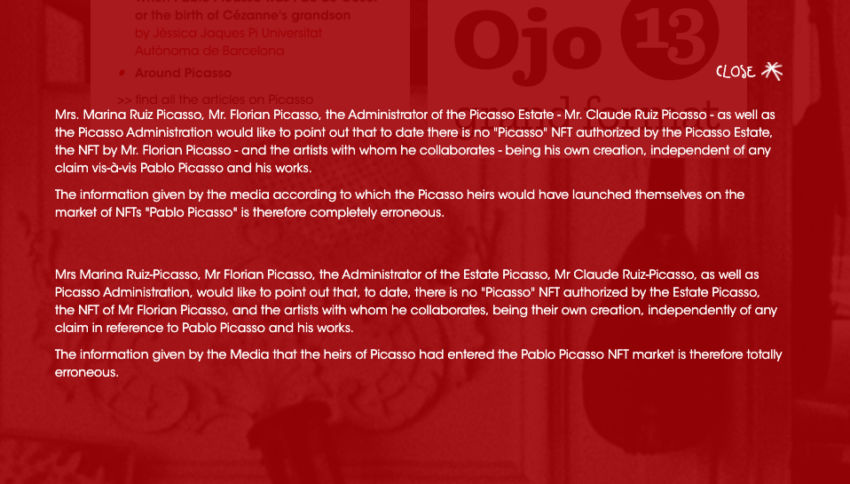 Lawyers for the Picasso Foundation, which licenses his works, said last month any release of work attributed to Picasso would be "counterfeit" because the head of the organization, Claude Picasso, had not approved it.
Now, in another twist to the story, Marina has taken to YouTube to give her side of the story. In a video recorded at the family villa in Cannes, Marina says she plans to defy the foundation and continue with the sale.
"I have a 30-year-old son who is passionate about NFTs. It also appealed to me, so I did some research and I think it's a modern technology that allows us to get closer to art. I really liked it. And that's how I decided with my son to create our first NFT collection," she said.
Marina argues that her uncle, Claude, who is responsible for approving the use of Picasso's name, was in favor of the project.
The tokens are part of a collection called Man and the Beat, but are struggling to sell at a mint price of 2ETH. And the sum is considered too high for what are unauthorized works. 
Origin Protocol is hosting the NFT collection, but only around 10% have sold, despite singer John Legend promoting the project.
NFTs are Florian's, not Pablo's
"Unfortunately, our ideas weren't communicated as they should have been, and in regards to some of my family members who already had a different opinion on the subject, there was actually a misunderstanding that benefited no one," Marina said.
"I count on the support of my uncle, Claude Picasso. He dedicated his life to protecting my grandfather's legacy and his father's legacy.
"Honestly, all we wanted to do, especially my son, Florian, was simply to pay tribute to my grandfather, Pablo Picasso," she added.
But Cyril Noterman, Florian Picasso's longtime business manager, publicly defended the DJ. He claimed that the NFTs are part of a Florian Picasso collection, and not a Pablo Picasso one.
However, Jean-Jacques Neuer, attorney for the Picasso Foundation, told AFP: "The information given through the media by which the Picasso heirs would join into the market for Pablo Picasso NFTs is completely wrong."
He added that the organization has not approved the sale of any Picasso NFT and that any NFTs by Florian Picasso and his collaborators are "his own creation, independent of any claim vis-a-vis Pablo Picasso and his works."
Got something to say about Picasso NFTs, or anything else? Write to us or join the discussion in our Telegram channel.
Disclaimer
Following the Trust Project guidelines, this feature article presents opinions and perspectives from industry experts or individuals. BeInCrypto is dedicated to transparent reporting, but the views expressed in this article do not necessarily reflect those of BeInCrypto or its staff. Readers should verify information independently and consult with a professional before making decisions based on this content.