Ethereum ($ETH) has seen an uptick in interest over the past few days, with the token's price rising by 8.16%.
Currently, $ETH is trading just above the vital $1,900 level – the first time this level has been broken since early May.
In other news, presale sensation yPredict ($YPRED) continues to gather momentum in the market, having raised over $1.8 million from early investors, while AiDoge ($AI) has also entered the final stage of its highly-successful presale.
Ethereum's Resurgence Presents New Dawn for Crypto Investors
Following several challenging weeks, there's now a ray of hope on the horizon for Ethereum investors.
The $ETH price had risen consistently in the first four months of the year, hitting a high of $2,141 on April 16.
Since that high, the bears have taken hold – prompting Ethereum's value to decline by just over 11%.
Various macroeconomic factors have driven this drop, most notably the ongoing US debt crisis, which has raised concerns about a potential default.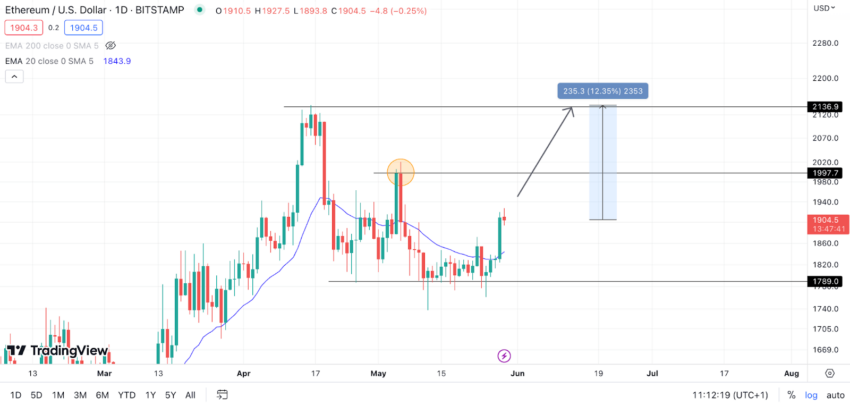 If a default were to occur, it would wreak havoc on the financial markets – potentially jeopardizing the price of crypto assets like Ethereum.
Adding to these concerns, the Glassnode Alerts Twitter account recently tweeted that the number of Ethereum wallet addresses holding more than 100 ETH had dropped to its lowest level since November 2022.
Nevertheless, Ethereum investors have weathered the storm and came out the other side, with the recent bullish momentum providing a glimmer of hope that April's highs may soon be breached.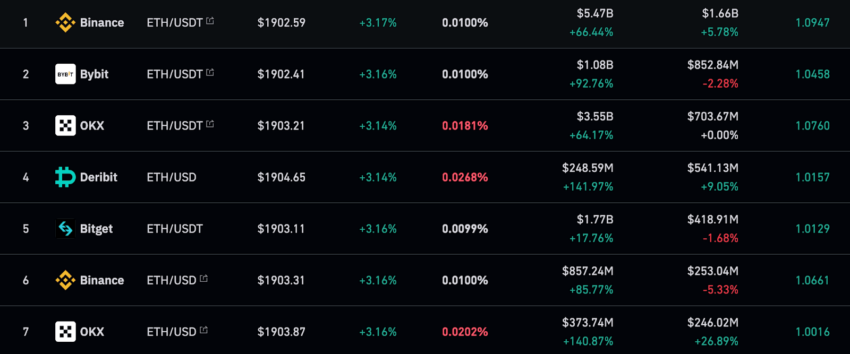 Data from CoinGlass reveals that the Long/Short (24h) ratio is now positive on nine out of the top ten exchanges – indicating that most investors harbor a positive outlook on $ETH's future.
This renewed optimism is evidenced by the upward momentum on the price chart, with $ETH breaking above the 20-day Exponential Moving Average (EMA) on the Daily timeframe.
If this momentum continues, the first target for $ETH bulls will likely be $2,000 – a crucial psychological barrier that was rejected on May 6.
Ultimately, the prospects for Ethereum seem more than promising – helping reaffirm its position as one of the top dogs in the crypto space.
AI-Powered Phenomenon yPredict Hits $1.8 Million Milestone
Switching the spotlight from Ethereum's resurgence, investors' attention is also being drawn to the emerging crypto project yPredict ($YPRED) – which has raked in an impressive $1.8 million through its ongoing presale phase.
This presale has drawn considerable attention throughout the investment community thanks to yPredict's compelling use cases – all of which revolve around crypto analytics.
As noted in yPredict's whitepaper, the platform will offer a comprehensive set of tools and features designed to give crypto traders a competitive edge in the market.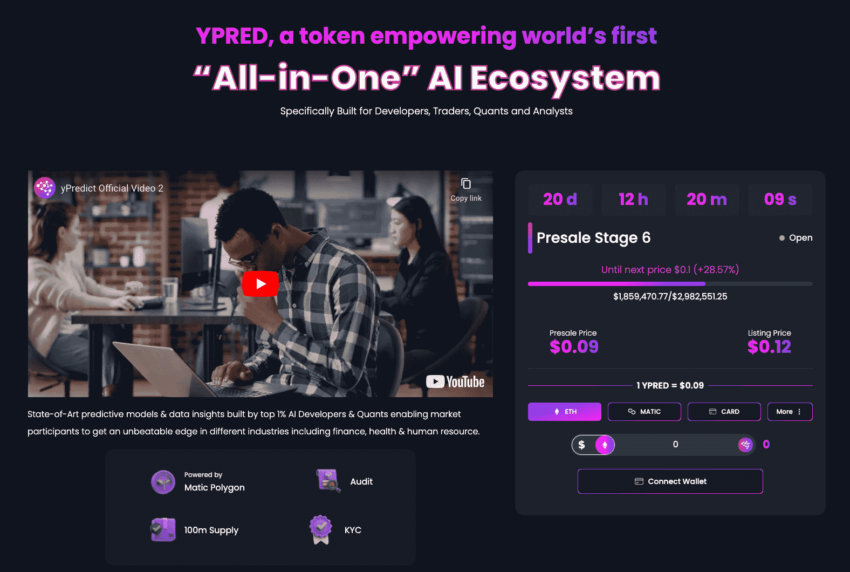 Some of the most eye-catching tools that yPredict will offer include automatic chart pattern recognition, real-time investor sentiment analysis, AI-powered trading signals, and state-of-the-art technical indicators.
Additionally, yPredict will have a custom-built marketplace where traders can subscribe to sophisticated predictive models developed by artificial intelligence (AI) and machine learning (ML) experts.
To gain access to these models, traders must buy and hold $YPRED – yPredict's native ERC-20 token.

The total supply of $YPRED is capped at 100,000,000, with 80% of the supply set aside for presale investors.
As yPredict's features continue to attract investor interest, this momentum has spilled over onto social media.
yPredict's official Twitter page has swelled to over 18,000 followers, while the project's Telegram channel now hosts more than 30,500 members.
Some big names in the crypto scene are also taking notice. Crypto influencer Michael Wrubel, who has over 310,000 subscribers on YouTube, recently published a video discussing why he is so bullish on yPredict's prospects.
The fact that influencers like Wrubel are making their feelings known has sparked increased interest in yPredict's presale, which is now in Stage 6 – meaning only two stages are left to go.
Early investors can buy $YPRED tokens for $0.09 – 33.33% lower than the planned exchange listing price of $0.12.
Remarkable Rise of AiDoge As Presale Hits $14.9 Million Hard Cap
yPredict isn't the only AI-powered crypto that's gathering momentum – fellow presale project AiDoge ($AI) is also causing a stir.
At the time of writing, AiDoge is in the final stage of its presale phase, having already hit its hard cap of $14.9 million.
This means would-be investors have one last chance to acquire $AI at the listing price of $0.0000336 before the token goes live on major crypto exchanges in the coming weeks.

Considering that 25% of the total $AI supply is being vested for ten years to safeguard investors, speculation is rife among crypto enthusiasts globally that AiDoge may emerge as one of the standout performers this year.
Moreover, the coin's clear link to artificial intelligence technology, a burgeoning field that is revolutionizing various sectors, further amplifies AiDoge's appeal.
All in all, the meteoric rise of AiDoge sets the stage for a productive second half of 2023 – making it an exciting time to be an $AI holder.
Disclaimer
This article is sponsored content and does not represent the views or opinions of BeInCrypto. While we adhere to the Trust Project guidelines for unbiased and transparent reporting, this content is created by a third party and is intended for promotional purposes. Readers are advised to verify information independently and consult with a professional before making decisions based on this sponsored content.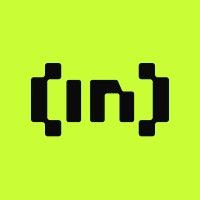 BeInCrypto Team comprises a diverse group of experienced journalists, analysts, and crypto enthusiasts dedicated to delivering the latest news, insights, and analyses in the...
BeInCrypto Team comprises a diverse group of experienced journalists, analysts, and crypto enthusiasts dedicated to delivering the latest news, insights, and analyses in the...
READ FULL BIO
Sponsored Sponsored